Dress Up Your Bike with Custom Wood Fenders
July 17, 2020
Having a new bike is awesome! Now that you've settled into your new bike, you might be considering ways to dress up the bike, or add on some functional accessories, like Fenders and Racks. A great way to make your new bike feel like your own is to add accessories that are unique to your aesthetic and style. This can be done with a multitude of modifications, like adding a bottle holder in a fun color, adding a basket, metal or weave, adding a pop of color with stickers or lights, or even accenting the bike with a colorful helmet. Our favorite type of accessory however, are custom wood fenders from   Woodys Fenders! Keep in mind, these are handmade and one of a kind! Woodys Fenders also does custom rear racks, chain guards, bottle openers, bike stands and more.
Here are a few styles to choose from when deciding on the right custom fenders for your wheels:
The cube set featured in the photos above, isn't something shown on the Woodys Fenders site because it's a very unique and custom design that is labor intensive. This design is called "3D cubes". In addition to that design, you will see the black & red checkers, and the Walnut with Bloodwood and thermo Ash highlights. The Checkers and Walnut sets are in the fully shaped compound curve style. They're shaped just like plastic or metal fenders. The cube set is flat profile meaning it's flat on both the top and bottom, for this reason this style is a real challenge, and may take more time to make.
Woodys Fenders is the brainchild of Cody Davis, a really creative guy, with a small wood shop in the back of his garage, doing what he loves! You can check out his site   here to learn more about his awesome work!
Cody is also an Aventon customer, and has made amazing custom fenders for his Aventon Level, as well as his girlfriend's Aventon Level. Check out the cool fenders on these Levels: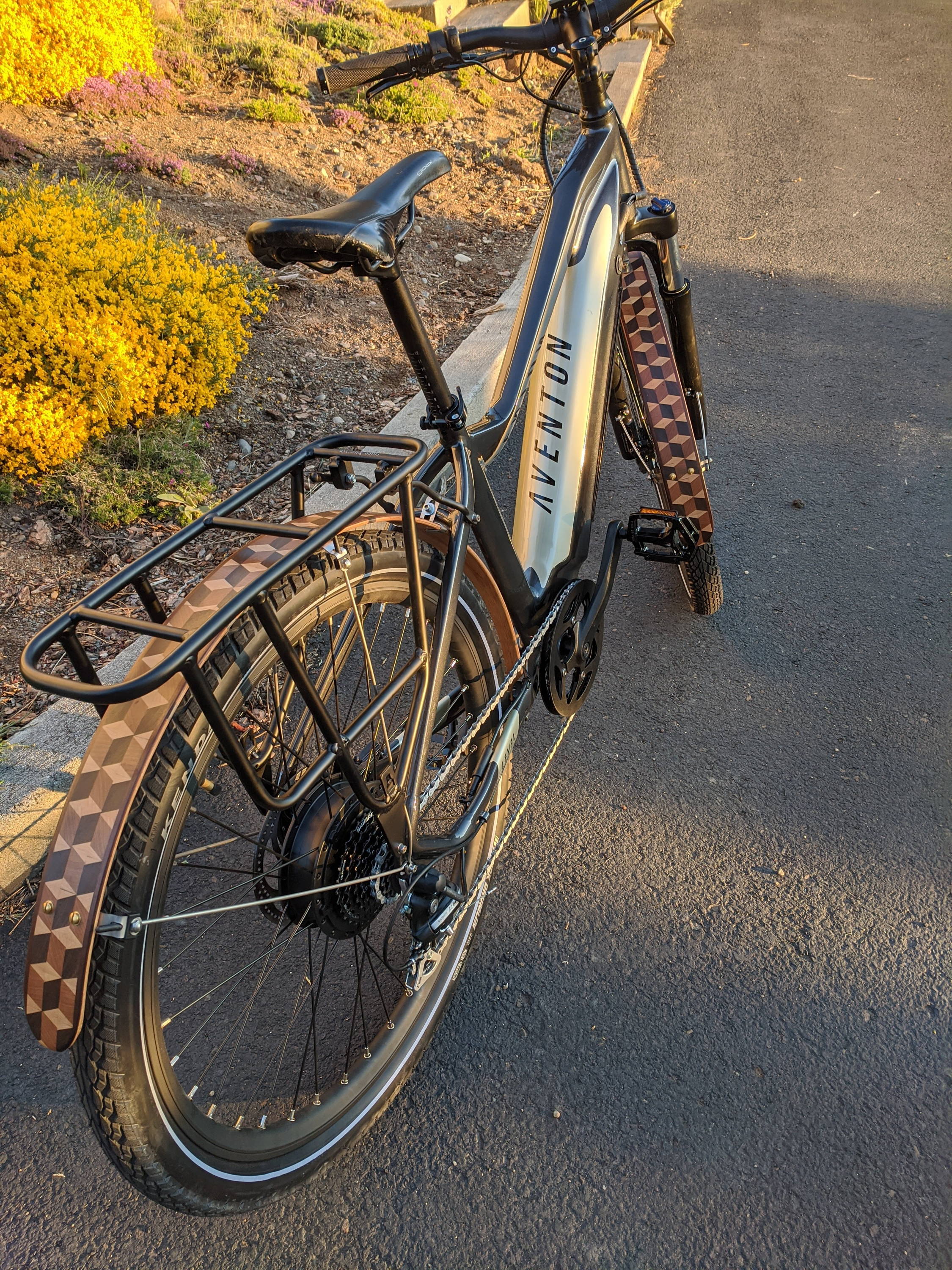 The Fan's agree, these are sweet!! With nearly 700 likes and counting, we agree, we want to see more Aventon bikes souped up with Cody's custom work!!
We are delighted to feature Cody and his amazing work on Aventon.com and our social media pages, because we think he is a pretty cool guy with a lot of TALENT! To get to know Cody more, keep reading… We interviewed Cody and asked him 10 questions.
1. What are 3 things you want fans to know about you and your business?
"I'm a one guy operation and work out of my small wood shop in the back of the garage so my commute is very short." That is a great commute, and quite frankly, we're jealous!

"I have a big 100 pound chocolate lab named "Mr. Hanky" that helps me in the shop and helps control the stick inventory." Check out his adorable lab, that we here at Aventon have dubbed our official mascot!!

"I love riding my mountain bike on our local Bend trails because we have some of the best singletrack in the country. Oh and a fourth thing- I still have all 10 fingers." And boy are we glad to hear it!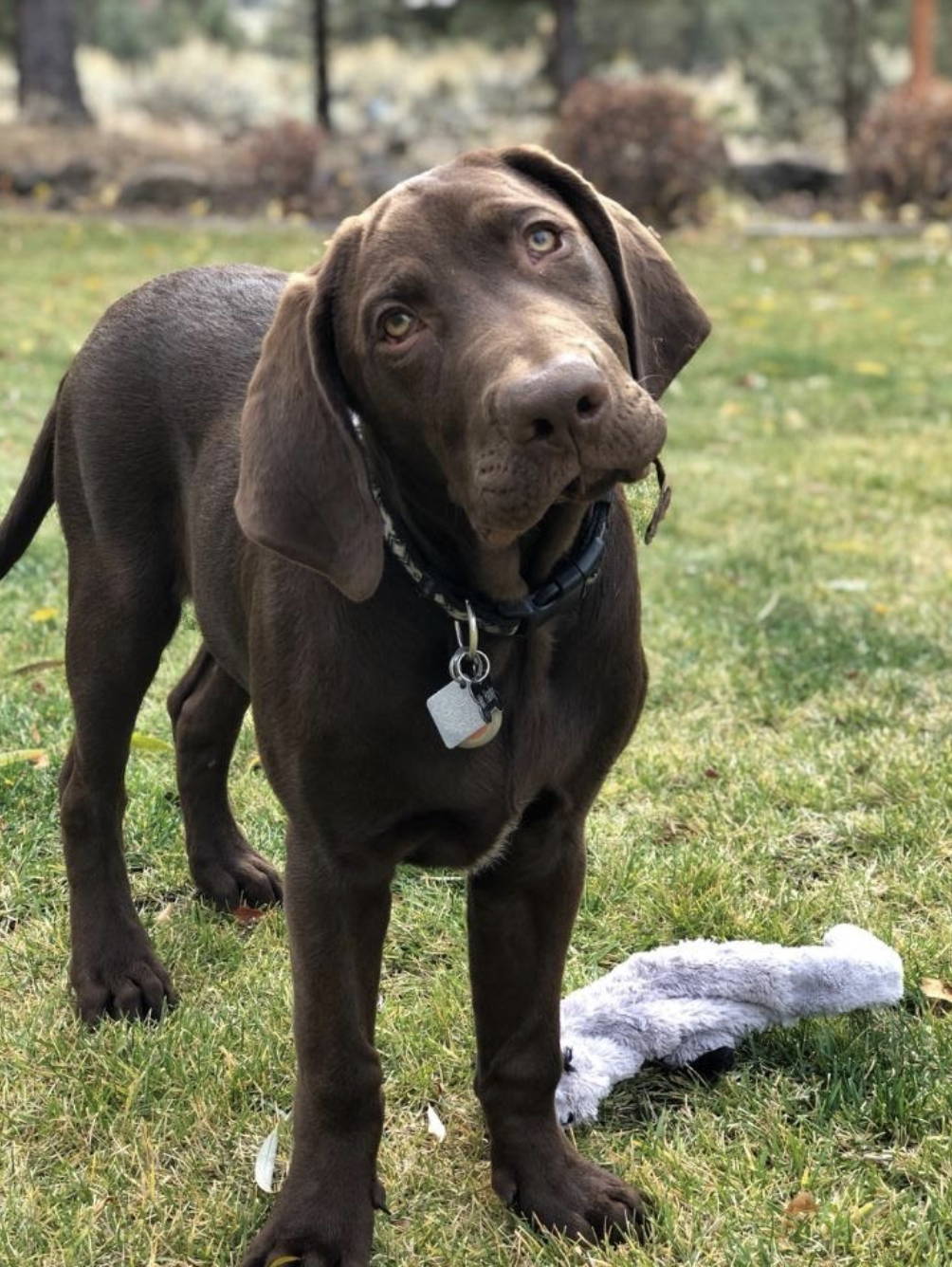 2.How long have you been doing this?
"I've been at this full time for about 17 years"
3. What sparked the idea to create this unique business?
"I got the idea when I was working for a local bike shop and my boss at the time saw some wood fenders at a trade show and showed them to me. I was making furniture for fun and thought the fenders looked like an interesting thing to try because I have never tried bent lamination before and they turned out rough but still pretty cool looking."
4. What is the history of the company?
"I kept making them and listing them on Ebay and selling a ton of them. Then a buddy of mine designed a website for me:  https://www.woodysfenders.com/. I've had about five different versions of the website over the years and added selling on Etsy about 7 years ago. I now sell about half of my volume through Etsy and the other half through the website and through referrals."  
5. What types of bikes do you design for?
Cody tells us the skies the limit, and that as long as a customer asks for it, he can dream it up! "I've made fenders for just about every conceivable bike out there but lately I've been making a ton of them for e-bikes and of course a lot of commuter bikes, like the Aventon Level."
6. What are your favorite bike accessories to design/make?
"My favorite things to make are the compound curve fenders or the fully shaped fenders because there's so much creative things I can do with them, but they also take the longest to make because they're quite involved."
7. As a small operation, what is your current capacity, and how long does it take to produce these works of art?
"My capacity is very limited because I'm a one person operation and there's only so many hours in a day and I have to eat & sleep. Despite that, I do love what I do, and if someone were to order a set of fenders, my turn around is about one to two weeks, depending on the number of orders that week." Cody does also provide clear timelines upon order, so you know what to expect.  
8. What is the best way for a new customer to order custom accessories like this for their bikes?
"Probably the best way to order is to contact me via email and let me know what bike you're trying to fit so that I can look at the bike to see if there might be fit issues."
9. What type of information do you need from them to make sure it's a good fit?
"Once I get that information and look up the specs, I can suggest what fender width and wheel size choice you would need. I can also give my opinion on what wood or pattern might look good with whatever paint color your bike is. Things to consider for fitting fenders is if the bike has mount bosses for fender stays at the fork and rear dropouts, has good clearance where the fender would run under the fork and seat stay brace area, and has mount holes at the fork crown, seat stay brace, and chainstay brace."
10. What are your future plans for the company?
"My future plans for Woody's is to keep my shop small and simply, staying focused on what I'm doing currently because I'm in a pretty good place right now. And I am lucky enough to be doing what I love, so why change it?"
We feel really lucky to have Cody as an Aventon customer, but also a fan, that has made such beautiful and unique custom Fenders for our bikes! If you are interested in getting handmade, custom accessories like these for your bike, contact Cody. We are confident you will love his work as much as we do here at Aventon.