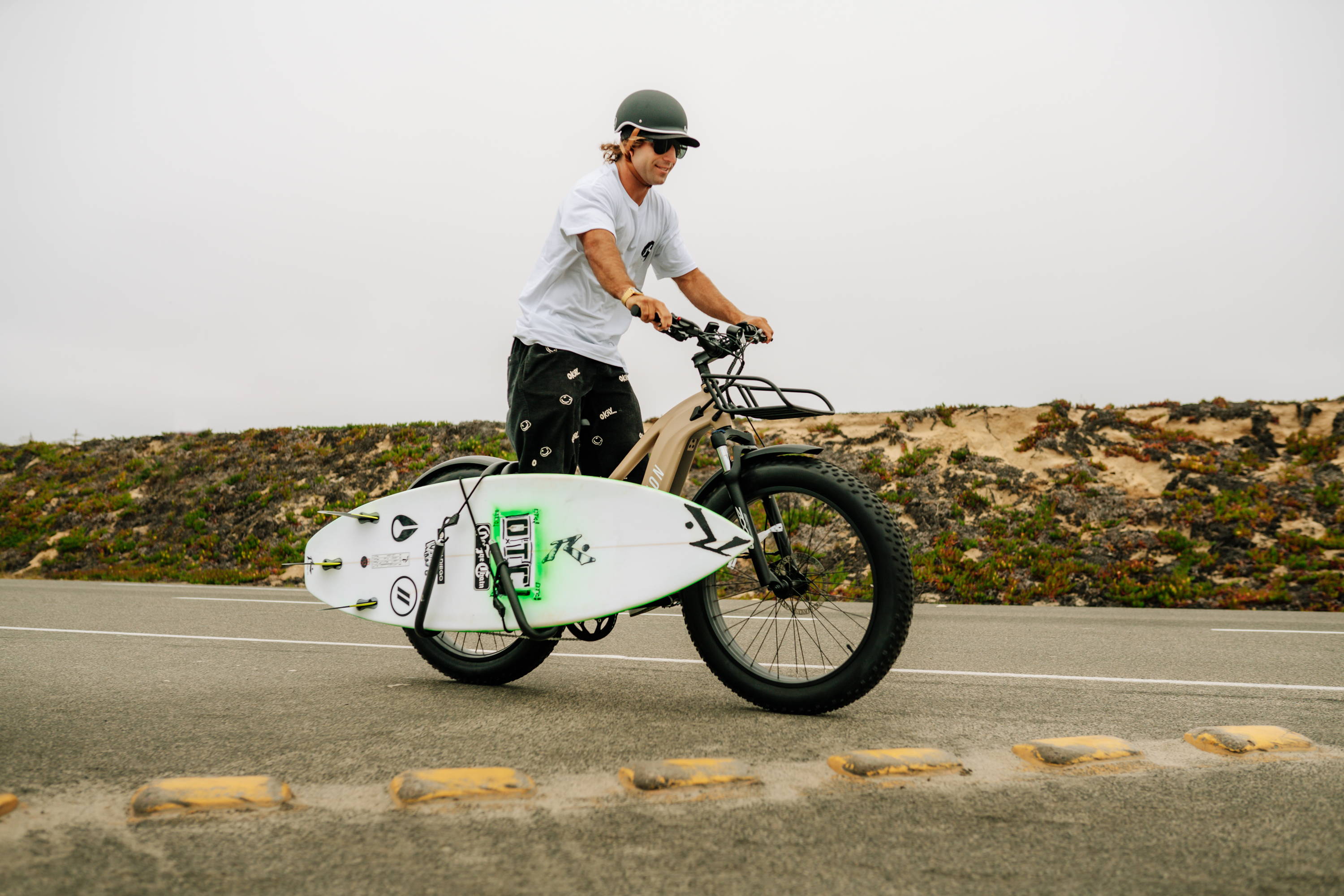 Surf's Up with Aventon! Find the Right E-bike and Gear For Your Surfing Commute
June 21, 2022
The sunshine is here and along with it comes one of the busiest seasons to hit the beach and ride the tides! With peak summer right around the corner, we're gearing up for surfing season by sharing some tips on how to find the right ebike for your surfing needs and the type of ebike gear you'd need for surfing. Be sure to read through the entirety of our blog, because hidden somewhere, is also info about a pretty stellar summer giveaway including a free Aventon ebike and Rusty's surfboard! First, let's cover our bases and discuss some of the key features to look out for when shopping for an ebike for surfing.
Features To Look For In An Electric Surf Bike
Fat Tires
Fat tire ebikes are exactly what you'd think they are: electric bikes with fat tires. In comparison to road, commuter, or cruiser style ebikes with slimmer tire widths ranging from 1.95" - 3.0", the most common fat tire width is 4". With twice the thickness, fat tires mean more surfaces to travel on, from snow to, you guessed it, sand! Not only do riders have more versatility in the terrains they can ride in, but the thickness of the tires also helps to improve control and balance, regardless of how rocky or smooth the terrain is, making them the ideal ebike for surfing trips.
* Check out our fat tire adventure ebike, Aventure, or our folding fat tire ebike, Sinch!
Battery and Range
One of the most important features when shopping around for an electric bike for surfing is its battery capacity and riding range. Battery capacity is measured by Watt-hours (Wh); A general rule of thumb is that the higher the Wh, the larger the battery, thus higher capacity for a longer range. However, it's important to keep in mind that a manufacturer's riding range is never guaranteed; For example, a powerful motor, hills, wind resistance, rider weight, cargo weight (especially surfboards and surf gear!), and pedal assist will all factor into how much or how little total range you receive per ride. At the end of the day, if you're riding to and from the beach with some heavier surf cargo, you want peace of mind that not only your ebike will make it, but that you can rely on a little help if - and when - needed too!
* Check out Aventure, with a 45-mile range and 720Wh battery, or Sinch, with a 40-mile range and 672Wh battery!
Pedal Assist & Throttle
Pedal-assist and throttle features are some of what set electric bikes apart from regular bikes. With battery-operated pedal power, pedal-assist can boost its riders, incrementally, for moments when they just need a little extra help or want to go faster. On the other hand, throttle removes the physical pedal power out of the equation and propels riders at legal speeds up to 20 MPH. Both pedal-assist and throttle are excellent features to have on an ebike after a long day surfing at the beach where you just want to throttle on home!
* Our Aventure and Sinch ebikes are both equipped with 5 levels of pedal-assist and a throttle!
Ebike Classification
While on the topic of pedal assist and throttle, it's important to be aware of your local rules and regulations regarding the permittance of electric bikes in certain areas. For example, some trails only allow Class I ebikes, while others allow Class I, Class II, and Class III electric bikes. When in doubt, always check with your local laws, and if you need more information on ebike classes, we've linked a wonderful resource on the difference between Class 1, 2, and 3 electric bikes.
* With Aventon's Aventure and Sinch electric bikes, you never have to worry about whether your ebike class is allowed! With an adjustable top speed, Aventure can toggle between Class 2 and 3, or even Class 1 with the throttle unplugged. Similarly, Sinch ships as a Class 1 but can operate as a Class 1 with the throttle unplugged or removed.
Lights
Whether you're an early bird or an after-hours type of surfer, finding an electric bike with built-in lights is always a plus. Look for one that has an integrated front headlight to help you both see and be seen by others, regardless of the time of day. Whereas an electric surf bike with brake lights will alert others when you stop, keeping you safe. Best of both worlds if you can find an ebike that comes equipped with front and rear lights, just like our Aventon Aventure!
Accessorizing An Electric Bike For Surfing
Surf Rack
First and foremost, if you're shopping around for an electric bike to make your beach commute easier, a bike rack for your surfboard is an absolute must. Consider checking out MovedByBikes. They were founded on the basis of creating add-on products that make it easier to "do more" than just go on a fun ride around the neighborhood!
* Check out the MovedByBikes Longboard Rack to easily get your longboard to the beach with your bicycle.
* Or, if you surf with boards that are 7-8 feet or less, check out their Payload Short Rack.
Front and Rear Racks
Equally as important as carrying your surfboard is transporting your other essentials! Whether that be water (gotta stay hydrated!), a change of clothes, a towel, wetsuit, sunscreen, or wax for the board. Safely and securely transport the necessities you'll need, both pre and post-surf sesh, with a front or rear rack. Use a rear rack to strap larger items, like your towel or a bag full of dry clothes, or a front rack to carry smaller items like sunscreen or wax!
* Shop Aventure Front Rack and Aventure Rear Rack.
* Shop Sinch Rear Rack.
Basket
If you're unable to find a compatible front or rear rack for your electric bike for your surfing needs, baskets are also a safe alternative! Although they may limit the number of items you can take, they still allow you to carry some of the essentials: a water bottle, light clothes, sunscreen, and your phone!
Bags
Bags are also excellent additions to rear racks! Depending on your particular need for a bike bag, they come in all shapes and sizes and are designed for varying purposes. For example, if you want to keep your water or snacks ice-cold during your mid-day surf sesh, an insulated bike bag would be an excellent choice! Alternatively, you can also store your change of clothes, towel, or small necessities in your bike bag, securing it to your ebike's rear rack.
* Shop Aventon's collection of ebike bags.
Surf Board
Starting this section off, we talked about the need for a bike surf rack. Coming full circle, to close the accessories list when prepping your ebike to go surfing, is a surfboard! If you don't already have a trusted board or are shopping around for a new one, allow us to point you towards Rusty Surfboards! One of the most recognized surfing brands, with a Rusty board, you're guaranteed innovation, agility, a cutting-edge shape, and pure fun.  
* Shop Rusty's collection of surfboards or wakeboards.  
Surf Fins
While on the topic of surfboards, a fin might also be a key component of your electric surf bike kit. Surfboard fins help lessen the burden of traveling with a board and can also give surfers more control over customizing their performance. When shopping for a fin for your surfboard, look no further than the industry leader, FCS: where innovation is at the heart of all that they create!
* Shop FCS's collection of fins.
Aventon x Rusty x Moved by Bikes x FCS Fins Giveaway
Congrats, you made it to the stellar part! Partnering with Rusty Surfboards, FCS Fins, and MovedByBikes, Aventon is thrilled to share our endless summer giveaway! Open to US residents and valued at $2,989, it is the ultimate surfing and summer package! Our exclusive giveaway includes:
The sweepstakes winner will receive not only a Rusty surfboard and FCS fins to ride all sorts of waves this summer, but a MovedByBikes surf rack and Aventon ebike to make commuting to the beach a breeze! Prize details and how to enter can be found here. The giveaway is open until July 5, 2022 to the contiguous United States, so be sure to enter here for your chance to win. Don't forget to forward our endless summer giveaway to friends and family too to give them a chance at experiencing their best summer yet!
It's the Summer of Riding Tides and Ebikes!
For the expert and novice surfers alike that are looking to change up their beach commutes through electric bikes, we hope this article provides an insightful overview of what to look for in an electric surf bike, from an ebike's core features to the accessories needed. While you can create your own fully geared, electric surf bike over time, entering our giveaway gets you a free chance to win one right off the bat; An Aventon ebike, Rusty surfboard, FCS fins, and MovedByBikes surf rack all in one! With that, we wish you happy riding and blissful surfing!