Aventon Dealer Spotlight: Berlin City
May 6, 2022
Here at Aventon, we value innovation and out-of-the-box thinking, so when our paths crossed with a car dealership that had the vision and excitement to sell electric bikes, we instantly knew this would be the start of something extraordinary. That's why this month, we're putting the spotlight on one of our Aventon dealers whose mission truly is one-of-a-kind. We had the absolute pleasure of speaking with the Parts manager, Peter Roy, of Berlin City Honda in South Portland, Maine. Dedicating two of their car dealerships in the larger Berlin City Auto Group to also selling Aventon ebikes, Peter opened up to us about how the idea came to fruition, the importance of cultivating an excited and dedicated team, and what sets their dealership apart!
Full-Time Car Dealership and Electric Product Retailer
Berlin City Auto Group sells and services certain new and used vehicles throughout the states of Maine, New Hampshire, and Vermont. With 12 retail locations scattered throughout New England, Peter says that each location receives a high volume of foot traffic, roughly 170 people coming in a day, either looking to service their car or to express interest in purchasing a vehicle on the sales floor. Aiming to be a 1:1 type of store, their goal is to sell one used car per every new car sold. While before Covid they were averaging about 350 new and used cars sold per month, they continue to sell high volume despite supply chain issues and microchip shortages. With consumers still purchasing vehicles despite industry hurdles, like product shortages, price increases, and delayed wait times, Peter began to wonder what additional needs his consumers may have had, that his locations may not have otherwise been fulfilling.
Describing himself and his boss, Yegor, as forward-thinkers with incredibly high energy, their goal is to continuously look for ways to support and enhance their existing customer's experience with them, even if it means bringing in products they might not expect at a car dealership. With this in mind, they took a big chance by branching into the world of electric products right before the Covid-19 pandemic in 2020. The first product they added to their showroom floor was the OneWheel by Future Motion, because, why not? Who wouldn't want to test out a self-balancing electric skateboard lookalike, that requires a very small footprint, while they're waiting for their car to be serviced? After all, you never know what you're missing out on until you realize what you're missing out on! The more traction their OneWheel gained on the floor, the more they invested into marketing it. Until one day, their OneWheel project was advertised on a local TV station program, called 'Maine Life,' thrusting both dealerships and their first, in-stock electric product into the larger public eye.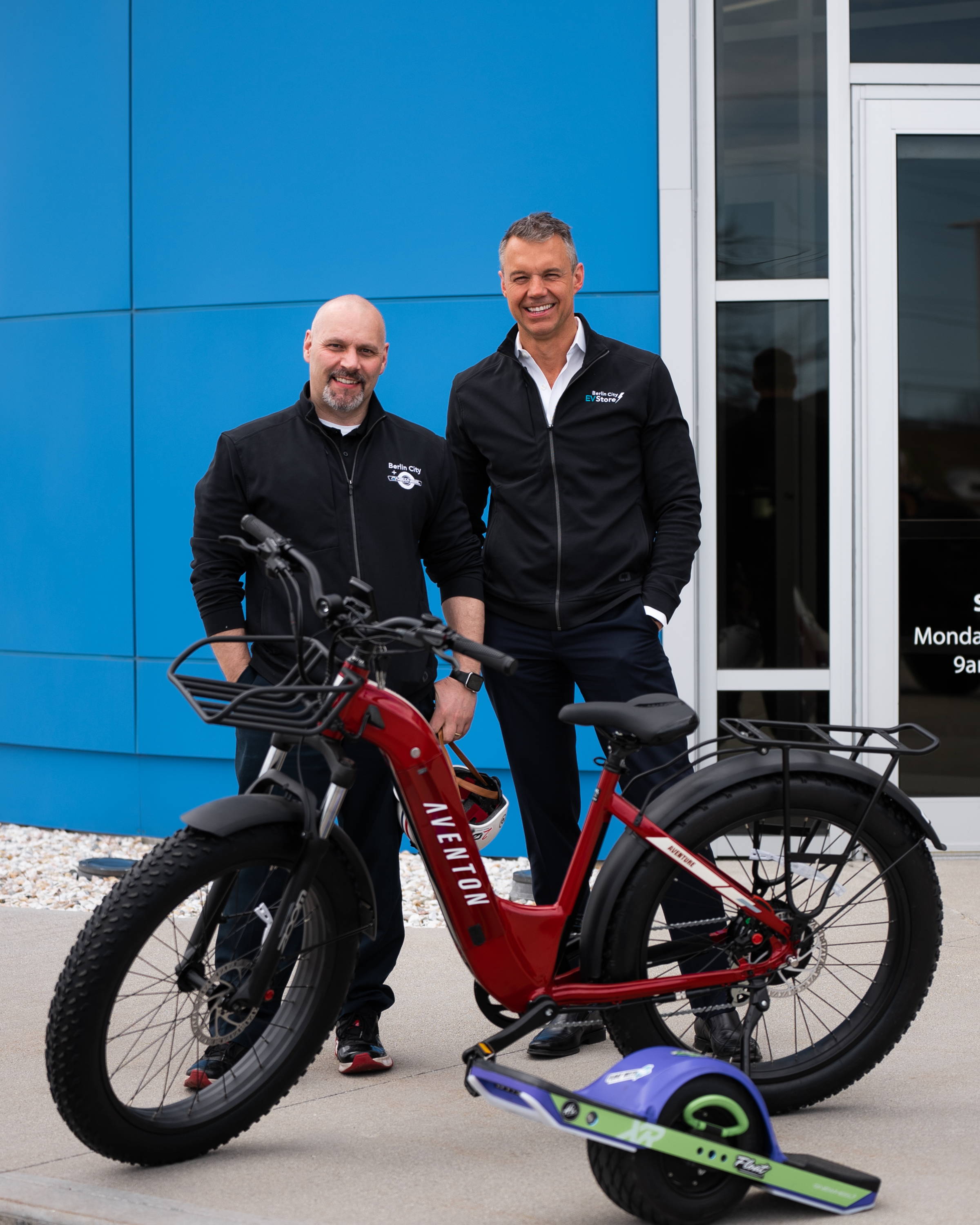 How Berlin City Auto Group Met Aventon
With the success Berlin City saw with their OneWheel project, coupled with the amount of foot traffic their car dealerships receive, Peter kept looking forward. Knowing that the electric market would only continue to grow, Peter told us that the next step was to expand their line of electric products. Next up from an electric one-wheel was an electric bike. While they contacted several other manufacturers explaining their vision, the potential their dealerships had, and their goals, they felt their vision and excitement weren't shared nor matched. That is, until Peter spoke with Andrew V. at Aventon in May 2021, explaining the marketing efforts he coordinated for their OneWheel program, the followings their Toyota and Honda dealerships have, and the massive potential a dealership could have in also selling ebikes. Since then, Berlin City Toyota and Berlin City Honda have become our first car dealerships that specialize in only selling Aventon ebikes!
Peter told us that his original intention was to only focus on selling one specific model, the Aventon Sinch, because the bike inherently is unique as is, from the design to its folding capabilities. So, they bought a bunch of Sinch ebikes and sold a bunch of Sinch ebikes! It wasn't until consumers discovered that they were also an authorized Aventon dealer, calling to inquire about other Aventon ebikes, did they decide to expand their depth of supply to have one of every ebike on hand. Now, they carry the extended fleet of Aventon ebikes, from fat tires to casual cruisers!
Since new vehicle inventory remains low, Peter took the open space on the sales floor to his advantage by displaying their inventory of fully built and accessorized Aventon ebikes, with 15 displayed at the Honda location and between 8-10 on display at the Toyota location. Peter told us that his favorite thing about Aventon ebikes is also his consumer's favorites: They're great-looking products packed with excitement. He says breaking from the norm of just selling traditional cars has been so refreshing; The thrill of doing something different matches the thrill he and his team feel when they ride Aventon ebikes.
How Berlin City Caters to both Car and Ebike Customers
Peter told us that a large majority of Maine residents are adventure people, therefore Aventon products are a natural fit. Moreso, he and his team discovered a link between selling cars and ebike sales. While add-ons and upsells don't occur often, there is potential to fully equip their consumers with the whole package, whether they're coming in looking for adventure, efficiency, or leisure. For example, when their Berlin City Nissan dealership next door received a sharp-looking Frontier pickup truck redesigned after 15 years, they decided to market it as the ultimate adventure package. They secured an Aventure ebike in the back of the truck and instantly sold the truck and Aventure ebike combo to make the buyer's ultimate adventure dreams a reality!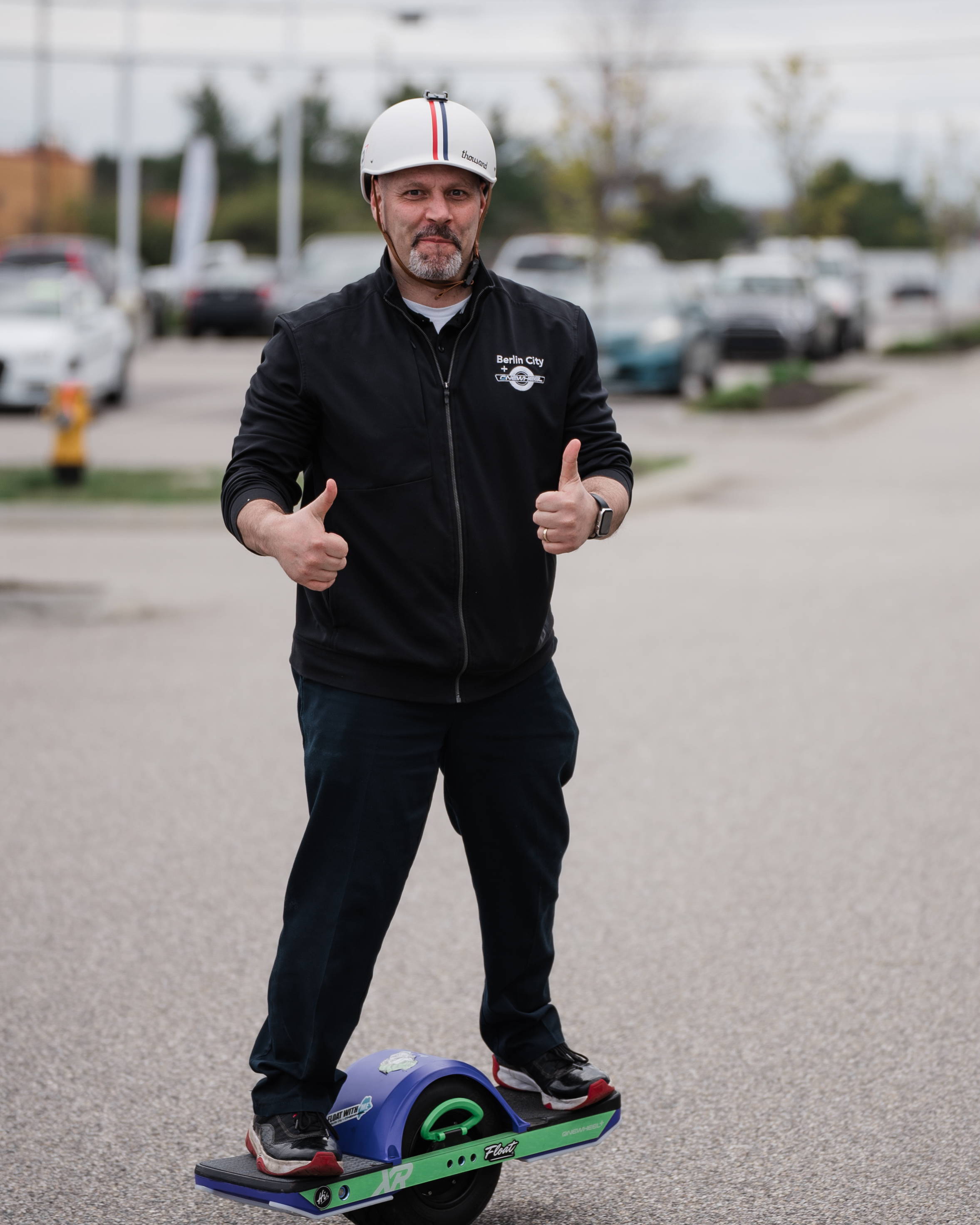 Berlin City Auto Group's Key to Employee Success
The success of a company truly relies on the people at the foundation and forefront: its employees. Peter told us that without genuine excitement, investment, and interest in a product, the success they've had would not be feasible. He believes that engaging employees is what's crucial to their dealership's success in also selling ebikes. So much so, that the moment they received the first OneWheel from their initial electric project, the first thing he did was have his team ride it. Not just a quick ride either, but to demo it and really ride it down. In other words, have fun!
Peter says that you need a team that is truly and fully invested in the products they're standing behind. Not only does he still ride his OneWheel, but so do his boss, his children, and other managers in the company. He even gifted one to his best employee because of his genuine commitment and interest in the product and the fun it can bring into someone's day-to-day. Only then, did that excitement start to spread, and he implemented that same philosophy when they onboarded Aventon ebikes; Peter let his employees borrow Sinch ebikes for the weekend and encouraged them to ride them everywhere, literally! Just like how he uses his, whether he's riding to the beach or running an errand to USPS. The general consensus after test riding Aventon ebikes was that his team was thrilled by their energy. He says the bottom line is, that if you don't have people who are excited and enthusiastic about bringing in a new product, you just aren't going to be able to connect with consumers nor share their infectious energy.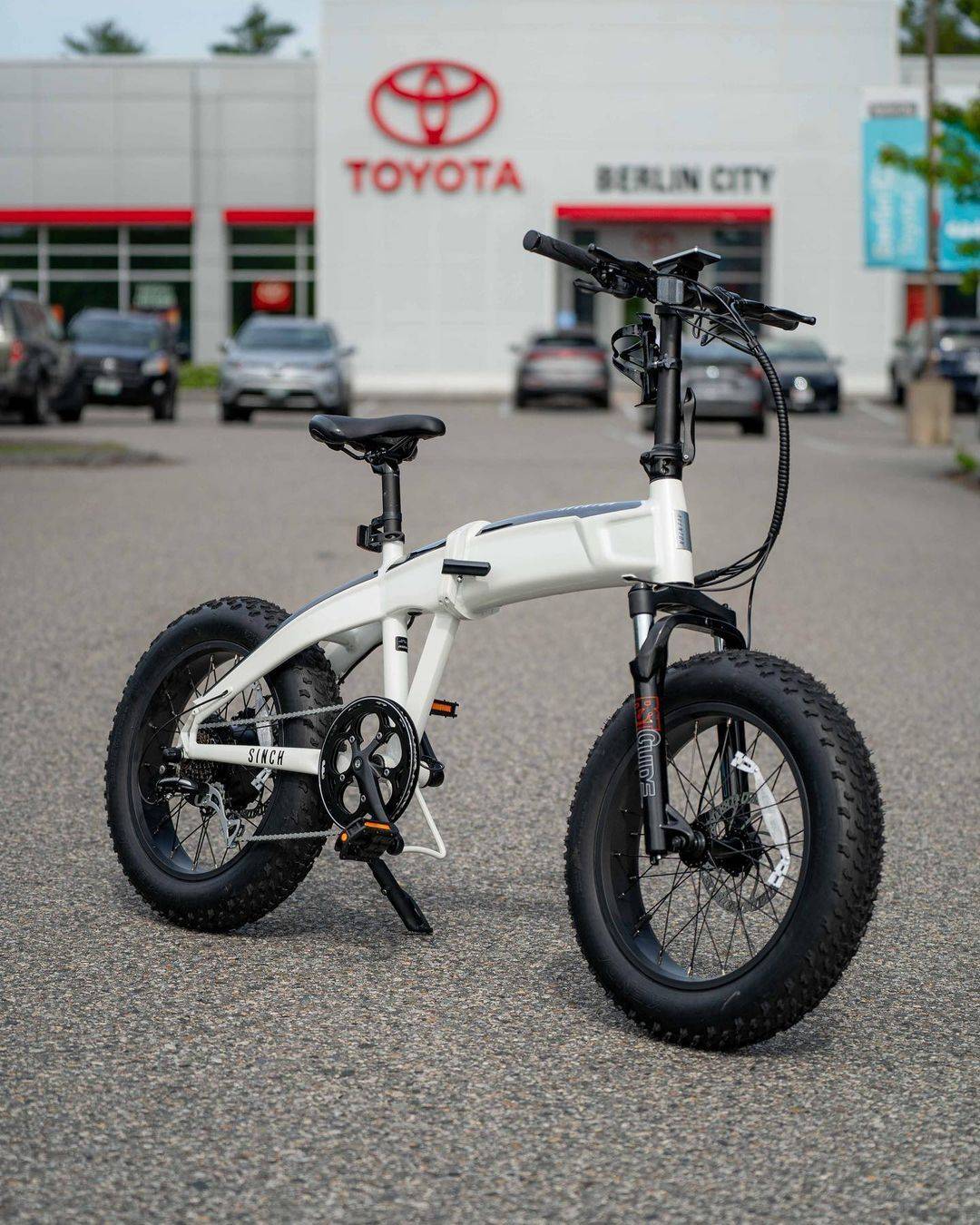 Berlin City Honda and Berlin City Toyota's Special Services
Whenever you visit either Berlin City Honda or Berlin City Toyota, you can expect personalized customer service, a guaranteed great time, and just some of the following special services!
Test Rides
If you're ever feeling overwhelmed with which ebike to choose or which ebike is right for you, leave it in the hands of Berlin City's expert team to help! Not only will their team walk through the entire process of breaking down and understanding ebikes and how they work, but they'll also help find an Aventon electric bike that best fits your lifestyle and needs. Then once you've narrowed it down, the fun part is going out for a test ride! Test rides are not only encouraged but welcomed as a great way for customers to really get an idea of how the ebike they're interested in feels and whether it's truly the right fit for them!
Accessorizing Ebikes
While they have a stock version of every Aventon ebike on hand if a customer is looking to purchase just an ebike, they also have all the extra accessories, giving customers a full stature of compatible products that are available! From helmets to racks to fenders to lights, ensuring their customers leave with every thing they came in looking for. For those that decide to customize their ebike purchase from Berlin City Auto Group with added accessories, they may even be incentivized with a slight accessory discount or a waived build fee!
Servicing Aventon Ebikes
While they don't service just any electric bike, they do service Aventon ebikes purchased from them! Anything from rear-wheel replacements to troubleshooting battery issues. They also offer routine maintenance for any Aventon ebikes purchased from either their Berlin City Toyota or Berlin City Honda retail locations. Receiving warranty replacement parts directly from us on an as-needed basis and having a team of factory-trained Honda and Toyota technicians on stand-by allows them to quickly resolve ebike concerns so their customers can get back to biking!
Ready to Check Out Berlin City?
Berlin City Honda and Berlin City Toyota are two pillars of the larger Berlin City Auto Group, which values innovative and out-of-the-box thinking to boost their consumer's experiences and provide exceptional support just as we do here at Aventon! Berlin City's tried and true innovation has not only cultivated a dedicated force of car and ebike salespeople but created a one-stop shop for its consumers, where they can have fun, feel heard, and discover all that they need. You can visit Berlin City to view their full list of retailers and locations or Berlin City Toyota and Berlin City Honda directly for more information about these locations, their ebike availability, and service assistance. And if you're ready to test ride or purchase an Aventon ebike, stop by either location to have yourself a guaranteed good time!