Dealer Spotlight: Montana Ebikes
August 18, 2023
Montana E-Bikes in Whitefish, Montana doesn't consider themselves an ordinary electric bike shop. They're an experience shop founded on the principles of strengthening community through connectivity and creating moments of adventure for all who enter. Whether you want to ride around the city of Whitefish while visiting, or take a rental up to Glacier National Park to take in the natural glory and wonder of the natural landscape, this is the place for you.
This family owned and operated establishment combines the work experience of one generation, and the innovation of another. Let's find out more about how Montana E-Bikes will change the way you get around on two wheels, and what motivates them to get more people on electric bikes.
It's All In The Family For Montana E-Bikes
Part owner of Montana E-Bikes, Josh Houser, grew up in Twin Falls, Idaho where his parents were the proud owners of a bike shop called Valley Schwinn. This became the foundation for Josh's love for biking and fueled his passion for adventure.
"I've ridden just about every kind of bike. I was a road rider, and I did some bmx racing. So I grew up loving bikes."
Josh went on to work corporate jobs, and unfortunately left behind the bike world. That is, until he and his wife found electric bikes.
"Four years ago, my bride and I got our first ebikes. It was around Christmas, there was tons of snow here in Montana and we were about to go to Palm Desert for a while. We literally had a bike revival. We found out the greatest way to live is on a bike."
Josh's partner and son, Matthew Houser, grew up sitting in on his father's board meetings and learned all about how to run a business from a young age. In high school he had his own window washing business with his own employees. It has always been a passion of his to work with the community and to create lasting, memorable experiences.
"When they got ebikes, I was like 'Hey, what would you think about doing an ebike experience shop.' It was really cool. We were in Europe at the time and I was coming back a little early and he [Josh] was like, 'Matthew, I think this is a time for you. I'm just going to let you do the thing and build this thing from the start. And I'm going to come back and help you finish it off.' It really pushed my business acumen. It was a really good time to learn the legal side of the business and everything else to start the shop."
"It comes down to respect," says Josh. "I have so much respect for Matthew. My respect is so high. When you see the design of our store, when you see him work with a customer. He doesn't wait for me, he just does it. He respects what I bring to the table and I respect what he brings to the table. This business would not be successful without him . . We love working with each other. We roll really well together."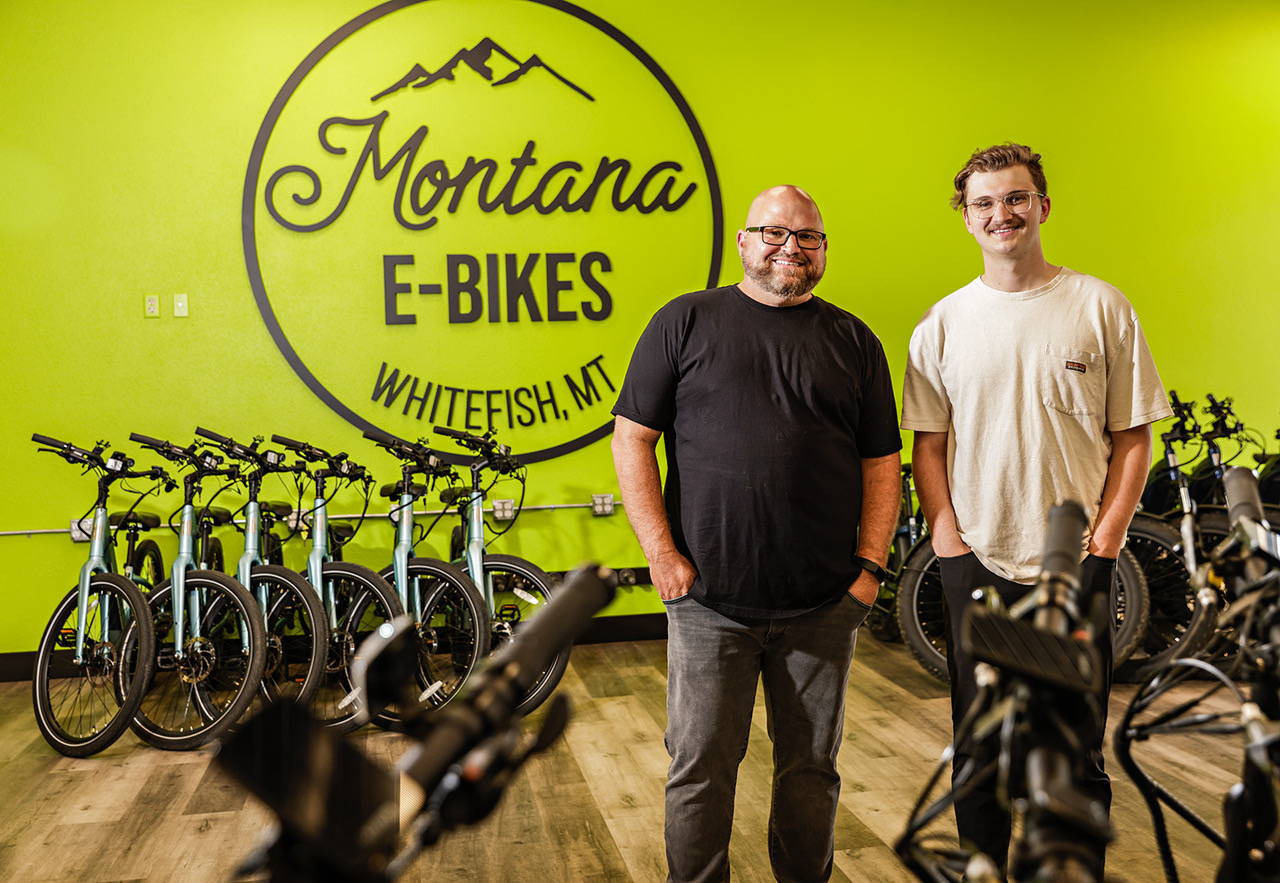 How Montana E-Bikes Found Aventon
When the father/son duo of Montana E-Bikes were looking for the right electric bike for their experience shop, they were headed in a completely different direction. Then Matthew came across an Electric Bike Report that changed his mind.
"We started looking at every forum. There were days where I was just reading about every single bike. And The Electric Bike Report is a really good report. Three of the top ten bikes this last year were Aventon. So I thought, 'If they have 3 of the top ten they're worth looking into.' Then I brought it to [Josh]."
"This really threw me off because we were going in a different direction, and Matthew called me and said, "Dad, I found this brand. I really think we need to consider it." I'm like, 'Are you sure?' As soon as we did the research I said, 'Let's fly out there and meet the team and learn more.'
And they did. Not long after discovering Aventon, Josh and Matthew Houser flew down to our Orange County office and met the team, looked the bikes over, and tested every model.
Why Montana E-Bikes Is With Aventon
What's important to our partners at Montana E-Bikes, first and foremost, is a quality-made electric bike with the right technology and components to change the way their customers experience the world on two wheels.
"When you look at your bikes, even down to the welds, the bikes are really well done and you guys keep getting better. And I love watching you guys get better and all the bikes get better. The components. Everything. It was just a blast meeting the team," says Josh.
Of course, Aventon's electric bikes would be nothing without the people who work here. Without them, and their relationships with our partners, the experience wouldn't be the same.
"We've had the best support from your team. It was cool getting to meet everyone and find out they're really engaged to care. It's cool when you find a company that cares. Aventon cares about our success and cares about helping us. We have a guy to call. We have a guy that will work for us on the other side. That's pretty sick. After we did the research we were confident it was Aventon."
Without the love for the bikes, and the love for our partners, Aventon would not be the brand it is today. However, it's this love and the combination of a great product for a great price that makes Aventon the primary choice for Montana E-Bikes. The Housers love competition, and they love knowing they have a product that can stand up to the big bike brands, and they don't shy away from a challenge.
"The price-point of your bikes is huge," Matthew tells us. "Our customers can get two bikes and a bike rack for under $5k compared to just one bike next door at Sportsman's. I think that's huge. They'll go ride that 6k bike then they come over here and are blown away. A guy came in last week and said he spent 18k on two bikes. And he goes, 'I think I'm going to sell them and come buy these.'"
"Yea, the price point definitely helps us here," Josh adds. "It doesn't seem expensive in Whitefish. We live in an affluent place. And when people rent and ask how much the bike is, they'll say "Oh really, I think I'll buy one." We've sold so many from our rentals because of the price point. Then there's your warranty. You guys bumped it up to a 2-year warranty. It gives confidence to their choice."
The Power Of The Aventure.2
For the boys at Montana E-Bikes, there's only one bike that they ride to get around
"For me, the Aventure.2 in Cobalt Blue is what I ride around town," says Josh. "I freakin' love that bike. I look like a baller on it. They really are powerful, too. I'm a larger guy, you put me on the road and I fly."
The apple doesn't fall far from the tree in this ebike family.
"I have the same one. I love the Aventure.2. I ride a motorcycle and the fat tires feel like my bike, so I can hit corners a little harder. I love that about it."
The Aventure.2 is our favorite fat tire ebike with an upgrade. Equipped with a torque sensor, the Aventure.2 feels as natural as riding a traditional bike, and with its powerful 750W motor can pack a punch as it hits top speeds of 28 mph and a range of up to 60 miles on a single charge. For Montana natives, this robust electric bike can get rugged when they need to hit dirt trails and off-road routes, or it can make riding around the city fun and exciting.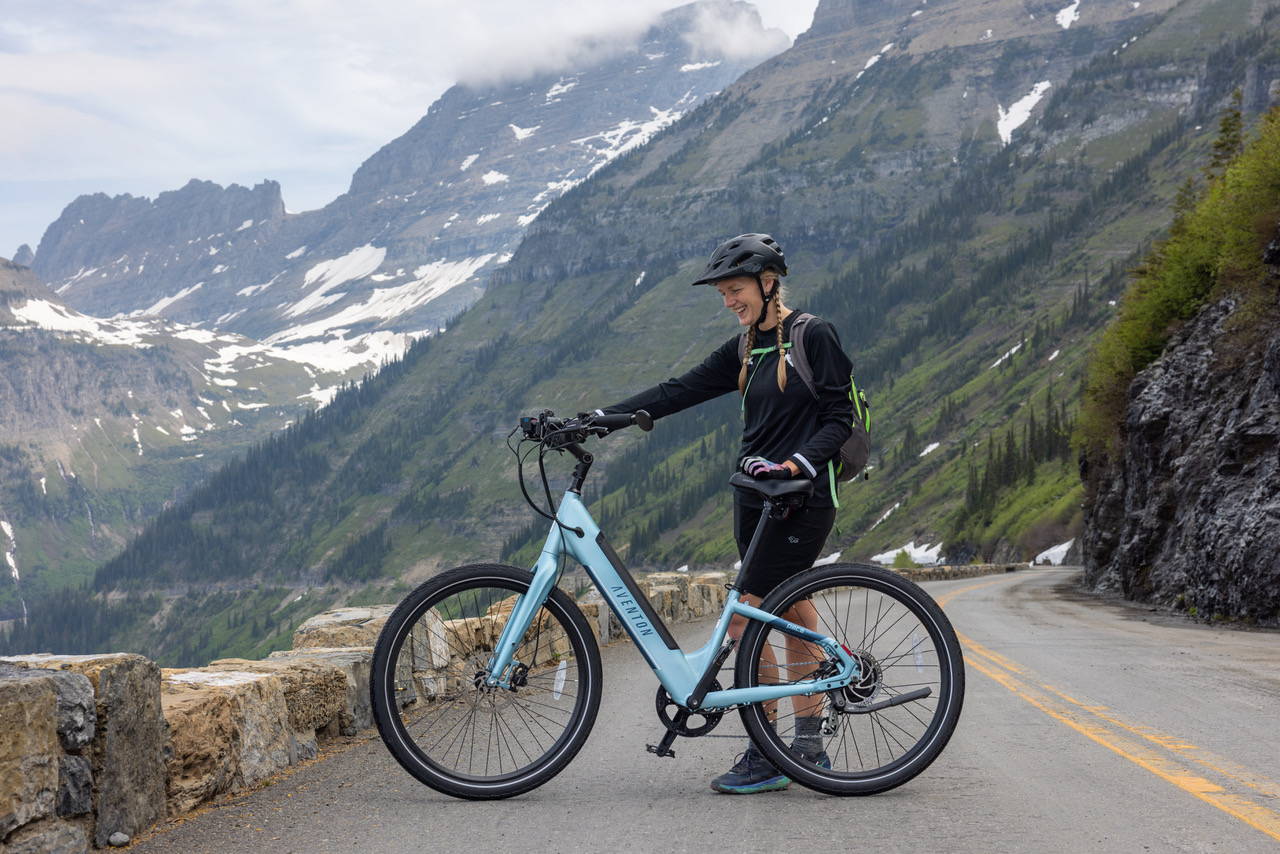 The Great Outdoors Is Montana E-Bikes
Montana isn't called Big Sky country for no reason. Just 36 miles north of Whitefish is Glacier National Park, home to some of the most beautiful landscapes and natural wonders found in all the world. So what does this mean for Montana E-Bikes and those visiting the Whitefish area? It means tons of outdoor adventures to enjoy all nature has to offer.
Montana E-Bikes has a full time maintenance tech with over 20 years of experience in the biking industry, 30 Aventon electric bike rentals, and a guide on trails you can ride, including Glacier National park. Plus, if it's your first time on an ebike, they'll walk you everything you need to know and even give you a test ride so you feel comfortable with the bike and its components.
Bike Maintenance
Montana E-Bikes knows the value of quality. That's why they've teamed up with a bike maintenance tech that has worked in the bike industry for 25 years.
""He used to build $20k custom mountain bikes and every little piece was custom," Matthew told us. "He was super impressed with Aventon's bikes. Even the welds. 'These welds are incredible. I haven't seen this kind of attention to detail in a long time.' We had to replace a fork on a bike and the little notch that was seated in there was different, and the new fork was even better. Our tech was blown away, 'Wow, they're improving these things on the inside of the bike that no one sees to the eye!'
Test Rides
Once you've done your research go down to Montana E-Bikes to test ride a bike today! They've got a wide selection of Aventon's cadence and torque models as well as standard and step-through frames for any kind of ride and rider.
"I had one lady who was almost in tears after a test ride," says Josh. "She was crying and cursing at the same time she was so happy. It was so cool watching her have this experience."

"We're an experience shop. We sell a ton of bikes to people in the age range of 30 - 70 years old. And so the older folks who are 50+ who haven't ridden a bike in years, we take them out back and they discover they can still ride a bike."
Rentals
Montana E-Bikes has a fleet of 30 Aventon electric bikes for rent, and 4 different models depending on the type of ride you prefer, including Aventon's foldable ebike, the Sinch, for those who want to rent bikes but don't have a truck or the ability to attach a car rack.
"Some people get nervous on test rides so I'll run right next to them. I freakin' love that. Big ol' Josh running with an old lady for her first time on a bike. I think it's hilarious and fun. They see I care."
Not only do they supply the bikes, but the team has mapped out 5 incredible rides that you can find on their website called Where To Ride.
"One of our rides we send people on is this 25 mile ride where there's a really nice tiki bar that floats on Whitefish Lake and Bonsai Brewing and they'll come back ecstatic. That gets me fired up everyday," says Matthew.
Montana E-Bikes also encourages renters to take the bikes on their own adventures around town, and to take in the sights from the seat of an ebike.
Glacier National Park
Take your bike rentals on one of the most epic rides you'll ever experience, and one of the most beautiful rides in the lower 48 states. To The Sun Road is normally open from May 1st through July 1st. In Spring the main road allow access for biking while the National Park Service is removing snow.
"One guy wrote on our Yelp review, 'That was literally the best day of my life. Riding your bike in Glacier National Park, I've never had a better day than that.'"
To learn more about this incredible ride, visit Montana E-Bikes' website to schedule your next Montana adventure.
Experience Montana E-Bike
Family, connectivity, and providing the best experience you could possibly imagine on two wheels is what Montana E-Bikes is all about. From the moment you walk through the door, expect nothing less than a warm welcome, great conversation, and the most incredible ride of your life.
Go to Whitefish Montana, stop in at Montana E-Bikes and say, "Hi!" to Josh and Matthew Houser and the rest of their team. We guarantee you'll get some laughs and leave smiling.