Aventon Dealer Spotlight: Evolution E-Bikes
February 24, 2023
Evolution E-Bikes in Rockland, Massachusetts is a boutique bike shop that specializes solely in electric bikes. David Travers, owner and operator of Evolution E-bikes, knows a good thing when he feels it. Inspired by his first ride on an electric bike, David immediately sought out opportunities to recreate that experience for others by opening his own doors and sharing the sheer joys that came with it, all while still owning and operating another full-time business. This is the story of hardwork, dedication to passion, and the salesman who declares that he's not a salesman at all, but an educator of happiness. Aventon is proud and excited to share this partner spotlight on Evolution E-bikes with you!
The Evolution Of Evolution E-Bikes
David Travers bought an ebike a couple of years ago and still hasn't been able to wipe the smile off his face. Instead, he's doing his best to spread it from one customer to the next. "The long and the short of it is I bought a no name fat tire ebike off the internet a couple of years ago and took it for a ride on these gravel trails by my house surrounded by ponds and nature and cranberries bogs, and within five minutes I was like, 'This is incredible.' and did that smile thing that everyone does." Then the crank started turning and the pedal assist in David's mind moved him towards visions of his own ebike company. "My first thought with the business was to create my own brand. Believe it or not, the name Evolution E-Bikes was designed to work both ways as a bike brand [and a shop]. And I was in conversation with a lot of folks in China who make all these bikes for everybody."
Instead of building his own brand though, David pumped the brakes and decided to open the shop as an experiment to see where it would take him. A mechanical contractor by trade, David made room in his current business' location to make a showroom for the ebikes and a reception area. "I do everything myself. I've assembled 50 bikes in the last six months. And everything else in between, from building my website to installing the flooring in the showroom. I have also been running another full time business for the last 18 years." And the rest, as they say, is history.
How Evolution E-Bikes Found Aventon
When David started his search for companies that would let him sell their ebikes, he went to Google and simply typed in "ebike dealership opportunities" and that's how he found Aventon. "I just started emailing and making calls. Aventon was the first one."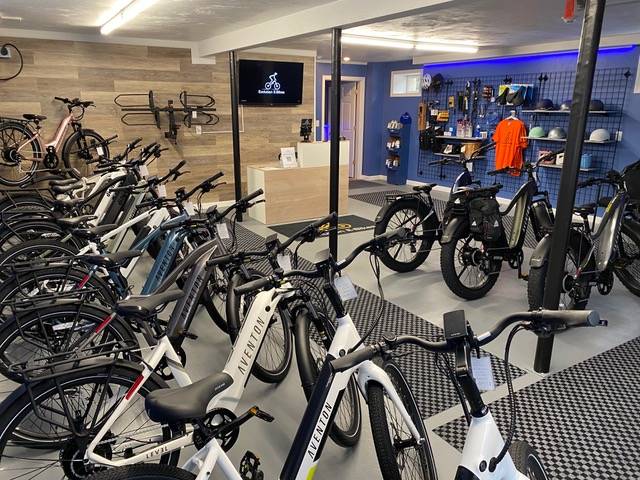 Why Evolution E-Bikes Rolls With Aventon
Evolution E-Bikes is situated in an industrial park in Rockland, where it's sandwiched by a restaurant on one side, a Burger King on the other, and a Tesla dealership across the street. "I'm hidden," said David. But after opening his doors, he nearly doubled his expectations within the first six months. "Starting a new business from scratch and the way that I was set up with signage and street presence, to do that was impressive. And it was mainly because of Aventon. Aventon's website drove everybody here. I'd say that 75% of people that came through my door when I started this was because they found me on your website, and I know you guys market like crazy." Besides the marketing, it's the bikes themselves that David enjoys so much. "These [Aventon] bikes with the polished welds. You guys have everything covered. The whole line up is great."
Level.2s and Pace 500.2 Step-Throughs
Inspired by his eye-opening first ebike ride, when David opened Evolution E-Bikes he filled it with fat tire ebikes because that's what he thought everyone wanted to ride. "I realized pretty quick everyone wanted Pace 500.2 Step-Throughs." As time went on David began to better understand the needs of his customers. "Most of them were retirees and they wanted to come in and buy them as a pair. Two bikes at once." Not only were his customers after the Pace 500.2, but also the Level.2 with its torque sensor, and its rear rack and fenders. "The Level.2s fly out the door. But what I really want to do is stock up on Level.2's, Aventure.2's, and Pace.2's."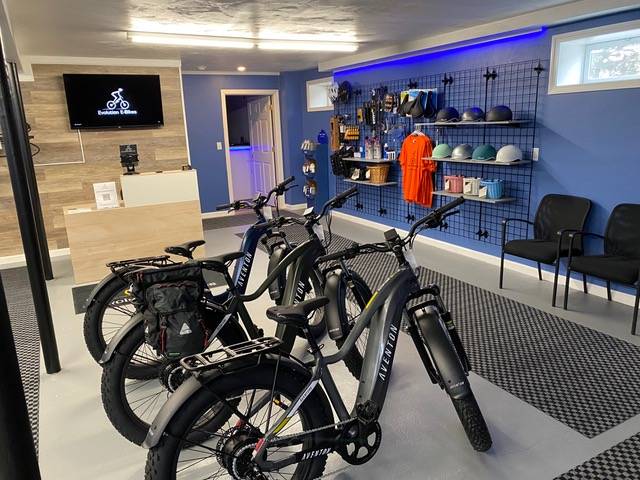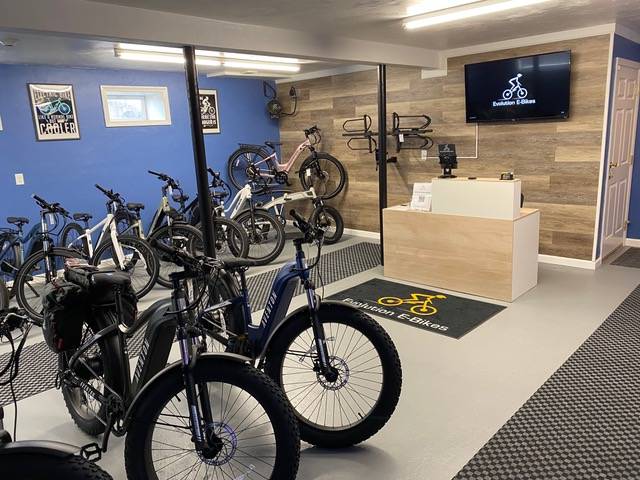 What To Expect From Evolution E-Bikes
Evolution E-Bikes focuses on the tangibility of the bikes. David recognized that customers looking to buy an ebike for the first time want to get on and ride the bike. They want to see it with their eyes, touch it, know what they're spending their money on. What they've found about David is his value. How he creates that one-on-one connection through appointments. Even though he runs another business during the week, he still sets aside at least 4 hours per day for walk-in customers to answer questions and ensures that his customers are finding the proper fit for them while educating them on all aspects of the bikes, "My customers understand I'm here to see If I can find the right bike for you and it's going to make you happy."
Test Rides
David is a hands-on kind of guy, and like his own first experience riding an ebike, it's the test rides that get people on the bike. "I saw the need for test rides. It's all over my website with pre-booked time slots. Everyone has their appointment and their time to ask a million questions." Test rides create the space for customers new to ebikes to understand the componentry and get the feel for the electric motor. It's the perfect way to fall in love with an ebike.
Bike Maintenance
If you've purchased an ebike from another shop, David will gladly take a look at it, as long as it's a brand he carries. "I love tinkering and doing all the service work." While David isn't a full-time servicing shop, he does have the capacity to focus on making sure that your bike has been built correctly and is set up, dialed in and ready to roll. "I enjoy it."
Safety First
As an educator, David's main focus is safety, making sure that new ebike riders understand the electronics and componentry of the bikes before even getting on and going. David is cautious. He'll demonstrate how the bike works by turning it on in front of his customers and riding it to show them that it's safe. "I get on the bike first and ride it around so that they know the bike is safe." He likes to point at that some brands' ebikes, when turned on, already start at a PSA level and that the throttle is active. "I tell them if the screen is lit up before you get on and off the bike make sure it's on PSA zero."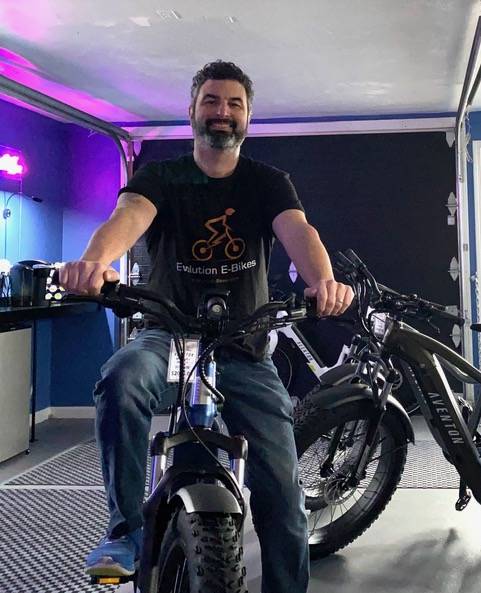 Evolve With Evolution E-Bikes
There is a beautiful passion within Evolution E-Bikes radiating from David Travers. He believes in ebikes and their ability to create joy in people's lives. "I do it for fun and I do it because I love it. Seriously, I'm not a salesman. All the bikes sell themselves. That's been my thing." It's true. David is all about getting people on ebikes to spread that smile he experienced his first time out. He'll even go above and beyond to create a moment. During the past holiday season, if you lived within a ten mile radius, David would deliver the bikes to keep the holiday surprise alive.
Evolution E-Bikes in Rockland, Massachusetts has some big news in the near future, as well. David is currently making more room for more ebikes and creating an all-new showroom. Make your appointment today and go see what makes this shop the place to test ride your new way to get around!