Aventon Now Available in Hawai'i
August 7, 2020
Aventon has some of the best and most loyal fans around. Taking one glance at our social media channels and it is evident. We pride ourselves with the kind of following we have and are constantly striving towards engineering some of the best ebikes around. So it cuts us to our core knowing that, to some of our fans, our bikes aren't available for them to purchase simply because of where they were located within the US.
That is exactly what was happening to the folks over in The Aloha State of Hawai'i.
For the longest time, Aventon was not able to sell ebikes directly to the residents of Hawai'i. Purchasing through the Aventon website would require us to ship by plane to keep shipping costs low. However, US laws and regulations prevented us from air shipping the type of batteries our ebikes used overseas. We would hear from residents inquiring about our bikes and unfortunately, would have to share some tough news.
Aventon Has Finally Landed In Hawai'i
We are extremely excited to announce that we've partnered with a local bike shop that is located in the heart of Honolulu by the name of Ebikes Hawai'i to carry the full line of Aventon ebikes. This partnership has allowed us to ship a large number of ebikes by ship and keeping costs in check for the customer. Hawaiian residents can now purchase popular models such as the award winning Pace 500 and the foldable Sinch amongst others. Be sure to check out their website for purchase and details: https://www.ebikeshawaii.com/aventon-1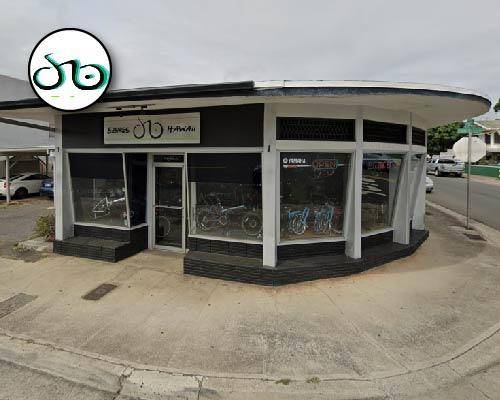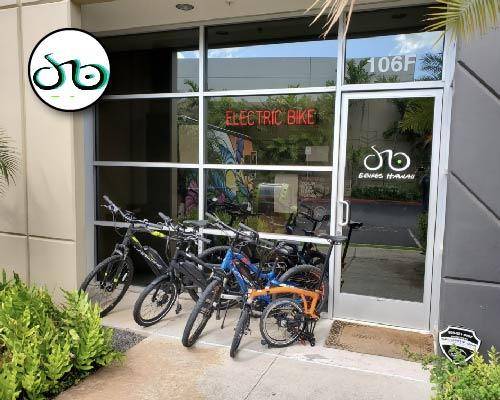 About Ebikes Hawai'i
We are happy to report that the bike shop's owner, Makana Richter, has received a lot of positive feedback from customers on Aventon ebikes specifically their features & quality for the price. We had a chance to connect with Makana and she gave us a little background on her and her bike shop:
Where is your bike shop located?: 
We are located in the neighborhood of Kapahulu, in the heart of Honolulu. We're a five minute bike ride to Waikiki beach.
How far do fans commute to get to your shop?: 
Even we are surprised sometimes when it comes to who our clientele end up being. We most commonly service bicyclists all over O'ahu, across the other Hawaiian islands, and sometimes around the mainland, though we've even had some customers from Japan and Ireland!
Can they find you online? If so, what is the URL to your website:
They can! Our website is https://www.ebikeshawaii.com
What are 3 things you want fans to know about you and your business?:
1) We are just as excited to talk about bikes as we are to service them. We love customer engagement as we feel it helps knowing not only what a customer uses their bike for, but how it makes their lives a little more fun.
2) We care deeply for the 'aina (land). The environment is under a lot of stress these days, and getting to cater to customers who want to reduce their carbon footprint and swap their car for an ebike always makes our day.
3) We also have electric skateboards and scooters now!
How long have you been doing this?: 
We've been in business for seven years.
What sparked the idea for your business?:
There weren't many businesses in Hawai'i that were jumping on the ebike movement, so we felt we ought to give the people of O'ahu a place where they can come and have their electric bike dreams realized.
What is the history of the company/shop?:
Roy and his father, John, started the business together back in 2013. They have since opened two locations on O'ahu, one in Honolulu and one in Kapolei.
What types of bikes do you sell?:
We primarily sell electric bikes of all form factors -- that being mountain bikes, cruisers, commuters, you name it -- though we also sell non-electric bikes and electric scooters, skateboards as well.
What other services do you provide?:
We are a full service ebike shop, so whether you need a derailleur tuned, a headset tightened, or a battery-operated motor repaired, we got you covered. We also sell a number of bicycle accessories like racks, helmets, and locks.
What are some unique complimentary products (to Aventon bikes) you carry?
We have a bevy of products to compliment a customer's new Aventon, from repair tools, new pedals, speedboxes for limiter alterations, and rack-mounted bags. Please see attached photo.
What are your favorite bikes?:
We are admittedly huge fans of the Aventon Level. That bike has some insane specs at a very affordable price. We also love just about everything from Haibike as well as Bulls, Diamondback, Brompton. Our scope of interest is pretty all-encompassing when it comes to the cycling industry.
What are your favorite bike accessories?:
We wouldn't be caught dead without tubeless tires. Despite having a mix of avid mountain bikers and roadies alike here at Ebikes Hawai'i, we all run tubeless and recommend tubeless conversions to customers often. Also frame bags, cus who doesn't like a little extra storage.
Do you ride a bike? If so, what type, road, track, mountain, ebike, etc.:
I (Makana) ride a Cannondale CAADX 105 SE. I'm the roadie of the bunch. Roy and Isaiah (our other mechanic) both ride custom Haibikes, though Isaiah has at least five or six bikes on him at a time that he switches out depending on the day's flavor.
What is the best way for a new customer to buy from you? Especially during this pandemic state we are in?:
Either over the phone or in-shop. We take PPE seriously and provide masks/hand sanitizer to customers who would like them. We want customers to feel safe knowing we are doing all we can to assist them with their cycling needs without compromising their health during these trying times.
What are your future plans for the company?:
We are interested in expanding some of our business relationships with our bicycle manufacturer partners. We also intend to look more into the electric scooter and skateboard industry so we can provide a wider array of electric transport to the people of Hawai'i.