Aventon Dealer Spotlight: Voltage Bikes
January 27, 2023
Voltage Bikes is an electromotive force in Warminster, Pennsylvania. The energy that exudes from owner and operator Chris Arndt, is contagious, exciting and fills any space he occupies. Like many entrepreneurs, Chris carved his own way. He saw an opportunity in a time when others were ready to give up. We are thrilled to have had the chance to hear the story behind the Voltage Bikes, feel the electricity that pulses through the dealership and now pass the "electricity" on to you!
High Voltage and New Beginnings
When the housing market crashed in 2008,the entire country was thrown into a recession. Many people lost their jobs and sadly their homes. Chris was a manager for a family owned
Chevrolet Dealership for over 25 years. Chevrolet closed many of the small family-owned dealerships to keep the national chain afloat. It was at this point Chris realized he was ready to take matters into his own hands. He decided if he was going to work 10 to 12 hours a day, 70 hours a week, it would be for himself. He was ready to become an entrepreneur. "I was tired of working for someone else". Chris, along with a friend of his, a tech at the dealership opened up their own car dealership and they specialize in electric cars. "It was something I should have done long ago." Then Voltage Bikes was born.
From Electric Cars to Aventon's Electric Bikes
Chris started riding electric bikes nearly 12 years ago. After he opened up his dealership PA Direct Auto Sales focusing on electric cars, he wondered if he could sell electric bikes as well. Chris scoured the market to find the best fit. "I did a lot of research. I was looking all over for a bike." That's when he found Aventon. Chris was curious if Aventon would consider his selling the bikes at his dealership. To his surprise, we agreed. At Aventon, we thought it was a perfect union to team up with an electric car dealership. The opportunity to bridge the gap between different forms of e-mobility is forward thinking, and the reason why Chris and Voltage Bikes have a bright future ahead of them.
Why Voltage Bikes Is All About Aventon
Voltage Bikes is about one thing: Aventon.They're the only ebikes he sells! In Chris's own words, "I've been in sales for over 30 years and I've never seen customers so excited about a product. They know what they're talking about and are so well informed. They want to try it. It's like in the old days when you pull the cover off the new Chevy…When people come in for an Aventon bike they're so excited. It's fun. Sometimes when people are shopping for a car. They have their shield up, they think all car people are alike, only out for the sale, not for the customers' benefit, but not our dealership! Bike people are just phenomenal! It's not only the people looking for E bikes that Chris is excited about. It's about building a relationship on the foundation of trust, communication, and the reliability of the products. I talk to my Aventon rep four times a week," Chris tells us. "He keeps me informed and enthused, and I love passing that enthusiasm on to all of our Voltage Bike customers."  
Cruising With The Pace 500.2
When we asked Chris what bike sells best at Voltage Bikes, he answered without hesitation. "The Pace 500.2." When we asked Chris why his customers loved the bike so much he told us it was because of his own love for the bike. "It's clean. It's smooth. It's got the power. And its price point." Perhaps it's the swept-back handlebars and cushioned saddle of the Pace 500.2 providing all the comfort needed for a roll along the canal near Warminster.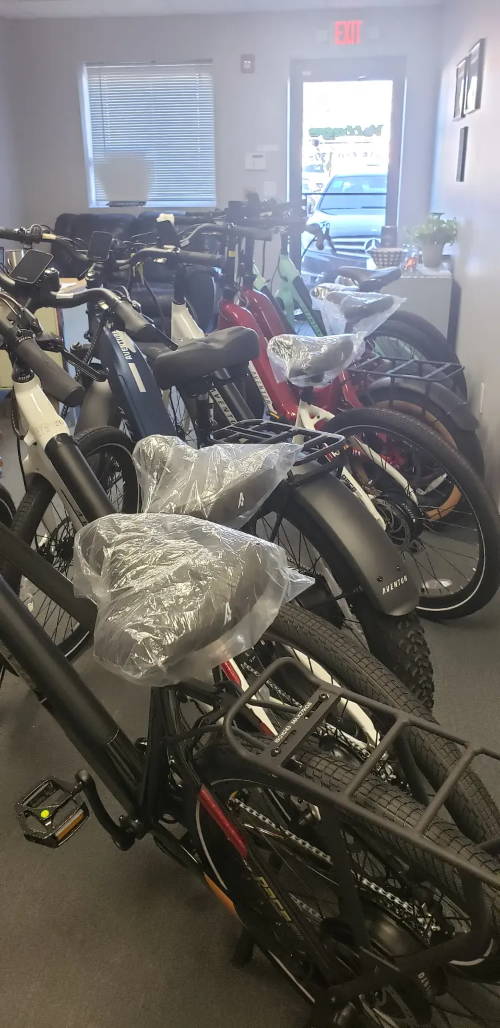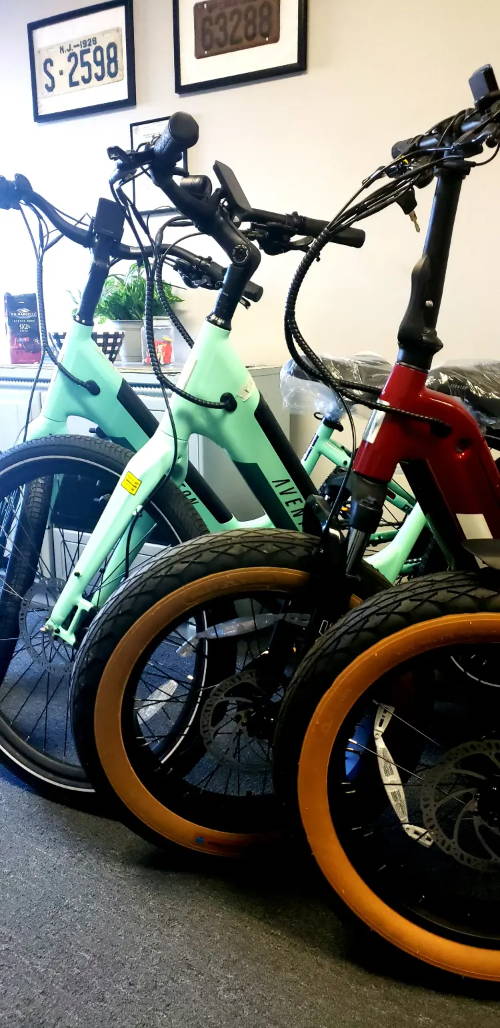 Full Service Serving The Community
Voltage Bikes offers full servicing on all their Aventon ebikes. "I tell them if they have any problems with the bike to bring it in. I'll adjust it. I have a technician just for the bikes," Chris told us. "And I follow Aventon's servicing recommendations. In the Spring I educate them on how to wake their batteries."
Commitment To Care
Other than the bikes themselves, there's nothing Chris and Voltage Bikes won't do to keep their customers riding happy. His commitment to his customers and the community is about getting people on a bike, no matter what it takes, to keep them riding happily.
The Canal
Not far from Warminster, Pennsylvania is the Delaware river, and along the river stretching some 140 miles is a canal with a trail that locals and people passing through can ride with scenes of mountains and the river there beside them as they casually roll about their day.
Get Electrified By Voltage Bikes
It's no secret what separates Voltage Bikes in Warminster, Pennsylvania from the competitors in the area. The answer is Chris Arndt and his team. It's in Chris' blood to be on the showroom floor chatting it up with people that come in to take a look at an electric car or gravitate towards the Aventon bikes. He is energized by the people, and that's what keeps him showing up everyday to do what he loves. "It's the happy people that come in. I'm happy that they like the bikes. I love couples that are going to do stuff together. I have some couples who love to bike together but one person can't keep up so they get a bike and the other person comes back and gets a bike! That I love." Check out Voltage Bikes in Warminster, PA, and feel the energy that has this place electrifying anyone who passes through the front doors. Visit them at their website here, and schedule an appointment to see Chris and the team.
If you're in the Washington Crossing Park area, keep your eyes open for big things happening with Chris and his team this Spring. Here's a hint: there's going to be a lot more ebikes.