Comparing Cruisers: Aventon's Pace 500.2 Vs. Pedego's Comfort Cruiser
May 16, 2023
Aventon's Pace 500.2 is equipped to provide a comfortable ride wherever you go. The swept-back upright frame, the cushioned saddle, and the adjustable stem turn any old bike ride into a leisurely roll.
Whether you're taking your electric beach cruiser to the boardwalk, rolling through the park, or simply riding around the block, the bike you ride makes all the difference in the world. In fact, it can change the way you cruise on two wheels all together. That's why we're placing the Pace 500.2 wheel-to-wheel against Pedego's Comfort Cruiser to see which cruiser has what it takes to meet your needs and make your rides more enjoyable.
Let's take a look at what sets these two bikes apart! Sit back, relax, and enjoy the ride.
Overview
When placed side-by-side, you can get a good glimpse into the overall performance of the bike: what its capabilities are, how much power it provides, and what the bike offers in regards to pedal assist, tech features, and much more.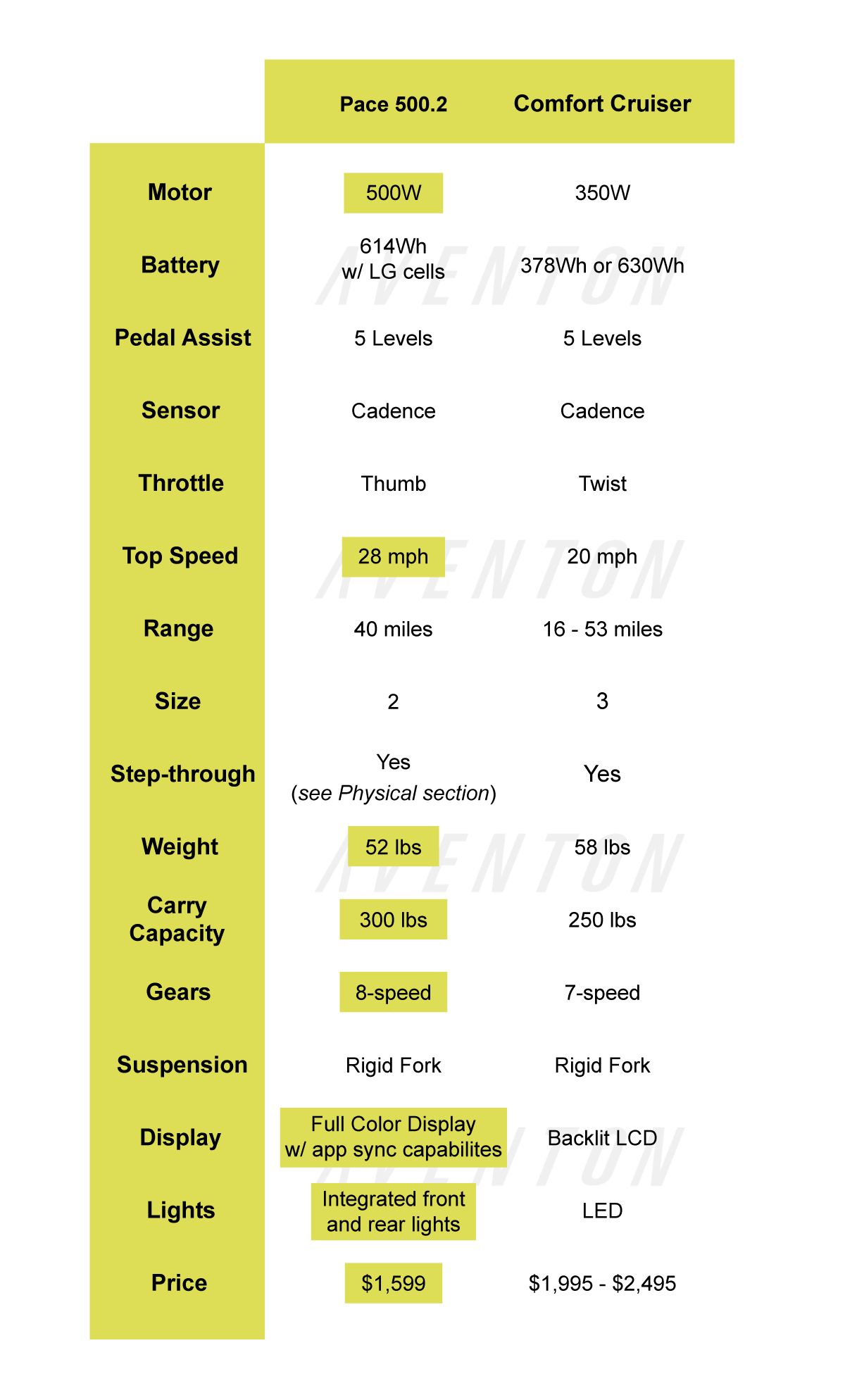 There's More To Cruising On Two Wheels
The Pace 500.2 has a powerful 500W motor as compared to Pedego's 350W, which means it can provide a little more oomph to the casual roll. Combined with a cadence sensor, 5 levels of pedal assist, and a higher top speed of 28 mph, it's easy to see which ebike has what it takes to put a smile on your face when you ride.
The Pace 500.2 swept-back upright frame can carry a heavier payload, giving more riders the opportunity to find comfort and ease of mind knowing their bike can handle the weight while having an overall lighter frame to make it easier to maneuver and transport.
On the tech side, the Pace 500.2 comes with Aventon's Full Color Display that offers riders an interactive way to experience their ebike. The Full Color Display is visually brilliant in style as well as contains important metrics that aptly keeps you on track and intune with the Pace 500.2, such as speed, battery life, pedal assist level, and distance traveled.
For deeper metrics, riders can also find CO2 emissions reduced, trees saved, and can sync to their smartphones using the Aventon app that also connects to a larger Aventon community.
Electrical
Getting to know the electrical aspects of an ebike can help riders understand what goes into the extra momentum as well as the components that change the riding experience. These components provide the extra oomph when you don't feel like pedaling, making the ride faster, longer, and more fun! Let's see how these specs affect the performance of the bike, and the ride.
Cruising, Electric Style
The Pace 500.2 overall has more power in battery and motor that offer more assistance compared to the Comfort Cruiser. It also has a more interactive and technically advanced display screen that can change the experience of the ride. Also, when you purchase the Pace 500.2 you get $200 off an additional battery! That's more power to cruise for a longer amount of time.
The powerful 500W rear hub motor can help you kick it into high gear while cruising the streets with family or friends wherever you want to go. The 614Wh battery made with quality LG cells means there's plenty of juice to get you where you want to go.
Aventon's electric components are also TUV certified to the UL 2849 Standard, meaning it's been rigorously tested for safety to give you ease of mind knowing you're protected. TUV is a European standard for safety and is universally accepted in the US. You can confirm the Pace 500.2's certification here.
Mechanics
The mechanical components can help riders get the most out of cruising the streets. They ensure a more comfortable ride all around town, and then some.
Mechanics Made Easy
Here the Pace 500.2 comes equipped with hydraulic disc brakes that offer a smooth braking experience, giving riders more control and comfort, compared to the Comfort Cruiser's mechanical disc brakes. This is extremely beneficial, especially for bikes that reach top speeds!
While both bikes offer rigid forks for a stable, controllable ride, the Pace 500.2 breaks away with one more gear in the drivetrain that offers riders one more chance to find relief when climbing hills or on longer rides. More is more, and an extra gear can go a long way even on an electric bike.
Physical
The physical aspects of an ebike involve the frame, size, colors available, weight, weight capacity, integrated components, and other features that make all the difference when riding. It can tell a lot about the availability for more riders to have access to emobility and the comfort it provides them. More options with more features means added benefits to your riding experience.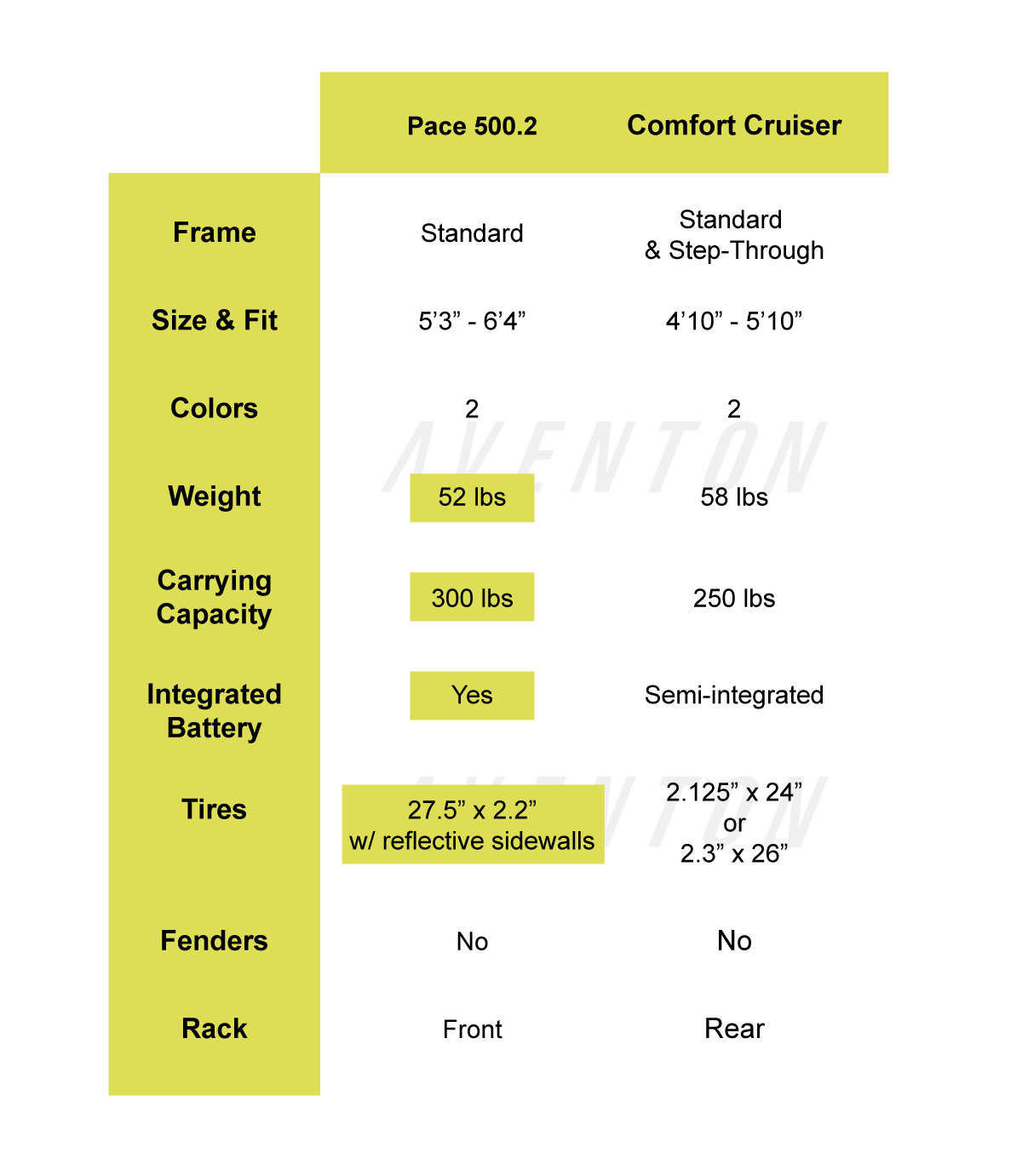 Cruisability With More Options
The Pace 500.2* and the Pedego Comfort Cruiser both come in standard and step-through frame options. This means there's more opportunity for more riders with physical limitations to enjoy the thrill and joys of riding a bike again.
As for frame sizes, the Pace 500.2's two step-over frame sizes offer a similar range-gap comparative to the Comfort Cruisers three one-size-fits all frames. Both ebikes come in two different colorways. The Comfort Cruiser offers two similar colors, Coral and Red, while the Pace 500.2 comes in a cool Midnight Black and SoCal Sand.
The Pace 500.2's aluminum alloy frame is lighter than the Comfort Cruiser and can carry more weight. Also, the Pace 500.2's fully integrated battery gives a sleek look, and will turn heads as you cruise the streets. There is the difference in tire sizes as well. The Pace 500.2 comes equipped with 27.5" x 2.2" tires and reflective sidewalls for added protection while the Comfort Cruiser comes with smaller tires or the option of purchasing larger ones for an added cost. And while both bikes come with racks the front rack allows easy access to your belongings while cruising wherever the road takes you.
*The Pace 500.2 Step-though is no longer available at aventon.com. If interested in a step-through frame in this model, please contact a local dealer nearest you for availability.
Reasons To Love Aventon
In an ever-growing market, it's difficult to find a brand that will continue to roll with quality and rider assistance, one that values longevity and persists in its efforts to make the riding experience last longer than the ride. Here's how Aventon promises to change the way you experience the world on two wheels:
1,000+ authorized dealers that offer quality service & test rides
2-year warranty that protects you and your ebike for the long road ahead
TUV Certified Safety Standards to ensure your ebike and its components are efficient and safe
Innovative Aventon App that features in-depth riding metrics, plus interaction with fellow Aventon riders to share rides, photos and much more!
Group Rides around the country that promotes connectivity and a good time
Eco-Friendly Sustainable Packaging on all-new Aventon ebike models
FREE fast shipping on all ebike orders
Set The Pace, Then Keep Going
The Pace 500.2 with its stronger motor, tech savvy componentry, including Full Color Display and app sync capabilities, weight, carrying capacity, and overall comfortability makes it a better bike in our opinion. And for less cost! It may be a biased opinion, but the facts speak for themselves. Take cruising to the next level with the Pace 500.2 and it'll change the way you experience the world on two wheels.