Aventon's Riding Guide to Explore Women's History Month By Ebike
March 11, 2022
There's so much to discover about our local communities when seated in the saddle of an electric bike, especially if we know where to go! For this reason, we're celebrating Women's History Month by featuring a few must-see cultural landmarks right in the heart of our SoCal riders' own backyards.
Our riding guide for Los Angeles, CA highlights cultural landscapes that have been shaped and significantly influenced by pioneering women. We've also included some of our favorite female-owned small businesses to check out along the way; perfect for quick bites and refreshing drinks!
Either tackle the entire 3.2-mile route or 5.7-mile riding guide with the optional extension in one day, with some planning required, or break it up over the span of a weekend or two. It's ultimately your ride and your discovery in LA! Don't forget, some locations may still be working on limited hours and may require tickets or reservations, so plan your ride accordingly.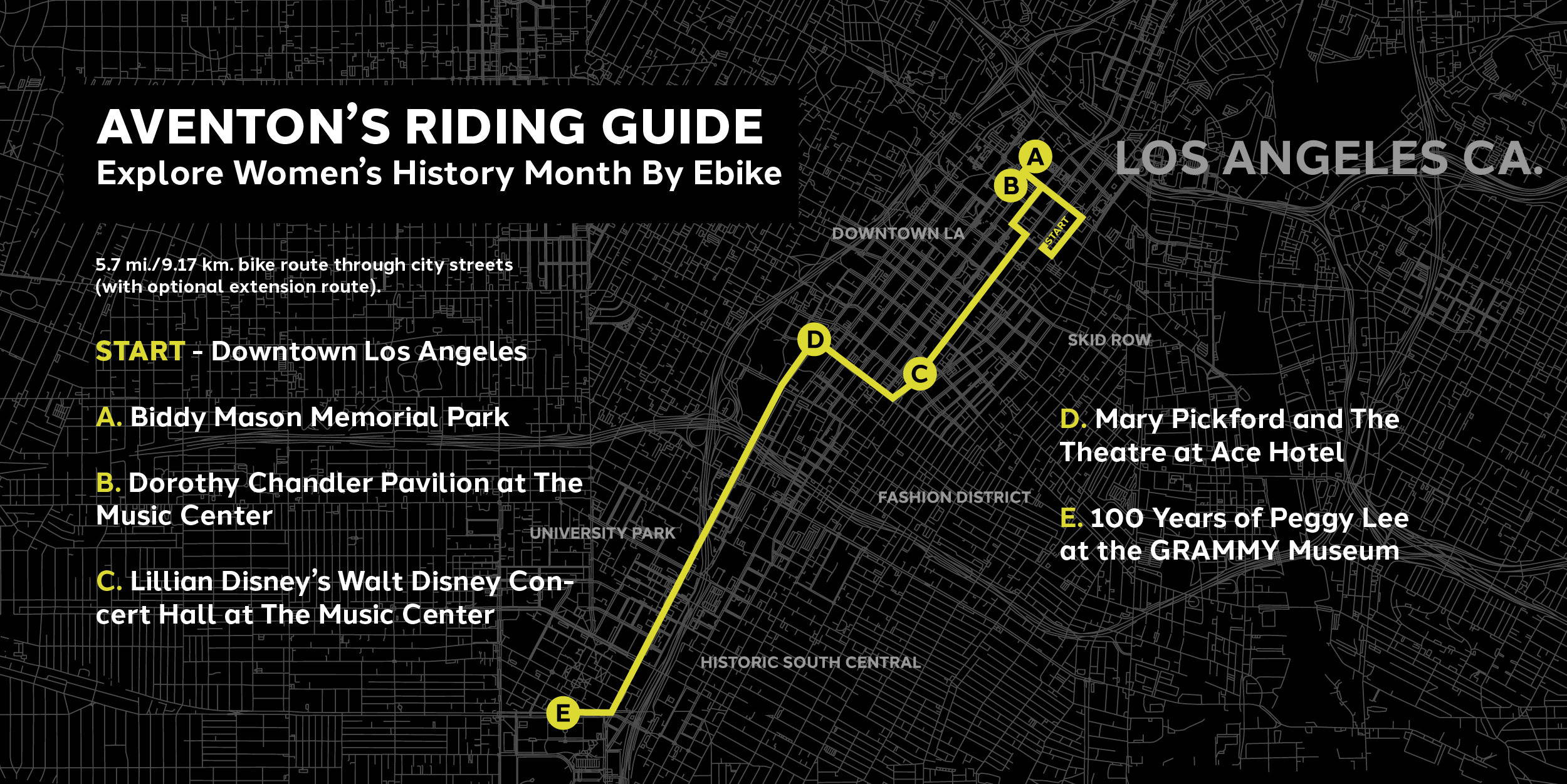 Brunching and Biking
Everyone knows the best bike rides start with the best fuel! So if you're starting our riding guide in celebration of Women's History Month on an empty stomach, consider stopping by Poppy + Rose, an LA eatery founded by the wife and husband duo Kwini and Chef Michael Reed, which serves classic American comfort food. Open daily at 9 AM, they're best known for their chicken & waffles! And best of all, there is a Sheffield stand right in front of the restaurant so you can lock your ebike.
765 Wall St, Los Angeles, CA 90014
The Biddy Mason Memorial Park is a tribute to Bridget "Biddy" Mason, a woman born into slavery in 1818 who moved to California with the household that had ownership over her. With California being a free state, Biddy fought for and won her freedom in 1856. She settled in Los Angeles, working as a nurse and midwife, eventually purchasing significant property and becoming an unwavering philanthropist. The mini-park also features a timeline of Biddy Mason's life, so you can either securely lock your ebike nearby or walk it alongside you as you get to learn more about Biddy and the impact she had on the community!
333 S. Spring St., Los Angeles, CA 90013
The Music Center has grown to be one of the largest performing arts centers in the USA and is composed of four venues. One of which is the Dorothy Chandler Pavilion, named after Dorothy Buffum Chandler. A celebrated patron of the arts, Chandler raised almost $20 million in donations in 1955, to construct a permanent home for the Los Angeles Philharmonic. The Dorothy Chandler Pavilion opened its doors on December 6, 1964, and has served as a home ever since for unparalleled performances, including the LA Phil for decades.
135 N Grand Ave, Los Angeles, CA 90012
Lillian B. Disney was an artist, wife to Walt Disney, and is credited for naming her husband's globally beloved cartoon character, Mickey Mouse. In 1987, the idea for the Concert Hall was developed when Lillian Disney gifted $50 million to the construction of an additional performance space in Los Angeles County. The Walt Disney Concert Hall became The Music Center's newest of the four venues, officially opening in 2003.
Dedicated to Lillian Disney, the Blue Ribbon Garden was constructed as a hidden rooftop garden at the Concert Hall. "A Rose for Lilly" is one of the garden's highlights, featuring a fountain, in the shape of a blooming rose, as a tribute to Lillian. Safely secure your ebike to then enjoy a stroll through the park, toss a coin into one of the fountains, or view some of LA's famous landmarks!
111 S Grand Ave, Los Angeles, CA 90012
A Grand Stop At Grand Central Market
No matter what you're looking for, Grand Central Market is bound to have it! Visitors can enjoy the hustle and bustle of the area, whether they're in for a quick bite or a sit-down meal. Consider visiting one of several women-owned businesses in Grand Central Market in LA, like Sari Sari, which is best known for its Filipino rice bowls and buko pie!
317 S Broadway, Los Angeles, CA 90013
Mary Pickford was born Gladys Louise Smith in 1892 in Toronto, Canada. Pickford was famous globally throughout the silent film era, to the point of being known as "America's Sweetheart." Although she worked her way to success as an actress, she was also one of the most important and influential figures in young Hollywood. Along with Charlie Chaplin, D.W. Griffith, and Douglas Fairbanks, Mary Pickford co-founded the United Artists studio, which served as a flagship movie palace. Today, it's popularly known as The Theatre at Ace Hotel. Retrofitted and renovated, The Theatre at Ace Hotel welcomes artists, musicians, visionaries, and cultural igniters of the like. Although tickets are required for events and entry, you can still awe in The Theatre's intricate gothic-inspired exterior, specifically chosen by Pickford, right from your saddle!
929 S Broadway, Los Angeles, CA 90015
The exhibition 100 Years of Peggy Lee, hosted by The GRAMMY Museum, celebrates Peggy Lee, an extraordinary artist, her astounding career as she redefined what it means to be a female singer, and her considerable contributions to the world of jazz and popular music. Lee was considered a creative powerhouse, taking charge of not only her life but her career as she saw fit. She was involved in every aspect of her performances, from costume production to design lighting, doing more than 800 radio performances, accumulating 270+ songwriting credits, and creating 50 original albums. She's even considered the inspiration for contemporary female artists, such as Billie Eilish, Adele, Katy Perry, and others. Now until September 5, 2022, exhibit-goers can view Lee's handwritten notes and drawings, her instruments, rare photographs, and more!
800 W. Olympic Blvd., Los Angeles, CA 90015
Magic In A Cup
If you're in need of a quick pick-me-up after your day of biking and exploring some of the monumental women of LA, consider stopping by Nimbus Coffee for a drink or snack, with a side of magic! Owned by a mother and daughter-duo, Nimbus Coffee combines coffee with culture, right in the heart of DTLA!
1115 S Hope St, Los Angeles, CA 90015
While this is slightly further than our first five locations inspired by female icons, it's too important to exclude as an optional extension to your riding guide! The exhibit, Becoming Jane: The Evolution of Dr. Jane Goodall, will temporarily be held at the Natural History Museum in LA. Dr. Jane Goodall is a notable primatologist, anthropologist, conservationist, and humanitarian whose groundbreaking research not only influenced our understanding of chimpanzees but created the foundation to redefine the relationship between humans and primates. This exhibit is immersive, interactive, and hands-on, allowing visitors to explore and celebrate Dr. Goodall's extraordinary life and her life work!
900 Exposition Blvd., Los Angeles, CA 90007
Final Words
We hope this riding guide not only introduced you to a handful of legendary women but also helped you learn about some of the impacts they had on their local communities! We'd love to see the locations you're visiting in honor of Women's History Month. Tag us on social media @Aventon and use the hashtag #OwnThePower so we can see how your day adventures went!