How to Transport an Ebike Safely
June 26, 2020
One of the pleasures of riding ebikes is the accessibility to ride faster and farther than ever before. With that being said, there's still some places you can't get to without transporting them via car, trailer or RV.
For many folks, it's not always easy or convenient to get to those remote places to ride. They need to do a bit of driving to get "off the grid". Many ebike riders often take their ebikes with them on vacation and weekend getaways to add a little more adventure to their trips.
Part of bringing your beloved ebike with you on the road is learning how to transport it safely. Luckily, there's more than one solution designed to help you start loading your ebikes and transporting them between locations quickly, safely, and conveniently. We hope these tips help you next time you travel with your ebike.
Here's what we'll be discussing on how to transport electric bikes in this blog:
(Click and roll to your desired topic!)
Oyster Insurance
The first line of defense to ensure your ebike is protected while traveling is with ebike insurance. Aventon ebike buyers have the option to add Oyster to their purchases and stay protected with low cost monthly ebike insurance and be prepared for the long road of fun ahead. With extra low monthly cost bike insurance you'll be prepared for whatever comes in your lane. Pay as low as $10/month for extra protection you can rely on, including:
Full value of bike
Theft
Lost in transit
Physical damage
Liability protection & much more!
While you enjoy the ride, Oyster takes care of the rest. Be protected in case of an emergency and get coverage for unforeseen circumstances to keep you rolling with a smile on your face.
Installing And Securing A Hitch-Mount Bike Rack
If you're wondering "How to carry an ebike on a car?", an e bike bike rack is your best bet. The most secure, easiest, and most versatile method for transporting ebikes is on the rear of your vehicle. The Aventon hitch-mounted rack is sturdy, reliable, easy to load, and has little risk of damaging your vehicle. It's also a great ebike rack for trucks.
In order to install the hitch rack, you'll need to have a receiver hitch installed on your vehicle. This can be done at your local Uhaul. The two most common hitch sizes are 1-¼" and 2". Make sure that the ebike car rack you purchase is the same hitch size as the hitch receiver installed on your vehicle. If you're unsure, it's best to have your bike rack professionally installed and inspected.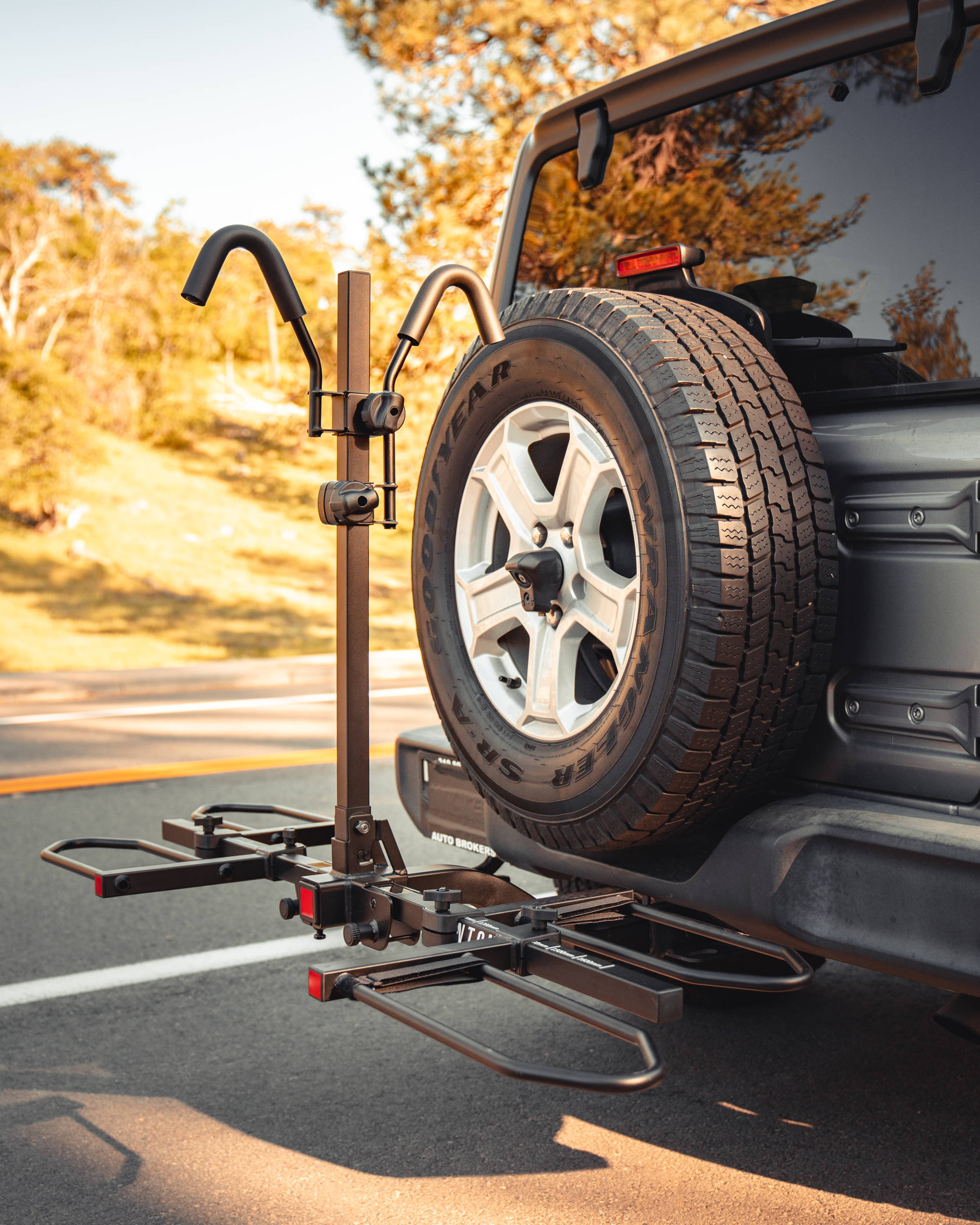 Another important thing to keep in mind is the weight rating of the bike rack you are purchasing. All bike racks have a weight limit. If your budget allows, you should try to buy the bike rack with the highest weight limit possible. Ebikes are generally heavier than traditional bikes, so it's especially important that the bike rack you purchase can handle the weight. Understanding weight distribution is important as well. When loading more than one bike, place the heavier one closest to the car.
Before each trip, inspect the bike rack or carrier system, including straps, mounts, and connections, to ensure they are secure and in good condition. Tighten any loose fastenings and replace any worn or damaged parts.
How To Load A Step-Through Frame
One of the main aspects that keeps your bike securely attached to your hitch rack is a top tube. If you have a traditional bike model, you're in luck because most bike racks should be able to mount on this frame without issue. Step-through bikes do not have a top bar, so an adaptor is necessary.
A 'top tube adaptor' or a 'bike frame adaptor' is needed to keep your bike mounted to the rack. This adaptor attaches to your seatpost and your handlebars creating a top tube on your bike. An accessory such as this is not too expensive, costing about $30-$50, a small price to pay for the freedom of traveling anywhere with electric bikes.
*Step-through will need a crossbar adaptor.
Protecting Your Ebike And Its Components On The Go
During transportation, whether it's on a bike rack, in a vehicle, or while storing your ebike, using padding and protective covers is paramount. These can act as a buffer against accidental impacts, shielding your ebike from unsightly scratches, dings and weather that can harm the appearance and functionality of your ebike. Opt for durable covers specifically designed for ebikes to ensure a snug fit and adequate protection.
Here are a few more things to consider when transporting your ebike:
Securing The Battery
Remove your battery when in transit. Securely store the battery in a temperature controlled area when not in use. Avoid leaving the battery in the sun for long periods of time, especially in warmer climates. Read more about taking care of your ebike battery.
An extra battery is also a great idea. More power means more fun on the go without worrying if you have a place to charge up. Spend less time charging and more time riding!
Remove Valuables & Accessories
Take off any removable accessories, such as lights, bags, or water bottle holders, and store them separately. This reduces the risk of theft and prevents damage to the accessories during transport.
Drive With Caution
Adjust your driving style when transporting your ebike. Be mindful of the increased height and weight of your vehicle, and maintain safe stopping distances. Avoid sudden acceleration, braking, and sharp turns that could cause the ebike or rack to shift or fall.
Periodically Check the Ebike
During breaks or rest stops, inspect the ebike and its fastenings to ensure everything remains secure. Pay attention to any signs of damage or loosening, especially if traveling over rough terrain.
Check Local Transportation Laws
Familiarize yourself with the specific laws and regulations regarding ebike transportation in your region. Some areas may have restrictions on where and how ebikes can be transported, such as speed limits, specific routes, or the need for additional signaling devices.
Protect Against Theft
When transporting ebikes, you may cruise past some interesting destinations. Bike locks for electric bikes is a must-have during your expeditions and allows you some peace of mind to explore that farmers market or street fair you stumbled upon without worrying about your bike.
The most common e bike lock is the traditional U shaped lock that can usually be mounted onto your bike frame. This allows you to ride your bike anywhere and really explore the areas of the town you may have missed from your car window.
The U-Lock should secure the frame and be anchored to a sturdy object, like a bike rack or street sign. Don't forget to secure your wheels! Looping a cable lock through the wheels and then through the U-Lock is an easy way to secure them.
It is also important to secure your bikes to the bike rack with electric bike lock when leaving them on the bike rack overnight, while traveling. This ensures you will wake up to find your bikes still in place so you can enjoy your trip without the frustration or worry.
Travel Essentials While On The Road
Always bring your helmet along for the ride! That's first on Aventon's travel essentials. There's no fun in riding if you're not protected first.
Unfortunately, accidents can happen. But what good is it to have an Aventon ebike with you without the proper equipment to keep you safe? We recommend keeping a first-aid kit handy when traveling with your bike. This will ensure that any minor cuts or scrapes can be treated quickly without ruining your ride time.
A water bottle seems like a no brainer but is often overlooked when heading out on a cruise. Luckily water bottles and bottle cages are an inexpensive way to stay hydrated through longer rides. Riding an ebike with no dedicated space for a water bottle? A hydration pack you can strap on your back and sip throughout your adventure is a great alternative. Staying hydrated is really important, especially in warmer climates! Don't go riding without proper hydration methods!
Tools Of The Trade
Learning how to transport electric bikes isn't limited to just the act of moving it from one place to another - you need to think further ahead and be prepared for anything. We've all been there - you're enjoying a ride when you get a flat. Don't let this ruin your expedition. Before heading out make sure you're stocked up on the essentials needed to continue cruising throughout your trip. A bike pump to keep your tires inflated is a must-have when traveling.
Additionally the slim stand up design of tire pumps allows you to lay it in your trunk and forget about it until needed. Or hopefully you'll never have to worry about it. Additionally, the hex key that was given to you when purchasing your bike is a great tool to throw into your glovebox in case you need to adjust any aspect of your bike.
Final Thoughts
Knowing how to transport an ebike correctly not only keeps you and those around you safe, it keeps your bike from being damaged or stolen. Don't spend your vacation worrying - start preparing to transport your ebike ahead of time so you can enjoy those trails without a worry in the world!