Riding An Ebike Is Not Cheating | Aventon
May 29, 2020
At Aventon, we are cycling fans and we're bike nerds. Pure and simple. There's no denying that we live and breathe bikes daily. In fact, we wear that badge proudly. We started years ago in the fixed gear scene and made our mark there with our race winning crit team.
We eventually saw a higher calling when we witnessed how bikes can transform so many lives with its power to get people to become more active and its ability to move everyone physically and mentally. This is why we started building ebikes: they empower everyone of all age, ability, experience, and place in life to be equals.
There's a misguided belief that riding an ebike is cheating. We'll be honest and say that this is concerning to us. We are here to say it is absolutely not cheating and we're not only saying that because we sell ebikes. There is plenty of scientific data that shows that people riding ebikes do get the same amount of cardiovascular benefits as riding a traditional non-electric bike.
In fact, Bicycling Magazine published an article late last year that addresses this topic. Some of the research findings might be surprising to non-ebikers, but we weren't surprised ourselves.
From Bicycling Magazine's article:
Results published in Transportation Research Interdisciplinary Perspectives showed that many e-bike users tended to use regular bikes, too. In fact, e-bike users tended to ride both an e-bike or a conventional bike for longer periods of time than people who just rode conventional bikes, study author Alberto Castro Fernández, Ph.D., explained to Bicycling. Additionally, trips of e-bikers using e-bikes and conventional bicycles are longer in terms of time and distance compared to non-e-bikers.
Those who rode e-bikes reported longer average trip distances for both e-bike (9.4K) and conventional bike trips (8.4K), while their conventional cycling counterparts logged shorter trips (4.8K). Additionally, daily travel distances for e-bikers averaged 8K while conventional cyclists recorded 5.3K.
These findings are important for one major reason: busting the stereotype that those who ride e-bikes are taking the easy way out.
Outside Magazine published an article that viewed riding ebikes from a different perspective: one of mental health benefits of being physically active and riding a bike, a topic that we discussed in a past blog post.
From Outside Magazine's article:
The main hypothesis was that this relatively modest amount of biking would be sufficient to boost cognitive function, particularly a subset known as executive function that enables you to plan, organize, and complete tasks. The results generally supported this hypothesis, though the effect wasn't as strong and uniform as expected. In several tests of executive function, both the cycling groups saw significant improvement relative to the control group. This isn't a big shocker given previous research, but it's nice to see that even something as mild as noodling around on a bike at your own pace for half an hour a few times a week produces a measurable effect.
The interesting twist came in the comparison between the regular and e-bike groups. The researchers hypothesized that the regular bike group would get the biggest effects, because they would have to work harder. The e-bikes had five motor settings, ranging from turbo to off. The subjects ended up spending 26 percent of their time in turbo, 7 percent in sport, 24 percent in tour, 28 percent in eco, and 15 percent with the motor off. So they were getting plenty of help during their rides. Perhaps in consequence, the e-bikers spent slightly more time in the saddle: 2.39 hours per week on average, compared to 2.07 for the normal bikers.
There's further evidence from another research that shows ebike riders spend more time riding than their non ebiker counterparts because ebikes have become an alternative form of transportation:
From Science Direct's Journal:
Against general concern that e-bikes mainly replace more intense, and therefore healthier travel by conventional bicycle, the presented data showed a fairly even split of e-bikers substituting car, public transport and cycling trips, which is consistent with reviewed literature. This implies that e-biking is not only a viable option for healthy transport, but also broadens sustainable transport options offering a competitive alternative for urban motorized modes.
In conclusion, this analysis supports the notion to accept, or even promote, e-bikes as a healthy and sustainable transport option based on e-bikers travel behaviour and self-reported mode substitution. Planers should be aware that e-bikers travel longer distances than cyclists. Thus, e-bikes might be used for longer commuting trips than non-electric bicycles. To accommodate (or promote) this new demand and to avoid conflicts with other road users in urban areas, cycling infrastructure should be expanded and may need to be adapted to accommodate higher speeds and address safety needs. The health benefits in terms of physical activity of using e-bikes, particularly when replacing car trips, should be factored in when considering subsidizing e-biking.
Going beyond all the science and research, we know first hand how ebikes have changed lives by the feedback we receive from our happy customers. There are too many to show here but here are some examples. You can also read more reviews on the individual product pages.
From Rob, Certified Aventon Level Purchaser:
Solid Bike, I Feel Better Already
"First up, as a mechanic for over a decade, I found NO LOOSE BOLTS! Excellent work y'all. And I don't just mean sort of snug, the bike was actually assembled and the installed hardware was fully tightened to a safe torque.
So about two weeks and just under 50 miles in my back feels a ton better, I feel more awake, I've been sleeping better, and a ton of my coworkers are thinking about exercise from seeing my bike at work.
The bike has a good amount of power, I live in the mountains of Virginia and I'm like 260 lbs and this bike pulls pretty good. Not sure it would climb some of these crazy hills throttle only but my cars don't even like the hills, the PAS does great. I usually only use level 1 or two unless I'm late or at a narrow point in the road and want to avoid having a car come up on me. I charge the battery on the high side of half which is about 20 miles (I'm pretty surprised for my size and these hills).
The groupset is pretty good, the shifter is quick and accurate. The brakes are good but not amazing, keep in mind between me and the bike and my man bag it's well over 300 lbs so I can't complain a lot. The gearing gives you something through about 30-32 mph (the pedal assist helps through 28) after that you'll probably struggle to pedal fast enough to add anything. Without pedal assist this bike is pretty heavy to pedal, it probably wouldn't be impossible on flat ground but I wouldn't want to run out of juice.
The fork can be locked rigid which is great. I have a hill where I can hit 50 mph and I don't want suspension on that hill. Speaking of which, the bike is surprisingly stable at high speeds feels almost as good as my Caad 10 at high speeds. I was concerned about mushy unstable handling because of the large tires but it's confidence inspiring to the point I often ride with my hands tucked in my jacket on cold mornings.
The seat is pretty good. It's wide enough to support well but not too wide to allow you good movement. The frame, handlebars, and joints are nice and rigid, again I'm at the high end of this bike's rating so it seems well built in my opinion.
Overall, while I know there are cheaper ebikes, the Level performs well. I don't feel like I need to baby this bike and I'm not frustrated at its inability to climb, descend, stop, or handle well. The Level is confidence inspiring and I think "solid" is a great description of this bike, it feels reliable and I expect to get a lot of reliable service from it. Personally, if I were to upgrade it'd be something with mid drive, double or triple the power and preferably drop bars, IE. I would plan to spend $3-5k at least if I were going to upgrade because I feel like you'd probably have to really make some dramatic changes to get a better bike."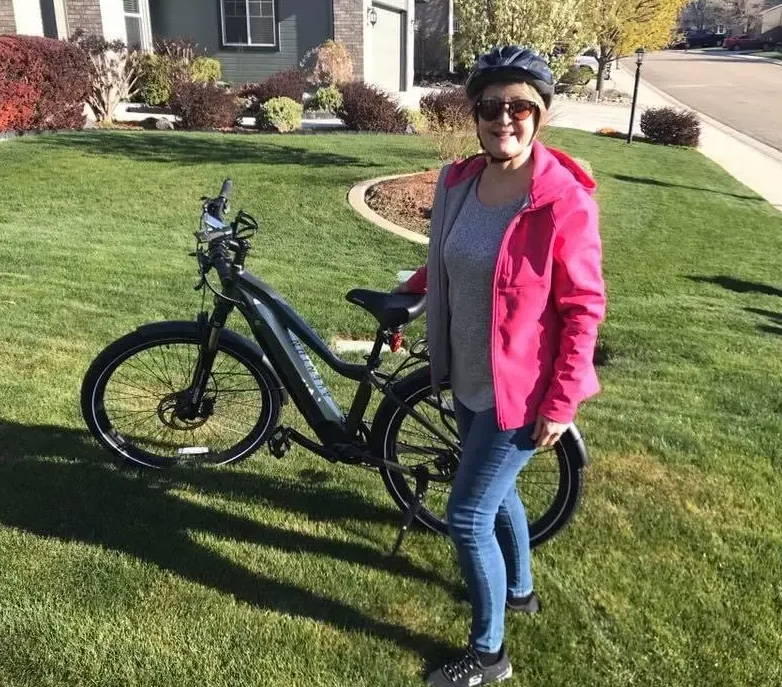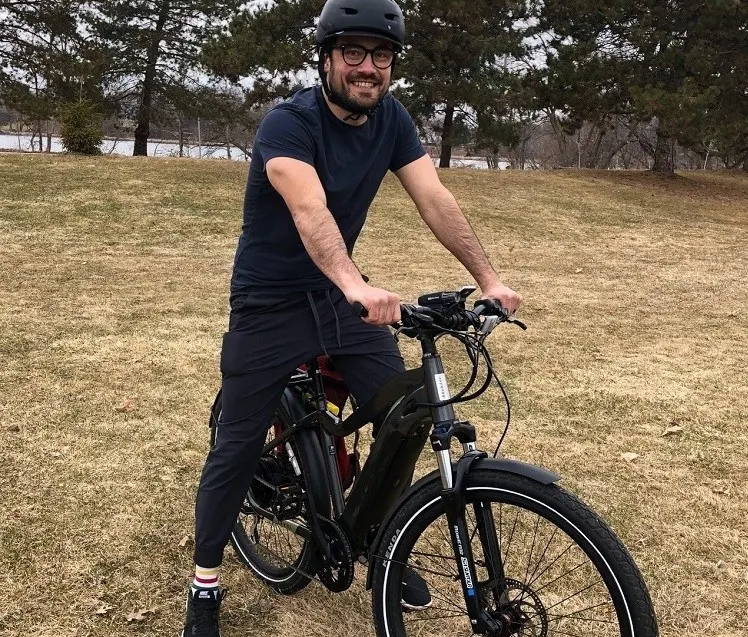 From Devin Rapp, Certified Pace 350 Purchaser:
"We live up on a hill so no matter which way we walk when we go out we always have an uphill part. Biking has been nearly impossible because we aren't serious bikers and thought an e-bike would help us a lot, and it has! We tried a cheap online one last year and it broke quickly. This one we brought to an e-bike shop to help assemble and he said it is really well made and a good bike, which after several long rides we can attest to!"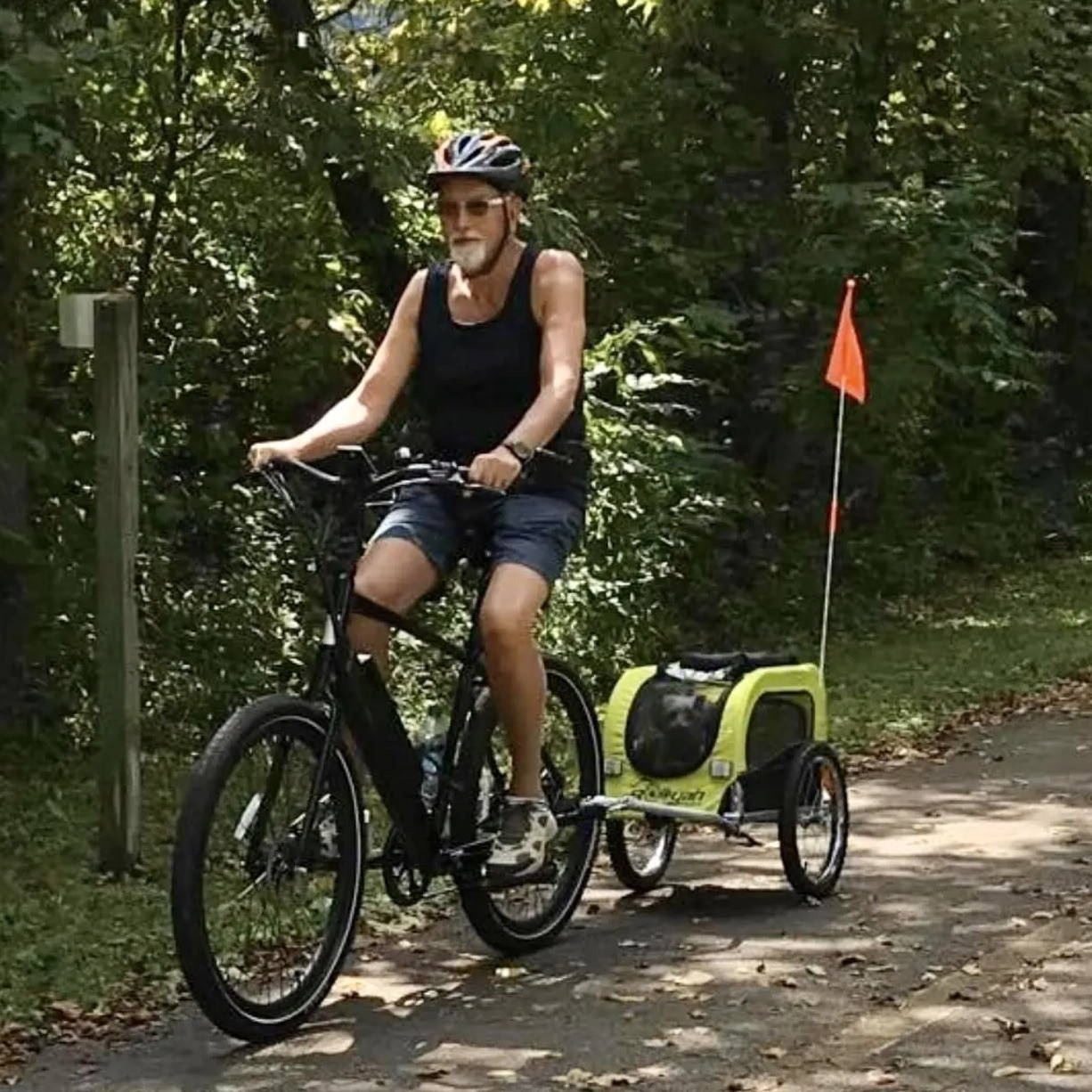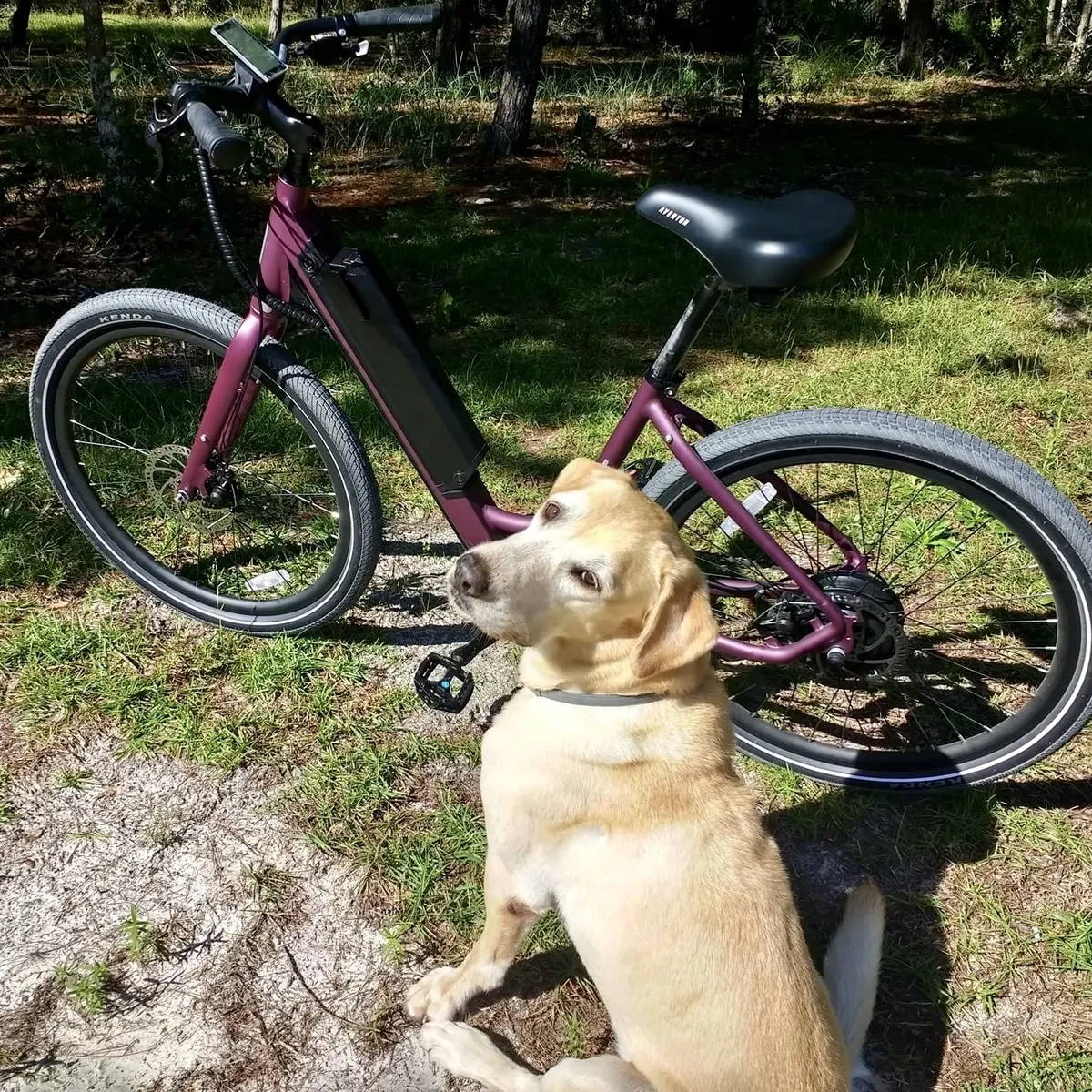 From James Thurman, Certified Aventon Sinch Purchaser:
The Sinch is amazing and better than I anticipated.

"The Sinch arrived and was out of the box ready to ride in 15 minutes. I left the fenders off so putting them on would have taken some time. After three days use I have climbed 2,500 ft on a fire road, ridden 17 miles on a bike path and ridden another 23 miles around a college town. The stability and sense of "I can go over grass, rocks, sand and dirt with no problem" is the first thing you notice. After some practice riding it just gets better. I have history with both road and mountain bikes and the various strengths and weaknesses each brings to the table. The Sinch is a new game! Anyone buying an electric bike needs to test the Sinch as it is a revolutionary design and implementation of that design. The Sinch is FUN! The battery has never fallen below 2/3, even on the 23 mile ride around town."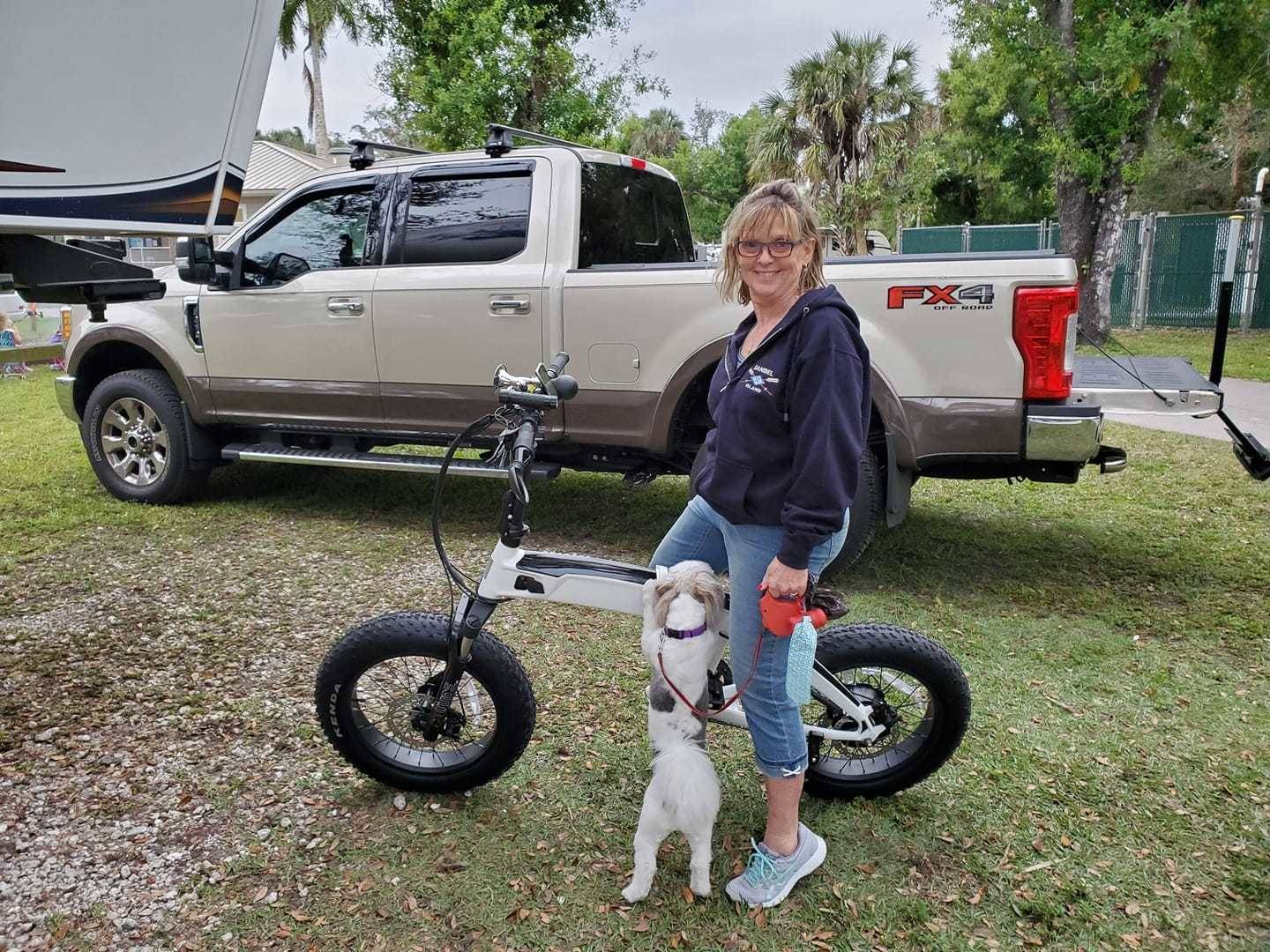 From Keith, Certified Aventon Pace 500 Purchaser:
Great Bike...Keeps me alive

"I am an eighty two year old ex marathoner, long distance road biker and have exercised my whole life. After eighty I found it hard to get off my road bike. Could not get my leg over the bar. My cousin suggested I get a step through (we called it a girls bike growing up). What a wonderful experience. I ride 100 miles a week and the Pace 500 is terrific. If you are over eighty and want to feel safe, buy this bike. It will get you out the door."