Introducing Pace 500.3: Reinvigorate The Casual Ride With New Tech And Torque Sensor
March 27, 2023
Aventon's award winning cruiser just got an upgrade! The Pace 500.3 will reinvigorate the way you feel riding on two wheels. Let the good times roll wherever you go, whether it's around the neighborhood, through the park, or to the beach! Equipped with all-new features, including a torque sensor, there's a new way to set the pace.
Pace 500.3 provides your leisurely ride with a lift. Its torque sensor offers farther riding range and a more natural riding experience, while the all-new turn signal functionality will protect you on the road as you change lanes and make moves.
With Pace 500.3 there's more than just comfort every time you ride. Read more and find out about its new features and technology!
Control The Way You Cruise With Pace 500.3
Pace 500.3 guarantees you'll be smiling the whole ride through. Available in standard and step-through frames, this cruiser is easy access to fun! Ride confidently into the wind, effortlessly up hills, and wherever else you want to roll. When it comes to innovative technology, supportive components and all the latest Aventon features, Pace 500.3 has it all. Let's take a look at what makes this easy rider put a little more pep in the way you pedal.
Torque Sensor
Pace 500.3's intuitive torque sensor provides a more natural feel like riding a traditional bicycle. The torque responds to and matches your pedaling efforts. The more you put into your pedaling, the more the torque sensor kicks-in by amplifying your efforts, and giving you more control over your riding experience, ultimately conserving battery life and offering the opportunity to extend riding range.
Aventon's Pace 500.3 is manufactured with a genuine torque sensor that will move you in a more intuitive way. Our torque sensors' dynamic technology mirrors your natural riding rhythm with the added benefit of a motor. Set your pace, feel your momentum become amplified, and cruise through your streets as you change the way you experience your world!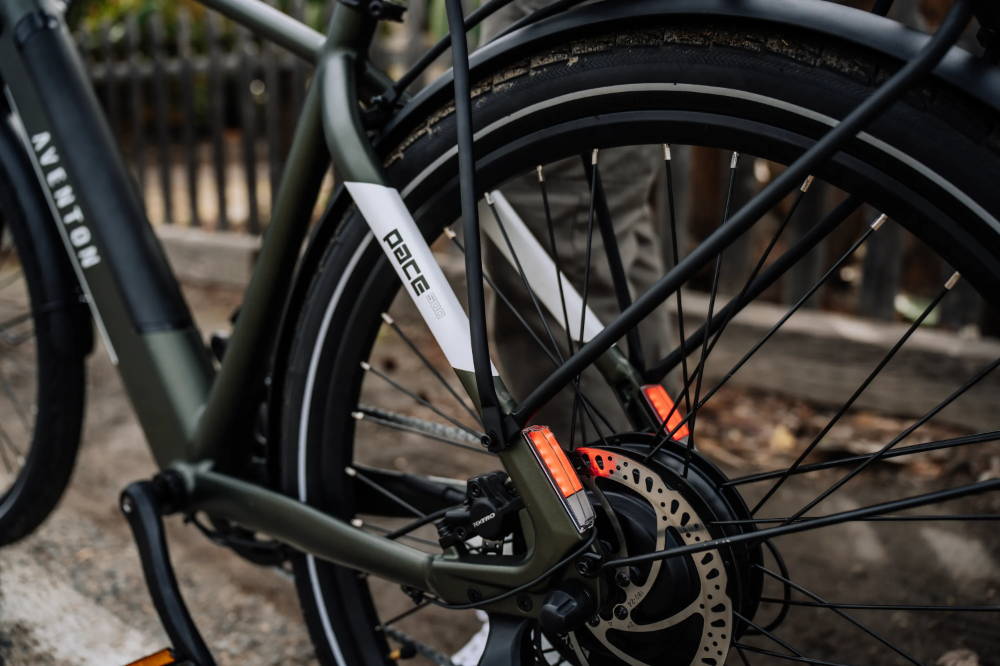 Integrated Components
Pace 500.3's front light is attached to the handlebars to light your way as your turn, while its rear lights and battery are integrated into the design of the bike. The removable 614Wh lithium-ion battery fits seamlessly into the frame giving it a clean, sleek look. Pace 500.3's front and rear integrated lights can be activated with a touch of the button on the handlebar controls, providing optimal illumination on the road ahead, letting motorists or other cyclists know where you are in low-lighting conditions. The Pace 500.3 is app compatible, meaning its front and rear lights can also be activated via the Aventon mobile app that you can access in the app store!
Turn Signal Functionality
The Pace 500.3 signals back! Equipping the all-new turn signals is just one of the ways Aventon works to protect our riders and keep them safe. This feature allows riders to take charge of their lane changing by alerting motorists and other cyclists which direction they're going ahead of time allowing them to see you as you change lanes. Command traffic with confidence and keep on rolling. The rear lights will flash in the desired direction with a quick click of a button on the handlebar controls. There's a new way to get around with the Pace 500.3, and now you can let everybody know!
Cushioned Saddle, Swept-back Handlebars and Adjustable Stem
Pace 500.3 is leisure in motion, providing the ultimate comfort while you enjoy the ride. Its cushioned saddle will keep your rear in gear as you saddle up with ease and extend the casual ride on your next day out. The swept-back handlebars are a staple to the Pace model and a fan favorite, which has helped the Pace to earn its title as the most comfortable ebike! They offer riders an upright riding position to keep your back straight and your head up to stay alert and relaxed as you make your way around. In addition, the adjustable stem can be raised or lowered to the most comfortable angle. Take a seat and relax, all you've got left to do is pedal, or not.
Full Color Display
Aventon's Full Color Display has all your important metrics right there on your handlebars, including speed, battery life, distance traveled, and PAS level. This easy to use technology is quickly accessible and lets you know where you stand while you're still rolling!
Pace 500.3's Full Color Display can also connect to the Aventon app available on Apple and Android devices, where you'll be able to access even more data to gain a deeper understanding right from the saddle. Within the Aventon app you have the capabilities to adjust the Full Color Display's brightness, set a timer to auto power-off, change speed unit from mph to km/h, and turn your integrated lights on and off. That's not all! You can find even more data such as your total cycling time, overall mileage, calories burned, max speed (that Pace 500.3 can reach speeds up to 28 mph unlocked through the Aventon app!), average speed, CO2 emissions reduced and trees saved!
For those of you who like a challenge and are continuously trying to beat your previous personal bests, Aventon has great news! Through the Aventon app you can earn loyalty points with Aventon's reward program for miles accrued, giving you more of a reason to keep on towing. You can also connect with a larger Aventon community for some fun, healthy competition or just to share your favorite experiences and adventures.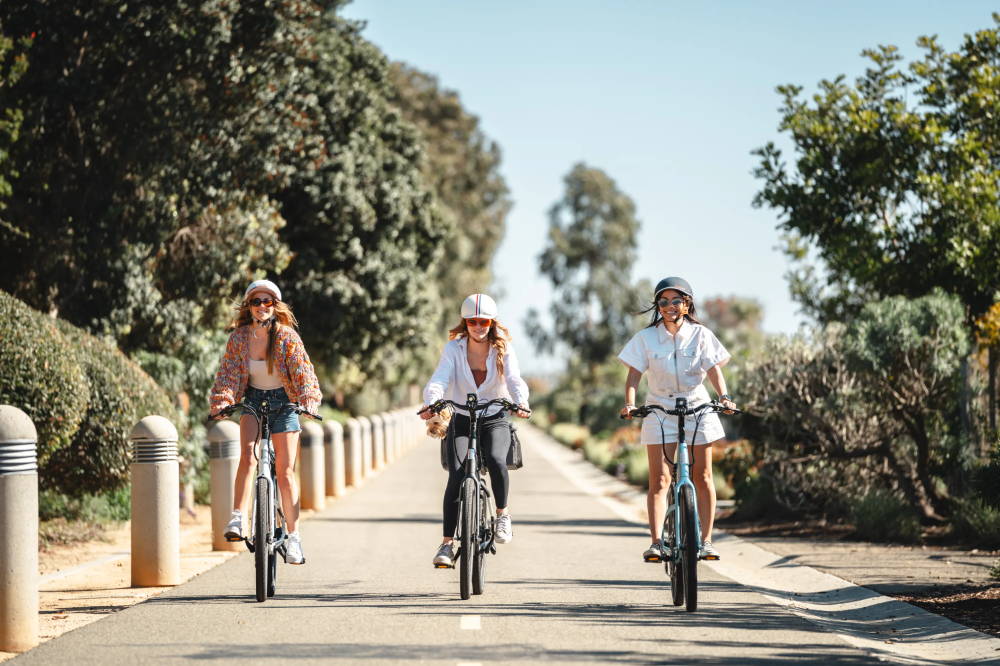 Choose The Way You Cruise
While most ebike companies only offer one-size-fits-all frames, Aventon gives you options. The Pace 500.3 comes in a traditional step over and step-through frames. Each frame comes in two different sizes that offer more opportunity for more riders to find comfort in the way they cruise. Both step-over frame and step-through frames come in Regular and Large sizes. The Pace 500.3 comes in a variety of colors that allow you to express your tones on the road, from black and camo colorways for the step-over frame, and blue and white for step-through!
Tech Features
Pace 500.3 ships as a Class II electric bike, meaning it features both a throttle and pedal assist. The Pace 500.3 can also reach a maximum speed of 28 mph with pedal assist by using the Aventon app to unlock max MPH, turning it into a Class III. With a torque sensor, this cruiser can reach distances up to 60 miles in range! This means you can cruise the streets longer and farther than ever before!
Pace 500.3's thumb throttle, like all Aventon ebikes, is located near the rider's left thumb on the handlebars, making it conveniently accessible to thumb-down and enjoy the ride. The 4 levels of PAS now have new names according to how they feel. These modes are eco, tour, sport, and turbo:
Eco - Get the most out of your battery life with a casual ride. This mode is more you than the motor.
Tour - Perfect for a little pick-me-up for longer rides with less physical effort.
Sport - Make moves by letting the motor do more of the work. Go up low grades without working so hard.
Turbo - Get more power out of the motor and let the torque sensor amplify your momentum for quicker accelerations on flat surfaces and up steep hills.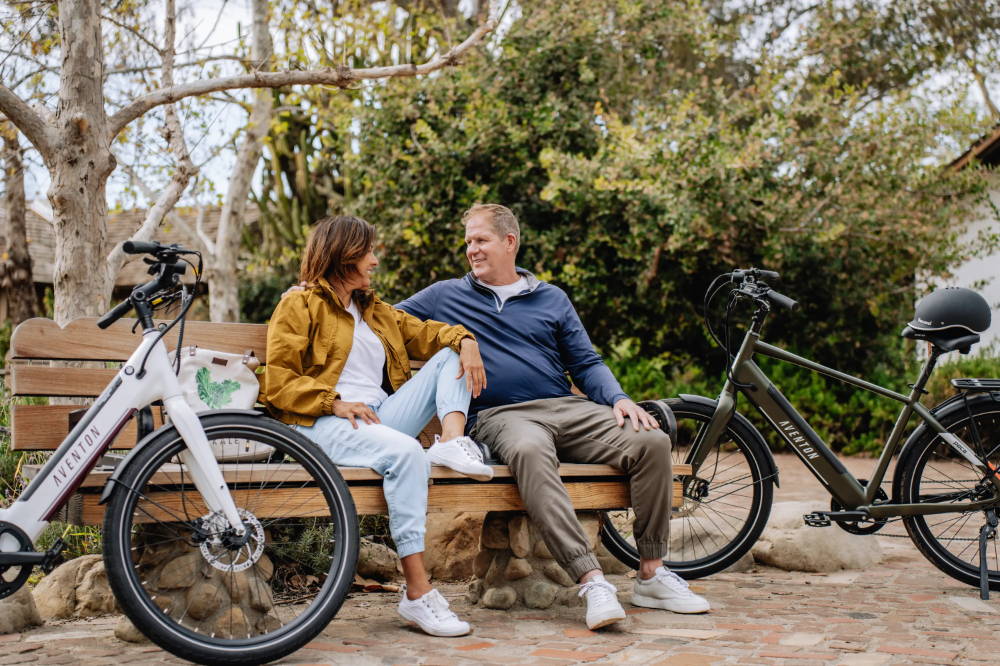 TÜV Rheinland Certified
Safety is at the forefront of Aventon's products and riders. We prioritize the highest quality in manufacturing for our products to ensure our riders are safe and experience joy every time they go for a ride. To prove it, we put our bikes and their components through rigorous testing.
Aventon is the first U.S. based electric bike company to receive the TÜV Rheinland North America cTUVus Certificate. The European TÜV certification is awarded to manufacturers whose products pass the rigorous examinations for electric vehicles. This includes ebikes as well. The TÜV determines whether a product is safe for public sale and consumer use.
Aventon has dedicated itself to exceeding TÜV expectations for all its products, including the Pace 500.3. We've put our newest ebike through the ringer, and it's ready to cruise the streets. Its battery and functionality have been tested and examined to ensure they meet the highest safety requirements for public use. The Pace model was Aventon's first to comply with the UL 2849 standard, and now the Pace 500.3 has done the same meaning it also meets the safety standard requirements for various other components, including its controller, motor, and charger, among others.
New Packaging
In congruence with Aventon's quest of sustainability, we've cut down on packaging materials! That's right, we're transporting the same ebikes with less waste. Pace 500.3 continues our pursuit to help save our planet. Say goodbye to most of our plastic packaging and zero styrofoam. The new packaging consists of 99.9% recyclable material! This shift in our efforts to be a more sustainable brand has our planet and future generations in mind. And when you're finished unboxing and putting your new Pace 500.3 together, there's a fun activity waiting for you just inside the box. When you've done the work, have a seat and admire your new ride.
Meet The Pace 500.3
The Pace 500.3 offers the opportunity to change the way you experience the world through emobility. Its comfort and power makes cruising the streets more fun than ever before! Equipped with new technology, features, and components, Pace 500.3 will reinvigorate the way you go for a bike ride. Check out Pace 500.3 and Pace 500.3 Step-Through, the ebike that will put a smile on your face every time you ride it.