Exploring Denver's Electric Bike Scene with Miss GoElectric
August 4, 2023
Electric bikes have gained immense popularity in recent years, offering a convenient, fun and more economically friendly mode of transportation for urban riders. To celebrate the joys of riding, Aventon has teamed up with Miss GoElectric to explore different parts of the country and bring you along for the ride.
On July 19th, we organized a group ride in Denver, Colorado, with eBikes USA, which proved to be a memorable experience for all participants.
The Ride
The group ride started at eBikes USA, a renowned ebike dealership in Denver. Cyclists then embarked on a 13-mile round trip, taking them from eBikes USA to the REI in downtown Denver, passing by Mile High Stadium, and then back to the starting point.
This scenic route allowed riders to explore Denver's beautiful neighborhoods, enjoy the riverwalk, and soak in the city's vibrant atmosphere.
Aventon known for their commitment to customer satisfaction, made the ride even more enjoyable by giving away various goodies. Participants received hats, water bottles, stickers, utensil sets, hand sanitizer, and other fun items. Aventon's generosity and attention to detail truly enhanced the group ride experience.
Denver riders came prepared with all the necessary safety gear, showcasing their vibrant personalities through colorful outfits and accessories. The event witnessed the presence of various types of electric bikes, including fat tire ebikes, cruisers, and city commuters. This diverse range of bikes highlighted the versatility and adaptability of electric bikes for different riding preferences and styles.
Miss Go Electric & Aventon's Journey Across The US
The Denver group ride was just the third stop on Miss GoElectric's journey. Aventon and Miss GoElectric have planned a total of six such rides across different locations. Excitingly, New York, Florida, and Utah are next on the list, promising electric bike enthusiasts in these states an opportunity to join the fun. Keep an eye out for updates and announcements from Aventon and Miss Go Electric to be a part of these upcoming events.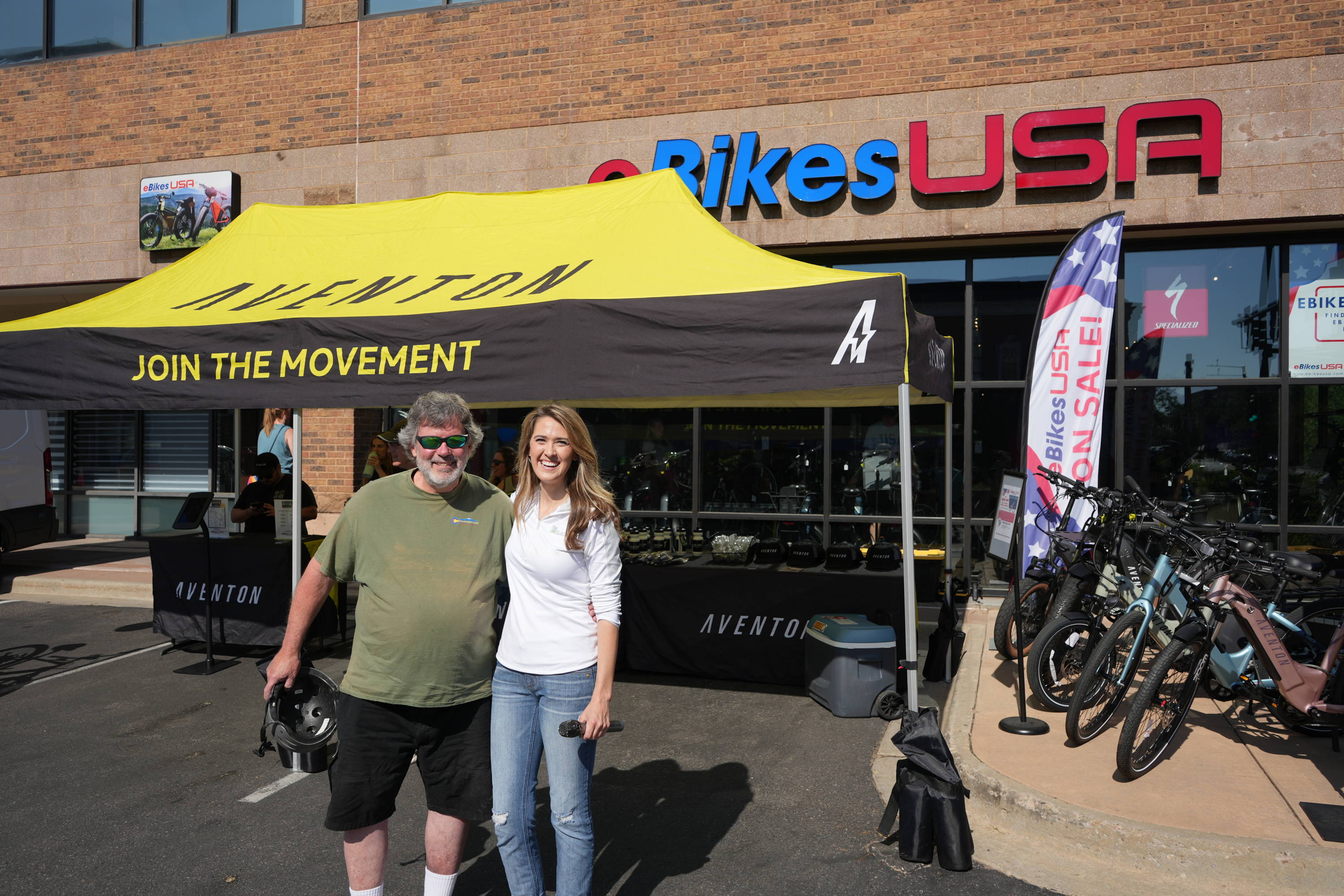 Electric Bike Fun Never Ends
The Aventon and Miss GoElectric group ride in Denver was a resounding success, offering participants a chance to explore the city's scenic routes and enjoy the thrill of electric biking. Aventon's giveaways added an extra element of excitement, and the promise of upcoming rides in New York, Florida, and Utah has left electric bike enthusiasts eagerly awaiting their turn.
As the popularity of electric bikes continues to soar, events like these help foster a sense of community and encourage individuals to embrace this sustainable and exciting way to get around on two wheels. If you live in the Denver area, don't forget to be on the lookout for Denver e bike rebates. The Denver ebike rebate makes it possible for more people to have access to the fun and mobility of electric bikes.
Denver Electric Bikes Will Ride
We want to give a huge shout out to the team at eBikes USA for providing the community with quality service and giving us a place to get together and share in the ride. We alos want to give an extra congratulations to Louis on winning a FREE Aventon Pace 500.2, making this experience even more memorable.
Stay tuned for our next group ride with Miss GoElectric for fun with new friends and a chance to take home your own Aventon electric bike!