Aventon's First Electric Bike Group Ride!
March 18, 2022
If you follow us on social media, whether on Instagram or Facebook, or keep up with company updates through email, you may have read about our first ever group ride in our headquarters in Brea, CA. On March 12th, 2022, Aventon's CEO, its' employees, and over 100 members of the Aventon family met up for the first time ever to bike together and share a bite thanks to In-N-Out!
We're so thankful to have a community of riders who share our same passion, and more so, who have contributed to growing Aventon into what it is today. Without the Aventon family, we wouldn't be who we are or where we are today. This is why we were ecstatic to be able to host our first ever ebike group ride to safely connect, share a bite, and cycle! We already can't wait to host another event, and for those of you who were unable to attend, check out some of the highlights and what you can expect from future group rides through Aventon!
Breakfast and Bikes
To kick off our first electric bike group ride, our team began their set up early in the morning, getting accessory and test-ride booths and tables ready with breakfast, snacks, and water. Because, who doesn't want free coffee, donuts, and bagels on a Saturday? With bikers arriving at 9 a.m., we knew the importance of being fed and fueled before our ride!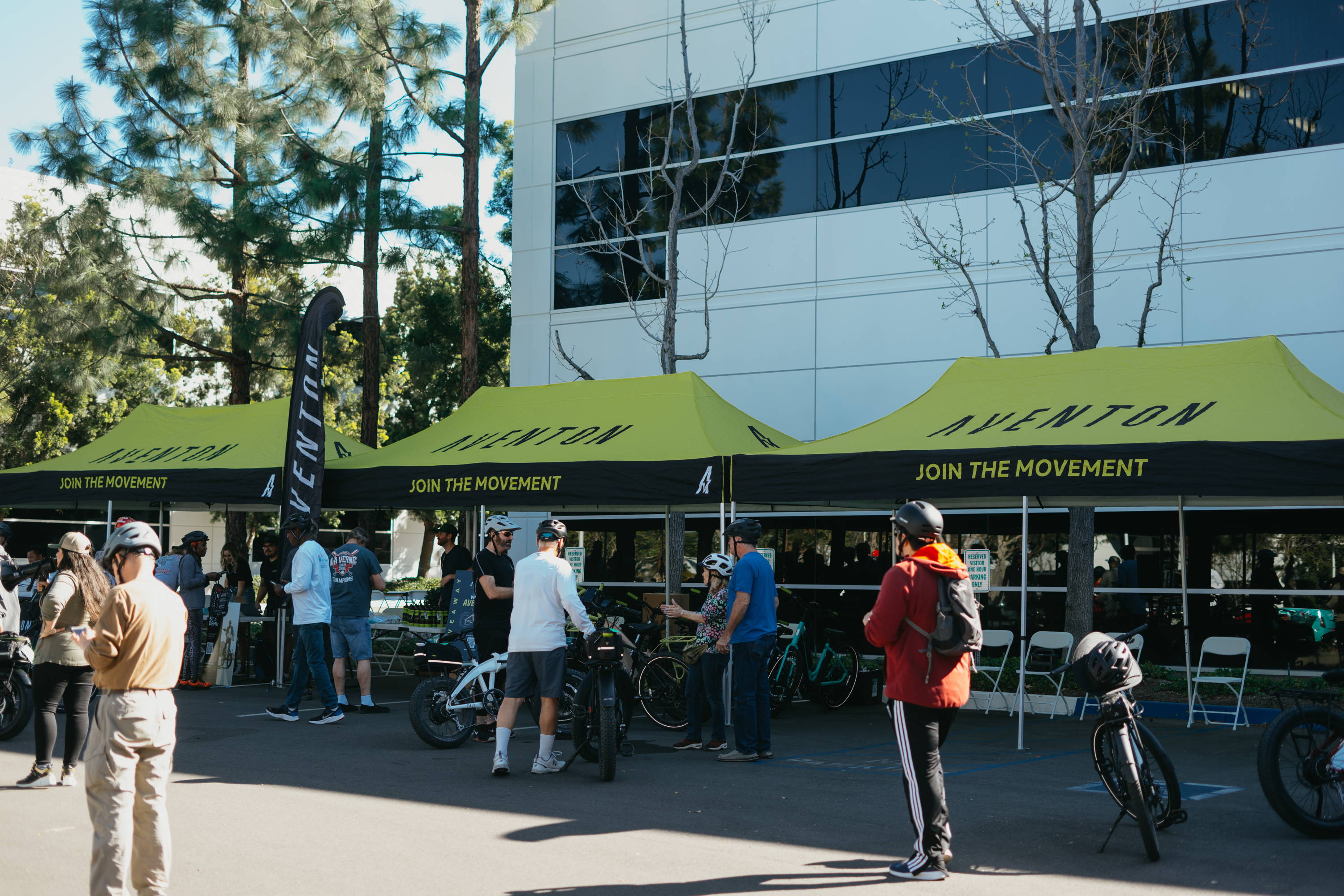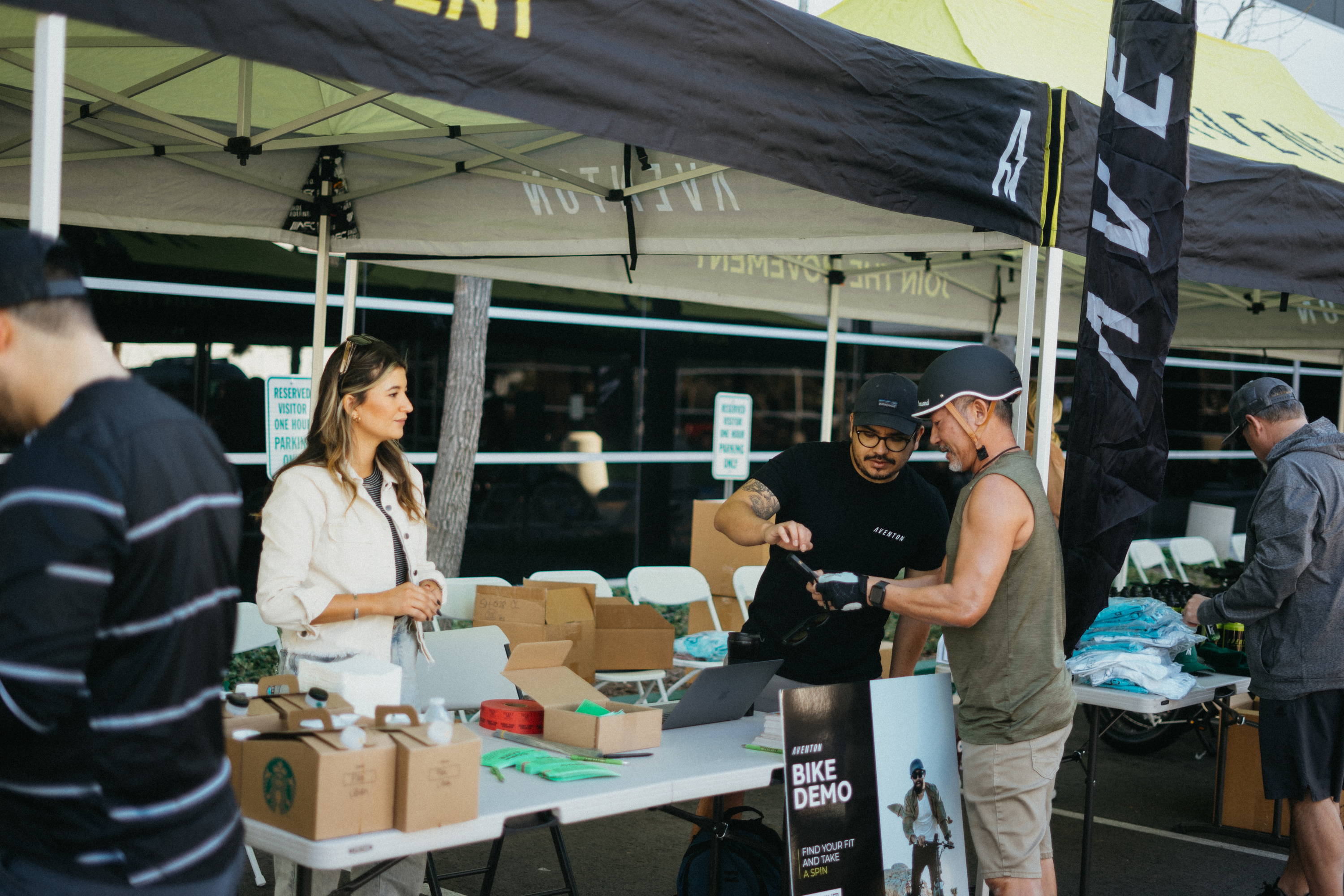 Community Meet and Greet
Around 9 a.m., members of the Aventon family who RSVP's to our group ride began arriving from all over Orange County! Some even arrived from parts of Los Angeles County, San Diego County, and even the greater Southern California. This gave everyone a chance to connect with some of the Aventon crew, other Aventon riders they've been in contact with on the Aventon mobile app or Facebook groups, meet some of the Aventon furry friends, and even meet our CEO, JW! While some swapped stories and snapped selfies, others loved seeing some different ways to decorate ebikes!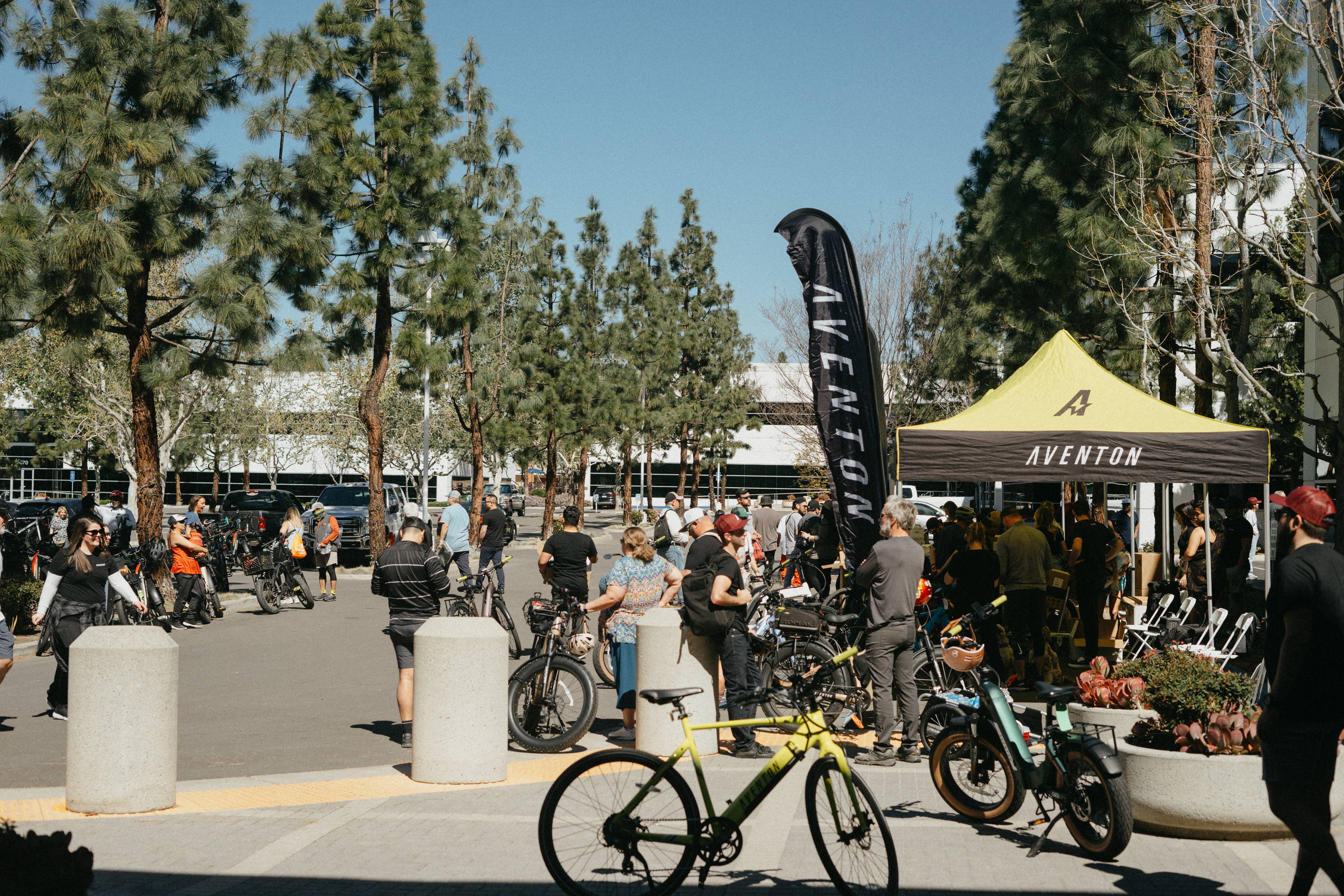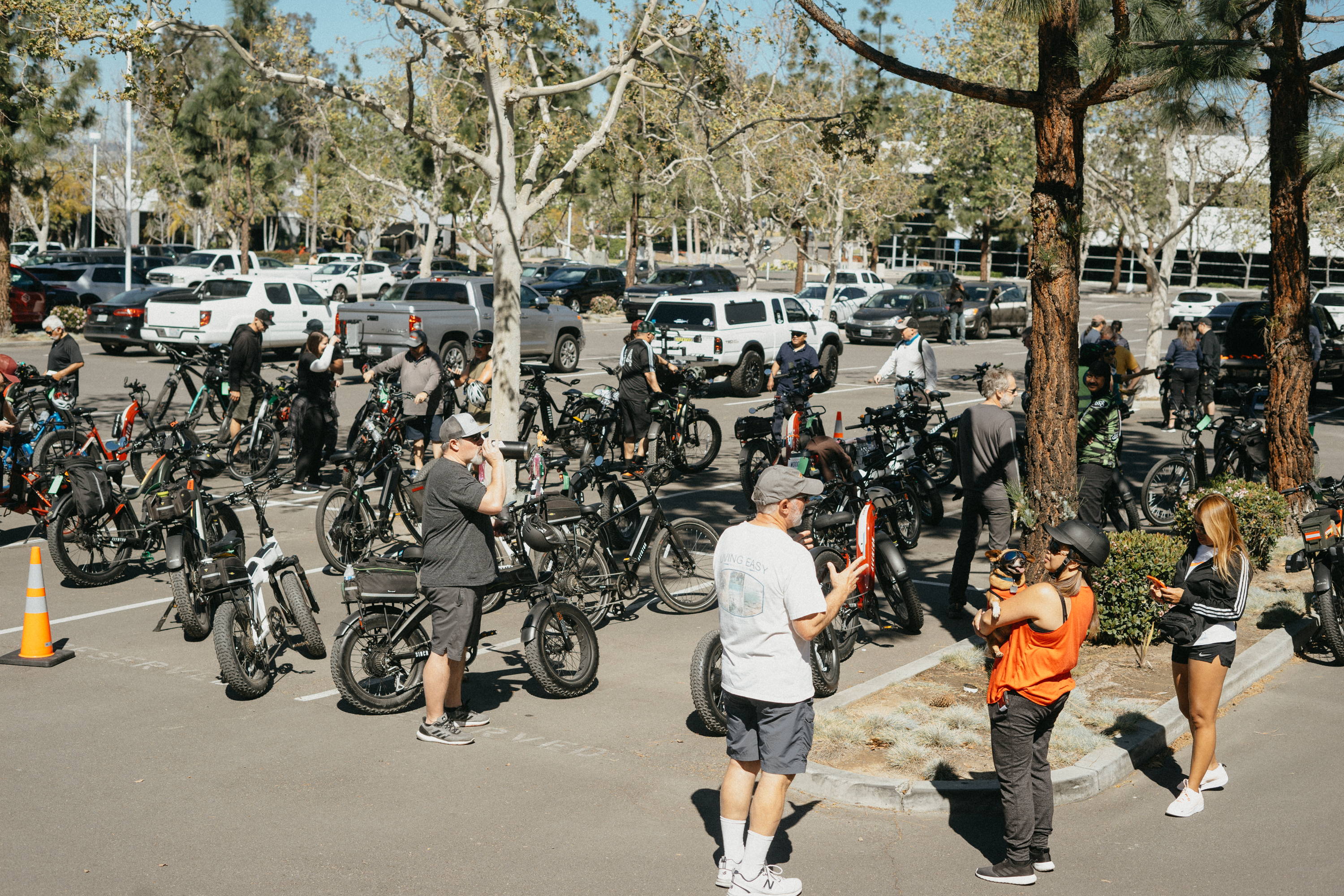 Decorated Aventon Electric Bikes
One of our most enjoyable moments was seeing all the unique ways Aventon ebikes were decorated. And more so, how excited Aventon owners were to share about how they decorated their bikes. From patterned bike wraps to pet baskets, we were amazed by both the creativity and ingenuity.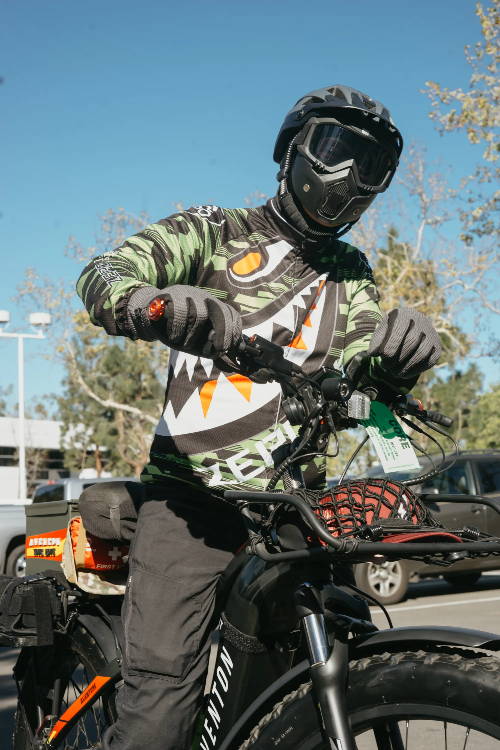 Group Ride Route
Starting at our headquarters in Brea and cycling a full loop back, 2 different large groups set off to explore, get some sunshine, exercise, and feel the fresh breeze on their skin! Leading each pack were two Aventon experts and technicians, along with an Aventon technician following at the end of the pack with a first aid kit, bike tools, and an air pump to take care of any hiccups for riders. Check out some snapshots of the route, courtesy of Aventon riders!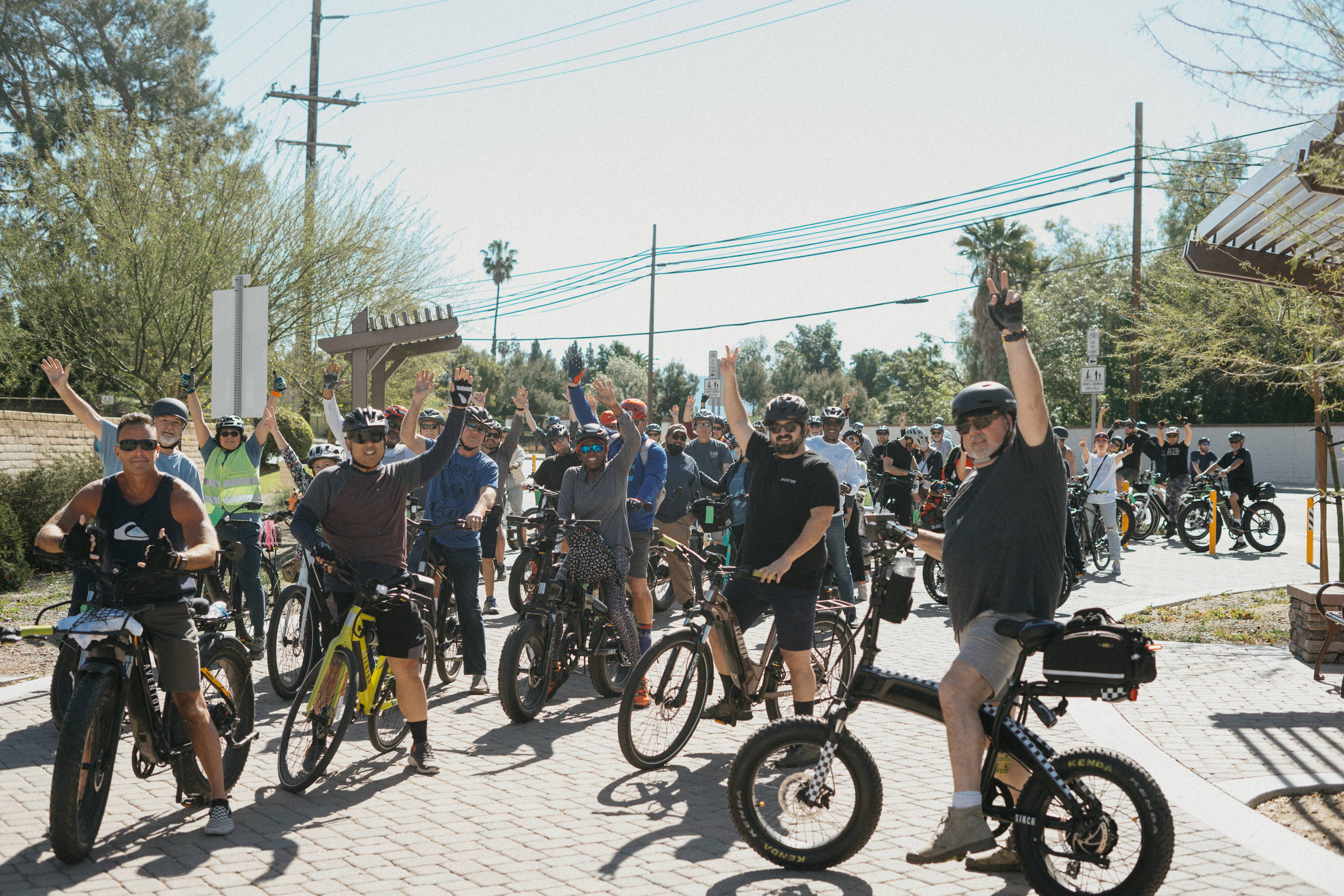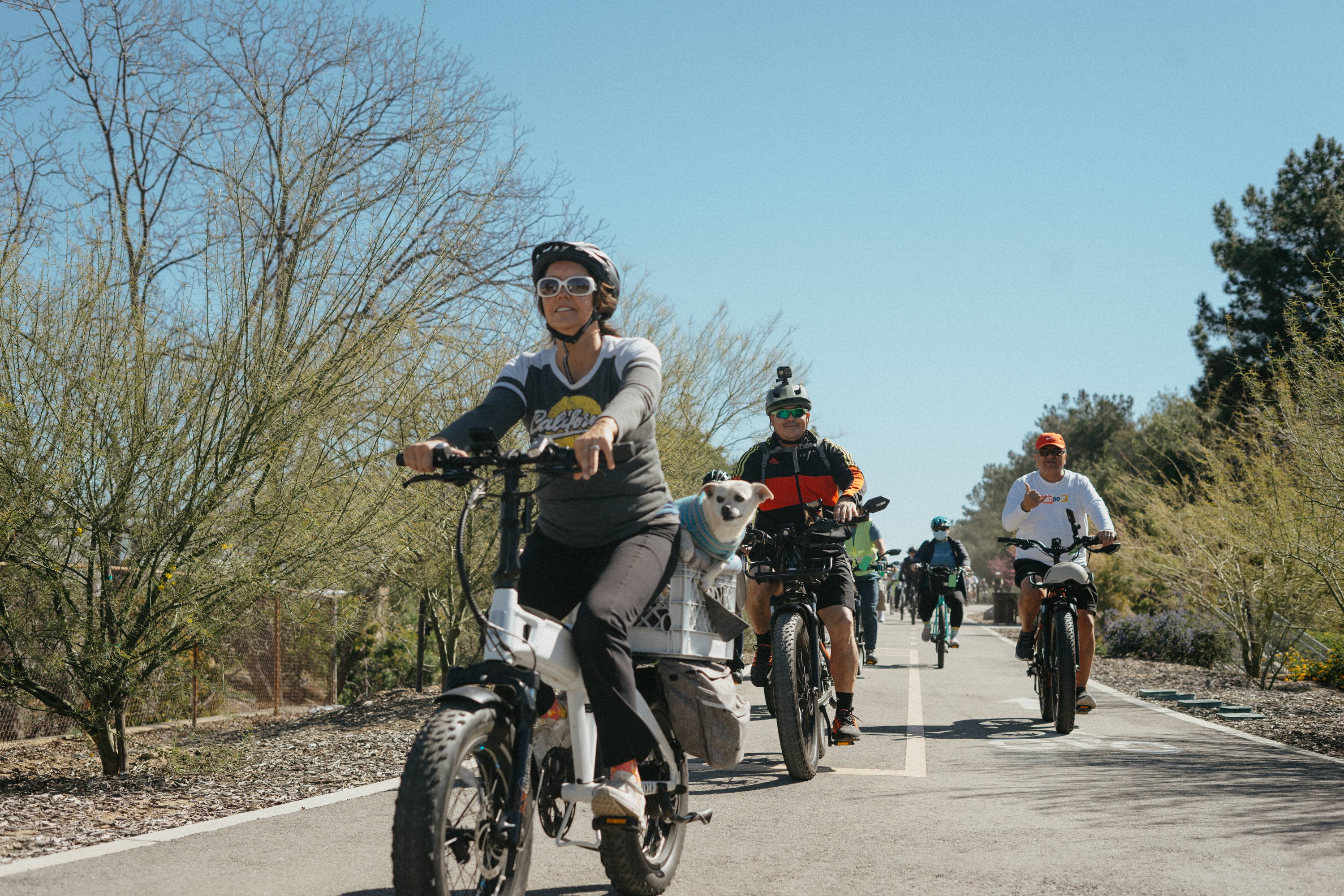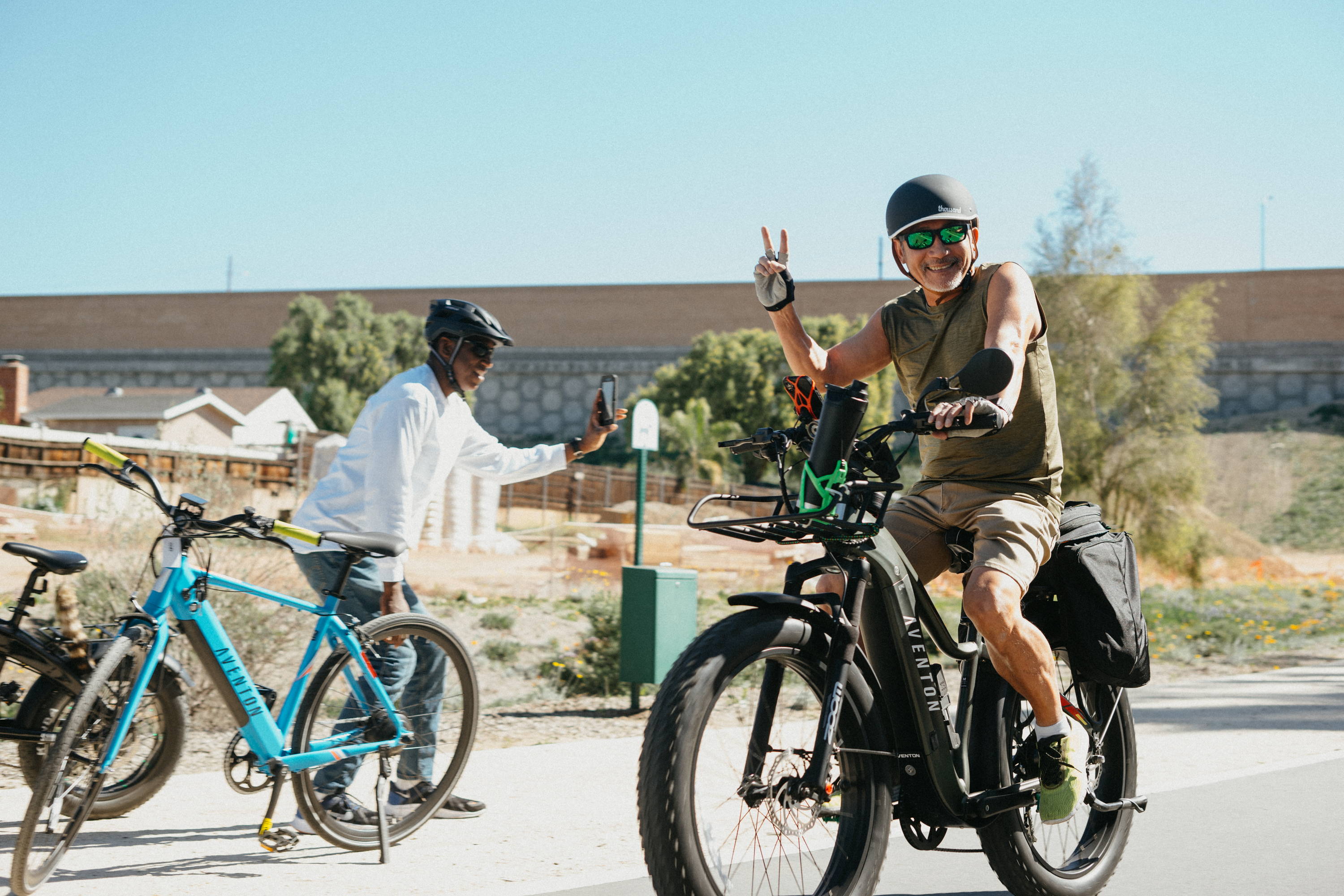 Test Riding and Accessory Purchases
While some of our team were en route guiding the group rides, the remainder stayed at Aventon HQ to interact with other riders and offer free test rides. We had one of each model, in most sizes, available for anyone who wanted to test ride and experience Aventon's entire fleet of ebikes, from fat-tire bikes to cruiser ebikes. We even have a handful of our most popular accessories on display for anyone who was looking to make a purchase and spruce up their Aventon ebike.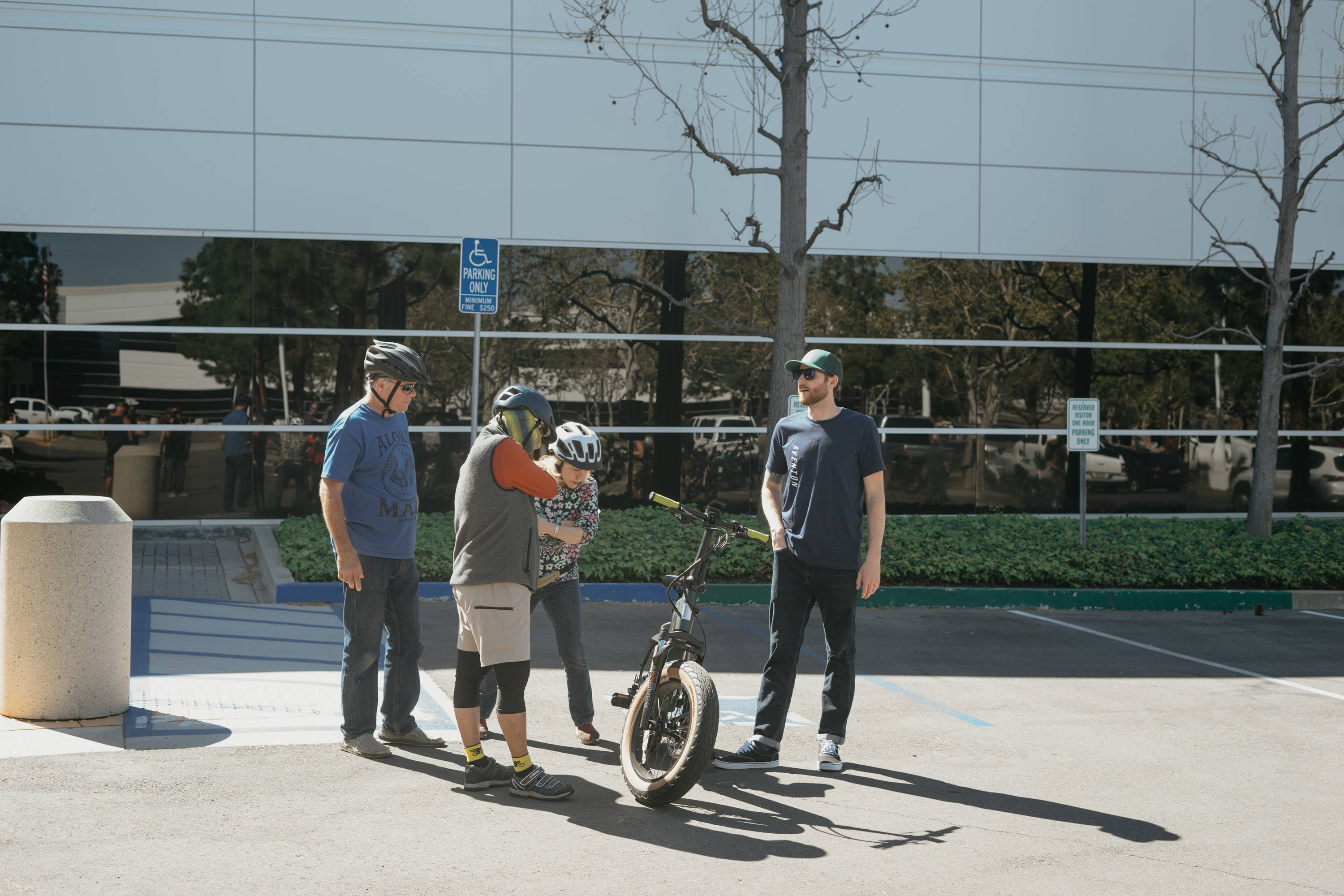 Free Ebike giveaway!
If group cycling, free breakfast, and catered In-N-Out for lunch weren't exciting incentives to join us on the fun, maybe this part of the event will entice you for next time! In addition to giving away free merchandise, like Aventon stickers, bike water bottles, shirts, hats and beanies, we offered a free, enter-to-win, giveaway where one lucky rider won and went home with a brand new Aventure electric bike! We hope you enjoy all the adventures ahead of you in your new Aventure, Gigi!
Connecting with our CEO, JW
The face behind the brand, founder, and CEO, JW, was most looking forward to connecting with and meeting just a small portion of the amazing group of people, nationwide, that have turned Aventon into what it is today. Equally involved in both backend and frontend day-to-day, around the clock, operations, JW couldn't pass up the opportunity to do what he loves most with the people that mean the most to him: cycling with the Aventon family. Whether it was snapping a quick selfie or chatting about the future of bikes, group riders got to trek, toast, and talk with JW!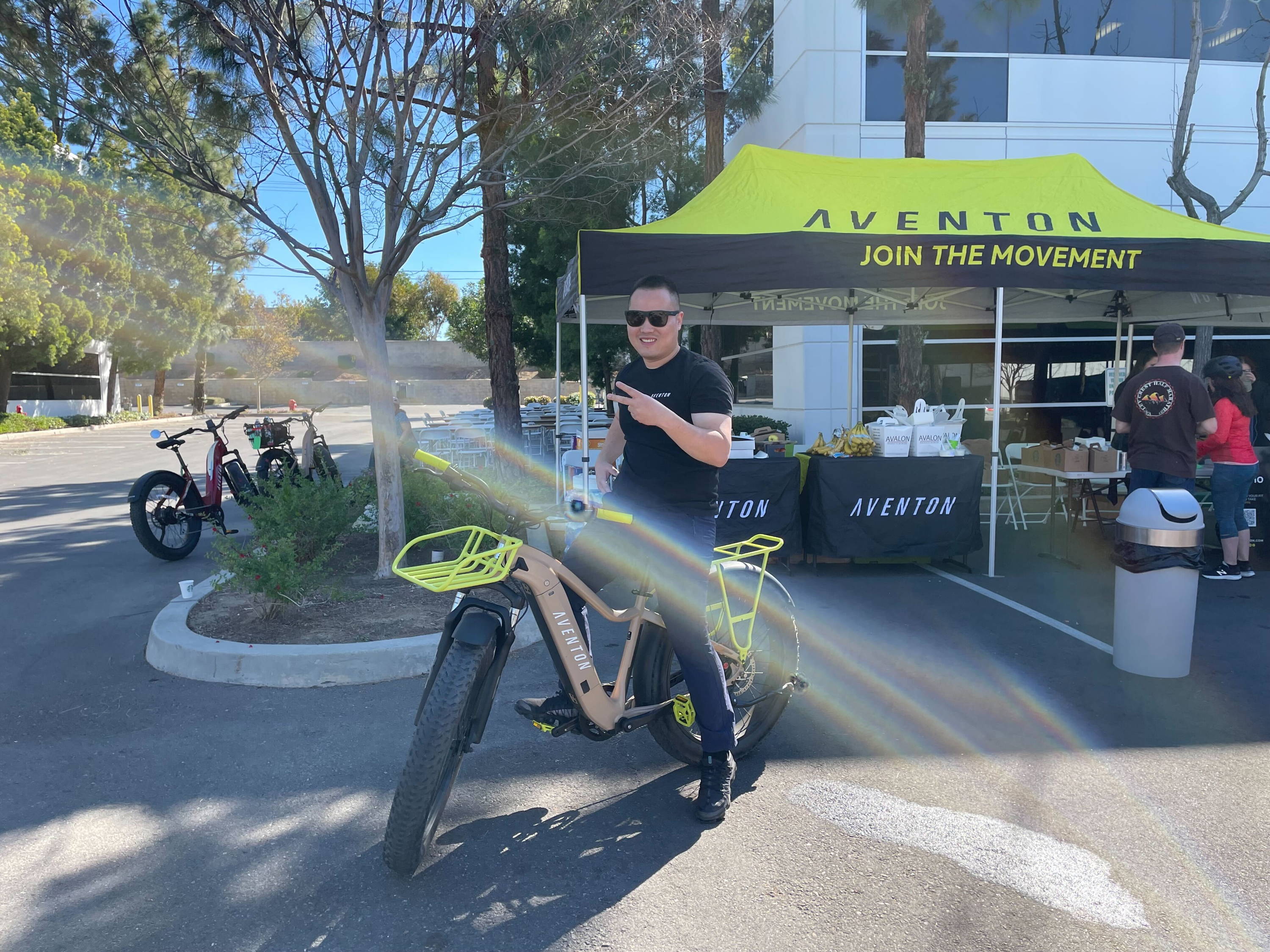 Post Cycling Burgers
Of course, it wouldn't be a successful bike ride without a satisfying post-ride meal. A staple of SoCal culinary culture, Aventon catered In-N-Out burgers and french fries as a free treat to our group riders!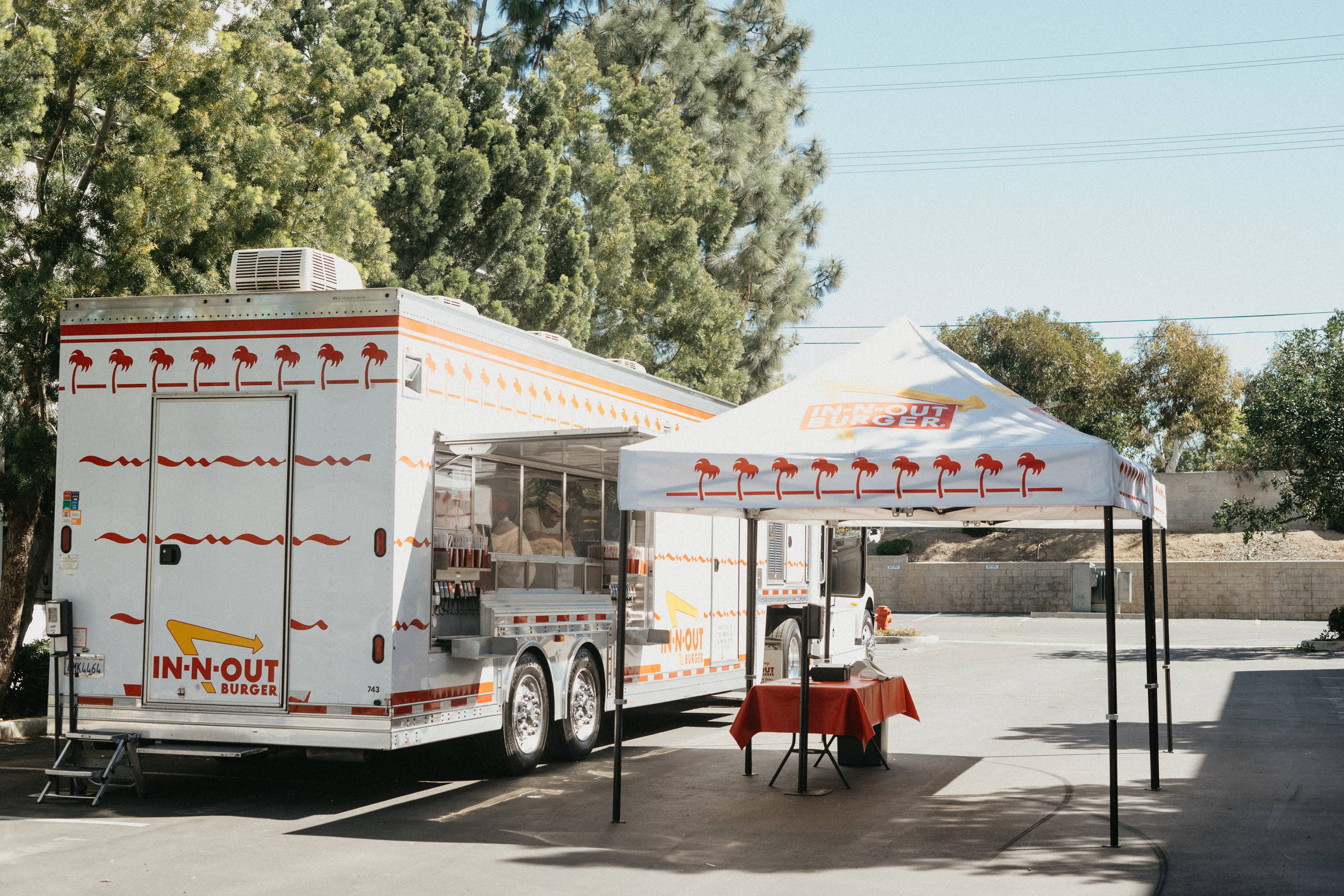 Join Aventon's Future Group Rides
We're thrilled to have hosted our first ever ebike group ride, and we're so thankful to those who were able to attend and join in on the fun. Laughs were shared, photos were taken, friendships were created, bike miles were accrued, and burgers were eaten, all on a beautiful Saturday morning with fresh and familiar faces!
We sincerely hope we get to meet more of you in the future, possibly even at a trail near you! Be sure to stay connected with Aventon and up-to-date on our latest news by following us on social media and subscribing to our newsletter. You never know, our next group ride may be sooner than you think. Until next time!