Aventon Dealer Spotlight: Small Planet Ebikes
November 26, 2021
Today, we want to turn the spotlight on one of your very own local ebike shops, sharing their story as well as what one can expect when checking out their business! If you didn't catch our Live Coffee & GO! last week on Facebook, where we discuss all the latest and greatest in the ebike industry as well as address some of your frequently asked questions, you may have missed our special guest appearance. We're thrilled to have had Marty from Small Planet Ebikes join us, sharing his expertise in the electric bike industry, the significance of fostering a community for electric bike enthusiasts, as well as his philosophy towards operating a customer-centric business. Located in the first historic neighborhood in Texas, Small Planet Ebikes in San Antonio is owned by the approachable, knowledgeable, and kind-hearted Marty!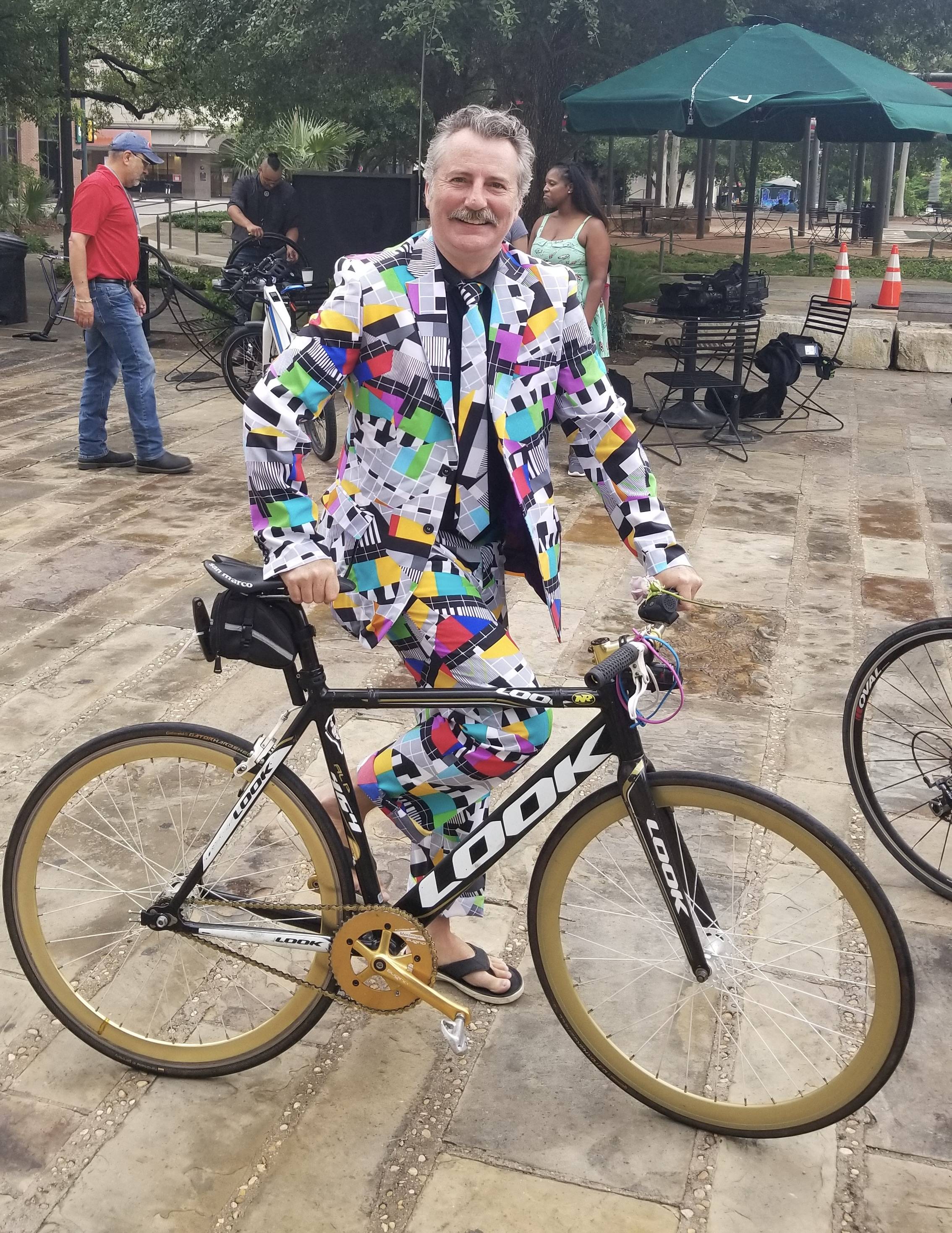 The Birth and Growth of Small Planet Ebikes
Marty, a longtime specialist in the bicycle industry, spent a majority of his personal and professional life in various arenas of bikes: working his first job in a bike shop at age 15, being a professional BMX freestyler for Mongoose, and more recently, traveling as a representative for a number of US-based bicycle companies. When he wasn't involved in the bicycle sector, he spent a considerable amount of time working in Broadcasting, and it was during this era, that his passion for pedaling would reignite.  
Marty told us that he launched his company, Voltage Cycles, in 2009, where he specialized in making custom electric bikes. Realizing the success he had in both Europe and Asia, he could see past the horizon, knowing that electric bikes would soon revolutionize the market. Not only were they a viable transportation option, but they also had the capacity to excite and encourage people to want to bike, just as his custom builds did for his customers. It was just a matter of when the US demand for them would follow suit.
Marty was an avid ebike advocate and expert right from the get-go, often having to persuade traditional cyclists to even consider trying a battery-operated bike before ruling it out. Having the experience of building completely custom electric bikes, he knew the exact technical specs to relay that would support his belief that electric was the future of the market. And once they did give it a go, Marty was always met with the same enthusiastic reaction: "Wow!"
While one day still traveling as an electric bike rep, Marty recalls one of his (then) best customers, Tom from Small Planet Ebikes, telling him that once he's tired of the roadshow, to open a store together. Fast forward to December 2017, and the second Small Planet Ebikes in the heart of San Antonio, Texas was born. Their mission: Save the planet, one ebike at a time!
When Marty Met Aventon
Marty's awareness of Aventon existed before Small Planet Ebikes in San Antonio had opened. He said his first introduction to the Aventon brand was through our timeless fixie collection, as well as some of our sister company's single-speed bikes. Marty brought Aventon in from day one, selling hundreds of the Mataró fixie over the course of the first year.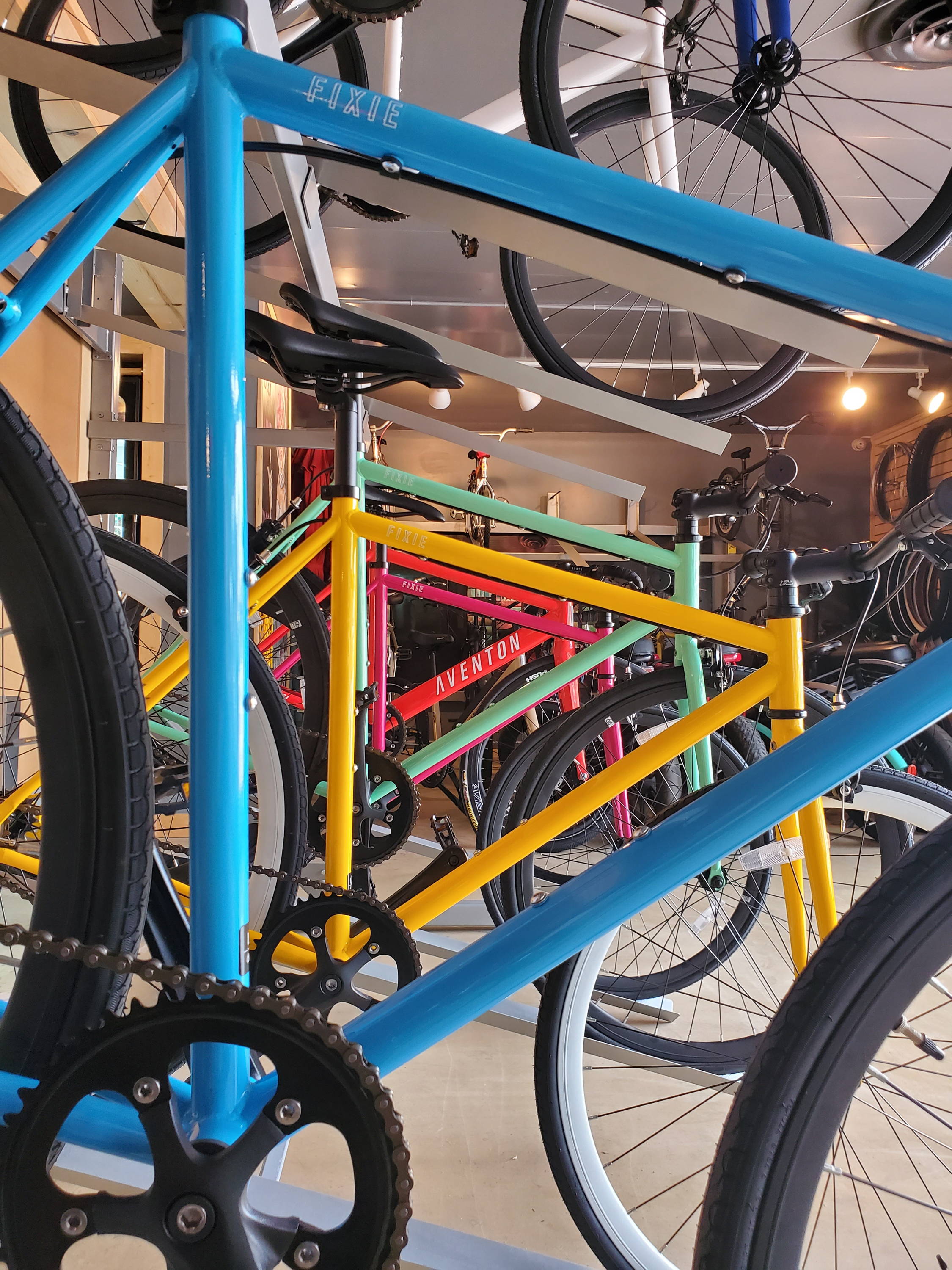 Marty always shared our viewpoint and vision regarding the impact electric bikes would have on the market: revolutionizing both transportation and recreation. He sensed that powerful migration from a single speed to electric assist, saying Aventon products provide the best of both worlds: throttle for getting someone where they need to go quickly and pedal-assist for those days where they want to build up a sweat. He started off by selling the Pace 500 electric bike in 2018, even encouraging Tom in their Colorado location to carry Aventon products. In that first year alone, they sold around 300 models between both locations!
Marty told us his favorite models are the Pace 350, Pace 500, and Level. Not to mention those are his best sellers! He loves the Pace for its agility and weightlessness; he says there aren't that many bikes out there as light as the Pace! Whereas his love for the Level stems from the strength of its motor and incorporated accessories given its price point. Marty says that Aventon ebikes essentially leveled the playing field on what a high-quality bike should cost and that they sell themselves since they ride so well! Although, credit is due where it's deserved for the quality customer support that is given to those interested in Aventon products, all thanks to Marty and the team at Small Planet Ebikes.
Small Planet Ebikes Incredible Customer Service
Marty's favorite part of the job is seeing the smile on someone's face when they roll their bike out the door. There isn't anything more exciting to him than someone buying an electric bike and experiencing the freedom that comes with it, let alone buying their first bike. Especially when customers reach back out in the days or weeks following, bragging about the number of miles they've put on their new bike. That's what makes it all worth it to him. It has never been about selling a bike. It has always been about making that connection; what are you looking for and how can I best offer a solution that aligns with your wants and needs?
Marty says that at the end of the day, Small Planet Ebikes operates as a small boutique, never wanting a customer to walk in and feel like they weren't addressed. They pride themselves in making sure that every person that walks through the door feels like they were the only person in the store. If that means personalizing their bike after-sale, pre-sale questions, test rides, safety concerns, or modification inquiries, Marty's mission is to give his customers an empowered education and awareness of the bike they are riding. And, the rule of thumb applies to all: you're their top priority!
But the customer-centric care doesn't just stop at pre-purchase or post-purchase. There's a reason why their store was custom renovated to give off a retro, mid-century airstream feel (Not to mention, their shop used to be an abandoned gas station! How cool? Besides, check it out for yourself below!). The intent behind building Small Planet Ebikes is to foster a community in their corner lot: a shared space for electric bike enthusiasts to gather, socialize, bike, and enjoy the moment. Prior to Covid-19, Marty says they would host food and beverage trucks, events, and coordinate about a half of a dozen monthly rides. He's enthusiastically looking forward to resuming this communal outlet once the climate is safer to do so, continuing making Small Planet Ebikes the third place for anyone that's out and about and wants to stop by along their route!
Small Planet Ebike's Special Services
If Marty's fascinating background hasn't made you want to strike a conversation with him, or his customer-centric philosophy hasn't inspired you to make his bike shop your go-to, maybe the following services offered will do the trick. Here are some of the perks of shopping small from Small Planet Ebikes.
Repairs
Marty says that he runs a transportation-oriented shop, trying to provide on-the-spot support and care where they can, by both appointment and walk-in. Operating in a town of traveling retirees, urbanites, and city dwellers, they know that having a functional electric bike is imperative. As such, he says Small Planet Ebikes rarely holds onto a repair for more than 72 hours. In fact, Marty offers a free first tune-up for customers! He tells his customers to put a minimum of 300 miles on their new electric bike - you know, really have fun and break it in! - and he'll take care of them when they come in for that initial tune-up.
Test-Ride Appointments and Fit
Small Planet Ebikes takes both walk-ins and appointments to check out their current inventory and test ride demo bikes. Marty has one of every model in every size on the floor for customers to experience the joy of electric bikes. He actually is fully equipped with all Aventon models, and is thankful that Aventon has been able to supply bikes to them during these ongoing trying times!
He also has a queue of bikes being built off the sales floor, with their original packaging still intact. That way, if someone does decide to roll home with a bike, they can get their bike fresh, and the shop will both prep it for them and fit it to suit them. Simple fitting adjustments mean making sure that the bike fits the rider's body, everything from the handlebar, stem, and seat height. Not only that, but he wants to reassure folks that they're getting a fresh bike, and if visiting his store from afar, they won't be let down with missing inventory!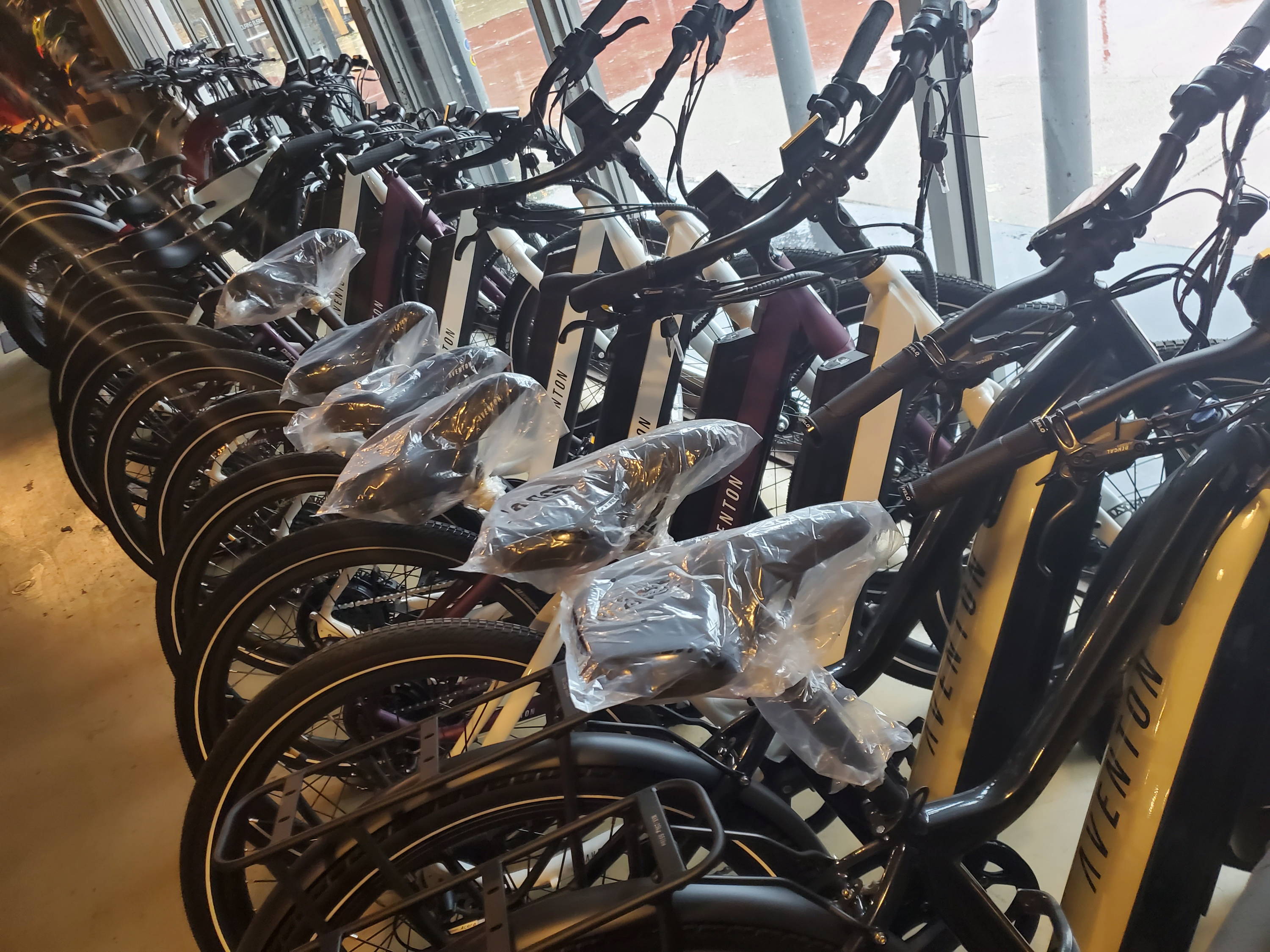 Ebikes 101
This is truly what sets Marty and Small Planet Ebikes apart. They call it 'Ebikes 101,' which essentially is walking customers through everything they need to know about the bike they're interested in: from battery care, basic maintenance, general things to pay attention to (like adjusting brakes or the derailleur), and other simple things that you wouldn't really know until you have to know, that actually turn out to be ridiculously simple fixes once you finally do know. You know, the 101s! To reiterate, the mission is to give customers an empowered education and awareness of the bike they're riding. There's nothing worse to Marty than someone purchasing a bike and never riding it!
Ready To Check Out Small Planet Ebikes?
Small Planet Ebikes is the go-to for many San Antonians, as well as some surrounding states and even further! Though their quality service, extensive expertise, and genuine care are what draw people in, ultimately, it's the support, community, and authenticity that maintains people's connection to Small Planet Ebikes. You can check out their store information or schedule a demo ride appointment or service appointment here, or contact them here! And if you're interested in experiencing some of Marty's exceptional customer service for yourself or want to inquire about any upcoming biking events, then stop by Small Planet Ebikes in San Antonio, Texas, and say hello!