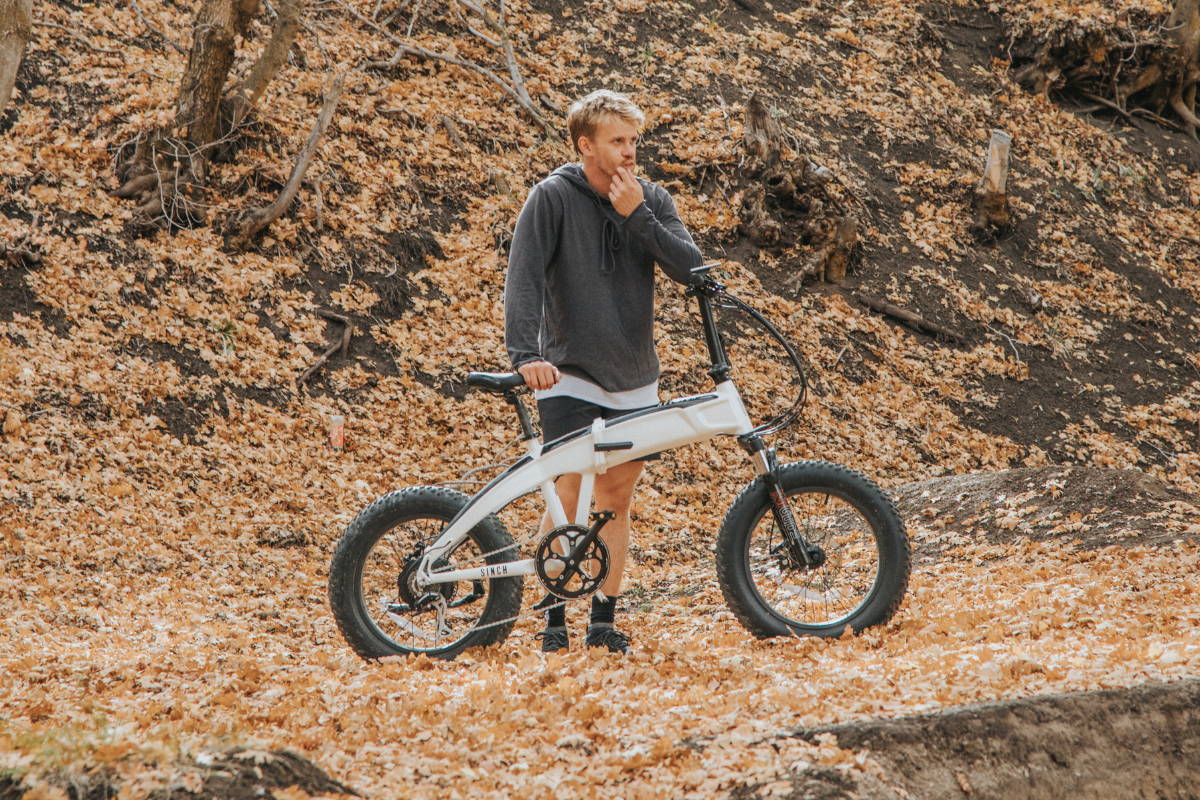 Ways to Decorate Your Bike: Including DIY!
November 5, 2021
The 2020 Covid-19 pandemic turned a lot of us into DIYers, or do-it-yourself-style projects. Despite your level of craftiness, with so much idle time on our hands at one point, so too came a realm of endless possibilities. From DIY home organization to clothing, even bike decoration!
Whether you are an avid DIY hobbyist or not, allow us to combine both worlds of electric bicycles and decor by offering some fun and creative ideas on how to decorate your bike! The list we've curated below is definitely not exhaustive, and although we encourage having fun and your electric bike reflecting your own unique personality, we recognize there are some bicycle decoration dreams out there that may require professional assistance to become realized. For this reason, we've provided both DIY and shopping ideas to inspire your bike decoration journey!
1. Stylize the Handlebar
There is a myriad of ways one can decorate their handlebar, from adding streamers, mirrors, and so much more! Handlebar streamers are arguably the visual equivalent to the free feeling you get when riding an ebike: streamers blowing wild and free in the air! Bike streamers are an easy purchase and an easier DIY.
You'll need about 3-6 pieces of ribbons, an eye screw, and a nail. To start, poke a small hole at both ends of your handlebar grips; you can use the nail to accomplish this. If you're on the fence about putting a hole in your handlebar grip, you can also use a zip tie to attach ribbons either to the actual handlebar or at the end of the grips. Then, screw the eye screw securely into the hole. Grab your ribbons and push them through the eye hole. Tie in a double knot, and enjoy your streamers!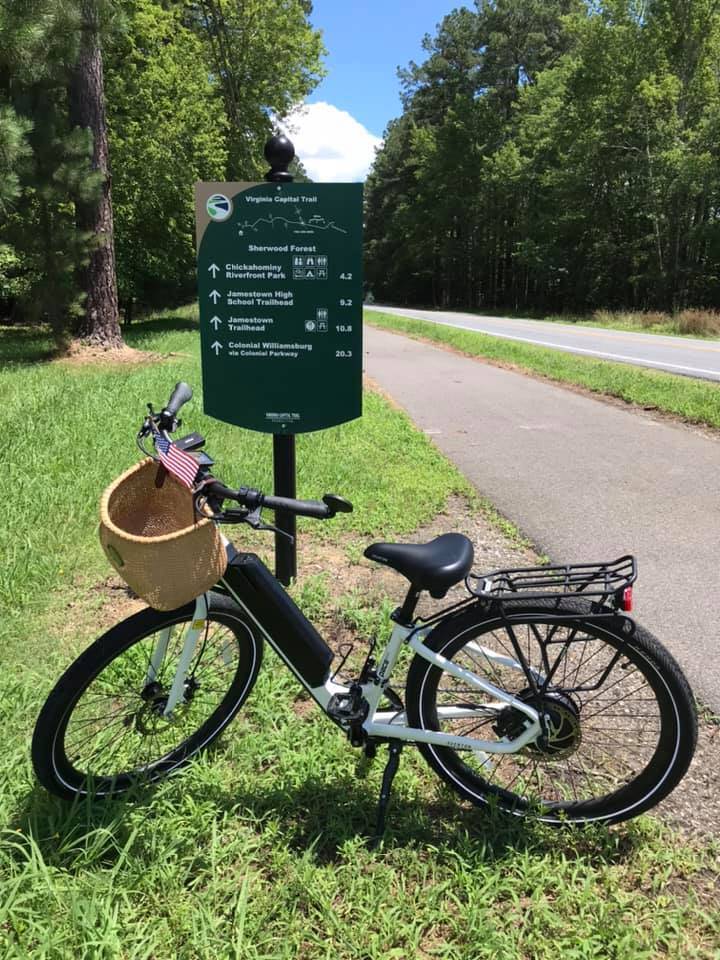 Photo Credit: Cherrie Sporer
2. Get Creative With Your Basket
Wicker baskets are great for storage, and they also provide a blank canvas when decorating your bike! Gather some of your favorite materials: flowers, flags, pom-poms, ribbons, just to name a few. Arrange them how you'd like them, either around the top trim of your basket, the bottom or anywhere in between. You'll need hot glue (E-6000 can also work) to make sure your personal arrangement attaches to your basket, and voilà!
3. Pet-Proof Your Basket
Alternatively, if you and your furry friend enjoy biking together, opt to decorate your bike in their favor! You can still attach your favorite items to the exterior trim of your basket, and add a soft, padded cushion to the bed of your basket so your little one can sit comfortably!

Photo Credit: Pete Gutierrez
4. Upgrade The Look of Your Frame
Seek A Custom Bike Paint Job
If an all-out custom paint job is your bicycle decorating idea, we suggest enlisting the help of a professional artist, unless you are one. There are shops and businesses built specifically for painting bicycle frames. Not only can they bring your ideas to life, but they're also familiar with the anatomy of electric bikes which can allow for greater workmanship around bicycle components!
Camouflage Your Ride
No, we don't mean purchasing our Aventure in Camouflage Green, although we do think it's a great option. We mean literally camouflage your ride! If the thought of a permanent custom paint job sounds off-putting, another DIY bike decoration option is to "wrap" your electric bike. Similar to a car wrap, vinyl wraps are essentially printed and cut graphics sold as stickers. You can cover your entire bike or just a portion. As a DIY, it can be as simple as peel and stick! Vinyl adhesive is generally light, so you won't risk ruining the paint on your bike frame should you decide to peel it off.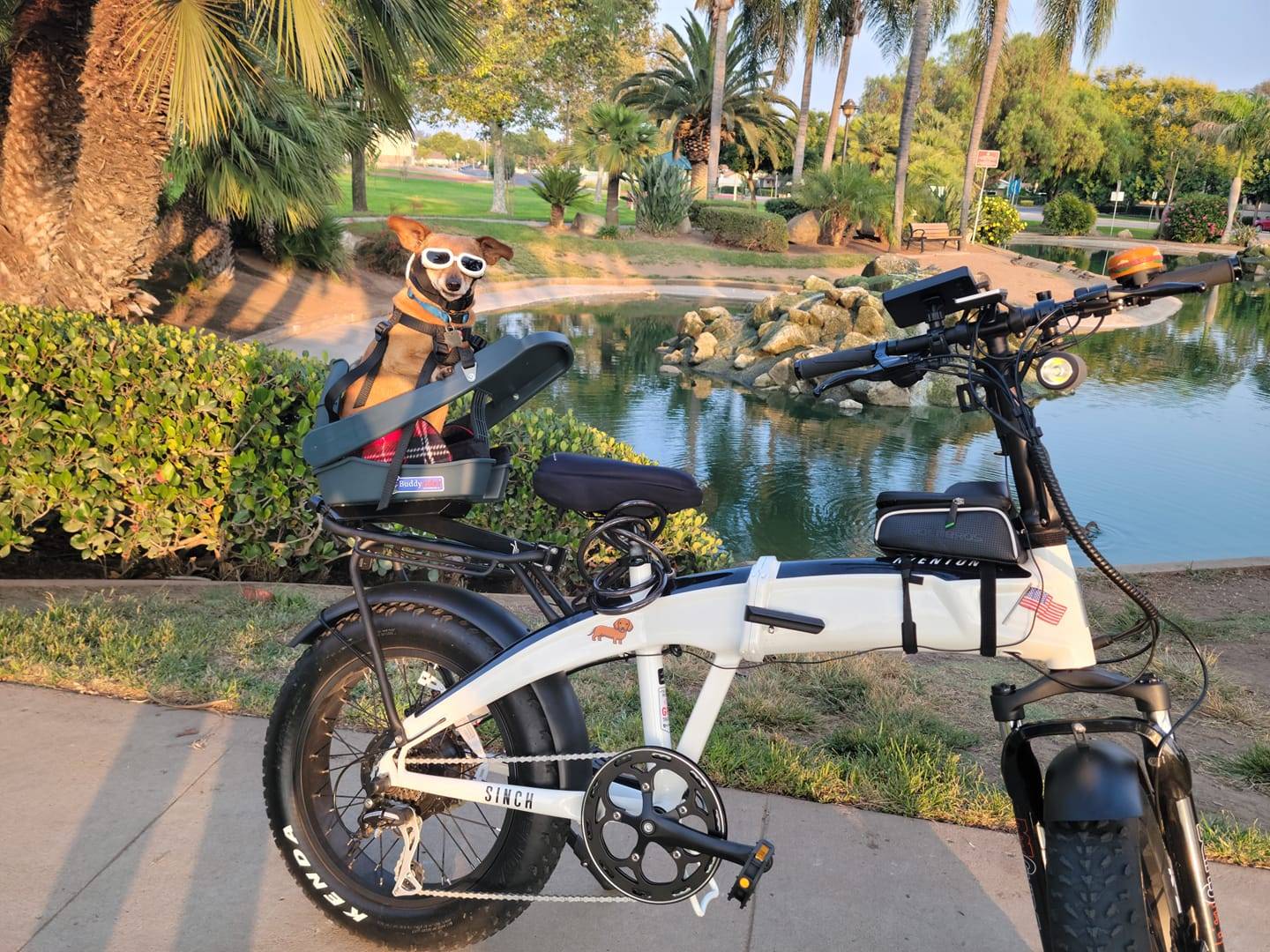 Photo Credit: Reyna Torcuato Swanson
Calling All Sticker and Decal Enthusiasts
If you're an avid sticker connoisseur, collector, or just curious about other bike decorations, stickers are an effective and inexpensive way to personalize your ebike! Whether you're into collecting city-specific stickers on your travels or cycling escapades, animal decals, or brand labels, there's no better way to decorate your bike than embellishing it with stickers that represent you. Simply peel and place your stickers anywhere along the frame of your bike, fenders, or stem!

Photo Credit: Forrest Graham
5. Lights, Ebikes, Action!
Not only are lights a foundational bicycle component for day and night time riding, but they're also a great way to decorate your bike. They range from solid lights, colored lights, and even flashing lights. This way, you're combining bike decorations with safety precautions!There are plenty of ebike LED lights to purchase, from plastic attachments for your spokes to a light valve on your stem cap. There are LED options available for virtually every part of your bike, including your wheels! Please note that given the nature of electricity and battery-operated bicycles, we do not recommend creating any lights of your own nor attaching any purchased lights to or near the motor/battery.

Photo Credit: Perry Baxter
6. Tired of Your Plain Rack?
Let the bike decorating ideas continue: changing the color of your rear or front rack. If you're tired of the standard black, silver, or white colors, there's a rainbow of possibilities to upgrade the look of your rack! Painting this accessory is simple and fun. Any spray paint from a local hardware store would do the trick. Look for a brand you're familiar with so you know you can trust the quality of their paint. You can choose a flat finish, a glossed finish, or anything in between, and most importantly, the color of your choice!
7. Helmets Are For Protecting (And Styling!)
Bike decorations aren't limited to just your physical bike, and besides, why not also have some fun decorating your biking gear? We've said this before and we'll continue to say it, ebike safety is fundamental, so a helmet will always be, and should always be, your number one priority, even if you don't like how it looks. But with this idea, you'll be able to say goodbye to the days of wearing a boring helmet and hello to loving your uniquely personalized helmet!
You can browse a selection of helmets to purchase with varying themes, like your favorite movie characters (Yoda and R2D2 are super popular helmets) or your top sports team. If you feel like painting sunflowers, gluing artificial sunflowers, or even going all out with sunflower stickers, updating your current helmet is also another idea!

Photo Credit: Cody Davis
8. Get Custom Wood Fenders From Woody's
If you're looking for something handmade, one-of-a-kind, and a totally unique way to dress up your bike, consider adding custom wood fenders, like those from Woody's Fenders! Cody Davis, the talent behind Woody's Fenders, is also an Aventon owner and has dressed up both of his Level ebikes. You can also create a custom rear rack, chain guard, bottle opener, bike stand, and more. Add a touch of 'classic to your ride with a wooden bike accessory!
9. Personalize Your Plate
Do you still have that catchword in your head that you wanted on your car's license plate, but someone else beat you to it? Well, try your luck again! Another fun way to decorate your bike is by adding a license plate to it. Many online retailers offer personalized license plates for bikes and you can even select the state you're from. License plates can either be attached underneath the rear of your saddle, to the back trim of your rear rack, or to your cargo if it's permanently secured to your rear rack. You can whiz by others in style, leaving your mark to be read!
Final Thoughts
Whatever your bike decorating ideas are, and however you go about decorating your bike, the journey is all yours; there are no right or wrong bicycle decorating ideas. So scroll through and see so for yourself, as Aventon owners all over the nation show their creativity and personalities by decorating their ebikes!