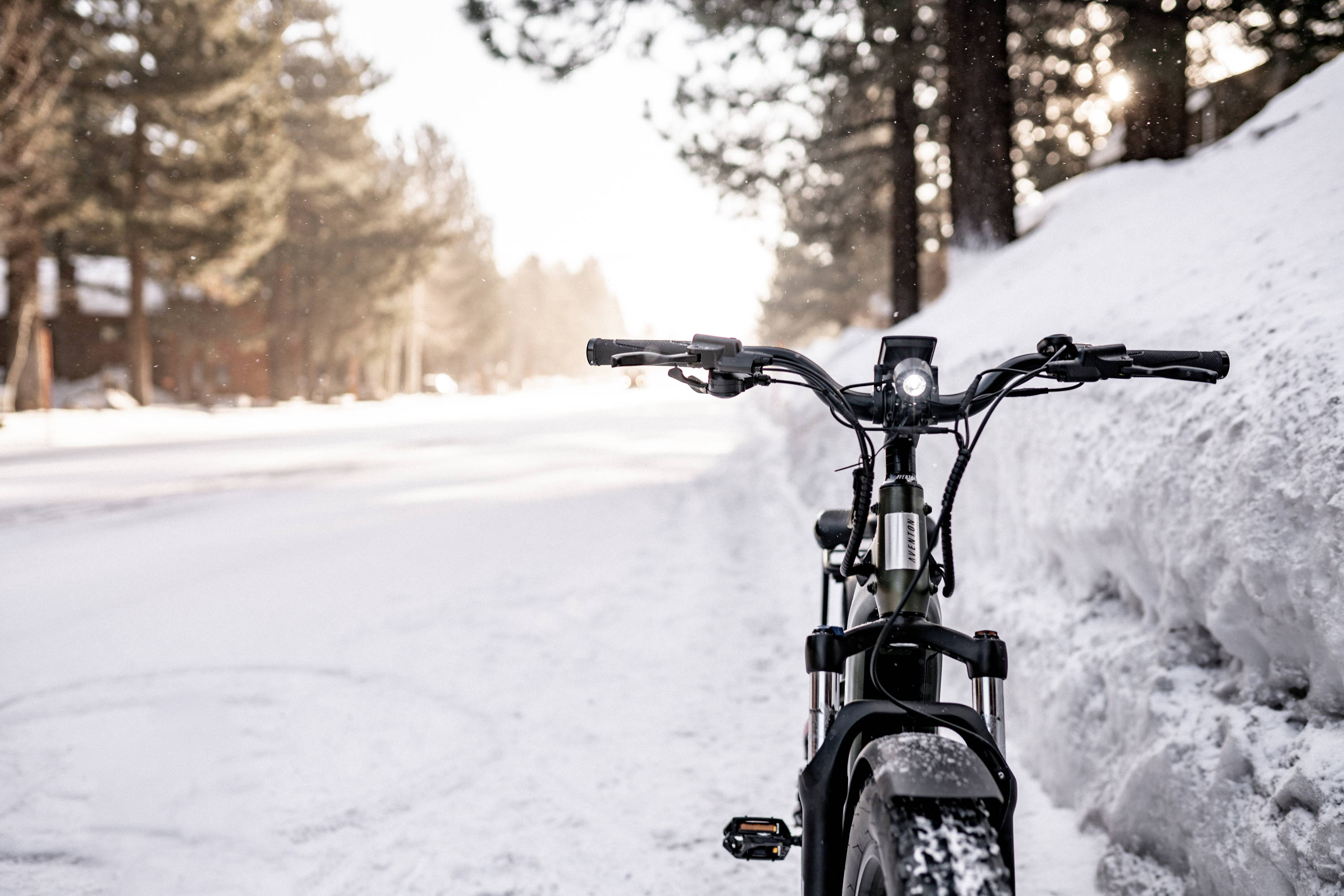 Everything You Need To Know About Biking In The Snow And More
December 13, 2022
Biking in the snow can make for a beautiful riding experience. Especially when the days are cool and crisp with the sun shining. A picturesque winter isn't the same without it. But with snow also comes freezing temperatures that produce wet and icy roads and other hazardous obstacles to be aware of. It's important to be prepared for the cold and snowy terrain by taking the necessary precautions before you go riding in a winter wonderland.
In this article we'll go over safety tips for cycling in the snow and also revisit other topics such as battery storage and bike maintenance so you can use your Aventon ebike at peak performance while riding safely this winter season.
Preparation Is Key
It's easy to get excited about getting on an ebike and hitting the ground rolling. The freedom and joy of a ride stirs up excitement in our minds and bodies that we can just as easily forget to prepare for the ride ahead. But if we take a minute, a little forethought can go a long way.
Lights
Never leave home without a pair of lights. Most Aventon electric bikes come equipped with front and rear lights so you can see and be seen at all times of the day. Rear brake lights are essential not only at night or in low light conditions, but every time of day, especially in the snow. They can give warnings to motorists and other cyclists behind you. To give yourself more light during the low daylight season, Aventon offers additional lighting options for extra visibility on your ebike.
Tires
Make sure that your ebike can handle the elements. Not all tires provide the proper performance capabilities required to gain traction in the snow. We recommend a bike that has 4" fat tires like our Aventure and Sinch ebikes that can cover ground and provide stability on snow covered terrain.
Fenders
Fenders are an integral part of protecting you and the mechanical aspects of your ebike. They help keep large amounts of moisture and crud from getting in your gears and electrical components, while also keeping the spray out of your face so you can stay focused on what's ahead of you. Some Aventon models come equipped with fenders such as the Level.2. And if you don't own a pair of fenders you can get Aventon fenders here for your next snow ride!
Stay Hydrated
Bring plenty of fluids with you on your cool ride, and make sure your water bottle is insulated for cold weather to prevent from freezing. It's less likely to sweat in colder climates however you'll still need to hydrate when needed, especially if you commute long distances. If you're going for a leisure ride around the neighborhood, maybe bring some coffee or hot chocolate to warm you up some more on your brief ride around the block.
Layering Up
If you plan on riding in the snow or winter climate conditions, wear the proper clothing. Layering with the right gear can prevent you from sweating and promote a warmer ride:
- Base layer - Long polyester underwear, tops and bottoms, can wick the sweat off your body.
- Middle layer - Sweater or jacket made with synthetic lining to retain body heat and protect you from the cold.
- Outer layer - A waterproof or breathable rain jacket shields you from the cold wind, rain, or snow
Water-resistant shoes will also keep your feet dry. Bring two pairs of gloves, a lighter pair and a heavier duty pair, in case it gets colder. Sunglasses will protect your eyes from the harsh reflection of sunlight off the white snow. And don't forget sunscreen and chapstick too!
Staying Safe While Biking In The Snow
If you plan on taking your ebike out for winter cycling, the most important thing you can do is wear a helmet. This is Aventon's first rule of safety in any weather condition. Your protection is our priority. If you can, get a helmet with integrated lights for better visibility in low to zero lighting conditions. (Hint hint - we make finding the perfect helmet easy for you! or browse our selection of helmets and find the perfect one for you! )
Speed
Unlike standard bicycles, ebikes have the capabilities to reach high speeds with the help of a motor . While it's still a good idea to stay within local regulations, it might be best to take it slower than usual for a safer ride in the snow. There's no need to go the speed limit if the roads are wet or icy. Start your ride without the use of pedal assist to get used to riding in the snow, then as you become more comfortable, slowly increase to a manageable riding speed.
Braking
As mentioned above, electric bikes can go fast. With that said, they're also heavier than standard bikes since they come equipped with rear hub motors and other electrical components. Heavier means you'll need a longer braking distance and if you do happen to ride at higher speeds that are still within moderation, you may need stronger braking power to slow or stop . Wet brakes also take longer to stop because there is less friction from the wet wheel rim. Make sure there's plenty of room between you and other vehicles and watch your speed. Keep your hand on the brake lever and squeeze lightly to maintain a safe speed so you can brake in time. And if you happen to commute or ride in a high-traffic area, keep an eye out for paint on the road. It can become slick when road conditions are wet.
Rules Of The Road
In any season, or at any time of the day, the rules of the road don't change. That means its important to always wear a helmet, and ride with the flow of traffic and stay within the bike lane. Need more information on rules of the road? Check out our articles Riding A Bike At Night Safety Tips and A 'How to Bike On The Street' Guide to learn more about the dos and don'ts that can apply to all aspects of riding on the street, snow or no snow.
Post Ride Bike Protection
While all Aventon ebikes are IPX4 water-resistant and can handle light water splashes, they're not protected from pressurized water and other elements that can damage the bike and the functionality of its components. Let's take a look at how to prevent long-lasting damage and how to keep you riding at peak performance!
Bike Maintenance
Bike maintenance is crucial during the cold and wet winter months. Especially in cities where it snows because of the salt that's used to help clear the icy roads and prevent moisture from freezing again. This salt can cause corrosion and damage to all the metal parts of your ebike over time if you don't properly clean it after each ride. Wash your ebike and rinse thoroughly with water. If you're new to biking and not sure how to go about how to keep your ebikes at top riding performance, check out our two articles Top 5 E-Bike Maintenance Tips That You Can't Live Without and The Ultimate Ebike Maintenance Schedule Guide to get you started!
Battery Maintenance In Winter
Your battery is the heart of your electric bike. It provides all the power necessary to keep you moving and your ride the best it can be. If you plan on riding your ebike in cold weather there's some things you should know concerning your battery. Electrical components are sensitive to extreme temperatures and if you leave them out for long periods in freezing climates, it could cause damage to your ebike as well as have an effect on battery life, performance, and your ebike's components. Take a look at our 'E-Bike Storage and Use During the Winter' blog where we go into depth about the proper storage and maintenance of your battery in the winter.
A good rule of thumb: If the weather is too cold for you, it's probably too cold for your ebike!
Go Riding In A Winter Wonderland
Your safety is our priority. That's what matters most to us. Though it may seem like a lot of information to remember before each ride, and while you're riding, the important thing is that you have all the information you need to enjoy the freedom and happiness each ride can bring, winter climates or not. Keeping your bike at peak performance and understanding how freezing temperatures can have an effect on your ebike and your ride will enable you to ride with confidence and joy. And now that you're ready, let it snow! Let it snow! Let it snow!