Donna's Story: How An Ebike Giveaway Allowed Her To Own Her Commute
April 1, 2022
Living in the coastal town of Dana Point in California, Donna is a fan of most things electric and eco-friendly, including electric cars, electric bikes, and taking public transport to her destinations when she can. Although she primarily works from home as a consultant paralegal, there was a time when she relied heavily on her car to meet her clients, run errands, and attend events near her neighborhood. Not to mention, the added stressors that came along with owning a car like figuring out where to park, it taking up a significantly larger amount of space, and best of all, sitting in traffic.
In the summer of 2019, she decided to make a big change and rely on more environmentally friendly transportation options. So, she sold her car, looked for a bike, and made a conscious effort to only use her husband's vehicle on an as-needed basis. Since then, it's been a whirlwind adventure, with some highs and lows, until she found herself in a scenario winning an Aventon ebike that was perfect for her needs, providing her with a healthy combination of efficient transportation and leisurely recreation. This is Donna's story of how two wrong electric bikes, attending Electric Expo in Irvine, CA, and entering Aventon's Instagram giveaway all led her to find her perfect ebike!
Donna's First and Second Ebike Purchases
Before Aventon, Donna heavily relied on public transportation, like the Metrolink station close to her home, walking, or using one of her two old ebikes. The first electric bike she owned was a fat tire bike from Himiway, courtesy of her husband in the summer of 2020. She says that while her husband had been eyeing Himiway's fat tire ebike, it was too big, too heavy, and way too powerful for her. At 5'5", Donna told us she didn't feel confident riding the Himiway fat tire ebike due to its gigantic size and would've preferred more frame size options at the very least. So, she sold it and went to the opposite end of the spectrum by purchasing an extremely lightweight and slender Nakto ebike. Although she enjoyed how light it was to ride and carry onto public transport, it didn't have the acceleration, accessories, or battery life Donna was looking for.
Electrify Expo in Orange County, California
After her experiences with both Himiway and Nakto, Donna told us she wanted to find an ebike that was in the middle of the two: powerful when needed, lightweight enough to carry onto public transport, and versatile in both technology and size. Having an interest in electric products, Donna attended the widely known Electrify Expo in 2021 near her home in Southern California. She was able to check out a wide variety of electric bikes and electric cars, and stay connected with some of the stand-out brands on social media.
Donna attended with the intention to mentally shop around; She told us she was in the very beginning stages of even considering purchasing another ebike. Though she was enjoying her Nakto ebike, she was noting the features she didn't particularly enjoy, like low voltage and a missing ebike display. After having 2 very different electric bikes, she wasn't ready to make a commitment just yet. So, she did what we always encourage doing when shopping around for an ebike: go for a test ride! Although she didn't have enough time to test ride any Aventon ebikes, she soon would discover that the Pace 500 was exactly what she was looking for.
Aventon x Pura Vida Giveaway
Not long after being introduced to Aventon at Electrify Expo and staying connected with Aventon's social channels, Donna noticed our November 2021 giveaway in partnership with Pura Vida, a brand that she also was a big supporter of. Her Nakto ebike just wasn't keeping up with what she needed, and being in the market of buying a new ebike sometime in the Spring or Summer of 2022, she figured, what do I have to lose if I enter? Fast-forward to the end of the giveaway, and she was beyond excited to hear she was the winner of a brand new Pace 500 Step-through in Celeste! And, it was during perfect timing too!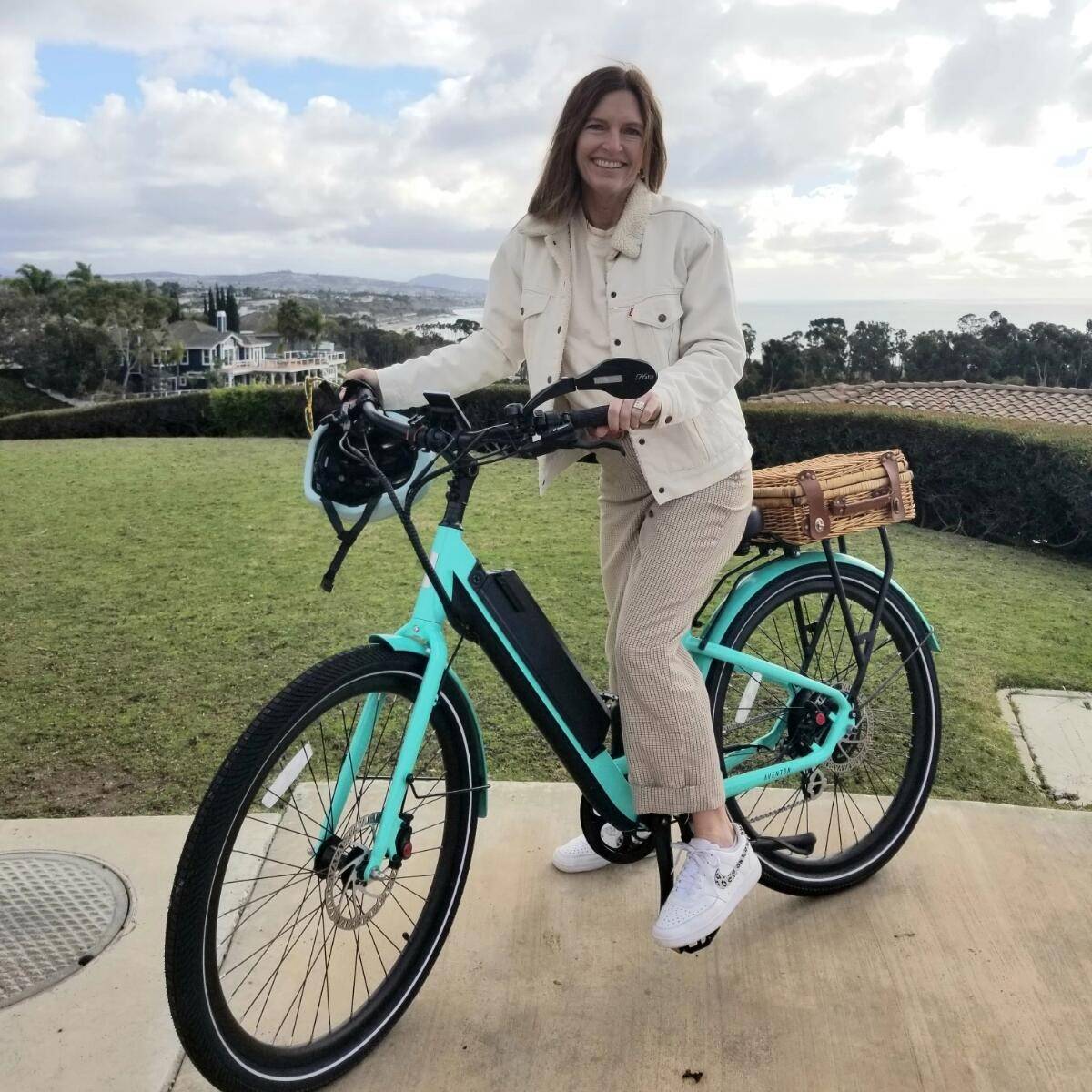 Discovering Her Pace
Not only did Donna's Pace 500 ebike give her the power and speed she was missing and looking for, but its' lightweight frame and extra features were also a huge factor. Not to mention, being able to choose between three frame sizes was a game-changer. She told us that having the option to choose the right bike size not only made her feel more comfortable getting on her ebike but also made her feel like a more confident rider. Now that she had an electric bike that fit like a glove and provided the power she was looking for, the sky truly was the limit!
Donna says that her Pace 500 eliminated the barriers of distance; She no longer has to consider if a hill will be too strenuous on her ebike to ride or if her electric bike's range won't cover her route. She told us she loves having the ability to go places where parking would've otherwise been difficult before, like the famous Ohana Festival in Dana Point or the Boat Parade of Lights. Gone are the days of dealing with traffic, and instead, she can effortlessly ride her bike, park it, spend time with her friends, and know she'll be able to get back home without a worry.
How Donna's Ebike Has Changed Her Outlook
While she certainly uses her Pace 500 to catch the Metrolink to meet with her clients around Orange County, the other half of her fun is leisure riding and errand running, whether she's grabbing groceries, trail riding with her husband, or picking up a package from FedEx. She says she loves using her bike because it's easy: plain and simple; It's easier to get on the bike and go, it's easier to park and lock her bike as opposed to a car, and it's effortless fun. Part of the fun of riding her Pace ebike is seeing something, or someone, she normally otherwise wouldn't see while driving in a car. She told us she feels more connected to her neighborhood through her ebike; She sees her neighbors, people walking their dogs, and although she may not talk to the person she's stopped at the crosswalk with, she feels like there's more of a sense of a community connection to them when she's on an ebike as opposed to being confined in a car.
What Donna Loves Most About Her Aventon Pace 500
Feeling safe, in control, and secure on an ebike are some of the things that were most important to Donna when she was shopping around, not to mention weightlessness. She says she feels very solid and safe when riding her Pace 500. She loves the frame size and how comfortable not only the seat is, but her overall ride. When it comes to the quality of her Pace ebike, she's thankful for great acceleration and an extensive battery life. She also likes the fact that she has the option to exercise if she wants to, as Pace 500 is easy enough to ride with or without any assistance.
Thanks to her Pace 500 Step-through, Donna can keep up with her husband in his fat tire ebike when they bike together! She equally loves to ride her Aventon down to the harbor to look out at the ocean as she does biking to local restaurants or bars, trying out new places, and discovering hidden gems in her community. She says if there's someplace fun to ride, she's going to bike ride there!  
Wrapping Up
Providing our riders with the utmost safety, security, and comfort when riding their Aventon ebikes is of utmost importance to us. And of course, having fun is at the epicenter of it all. While we love hosting free ebike giveaways to our social media channels, what we absolutely love even more is hearing how Aventon ebikes have impacted our winners.
For our Aventon x Pura Vida Giveaway winner Donna, it was perfect timing that two other electric bikes and an unexpected Instagram giveaway entry would eventually lead her to the right ebike for her needs. Thank you, Donna, for taking the time to speak with us at Aventon HQ and we can't wait to see and hear more about your adventures ahead!
P.S., If you don't follow us on social media by now, check us out on Instagram and Facebook! Maybe you'll be our next giveaway winner!