Dealer Spotlight: Princeton Ebikes
June 16, 2023
Princeton Ebikes in Lawrence Township, New Jersey is about one thing: community. Their business model is set up for it. Not only does Princeton Ebikes have the largest selection of ebikes found in New Jersey, but all of their profits are donated to the Boys and Girls Club.
The club promotes a better quality of life for local youth by providing them with the necessary tools they need in order to thrive.
This homegrown electric establishment started at the height of the COVID-19 pandemic and has thrived in providing more people with all the joys that can be found in riding–and selling– an ebike! Let's find out more about how Princeton Ebikes came to be and what motivates them to do what they do best: give.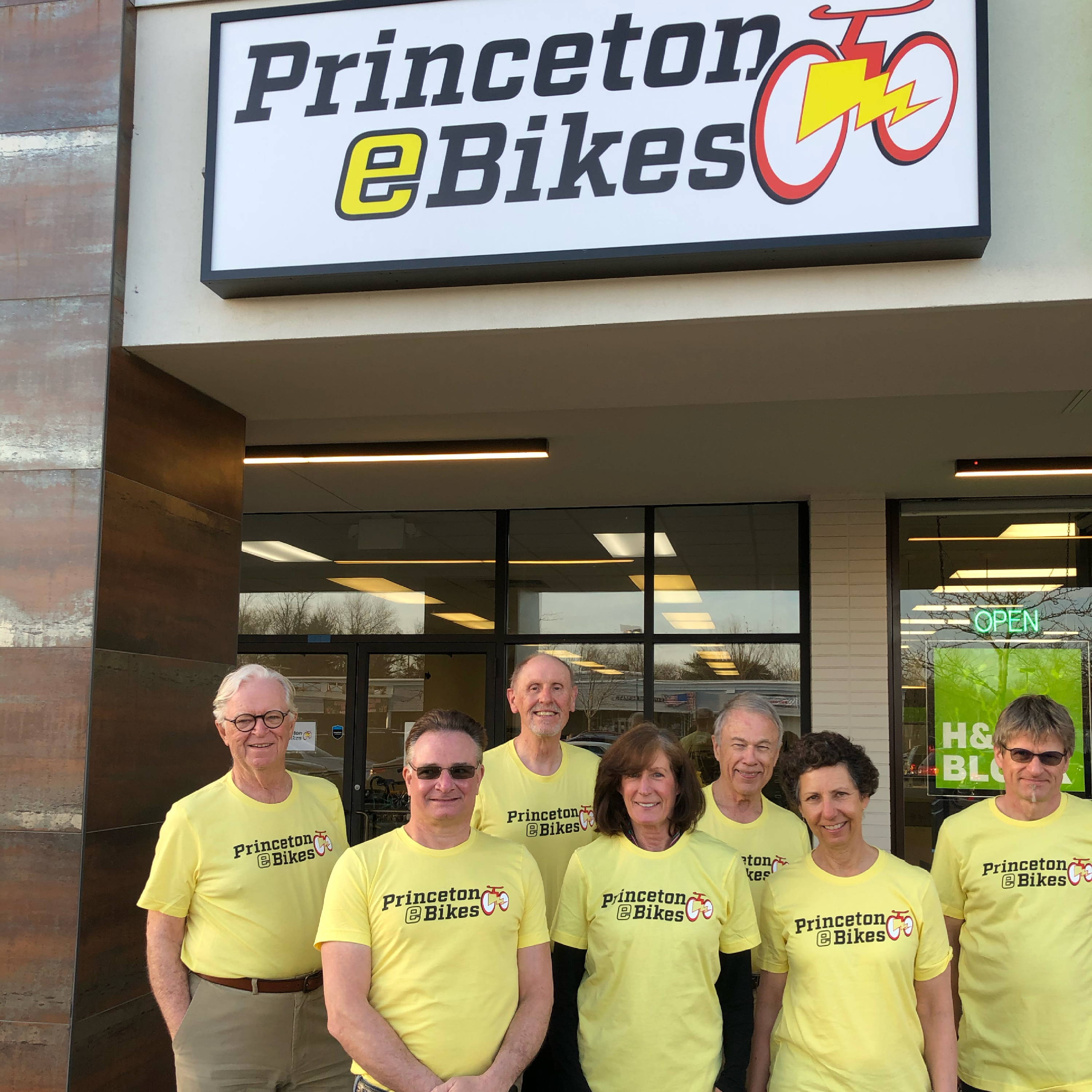 The Origins Of Princeton Ebikes Philanthropy
It takes love, dedication and passion to build something the whole community can rally behind. That's what Princeton Ebikes has done. Russ, Theresa and Theresa's husband Jay, have come together to provide the community with a product that can change people's lives in more than one way.
Over 13 years ago Russ started The Boys and Girls Bike Exchange, a bike shop that Princeton Ebikes' business model was based on. Over the course of those 13 years, Russ and his team sold over 25,000 bikes with all the proceeds going to The Boys and Girls Club. So, in the Fall of 2020, Russ noticed a surge in ebikes and jumped at the opportunity to recreate what he'd done years earlier.
"We thought it would be fun to do it with all volunteers except for a mechanic, who we pay, and give all the profits to the Boys and Girls Club because the Bike Exchange was so much fun. So that's what we're doing," Russ tells us.
Theresa, who volunteered at the Bike Exchange, had just retired from her own business in marketing and she and Jay joined Russ in building Princeton Ebikes.
"I always felt I was fortunate in life, so having the ability to give back to youth and to do it in a sport that I love and in the community that I live in marries so many things that are important to me," says Theresa.
Aventon And Princeton Ebikes
For Princeton Ebikes it was an easy choice to wheel Aventon into the shop.
"Everytime we turned on the internet, every time we did anything, we saw an Aventon ebike. I said, 'These guys are doing something right and they're also spending a lot of money on marketing'. And we love that because it drives business to us," Russ told us with enthusiasm.
But it wasn't just the marketing that caught Russ and Theresa's attention when it came to Aventon's ebikes. There was more to it than that.
"We live between two different areas, Trenton to the South of us and then we have Princeton on the North. So we really have an opportunity for a diversity in clientele in bikes. Initially we were really getting the brands that we could and available to us and we were learning the market."
Besides quality and value, which play an important part of providing a product they can stand behind, it was also important that Aventon had great ratings by unbiased, reputable websites and reviewers.
Why Princeton Ebikes Sticks With Aventon
"The features," says Theresa instantly when we asked. " For example, having the built-in headlights and the low step for your models, such as the Pace, provide ease of use and comfort. It just really makes sense. Clearly a lot of thought has gone into the design."
While other ebike brands tout their diverse line of products, Princeton Ebikes prefers the simplicity of Aventon's line-up.
"Some competitors might have three times the models you do and it's confusing. They aren't that differentiated," Theresa continued. "Aventon has a wise focus on different models that do different things that's not so hard to grasp. People can understand and can see the differences. The Soltera, the Aventure, the Pace. They all have their uses. So I think it's the actual models you have, the number and the type."
The customers, too, know what they're looking for when they come into Princeton Ebikes. The marketing and products, has afterall, been an effective way to educate shoppers online with all the information they need before coming into the store.
"Customers have done their research," says Russ, "and they've decided that Aventon is the bike they want. Forty percent of our sales comes from people buying an Aventon Level or Pace."
It's All About The Pace
It's no easy task to deviate from tradition. This goes for Princeton Ebikes as well. Theresa and Russ are avid cyclists, and they're keen on sticking to their traditional road bikes. However, it hasn't stopped them from getting on an Aventon to feel the joy and excitement that comes along for the ride.
"We did the last Lunch and Learn with a group ride and I rode the Pace 500.2," says Theresa. "That's the one I've been on the most and I love it. It's so much fun! The ease of use, the lightness, and the geometry."
One of the many benefits of having an ebike, besides the fun, is that it equalizes the different riding levels for people of all ages. We're finding out that more and more people, couples, friends, family members, are now riding together because with an electric bike they can keep up, or sometimes even pass those who used to leave them in the dust.
"My wife and I have been together for 57 years and we're both cyclists. But we've never been able to cycle together. It used to be that I would get ahead and wait for her, but now that she has a Pace 500.2 she passes me on the hills," Russ tells us. "I think it's a great looking bike."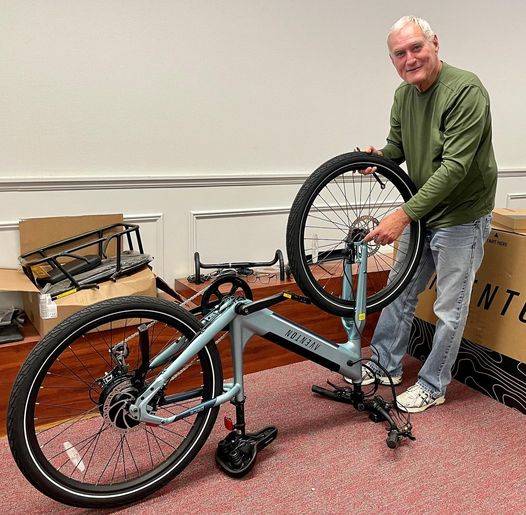 There's No Competition For Princeton Ebikes
The title of this section says it all, and here's why: Princeton Ebikes has the largest selection of electric bikes in the state of New Jersey and Eastern Pennsylvania.
"There is no other bike shop in the area dedicated to selling electric bikes that has such a large inventory," says Russ.
In the beginning of this new venture, many of the customers were coming because vendors were sending those interested in ebikes to the store, such as through Aventon's dealer locator. But now that Princeton Ebikes is more established, more people are catching on and referring to friends and family.
"People come from Philadelphia, North Jersey. They come from south Jersey. They're coming from the shore, an hour, hour and half away because of recommendations from customers."
Bike Maintenance and Accessories
Princeton Ebikes' lead mechanic, Brian, has more than 30 years of bike repair and maintenance experience and has worked extensively with eBike batteries, motors and electronics. Brian is trained and certified for Bosch motor diagnostics and repair.
Princeton Ebikes makes sure the bikes have been built properly and tested before any customers come in to try an ebike. And don't be surprised if you receive a call or email a few days later from a Princeton eBikes staffer letting you know they are always available to service your bike and answer any questions you have about bikes and biking.

Test Rides
Once you've done your research go down to Princeton Ebikes to test ride a bike today! They've got a wide selection of Aventon's cadence and torque models as well as standard and step-through frames for any kind of ride and rider.
Trails Galore
Near Lawrence Township and the surrounding areas are the Sourland Mountains with plenty of low traffic roads rolling through farmland, forests and small towns, the Lawrence Hopewell Trail and Mercer Meadows as well as miles and miles of towpaths along the Delaware river, and the Delaware and Raritan canal from New Brunswick to Trenton.
Destination Princeton Ebike
Princeton Ebikes in Lawrence Township, New Jersey is a gem situated between the cities of Princeton and Trenton. They place importance on human interaction and connection, making sure you find the right bike for you. When you buy an ebike from them you'll know your money is going to provide young kids with the tools they need to succeed in life. Big hearts and big love is what Princeton Ebikes is all about. If you want to find happiness through the power of electric motion on two wheels, this is the place for you!
Contact Princeton Ebikes and start your electric bike journey today, you just might change your life, and someone else's.