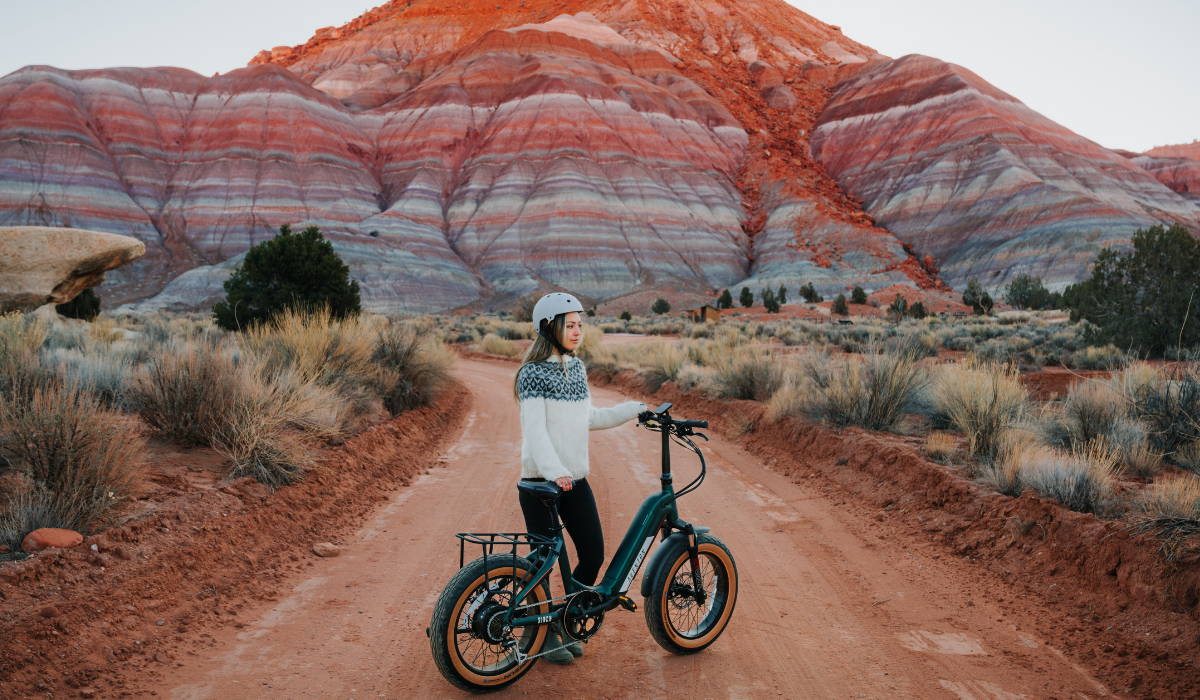 Best Bike Trails in the US
March 4, 2022
Each season we enter brings about another period of change, where greens turn to golds and golds eventually return to greens. With that in mind, there are a plethora of ways we can enjoy each transitioning season. For some, this includes going on neighborhood walks or local hike treks to soak in the changing scenery. For others, road-tripping longer distances to further places from the comfort of their RV.
At Aventon, we like to enjoy the seasonal views right from the bike saddle, everything from the reds and golds of fall to the lush greens of spring. Electric bikes have the capacity to lengthen your usual neighborhood route or take you even further into some of your most frequented trails, bringing you up close and personal with the beauty that is our community and planet. As always, it is best practice to consult with your local regulations to ensure that electric bikes are permitted in the trails near you. Now, get ready to soak in all of Earth's charm, because we're about to highlight some of our favorite scenic bike trails throughout the USA!
The Virginia Creeper Trail, Virginia
The East Coast is known to have some of the most beautiful foliage, so what better way to start off our best bicycle trails list than with The Virginia Creeper Trail! With over 35 miles of trail, starting from Abingdon, Virginia to the border of North Carolina, even intersecting along the Appalachian Trail, The Virginia Creeper Trail is an absolutely stunning spectacle from start to finish.
The Creeper Trail consists of some uphill, but mostly downhill trails, taking bikers throughout some pretty spectacular scenery: open farmlands and fields, dense forests, Christmas tree farms, rushing streams and creeks, and you might even see a few friendly animals along the way!
Multiple access points are available throughout the trail for those who are unable to bike it in its entirety. So if you're particular about what you want to see and can't necessarily spend your entire day biking, you can skip ahead to the good parts. Although, it looks like the entire trail itself is oh so good! Between varying access points and diverse landscapes, bikers are essentially able to customize their Creeper Trail adventure to best fit their needs!
The Presidio of San Francisco, California
What typically comes to mind when you think of San Francisco? Probably the Golden Gate Bridge, Alcatraz, or a fresh bowl of clam chowder soup. But San Francisco also has some of the most breathtaking panoramas and best bike trails in the US! The Presidio being one of them. Biking is a great way to explore its 1,500 acres of blissful outdoor charm. There are several trails to choose from for varying degrees of experience and physical ability. Not to mention most trails are friendly to electric bikes!
Certain Presidio trails can put you right in the heart of the action, presenting San Francisco's extensive waterfront views on one side of your bike ride and mountainscapes to the other. At any point in the year, you can expect to bask in the beautiful blue hues where the San Francisco Bay meets the Pacific Ocean, and soak in the tranquillity of the crisp air. Presidio trails can be as long or short as one wants to make their electric bike route, and along the way, you can stop to admire the views of some of San Francisco's most iconic symbols: Golden Gate Bridge and Alcatraz!
Banks-Vernonia State Trail, Oregon
Portland is both foodie-friendly and cyclist-friendly, having some of the best urban bike paths and post-ride treats to refuel with. But, when nature calls, you should answer! Just outside the city is a century-old railroad line that dates back to the 1920s; it was initially used for lumber and freight. At one point abandoned and then salvaged, the railroad line became Oregon's first "rails-to-trails" park, now famously known as the Banks-Vernonia State Trail.
Banks-Vernonia State Trail stretches 21-miles and offers riders six access points, from Banks to Buxton to Beaver Creek. No matter how you access the trail, you'll be met with towering trees, chirping birds, fresh air, tranquil creeks, and some old-fashioned, history-filled train trestles. Not to mention the Banks-Vernonia State Trail is currently the only one in the vicinity whose few trails support electric bikes!
Chuck Huckelberry Loop, Arizona
So far we've covered some moderate in length trails, but up next on the list is the impressive 131-mile tour de Tucson known as Chuck Huckelberry Loop. "The Loop," as local Tucsonans say, was actually created out of a natural disaster; in 1983, unusually heavy rains flooded three otherwise typically dry riverbeds. In an effort to repair the natural damages over the years, the city built roads, bridges, and underpasses. By 2018, the completed project was a massive network of trails connecting the communities of three major Arizona cities with public parks, farmer's markets, retail businesses, and more. Now, Chuck Huckelberry Loop offers some great bike trails for both commuting locals and exploring visitors alike!
Given its vast stretch, it's no surprise that riders can soak in any number of spectacular views while biking The Loop, from rugged mountain ranges to dry washes lined with trees. To be specific, the east section of the trail is an urban landscape, while the west is adorned with art. As riders make their way north, they'll be met with greener hills. And as they come back south, they'll bask in some of the delights of the Sonoran desert, like cacti and yuccas. Chuck Huckelberry Loop is widely known to be one of the best bike trails in the US, and we completely understand why! There's literally something for everyone!
Shark Valley Tram Road, Florida 
Contrary to the name, you don't need to worry about Jaws making an unwanted appearance throughout this next bike trail on our list. Shark Valley is right in the heart of the Everglades National Park, and it isn't popularly called "Alligator Alley" for no reason! The trail is a relatively flat and smooth 15-mile loop that takes bikers through a portion of the Everglades, making it a once-in-a-lifetime type of experience and one of the best bike paths out there. On occasion, riders might even bike right past a gator! Don't worry though. The trail is wide enough that you can definitely share the road with bikers, pedestrians, and alligators of all kinds!
There's more to Shark Valley than just meeting a gator. Bikers can spot any number of animals and marine life that share the ecosystem of the Everglades, from birds to mammals to reptiles. Depending on the time of year you visit and the amount of foot traffic on the trails, there may be more or less wildlife to see, so plan accordingly!
Walkway Over the Hudson, New York
Did you know that you could bike on the world's longest elevated pedestrian bridge? And that it's actually located within the US? True story! Making the Walkway Over the Hudson our next best bike trail on the list.
At one point, the Walkway Over the Hudson was actually the longest bridge on Earth. It has since been renovated and currently sits over 200 feet above the Hudson River, giving both bikers and pedestrians some pretty breathtaking aerial views of both the river and New York. Depending on the season you plan your visit (hint: fall!), the gold and fire-hued trees will literally leave you speechless, but don't take our word for it! Consider adding biking the Walkway Over the Hudson to your bike trail bucket list, because this can undoubtedly turn into one of the best bike trips in USA!
Swamp Rabbit Trail, South Carolina
The next best biking trail on our list is a 22-mile greenway that intersects with multiple points, including a river, an old railroad, and various city parks, eventually connecting riders to the larger city of Greenville, South Carolina. Whether it be for local commuting, leisurely cruising, or errand running, Swamp Rabbit Trail is a jack [rabbit] of all trades! Pun intended. The greenway is shared among walkers, joggers, cyclers, and commuters of all skill levels and intentions. With multiple access points to enter the trail and a variety of attractions along the way to stop and see, Swamp Rabbit frequenters can customize their time spent here. This gives bikers the freedom to own their rides and routes, so long as they're respectful to the local regulations and others that share the greenway! After all, the city says 'It's a greenway, not a speedway!'
Southern Walnut Creek Trail, Texas
Believe it or not, Texas has some of the best bike trails in the country. Whether you're looking to up your adrenaline or enjoy some serene nature, it's got you covered! For those wanting to enjoy the latter, allow us to introduce the Southern Walnut Creek Trail in Austin.
Well-known among nature lovers, its' 7 miles of multi-use concrete paths curve along beautifully manicured trees, soft hills, and gentle streams. Not to mention Southern Walnut Creek also has various bridges and benches throughout its entirety for riders to stop at any point along their route and soak in their surroundings. While the trail is relatively flat, it is suitable for riders of all experience levels that are looking to combine being active with the serenity of nature!  
Route of the Hiawatha, Idaho
Besides being known nationwide for potatoes, Idaho is home to some beautiful rivers, pristine lakes, and timbered mountains. As such, inherently making it one of the best places to get outdoors and go biking. Named a "Hall of Fame" trail by the Rail-to-Trail Conservancy, the Route of the Hiawatha can arguably be the best biking trail in the state.
A quick backstory, when the Milwaukee Railroad was fully operational, the trains on this railway used to travel through 11 tunnels and over 9 trestles, covering 46-miles of the Bitterroot Mountains, located on the borders of Idaho and Montana. Now, the trail stretches over 15-miles with riders passing through 10 tunnels and 7 trestles. Bikers start the trail near the Idaho-Montana border, first riding through one of the longest tunnels, popularly known as Taft Tunnel. But beware, you'll definitely want to have your front and rear lights working through this stretch of the trail! The Route of the Hiawatha is actually most well known for its St. Paul Pass, also popularly known as Taft Tunnel, because of its history of being built into the Bitterroot Mountains. No wonder it's one of the best bike paths out there, it combines downhill biking and incredible scenery with a dash of history!
Lake Wobegon Trail, Minnesota
In the rural heartland of Minnesota, the Lake Wobegon Trail consists of about 65-miles of scenic bike trails, offering visitors idyllic views of prairies, woodlands, farmland, and far and few river crossings. Bikers visiting this trail in the spring and early summertime may be lucky to get a glimpse of the rare pink and white Showy Lady's Slipper, which is the state flower of Minnesota. While bikers visiting during the fall time can revel in the beautiful autumn hues that encompass the Lake Wobegon Trail. Throughout the entirety of the trail, bikers can enjoy small-town cafés and varying attractions!
Cape Cod Rail Trail, Massachusetts
Among the best bike trails in US is yet another Rail-to-Trail. Introducing, Cape Cod Rail Trail! This paved trail spans 25-miles, travels through six Cape Cod towns, and is located at the intersections of what used to be part of the New York, New Haven, and Hartford Railroad. Another railroad that was initially built to carry freight, the Cape Cod Rail Trail has since been restructured to be a community pathway, for both locals and tourists alike.
Although the trail itself does not align directly with the coast, there are several points throughout the route in which bikers can access freshwater. For one, bikers will pass by freshwater ponds and can even take a break from riding during warmer months to squeeze in a quick and refreshing swim! Along Cape Cod Rail Trail's varying intersections, bike riders can even extend their routes by visiting Nauset Light Beach: getting their toes sandy and basking in the sights of three majestic lighthouses!
Lakefront Trail, Illinois
It's no surprise that Chicago is one of the most visited cities in the States, and as such, it also welcomes crowds of bikers every year looking to check out some of the best bike trails in the area! Chicago's Lakefront Trail is a top attraction for both locals and tourists. Stretching 18-miles along the Chicago lakefront, bikers share this trail with commuters, walkers, pedestrians, joggers, and even cyclists in training! The Lakefront serves as a space for everybody, whether they want to improve their cycling skills or bike at a leisurely pace. Although the views typically are of Chicago's skyline and waterfront, there are also some beaches accessible from the trail!
Find The Best Electric Bike With Aventon
There's no better time than the present to take advantage of your regular or folding electric bike by hitting the road to any of these beautiful locations. As we initially said, there are many ways to enjoy the beauty of each changing season, but doing so while also getting in a solid workout with your ebike is one of our favorites.
If you're ready to hit some of these trails but are still looking for the ebike that is perfect for you, contact Aventon support to learn more about how we can help. Or, check to see if there is an Aventon dealer nearest you. At Aventon, our mission is to make freedom from mobility accessible to everyone. If you have any questions about what kind of electric bike you should purchase or want to upgrade your current ebike, contact Aventon support today. We'd love to help!