Aventon Dealer Spotlight: RV City
April 21, 2023
RV City in Huachuca City, Arizona is not your average bike shop. In fact, they're not a bike shop at all. As the name suggests, RV City is a family owned, full-service RV dealership that has focused mainly on motorhomes, fifth wheelers and travel trailers for forty years. Well established in the RV world, they're recognized for their quality care, family friendly atmosphere, large parts department, body shop, and trade-ins of all kinds. It's a one-stop-shop that'll make you want to drop everything and hit the road. And now, they've gone electric!
The longevity of their business has proven they understand the changing market, and that it's always evolving with newer technologies that provide more comfort and ease of mind for their customers. When you step on the lot and shake hands with Toby Cotner, Sales and General Manager of RV City going on 15 years, you'll know why people keep coming back.
We're proud to call Toby and the rest of RV City part of the Aventon community, and are excited to share their story with you!
From RVs To Emobility
Toby Cotner got into ebikes for himself three years ago as a way to spend more time with his daughter. "I'm older, and I've got a little girl who wants to go on bike rides. After a mile or two I'm spent."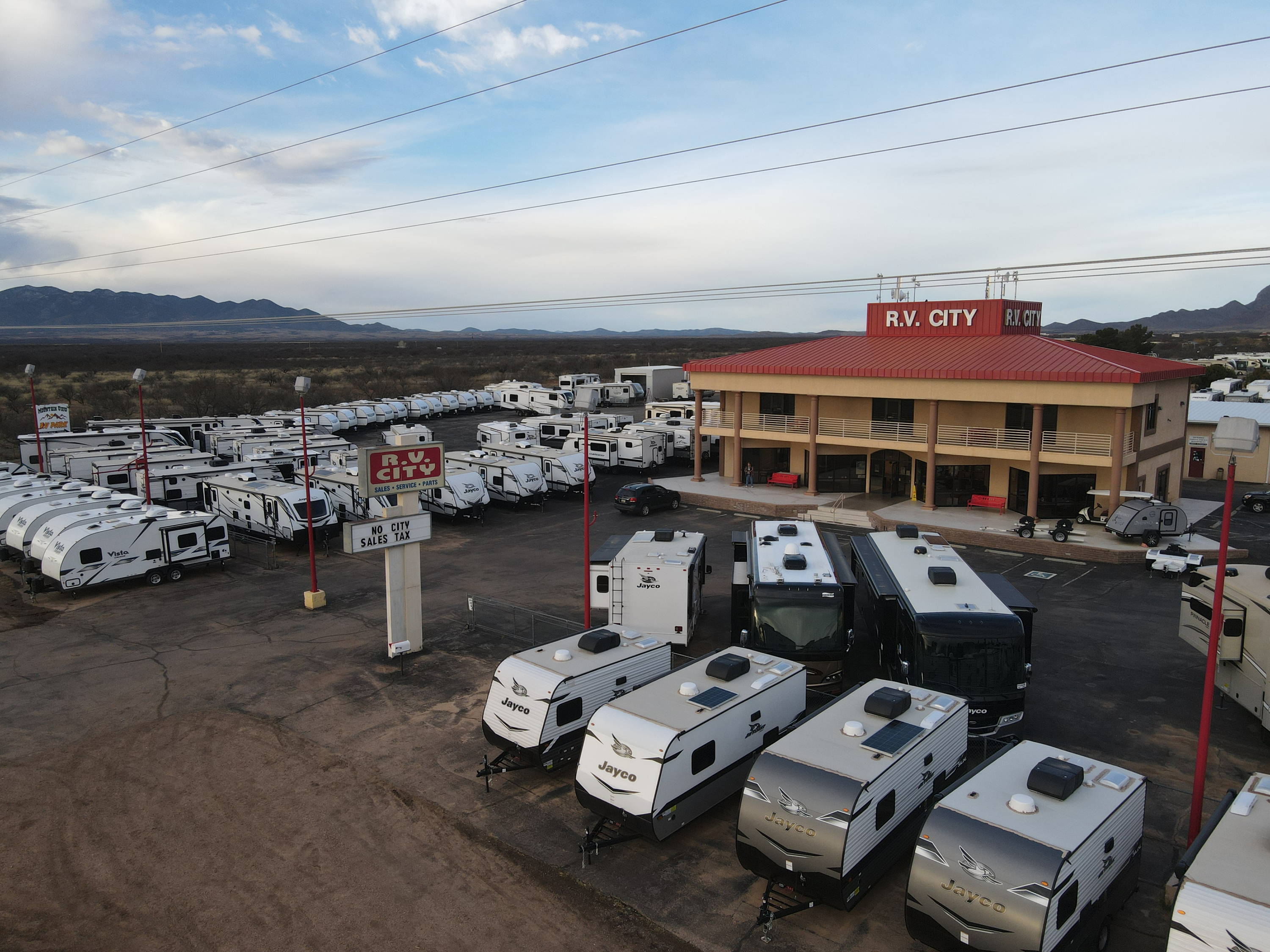 So he ordered an ebike online. After that there was no turning back. As for RV City, Cotner says there was a need for it in the Huachuca City area. "There's a lot of bike trails in our area here in Southern Arizona. Our city has bike trails all throughout. We've got a lot of National Forests right next to us too, and a mountain range that's over 10,000 feet. It's an outdoors type area." The growing community of Huachuca City and its surrounding cities is a snowbird destination, where people from all over the country come to find warmer weather in winter months. A lot of them are returning customers of RV City looking for more ways to experience the world.
How RV City Found Aventon
Before bringing ebikes into the fold at RV City, Toby did a lot of research. "I'm a nuts and bolts guy. So I'm listening and reading and seeing what people are saying and looking at YouTube videos to see what's out there." When Toby bought his first ebike it was strictly online from an off-brand ebike company. At the time it was the only place he could find one. After a lot of issues trying to contact a company on the other side of the globe, he wasn't getting the support he needed. "That was important to me. Same reason why people come to me for my support. Me and my customers need that personal touch." That's when he found Aventon. "Looking at the videos without laying my hands on it it's evident. All you have to do is look at the welds. You can see the paint jobs. It's the fine little details. Plus I like the idea of a California business. I'm dealing with people who are close to the same time zone as me and get my customers the support needed in real-time."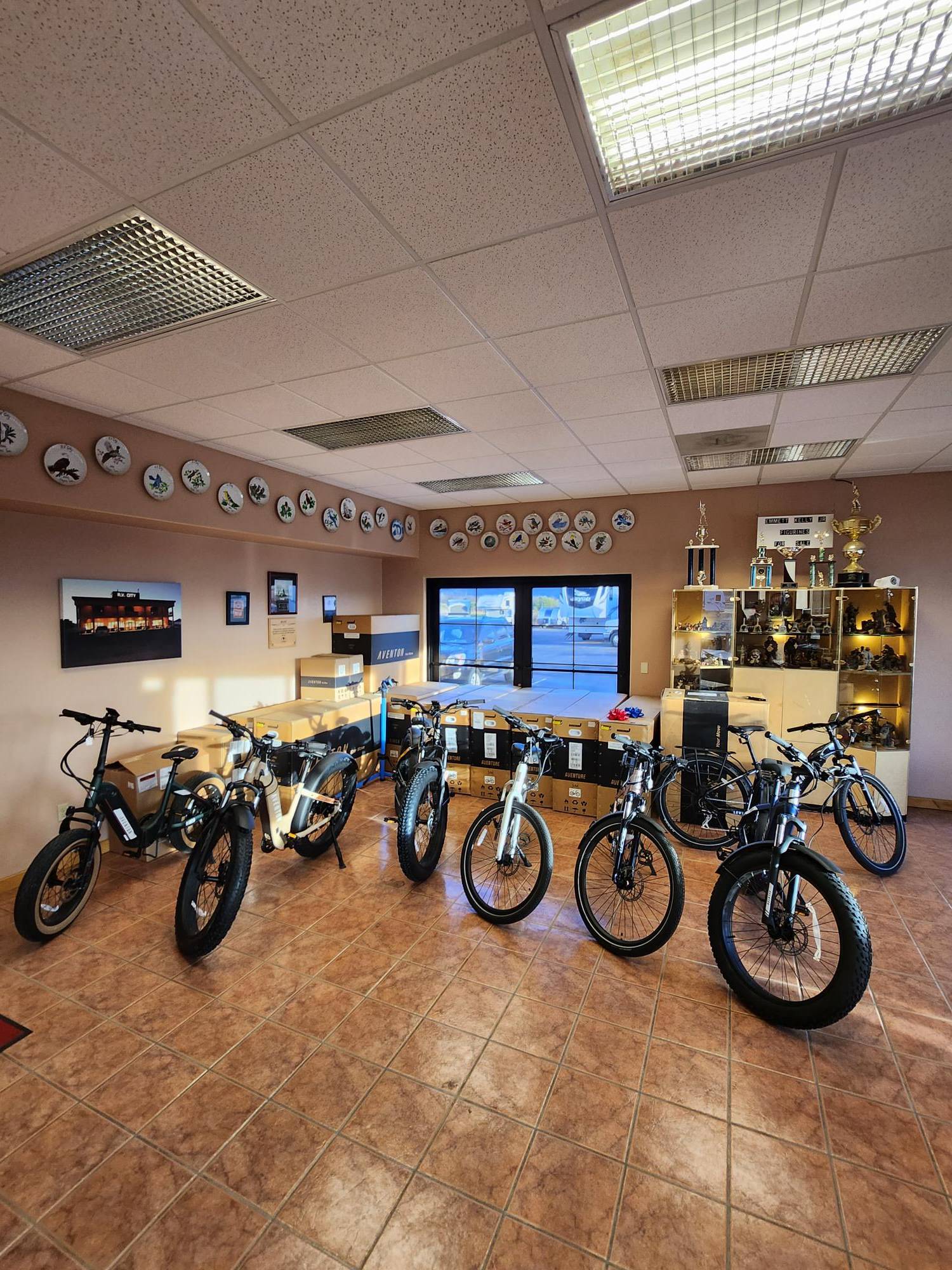 RV City And Aventon Is A Match Made Outdoors
Since RV City is primarily an RV dealership that focuses on larger outdoor vehicles, not many people knew they sold ebikes. "A lot of our sales come from the dealer locator. Since that went live my ebike business has probably tripled. I would say, literally, two-thirds of our bikes sales come directly because of Aventon's website with that dealer locator."
But that's not the only reason Toby and the rest of RV City stick with Aventon. It's the quality of the bikes and the support that Aventon has provided. "Aventon is producing a really great product for the price. That and the support. I've had zero issues.To have the support and get problems resolved is everything."
It really is the connections that make all the difference. As Toby put it, there has to be that personal touch, that human to human quality that makes people feel good about the products they purchase. When it comes right down to it that's what matters most. That and in Toby's own words, "Honestly, in my heart I don't think there's a better bike out there for the money. It was a really good fit for us and it's been really welcomed by our regular clientele."
The Level.2 Step-Through, Through And Through
Originally it was the Sinch step-through that was flying out the door at RV City. But then Level.2 came out introducing the torque sensor to the Aventon line-up. "Women love the torque sensor because it's more predictable. They feel more comfortable in turns." As opposed to the cadence sensor, the torque sensor works to simulate the natural feeling of the rider's rhythm. The more effort that's put into pedaling, the more the sensor kicks and amplifies the experience. "I'm finding out that it's the guys who just want to cruise." Toby also says that since the Aventure.2 came out, it's starting to gain momentum.
What To Expect From RV City
RV City is about connection and building rapport. Toby, who owned his own sporting goods store before going to work for RV City, understands the needs of his customers. "I treat everyone the way I want to be treated," he tells us. From the moment they step on the lot, Toby and the team make sure that every customer feels like they're getting the support they need, whether that's for a trailer, RV or an ebike. Their main focus is getting the customers in the right fit for them and making sure they're happy with their purchase when they leave.
Test Rides
Whether you're new to ebikes, or this is a second time around, RV City wants you to get in the saddle and experience the different types of bikes they have to offer. "I've got 7 or 8 bikes I like to have put together ready to go at all times. The idea is to get people in the seat and ride it," says Toby. Test rides are a great way to understand how the components work, to get a good feel for the way each type of sensor works and how they best fit your riding needs. "For my customers it allows them to get out to areas they haven't been able to for years."
Bike Maintenance
RV City may not be your average bike shop, but they provide full support for anyone who needs it. "I'm not doing standard maintenance that bike shops provide, like tire replacements and all that. But I am standing behind our product." This means if there's a component that's not functioning properly, or a customer needs help with their warranty, RV City has them covered. "Even if they didn't buy it from me, I'm not going to leave someone high and dry."
Become Part of RV City Family
Go to RV City in Huachuca City, Arizona and you'll feel right at home. Toby Cotner is someone who understands the importance of being human in an ever evolving environment. He and the rest of RV City have compassion and respect, not just for their clients, but for the bikes and the trails surrounding the southern Arizona area. "The more people we can get on ebikes the more opportunities we're all going to have to ride. It's all about education."
Contact RV City today and change the way you experience the world.