Introducing Sinch.2: Same Foldable Ebike With A Torque Sensor
April 24, 2023
Aventon's favorite foldable ebike just got an upgrade, with new features and new technology that'll have you making room for more time outdoors! The Sinch.2 comes equipped with a torque sensor that'll augment your adventures, on or off-road. Simply unfold and ride further than ever before with the best compact ebike on the market!
Read on to learn more about what makes the Sinch.2 the ultimate foldable, storable and portable ebike in the Aventon line-up.
Unfolding The Sinch.2
Introduced in 2020, the Sinch was Aventon's first-ever foldable ebike. Two years later we added the Sinch Step-Through, making it easier for more riders to slip in and hit the streets or go off-roading. Its versatility, ease of storage, and stability gave riders control over how they experienced the world. With the Sinch.2, Aventon offers more than just 4" fat tires and a foldable step-through frame. It's a compact ebike that fits situations most ebikes can't.
What's NEW With The Sinch.2
Sinch.2 TECH SPECS
Torque Sensor
Got torque? The Sinch.2 does. Its torque sensor creates a smooth riding experience that feels as natural as riding a traditional bicycle with a little more umph. While pumping your pedals the sensor recognizes the amount of energy you use, then kicks-in and augments your momentum, giving you all the added assistance you need in the best possible way. This also helps conserve battery life and ultimately extend riding range depending on how much assistance you require.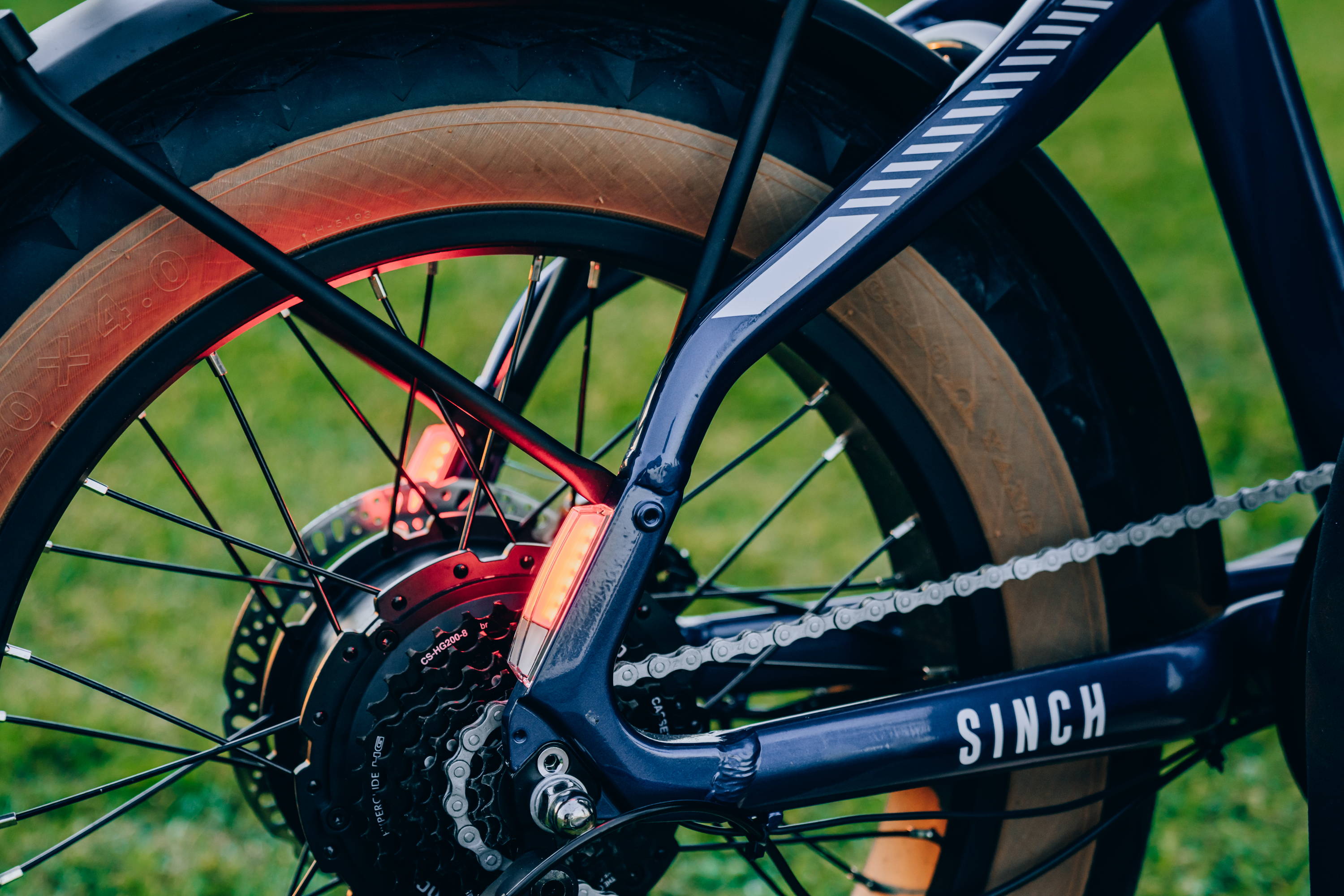 Turn Signal Functionality
Sinch.2's integrated rear lights double as a safety feature! The turn signal functionality is Aventon's cure to create road awareness for bikers.
With the click of a button, flashing indicators help break up the monotony of driving for motorists and other cyclists by signaling which direction you're going, keeping you protected as you ride. Stay visible by commanding traffic on-the-go right at your fingertips!
Rear Rack and Fenders
Sinch.2 goes where most bikes can't, and with the addition of a rear rack and fenders it's a compact-able utility electric bike ready to go wherever you want to take it. The rear rack's weight capacity of 55 lbs means you can load up with pannier bags, a cooler, or fishing gear and see where the day takes you. Fenders are added protection from road debris, dirt, and spray from puddles as you roll about your day.
Frame Features
Sinch.2's step-through frame makes emobility more accessible for riders with physical limitations. In one fluid movement you can slip into the saddle and start riding. It's an electric bike folding up as simply as getting on. In addition, Sinch.2 adds two new hues to the Aventon color palette, including Quicksilver and Sapphire! Style matters and these are the colors that'll turn heads as you ride by.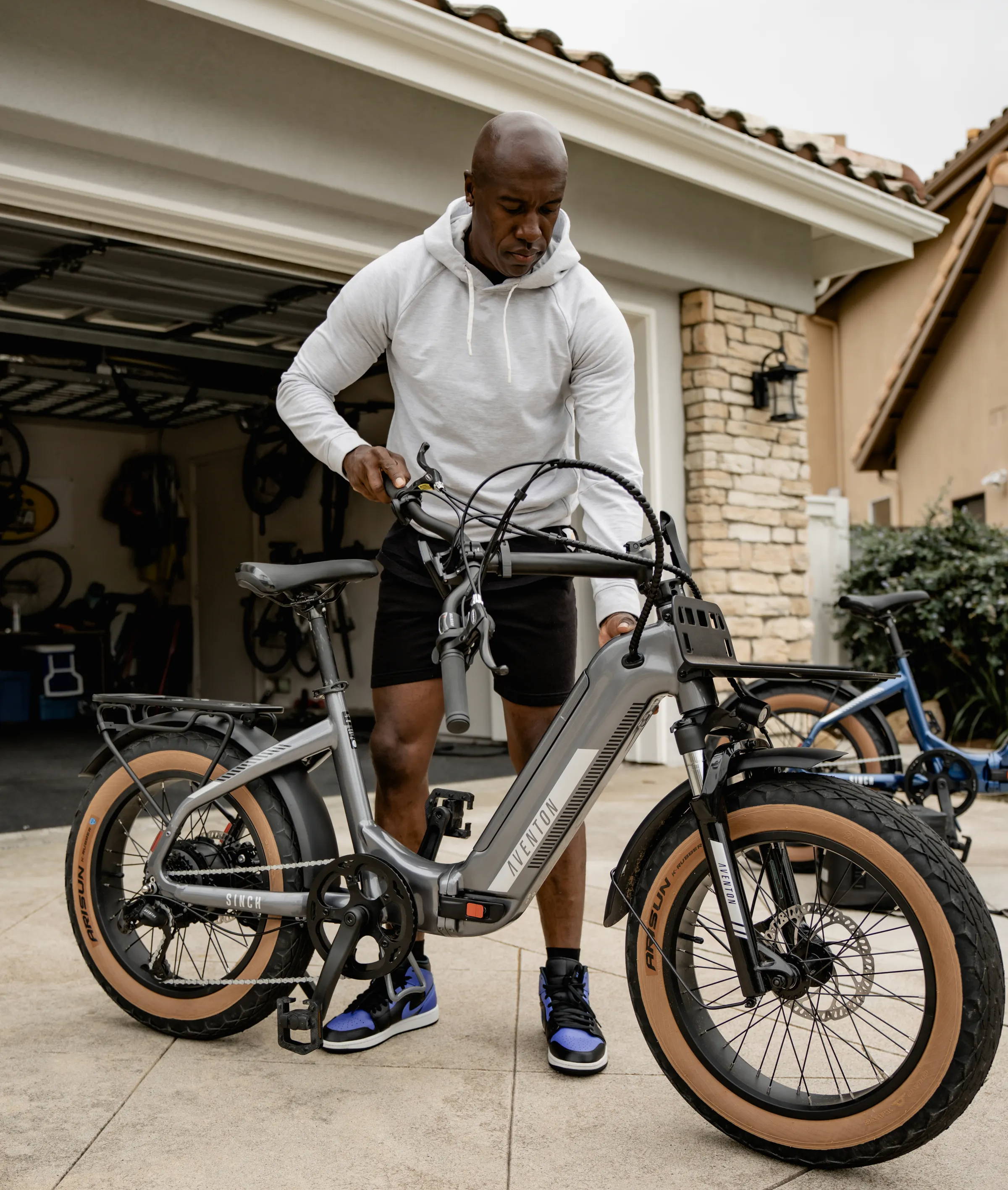 Find Balance With Sinch.2's Tech Features
Now you can find balance right from Sinch.2's handlebars by thumbing-down on the throttle on the right hand side and accessing the controller on the left. Reach a top speed of 20 mph and up to 55 miles in range using Aventon's new pedal assist levels: ECO, TOUR, SPORT, and TURBO.
ECO - Easy does it with ECO mode. More you than motor, it's a casual ride all the way.
TOUR - Get a little pick-me-up with the TOUR mode. Getting a little assistance on longer rides never hurt anybody.
SPORT - Let the motor do most of the work in SPORT mode. Fly up low grades like a pro, no sweat.
TURBO - Get to your destination quicker than ever before with TURBO mode. Use the full power of your motor when you're ready to flatten hills and fly on flat surfaces.
Integrated Components
Sinch.2's integrated components are an integral part of the Aventon experience. Staying true to Sinch style, it's got everything you need to optimize the way you ride.
Battery - The sleek, fully integrated 672Wh battery made with LG cells fits snugly into the bike's frame to ensure its security and protection from water or dirt while you're riding on and off the road.
Integrated Lights - Sinch.2's front headlight and integrated rear lights give you ease of mind. As long as there's juice in the battery, you've got plenty of light both day or night. Activate the lights from the power controller on the handlebards or through the Aventon mobile app.
Full Color Display - Aventon's Full Color Display is intuitive technology that details all your important data right at your handlebars, including speed, battery life, distance traveled, PAS level, and much much more! Also, use the hidden USB to charge your smartphone on the go.
New Sinch, Same Great Features
While the Sinch.2 comes equipped with new features and technology, let's not forget about the mainstays that have made this ebike what it is:
Foldable Frame - The Sinch wouldn't be the Sinch if it didn't come with the foldable frame that makes it easy to load up and load out. With fold up dimensions of 46" length by 28" width and 30" in height, it fits where most ebikes can't and can be taken wherever you want to roam.
4" Fat Tires - The 20" x 4" fat tires provide stability and confidence when rolling over uneven landscapes. Take to the streets or the road less traveled. The adventure begins where your comfort zone ends.
TÜV Rheinland/UL Certified
TÜV is a world renowned organization that focuses on the inspection of products to ensure they are safeguarded against potential hazards and prevents accidents from occurring. The TÜV Rheinland Certification is the European standard recognized around the world for the safety of electrical products and their components, and is compliant with the UL 2849 standard.
Sinch.2's quality battery and its other various electrical components, including its controller, motor, and charger are TÜV Rheinland Certified. The safety of Aventon's riders is as important as the products themselves. By holding ourselves to a higher standard you can continue to ride happily with friends and family in the great outdoors.
New Packaging
Aventon is cranking its pedals towards sustainability with our planet and future generations in mind. The new packaging material that houses the Sinch.2 is 99.9% recyclable, made with mostly paper and cardboard. When you're all done unboxing your brand new Sinch.2, follow the guidelines on the inside of the box to turn your packaging into a chair, then take a seat and rest easy knowing you've contributed to putting less in the landfill.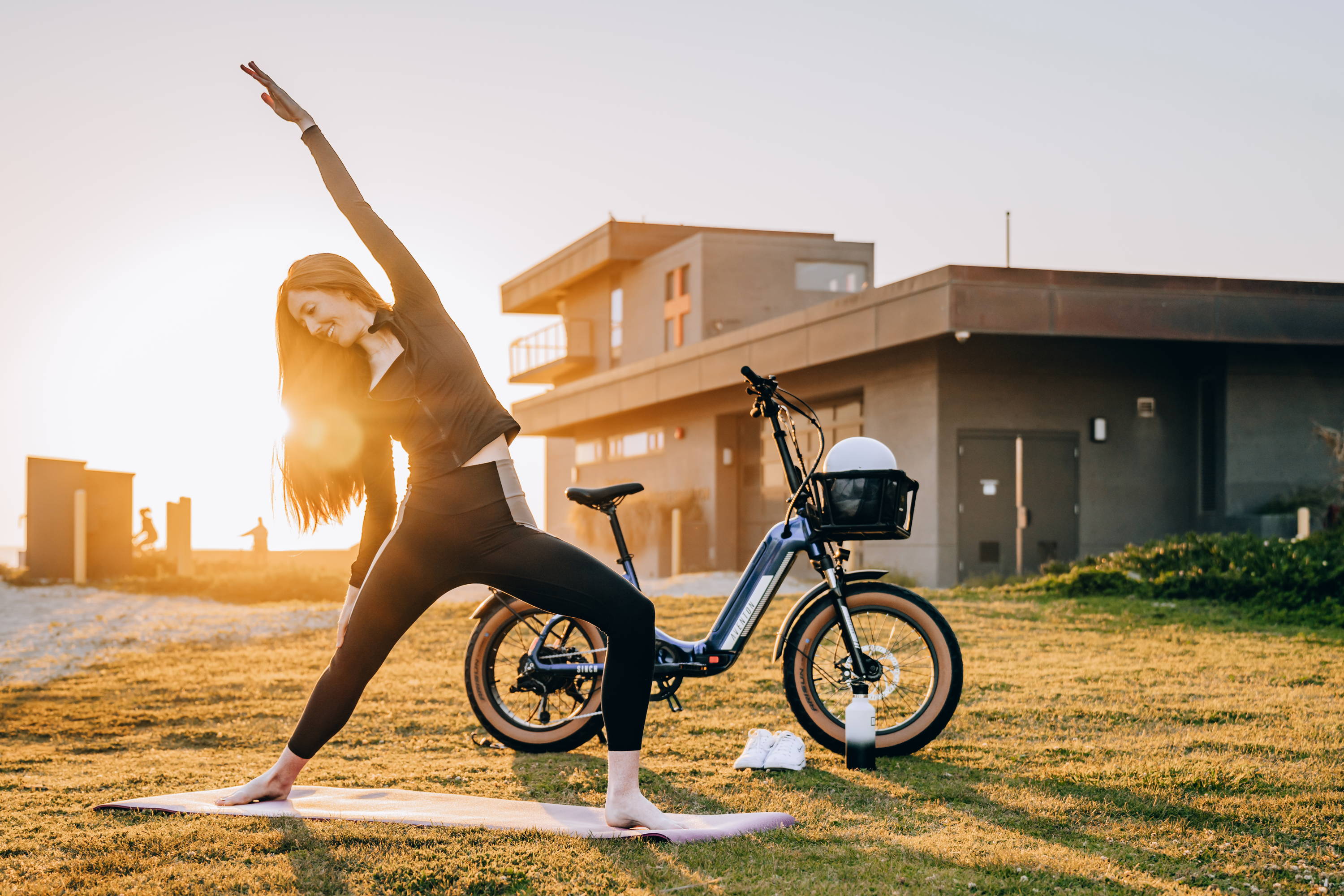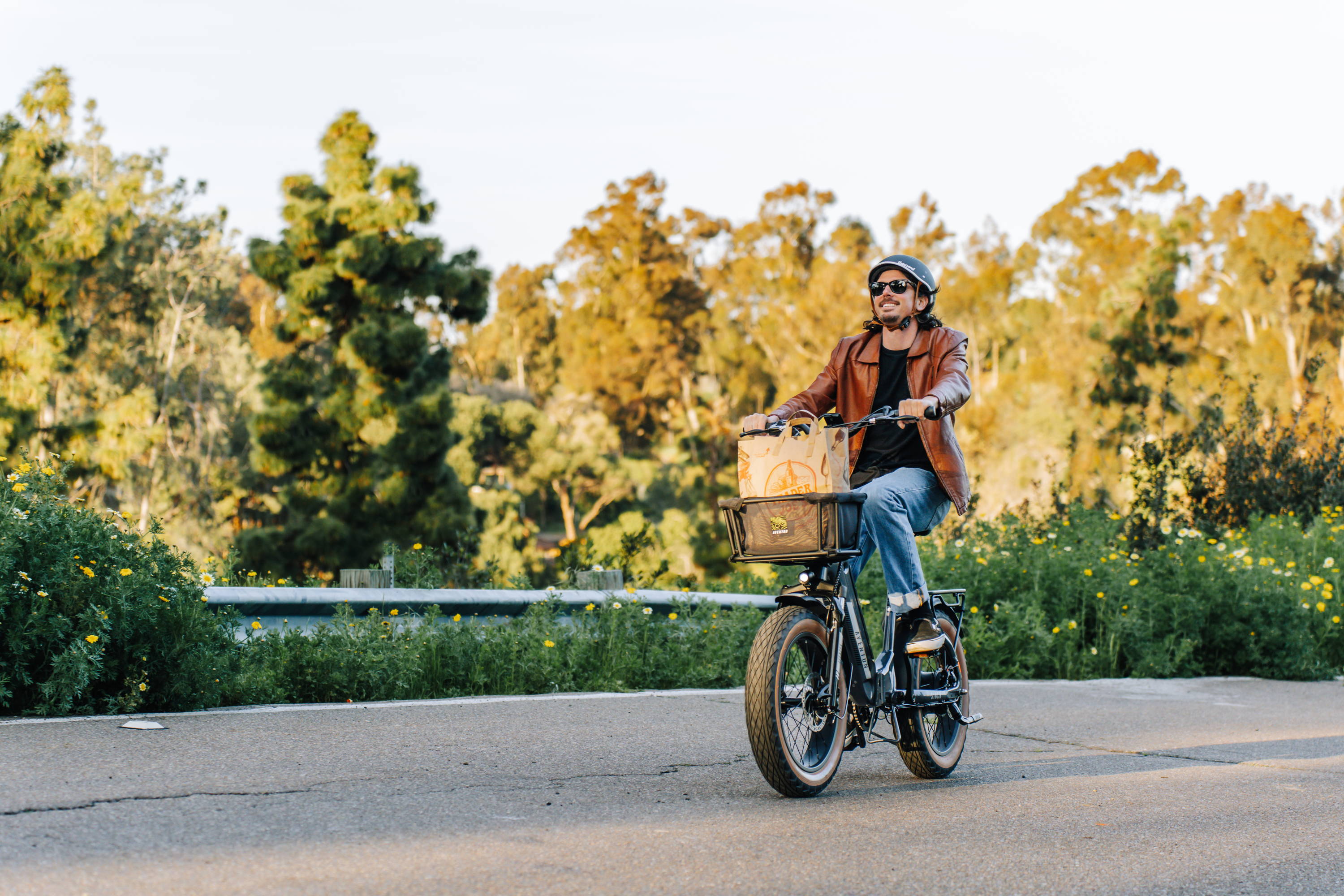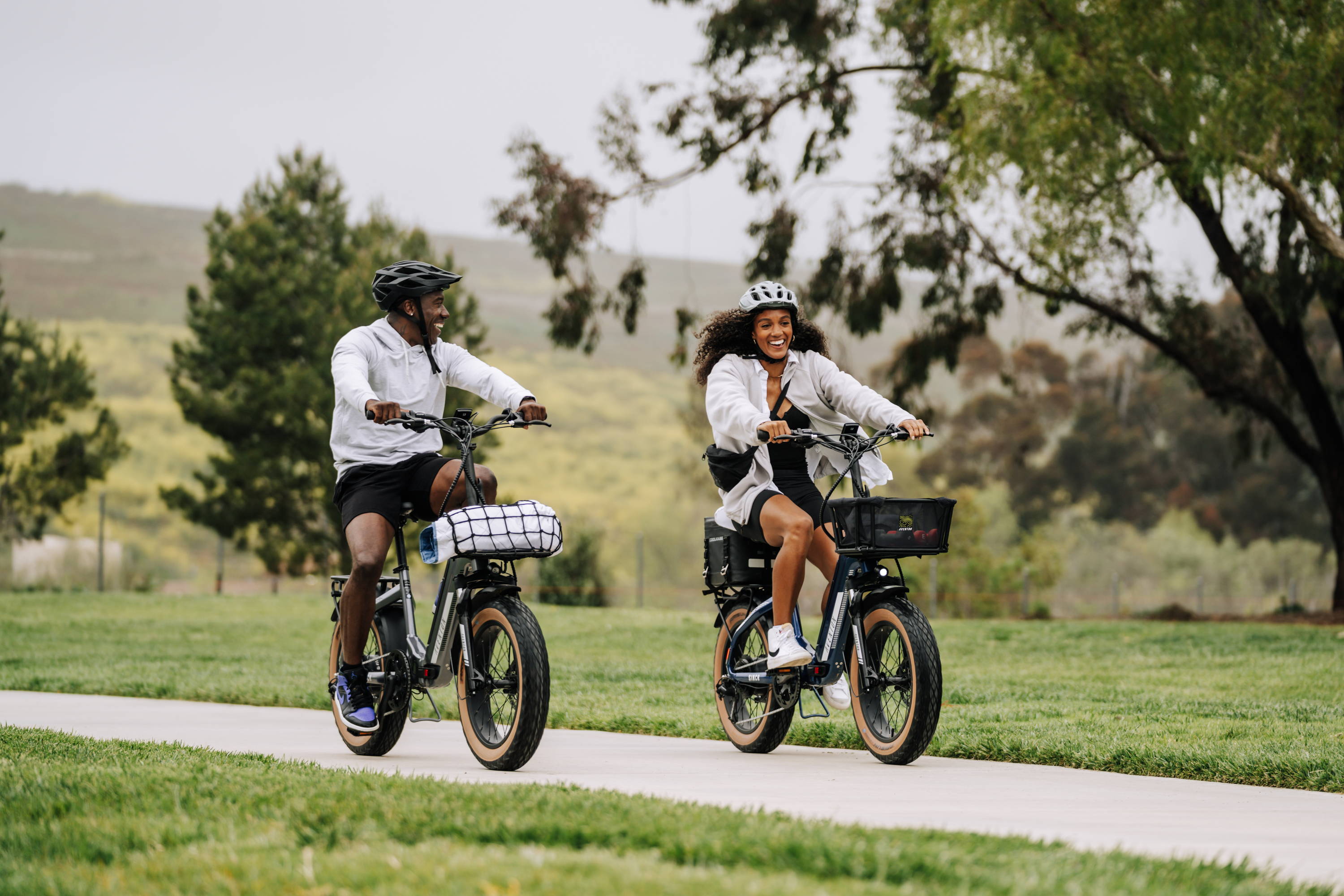 Meet The Sinch.2
Make more room for what matters with the portable, compact-able and ever-dependable folding electric bike, the Sinch.2. With 4" fat tires, a foldable frame, torque sensor, turn signals, and cool colorways, it fits just about any kind of lifestyle. Take it on the road or dirt trails to ride it like an electric dirt bike and change the way you experience the world in any lane you choose. It's pedal season, and Sinch.2 is in full bloom!