Aventon's Summer Electric Bike Group Ride!
August 5, 2022
Summer in Southern California means blue skies, warm weather, and sunny rays throughout our days. This past weekend, it also meant Aventon's second electric bike group ride! On July 20th, 2022, Aventon's employees and members of the Aventon SoCal family met up in Newport Beach, CA to bike, share a bite, and bask in the sun together!
For those who were able to attend, we're so grateful to have met many of you for the first time and reconnect with even more. It was our absolute pleasure to share our passion, biking, with you and soak up some extra fun in the sun afterward. We're already planning our next event, so for those of you who were unable to attend this time, check out some of the highlights of our most recent electric bike group ride, as well as what you can expect from future group rides with us!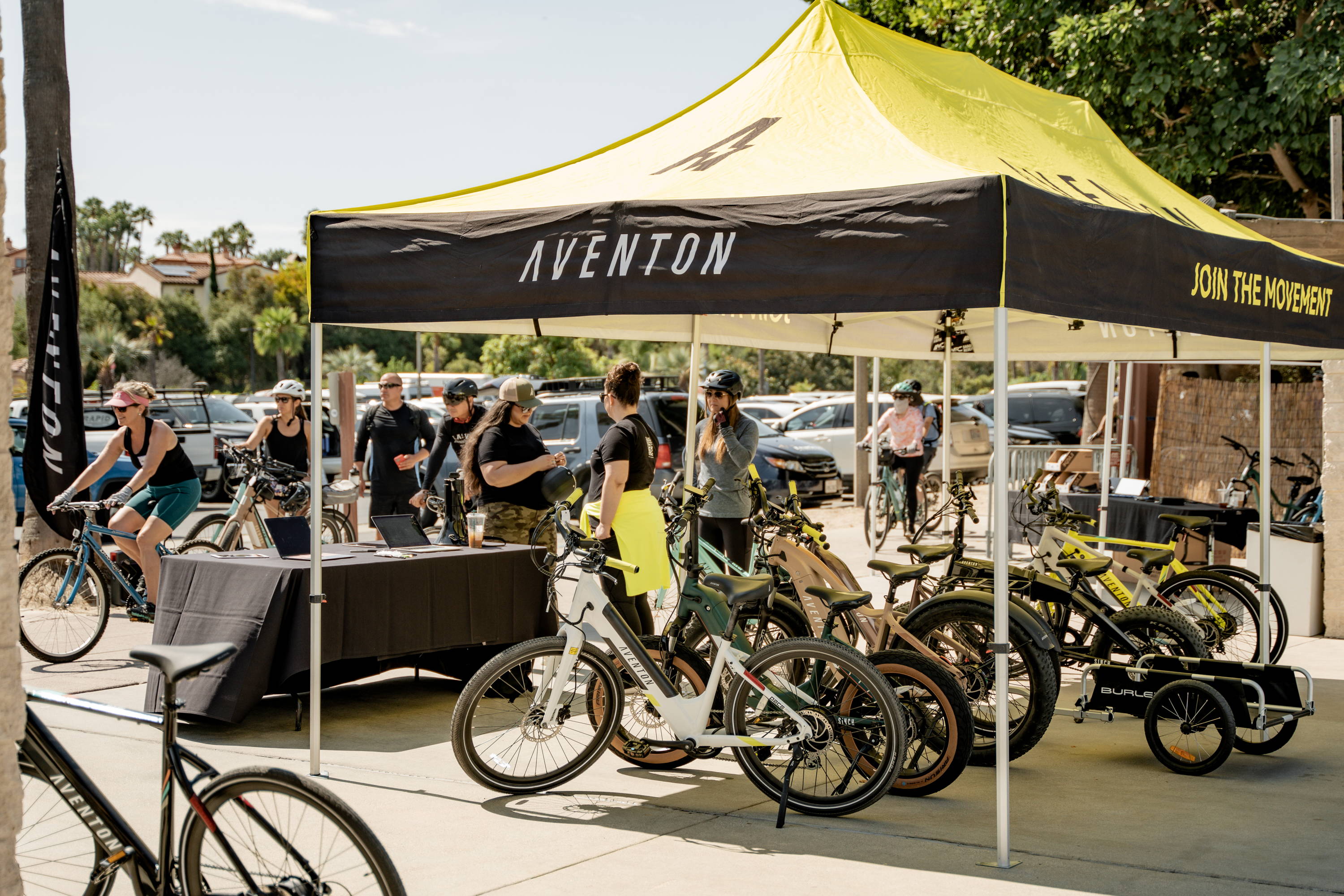 Setting Up Shop At Newport Dunes
Whereas our first group ride was hosted at our HQ in Brea, CA, the starting point of our second ride headed to the coast! Arriving at the Newport Dunes Waterfront Resort & Marina in Newport Beach, CA, our team began their setup bright and early in the morning, getting check-in tables and test-ride booths ready for the day.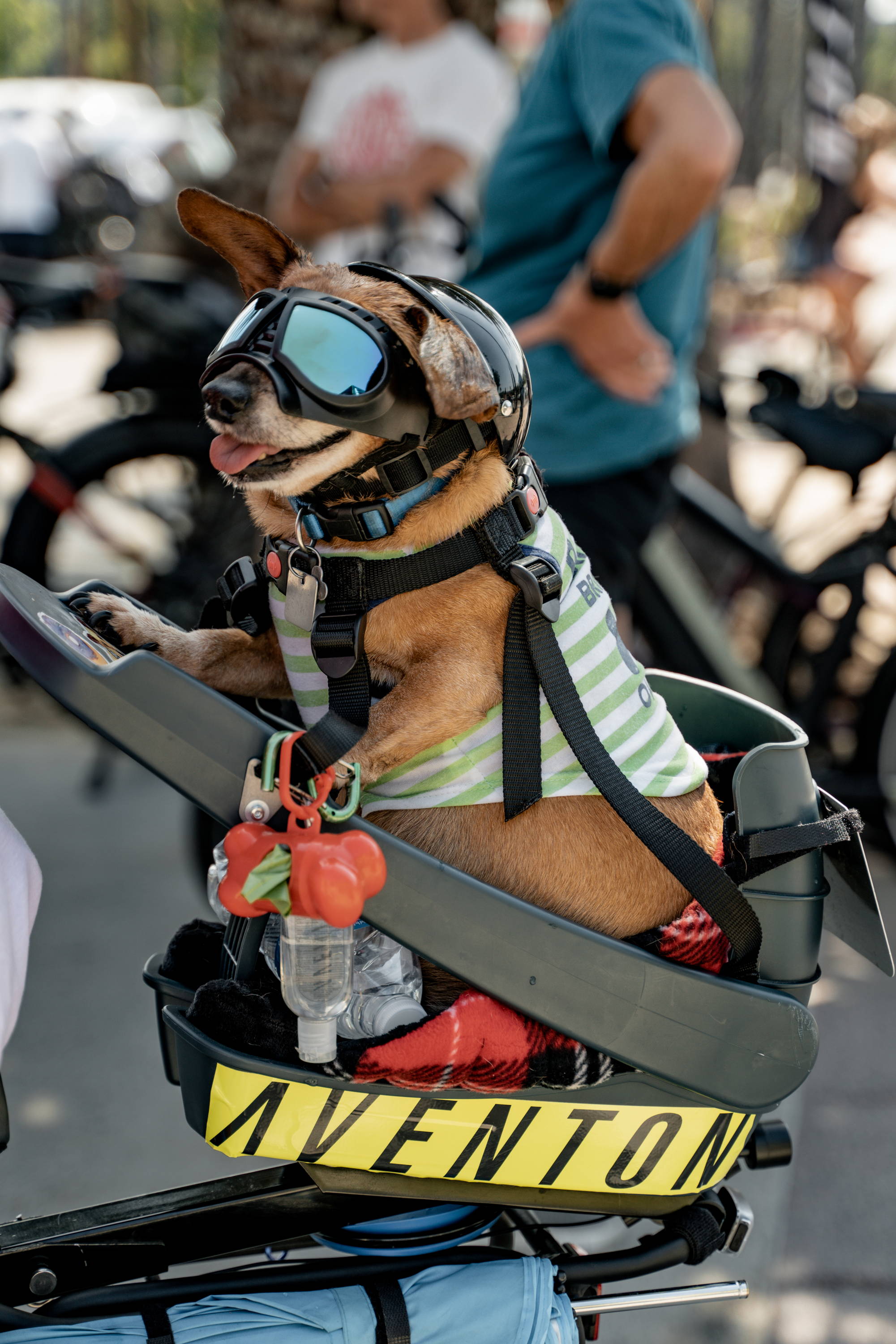 Community Meet and Greet
Around 9 a.m., members of the Aventon family that RSVPed to our summer group ride arrived from all over Southern California, from Los Angeles County, San Diego County, and including our home base Orange County. This was the perfect chance for riders to interact with one another and meet some of their digital friends, and their furry companions, in person for the first time! Whether these connections were established through the Aventon mobile app or through Aventon's various Facebook groups. Many stories were shared and selfies were snapped before we hit the trail!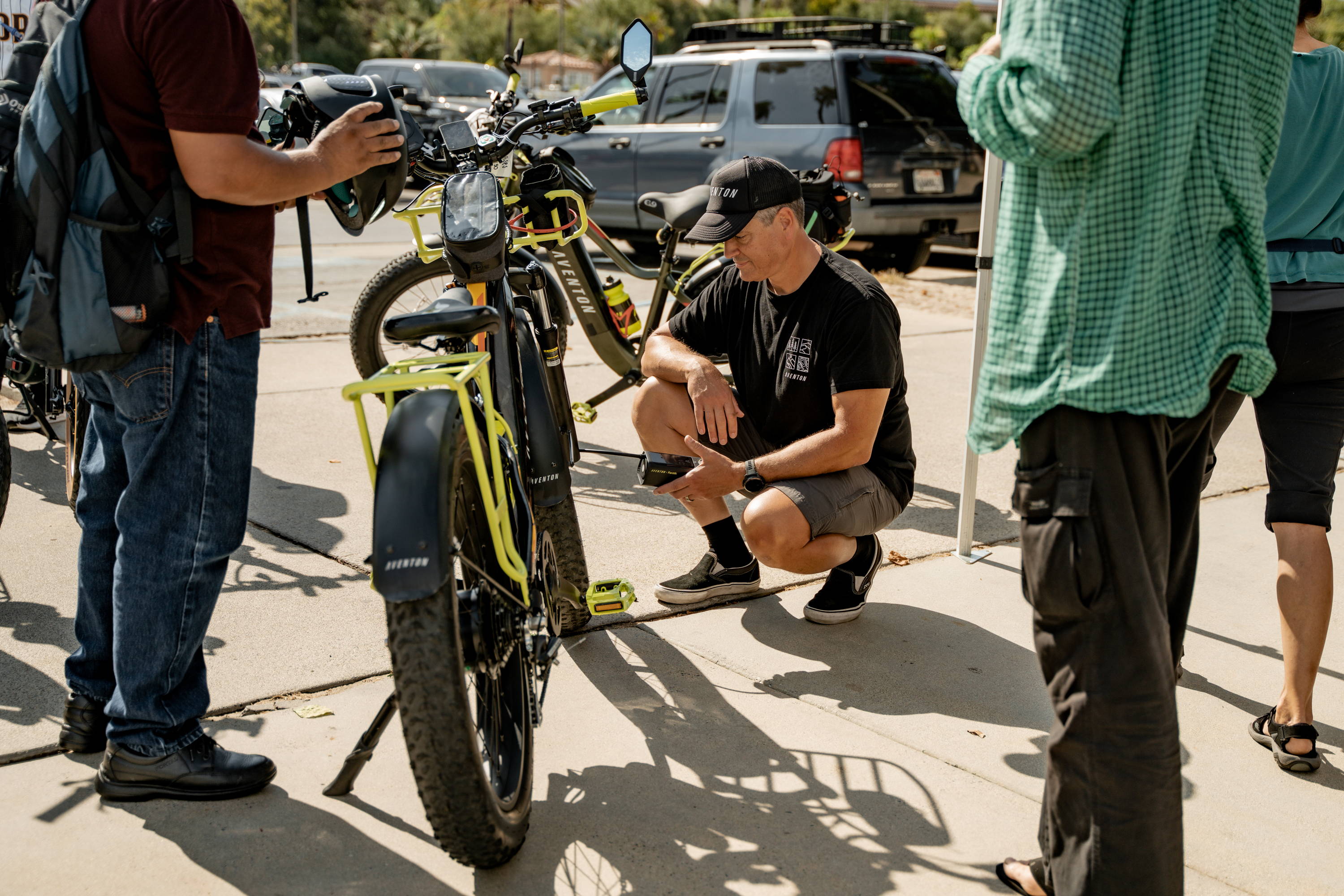 Service Check!
Prior to hitting the trail, many could take advantage of our on-site tech support at the Bike Tech Support Station! Whether it was receiving free small tweaks or getting advice on what maintenance they needed next, our quality supervisor, Robert M., and his team were there to take care of any and all service needs to ensure safe riding!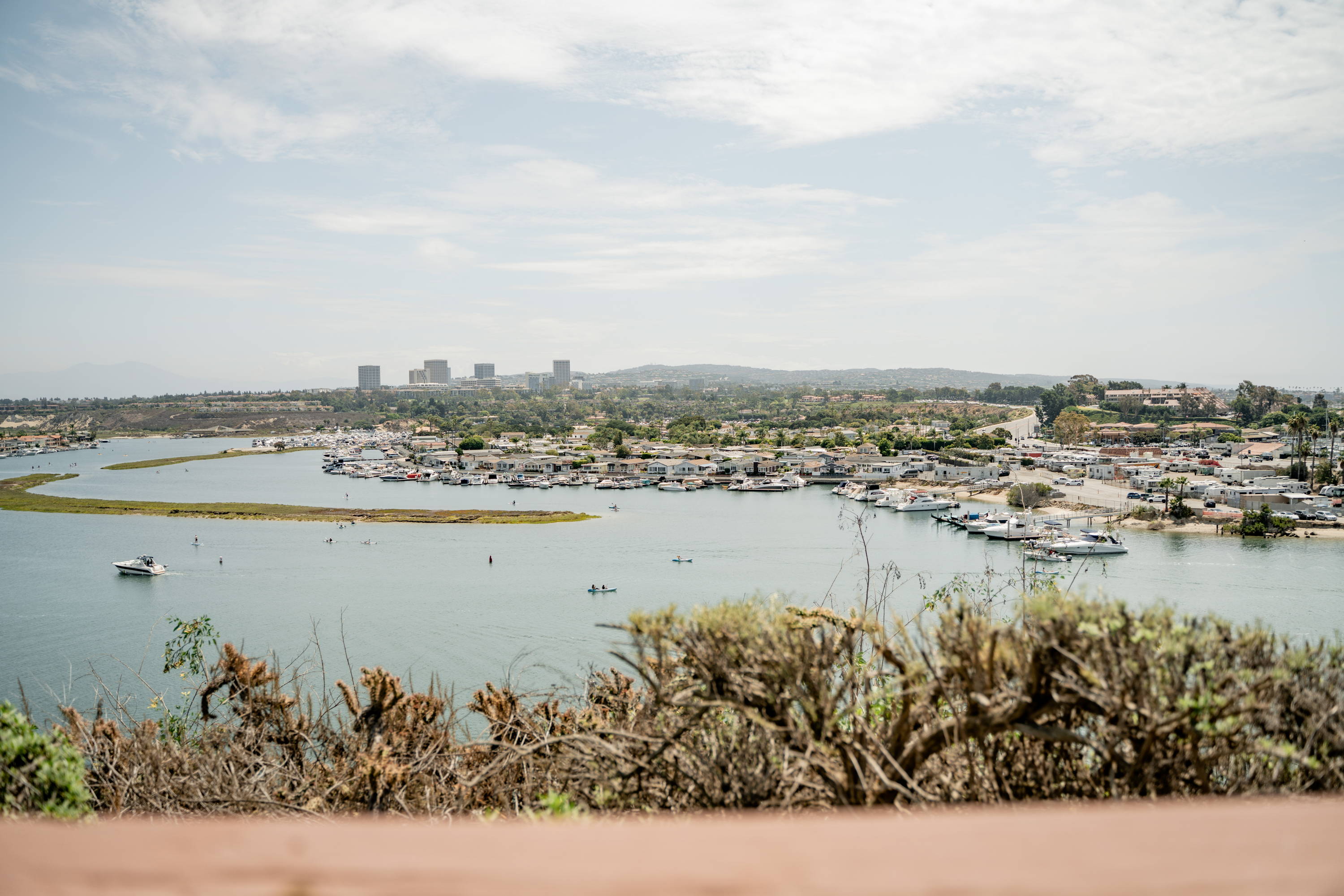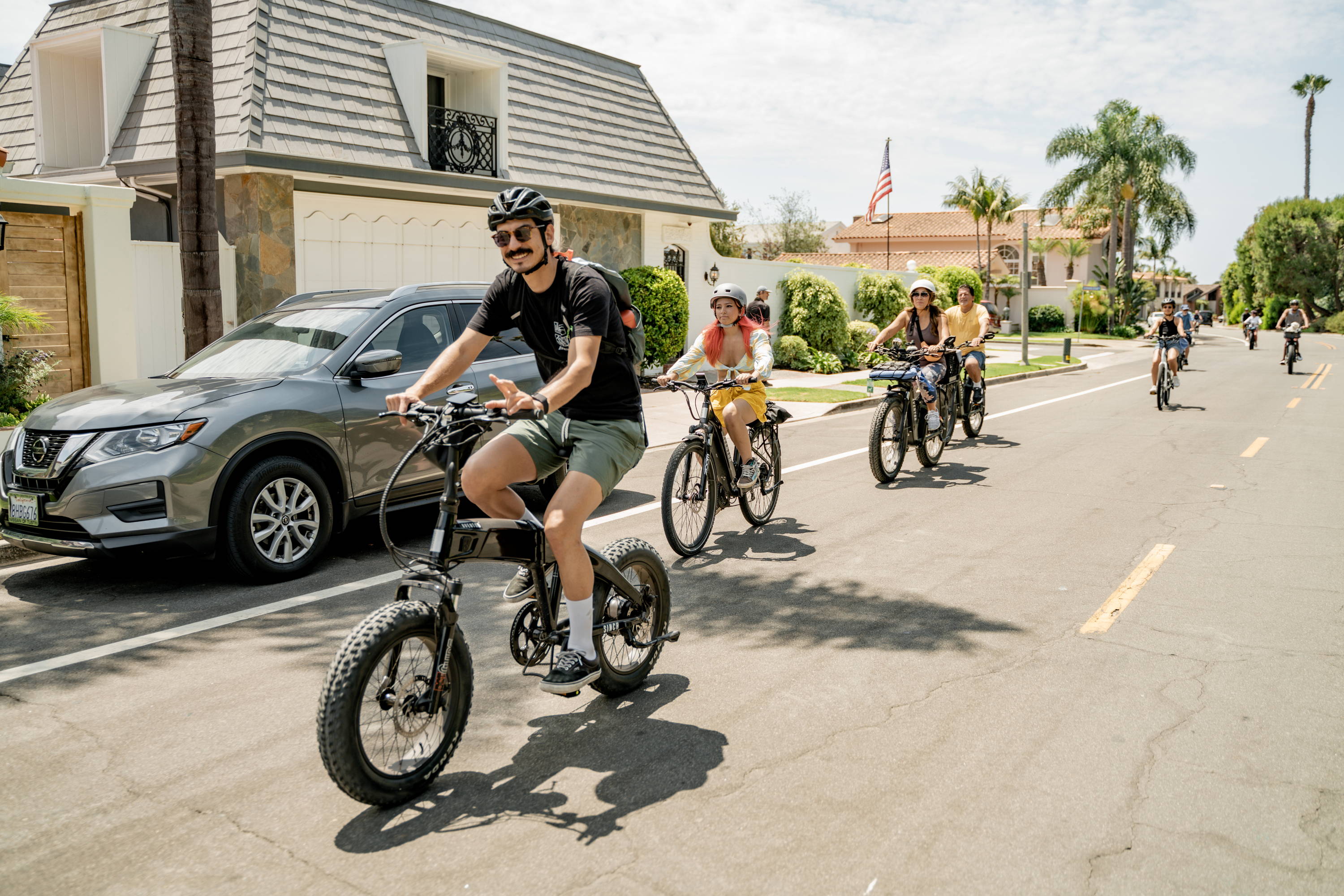 Group Ride Route
With easy access to the Back Bay Loop right from our setup at the Newport Dunes, 3 groups set off to cycle the trail in its entirety! Riders soaked in the sea breeze while exploring various scenery, from the tides of Newport Bay to wildlife of the ecological reserve. Leading the groups were a few of our Aventon expert team members while an Aventon technician followed closely behind with all the necessary equipment for unexpected issues: a first aid kit, bike tools, and an air pump!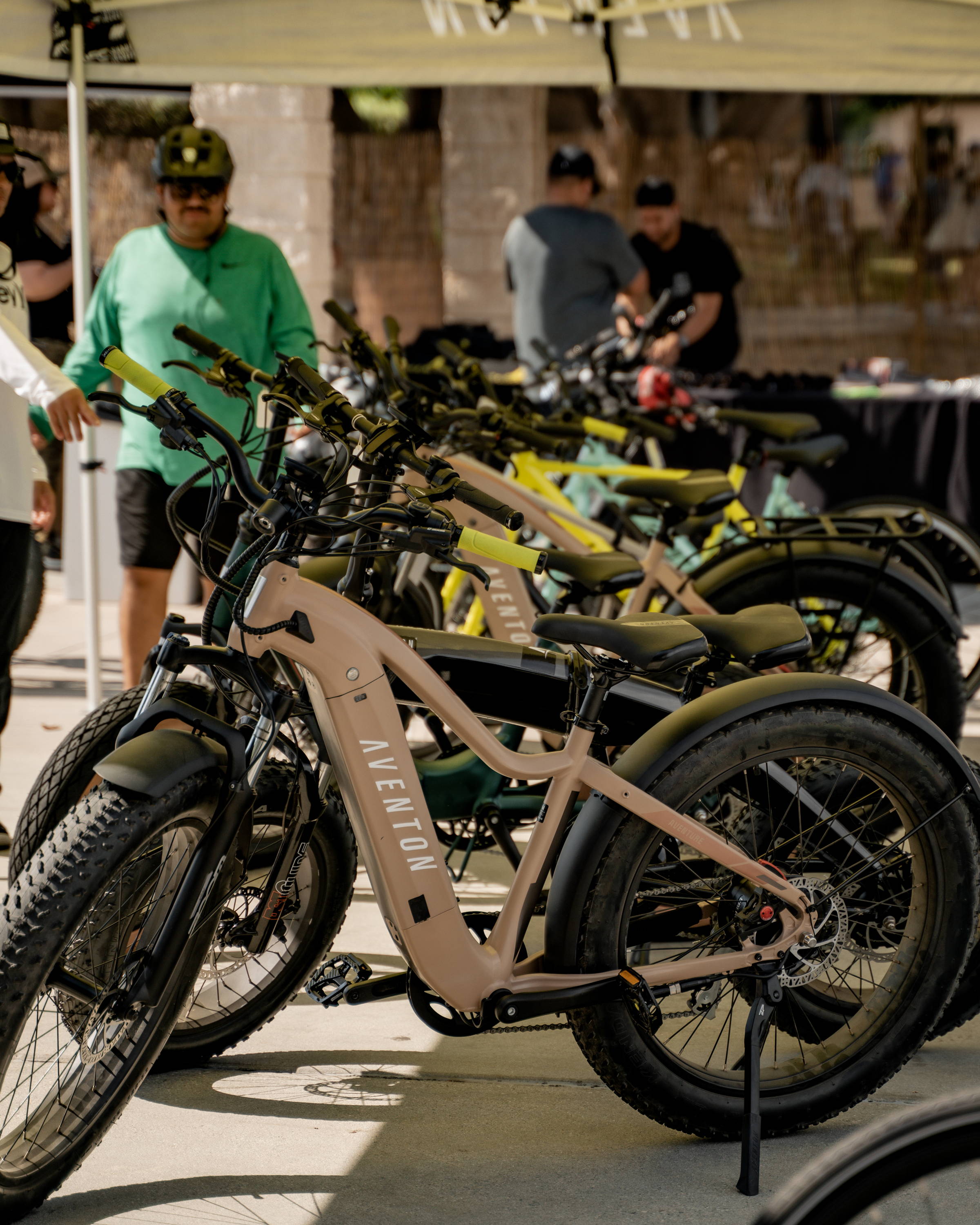 Test Riding
The remainder of our team stayed at the Newport Dunes, interacting with riders who just arrived, those waiting for their ride time take-off, or others hoping to test ride any model from Aventon's full line of electric bikes. We had every Aventon ebike on display, from the thrill seeker Aventure to the nimble, lightweight Soltera, available for free test rides!
Free Ebike Giveaway!
Everyone was given free Aventon swag bags (i.e. merchandise goodie bags!) that contained a t-shirt, water bottle, bamboo utensils, hand sanitizer, and stickers in an Aventon tote bag. In addition to giving away free merchandise, we offered a free, enter-to-win giveaway where one lucky attendee won a brand new Aventure ebike. Congratulations, Fred! We hope you enjoy all your fun adventures ahead in your new Aventure ebike!
From Biking to Acai Bowls
Following the Back Bay Loop trail, attendees lined their Aventon ebikes up and proceeded to the acai bowl truck! Choosing between an acai bowl or a smoothie, Aventon catered these free treats from Sunset Shack as a cool (pun intended!) way to end the warm and adventurous day! From there, riders enjoyed their refreshing snacks on picnic benches our team set up, while others kicked off their biking shoes and hung out on the sand of the Newport Dunes!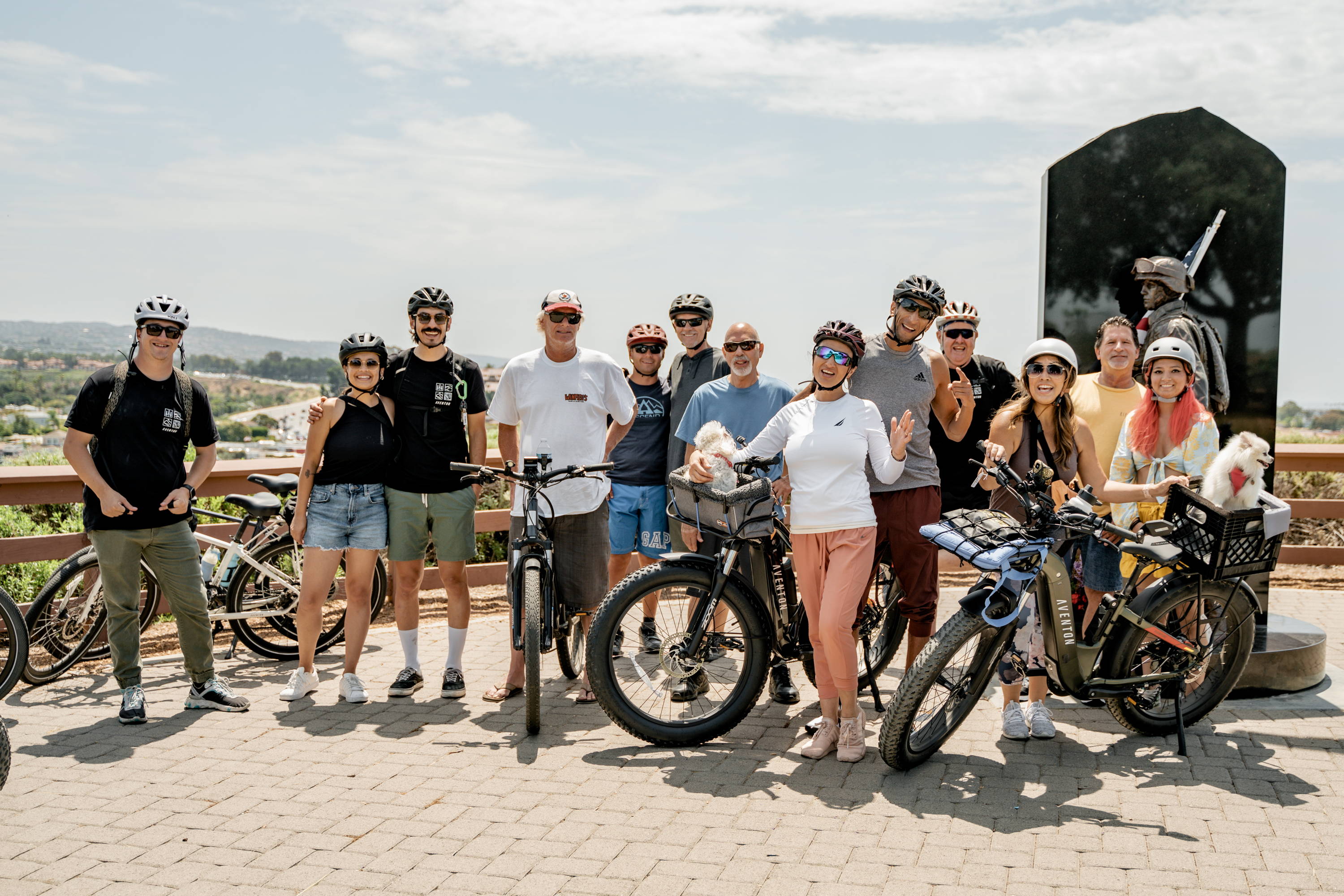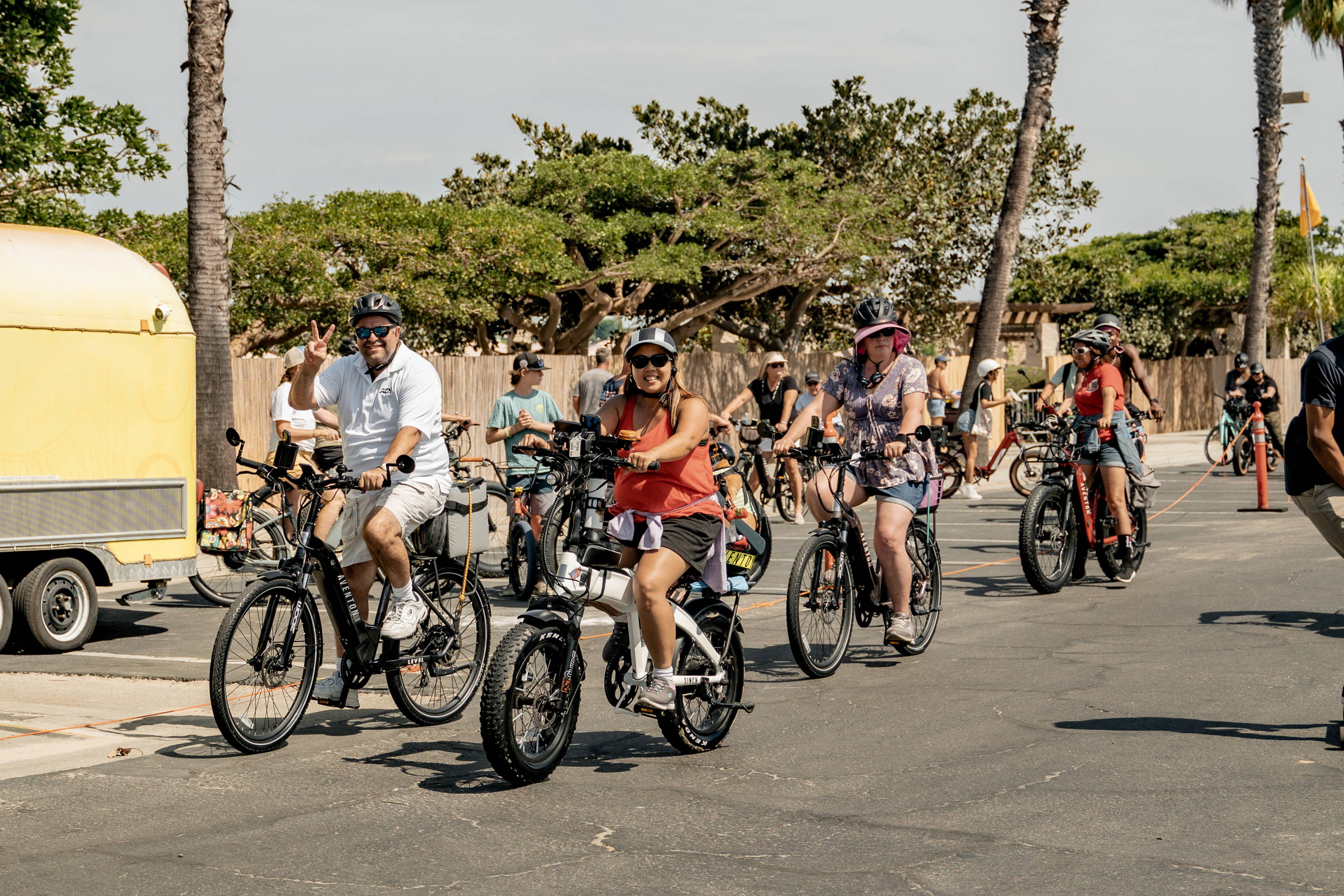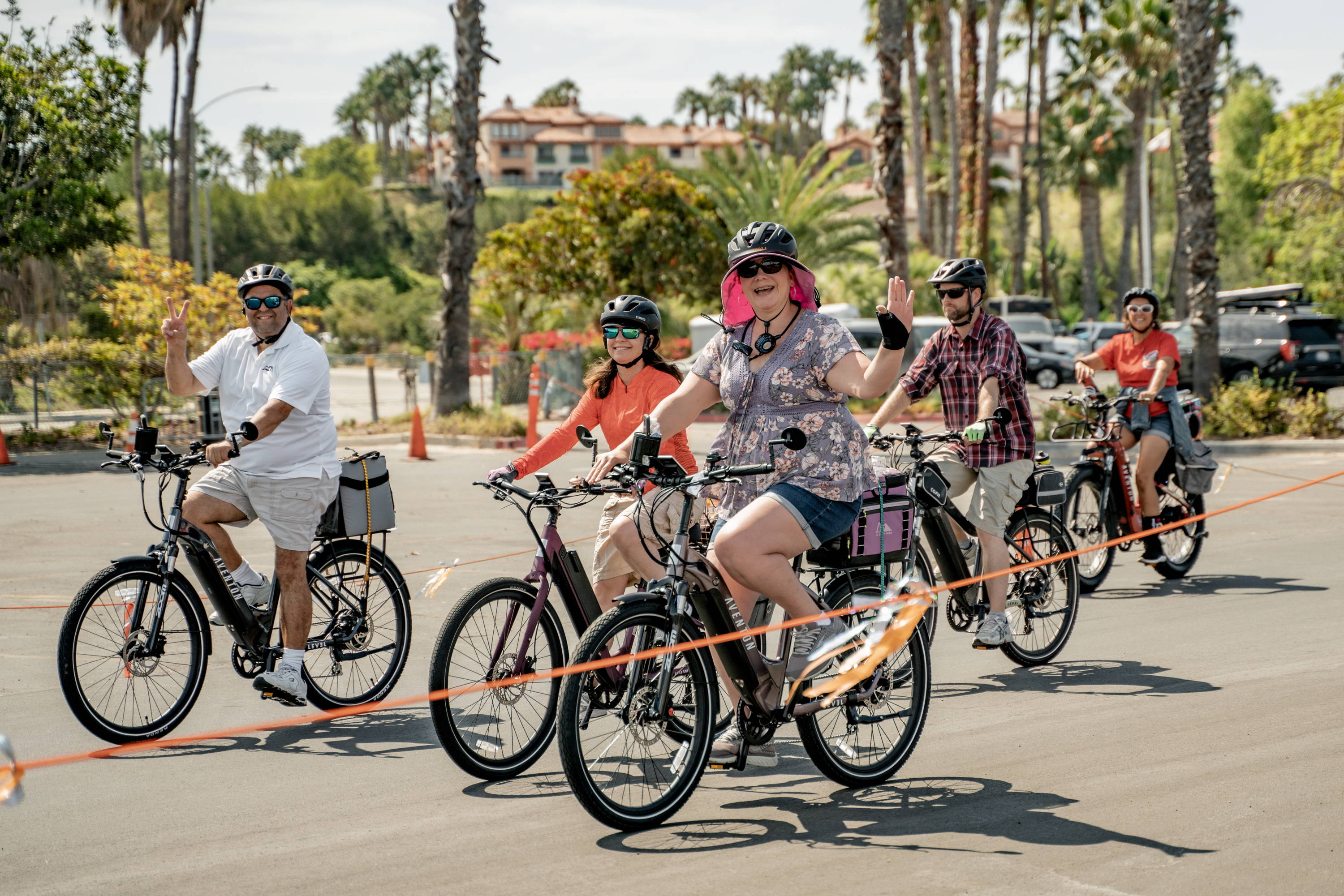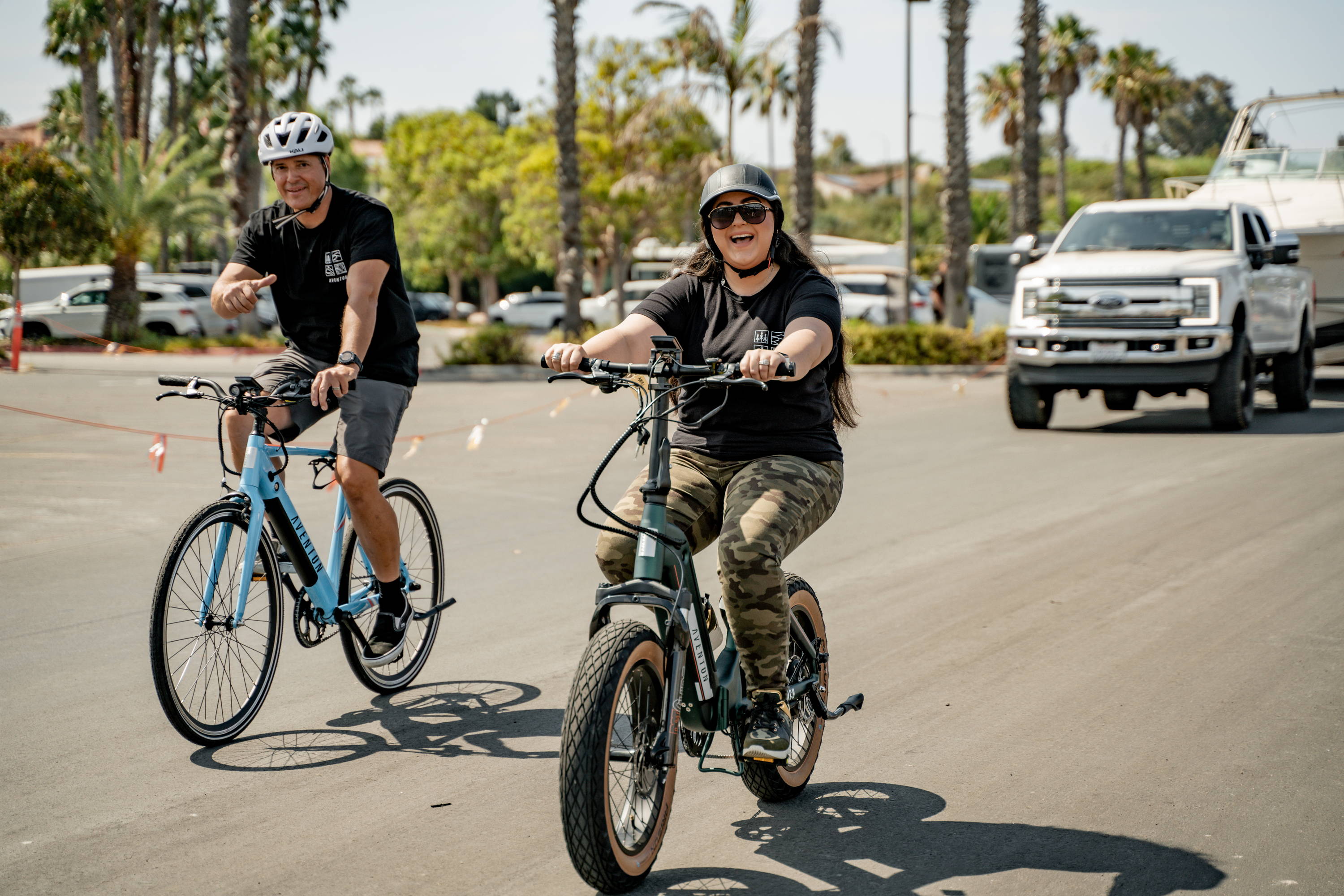 Join Aventon's Future Group Rides
We're so excited to have been able to host our second official ebike group ride, and we're so grateful to those of you who were able to join in on the fun. There's no greater feeling than connecting with individuals who share the same passion as you, exchanging laughs, accruing some miles, and eating some delicious refreshments on a sunny, coastal, Saturday morning!

We hope to get the opportunity to connect with more of you in the future, even at a trail nearest you! While we can't say when our next group ride will be, we can say that it's going to be sooner than you might think. So be sure to stay connected with Aventon on Instagram, Facebook, and subscribe to our newsletter so you'll be among the first to hear the details!