Meet Level.2: Aventon's First Electric Bike with a Torque Sensor
September 12, 2022
The title says it all! Our first electric bike, equipped with an actual torque sensor, is here! A revolutionary first for Aventon, and disrupting the industry standard for other electric bikes in its class, Level.2 is the newest addition to our lineup, with unmatched and first-ever features for Aventon.
Perfect for joyriding and destination-hustling, Level.2's torque sensor is manufactured to match your riding efforts, giving you ultimate power and control over how you ride. Whether it's to reimagine the nostalgia of riding a bicycle again or to discover your perfect synchronization with your ride, Level.2 can do it all! So if you're here to learn more about its technical features, powerful performance, or both, read on to get to know more about our newest commuter electric bike Level.2, and why it might be the perfect ebike for you.
Learn More About Level.2
Level was the second electric bike Aventon manufactured and became widely known for in the industry. Not just a commuter ebike, Level changed the game in how riders showed up to their destinations, whether they were bypassing morning traffic on their commutes to the office or enjoying laid-back rides to the park for picnics. Not just an updated version of the original Level ebike, Level.2 also comes equipped with our latest features, innovative designs, and brand-new components. Check out some of its standout changes below.

Torque Sensor
Our most exciting addition is the torque sensor on Level.2! If you need a brief explanation on the difference between electric bike torque and cadence sensors, a cadence-based system measures if you're pedaling, while a torque sensor measures how hard you're pedaling. At which point, determining how much assistance the motor should give you. More simply, matching your power! So while some might feel that cadence-based systems provide too much assistance too quickly, torque-based systems would then be the perfect option for others who want to feel as if their ebike keeps up with them.
Level.2 is manufactured with a comprehensive, genuine torque sensor (not the cadence-torque systems many other ebike's in its class try to pass as genuine torque!). Meaning, that the harder you pedal, the more assistance you'll receive from the motor. The less intense you pedal, the less power you'll receive. This is to say, that our torque sensor mirrors the natural sensations of riding a bicycle: giving you the power, incrementally as needed, while providing a more intuitive riding experience.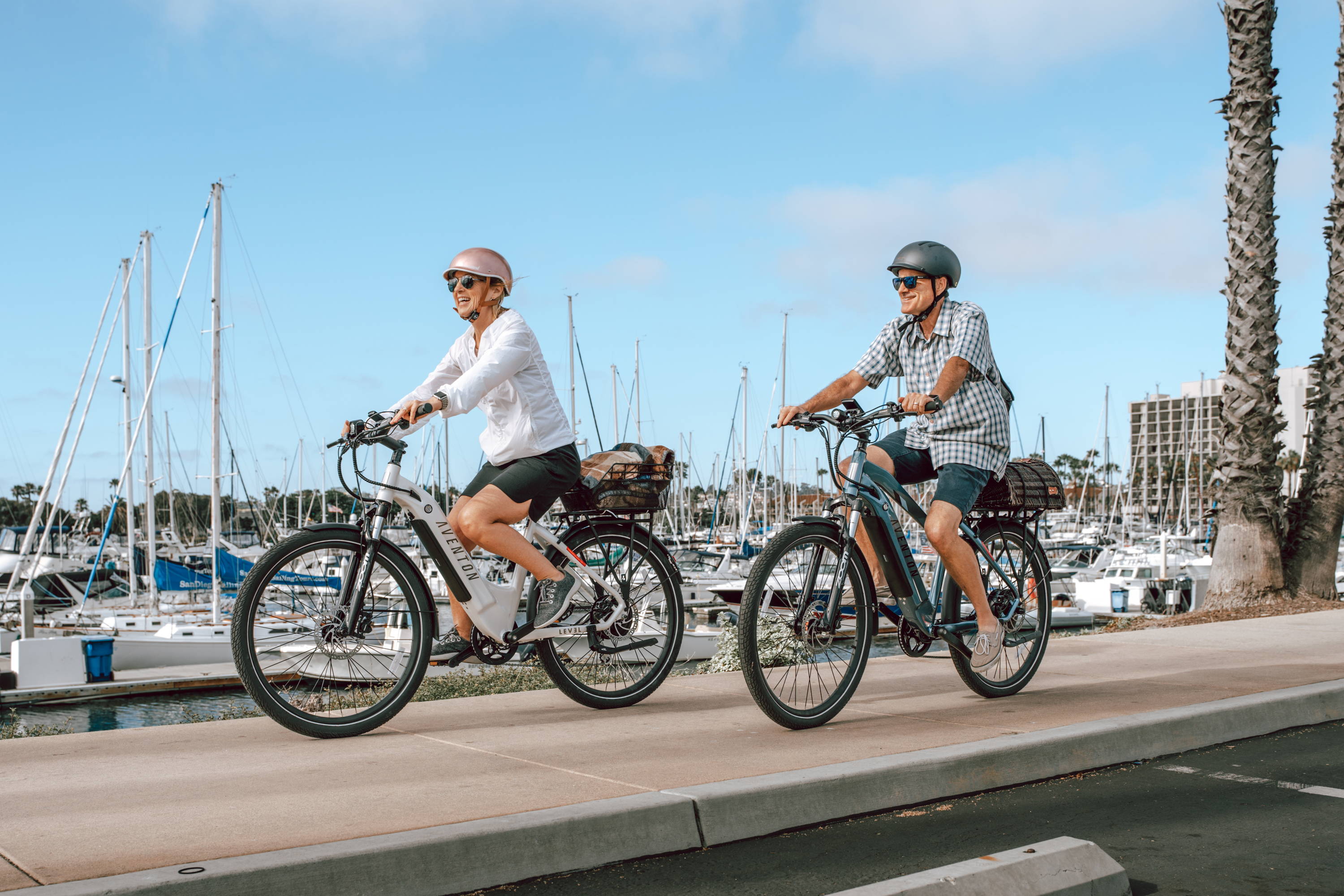 TÜV Rheinland Certified
Aventon is the first U.S. based electric bike company to receive the TÜV Rheinland North America cTUVus Certificate, with Level.2 being among the few in its class to receive this safety certification. For context, the European TÜV certification is awarded to manufacturers whose products have undergone a rigorous and thorough examination. Particularly examining the safety of electric vehicles, including bicycles, TÜV determines whether a product is safe for public sale and consumer use while complying with the UL 2849 standard.
Level.2 models have undergone a rigorous testing and evaluation process, including product, battery, and functionality safety and requirements. Level.2 also meets the safety standard requirements for various components, including its controller, motor, and charger, among others. With its products being meticulously engineered to meet these prestigious standards, Aventon dedicated itself to exceeding TÜV expectations for Level.2, putting the safety of our consumers first and foremost.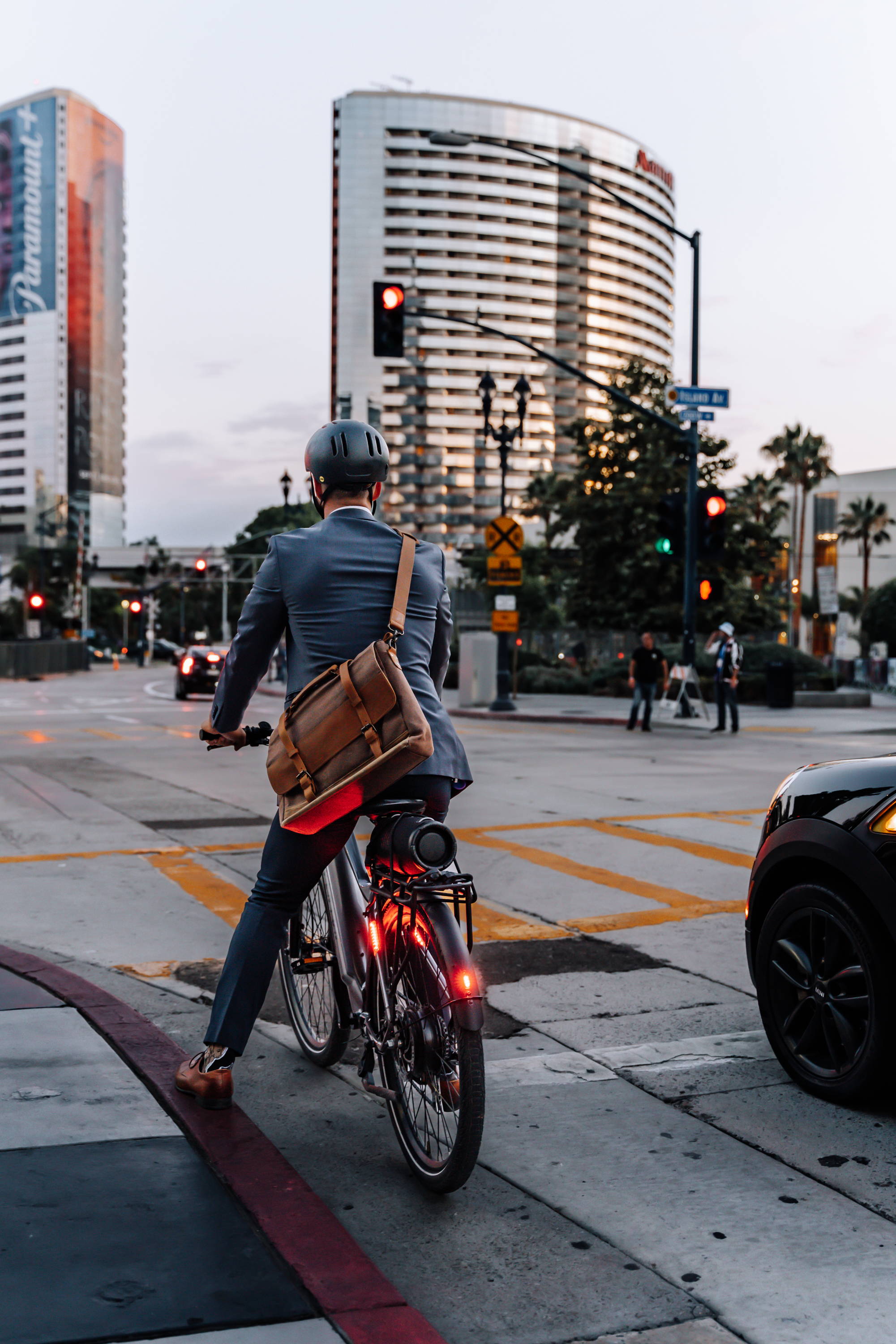 Integrated Components
Level.2's integrated electric components, like the battery and lights, will be turning heads any day with people wondering what exactly you're riding. The securable and removable battery is beautifully integrated into the downtube of the ebike, providing a sharper and cleaner design. With four total integrated lights, another first for Aventon, you'll stay safe and visible no matter where you go. Level.2's front, integrated headlight turns on with the click of a button on the handlebar control pad, so you can see what's ahead of you and be seen by others anywhere, anytime. Its two integrated brake lights activate anytime the brake levers are pulled, in addition to the rear fender light, another innovative first for Aventon. Another technological feature to note is that Level.2's front headlight and rear lights can also be activated from the Aventon mobile app!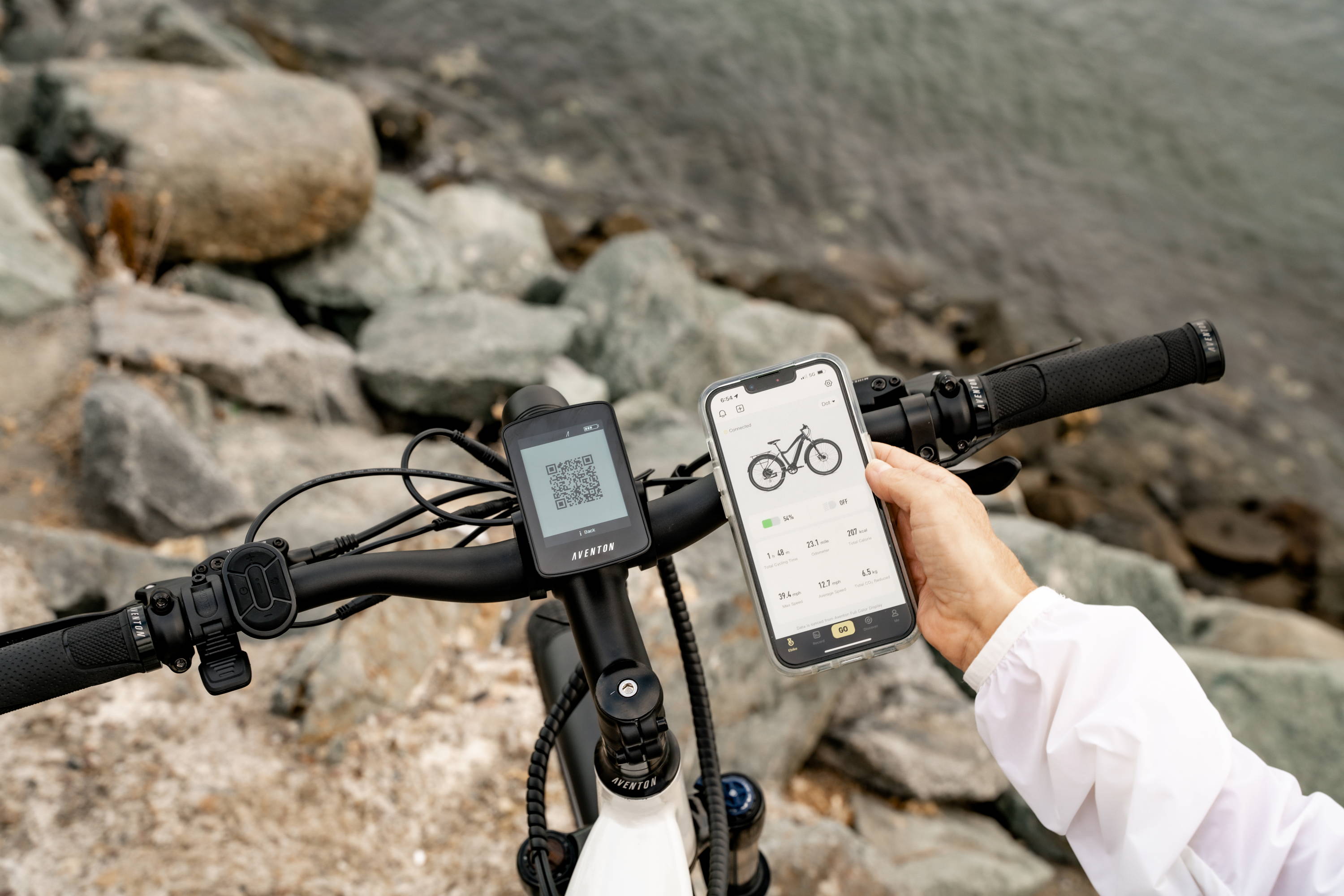 Full Color Display
Aventon's backlit, fully colored, and intuitive ebike display details all the data you'll need, right at your fingertips. Regardless of if you're looking for battery life left, distance traveled, or current speed, the Full Color Display provides all the information you need as you need it, whether you're midway through your joyride or hoping to prolong your commute to take the scenic route home.
Level.2's display also connects to Apple and Android devices through the Aventon mobile app, where you can access even more information about your rides and gain a deeper understanding of how you joy ride! The Aventon mobile app allows you to turn on your ebike's integrated lights and adjust the top speed if you're riding in areas where Class III ebikes are allowed. If you're someone who simply likes to view their total ride history or to use their achievement record as a way to celebrate their accomplishments and aim higher, the Aventon mobile app also acknowledges its riders for their milestones hit. Whether you're proud of riding 10 miles or 1,000 miles, you can not only earn loyalty points through Aventon's reward program for miles accrued with active enrollment, but you can also connect with others in the Aventon community to boast about your rides. On the topic of community, the Aventon app even lets riders check out their total carbon emissions reduced and trees saved per ride they take!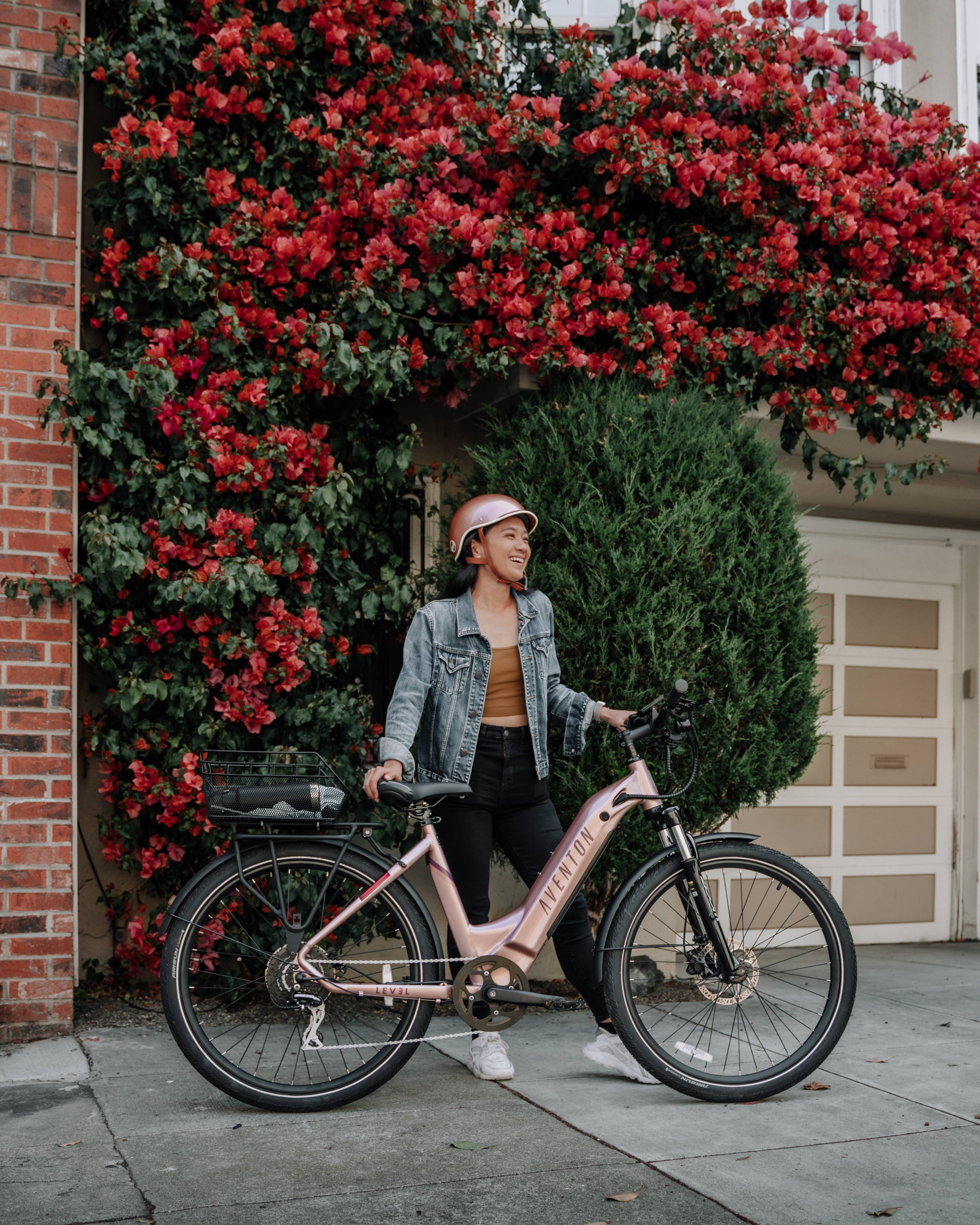 More Options, More You
The newest addition to the Aventon fleet, Level.2, comes in both a traditional step-over and step-through frame. With 2 frame styles offered, riders have more versatility and more options to choose from! Whether that's choosing between S/M and M/L in Step-through frames, or between Regular and Large for the step-over frame. Moreso, Level.2 is available in some new color hues so you can find the right shade to match your style. Some of which, are Aventon firsts!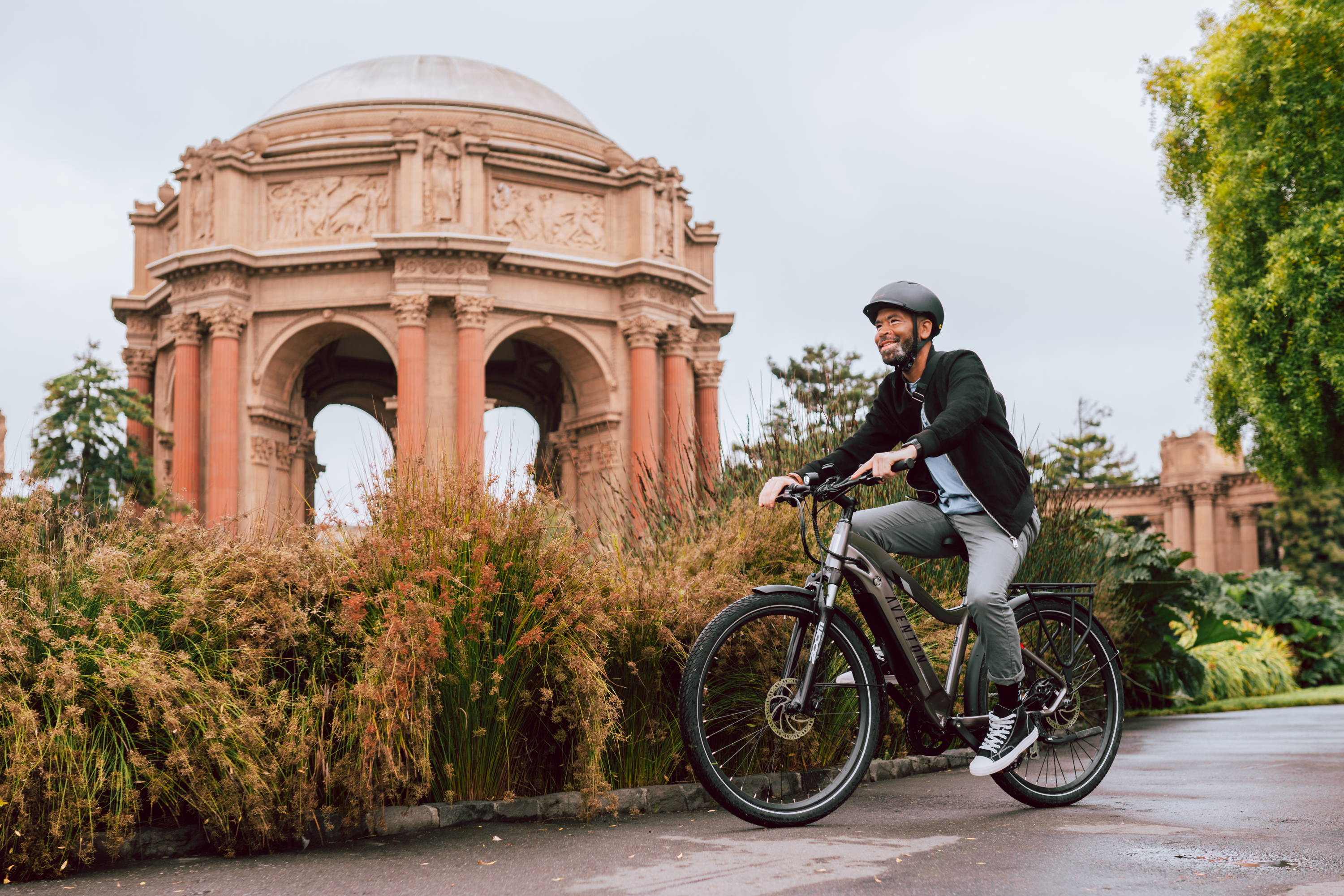 Tech Features
Level.2 electric bikes ship as Class II electric bikes, meaning they feature both throttle and pedal assist that both reach a maximum speed of 20 MPH. Level.2 can also be modified into a Class III electric bike, reaching a top speed of 28 MPH on pedal assist. Have we mentioned yet that Level.2 is our longest range electric bike? With up to 60* miles, no exploration is out of range!
Similar to the rest of Aventon's ebikes, the thumb throttle is located near a rider's left thumb, to get them wherever they want to go in record time. Simply press down on the lever, and you'll be riding into the horizon! Equipped with 5 levels of pedal assist and a torque sensor, control just how much help you want from your motor to mirror the natural and intuitive feel of riding a regular bicycle: pedal to the metal with maximum assistance or leisurely pedal with the motor simply amplifying your efforts. And if you're wondering if Level.2 will throttle on demand, absolutely! Level.2 can throttle anytime from a complete stop while in PAS 1-5.
Check Out Level.2
As the second ebike in the Aventon line-up, Level instantly grew into a customer favorite because of its sturdiness, overall comfort, ease of use, value, and incredible fun. Following in the footsteps of Aventon's original Level, Level.2 is equally durable, comfortable, fully equipped, and easy to use. The difference? New features and components that offer a new way to ride, for longer distances, with an endless amount of excitement! Check out Level.2 or Level.2 Step-through today!
*Disclaimer: Electric bike range is estimated. Factors including but not limited to speed, terrain, and weight can influence the amount of range per charge.