Aventon Gives back: Ebike Donation to Firefighters
November 25, 2020
The Los Angeles Fire Department, LAFD, is a pillar of the community here in the city of Los Angeles. Their continued service and unwavering commitment to the city of Los Angeles and its surrounding areas has been highlighted in recent years by their battle with the heavy wildfire activity we've seen in our region.
The LAFD does, however, provide many other services which often fly under the radar for the average citizen of LA County. One of the services which they offer to the city is that of a Bicycle Medic Program, or Mobile Medics. It is to this program which Aventon has donated a total of 5 of our Level Commuter Ebikes!
Members of the LAFD team of mobile EMS (Emergency Medical Service) personnel, A.K.A Mobile Medics, are a regular sighting at any event or large gathering which takes place within the area which the LAFD services. The purpose of these Mobile Medics is to bridge the gap between foot patrol and rescue ambulances, providing a well supplied rapid response where it is needed the most.
Having these ebikes, which can reach up to 28mph and travel over 40 miles on a single charge, allows them to keep their finger on the pulse and be there when needed to respond quickly to a medical emergency. This cuts down on arrival times, when compared to ambulances, and, as we know, every second saved can also mean a life saved.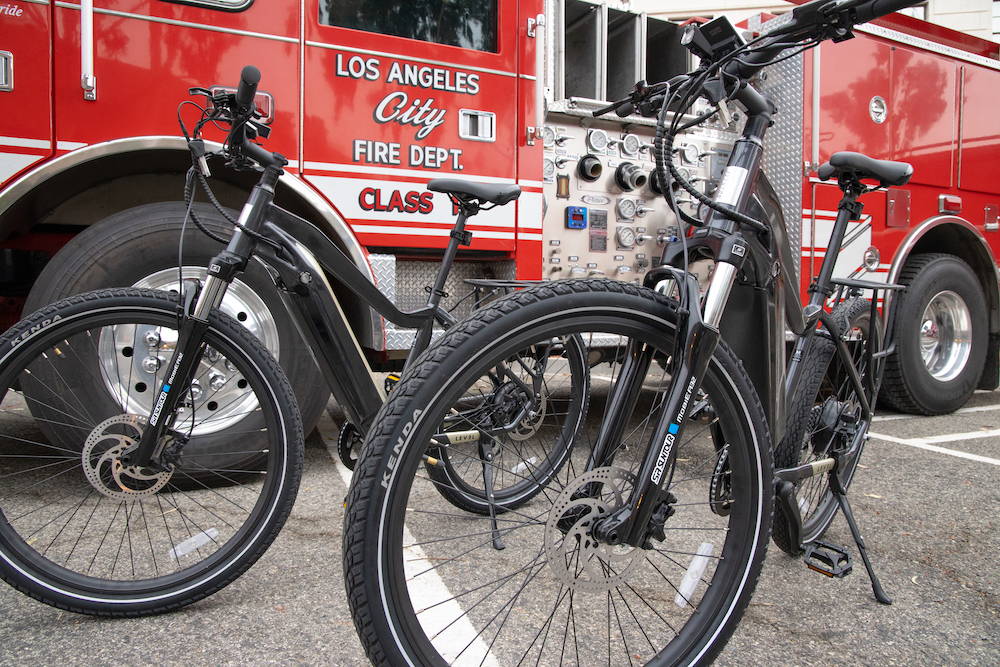 Maybe more importantly than the time saved by the speed at which these ebikes can propel these medics along is the pedal assist function found on Aventon ebikes. The pedal assist function means that these ebike medics will not be pedaling furiously to get through the sand on the beach or running miles down the boardwalk like foot medics have to. Instead, the pedal assist function means that these folk will be able to travel at full speed, 28mph, without hardly breaking a sweat, meaning that they can arrive at the incident with a clear mind, ready to address the situation at hand.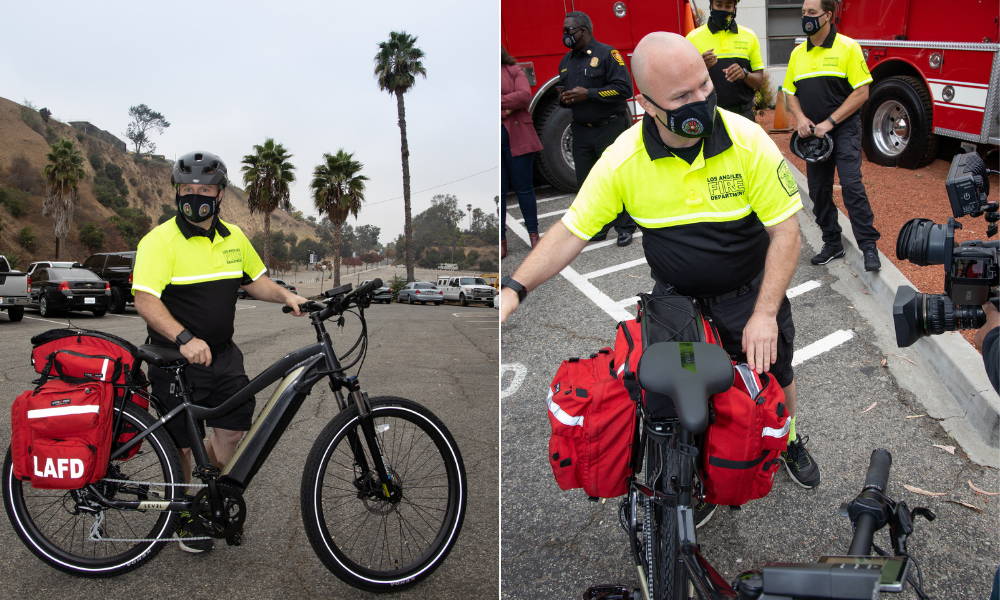 Our Level Commuter ebike is excellent for this job for another reason: the fact that it can carry a large amount of "luggage" without worry. Designed for commuters these ebikes have now found a great new purpose, that of transporting local EMS personnel and their life saving equipment to the destination quickly and efficiently, along with clear heads and the gear they need to potentially save someone's life.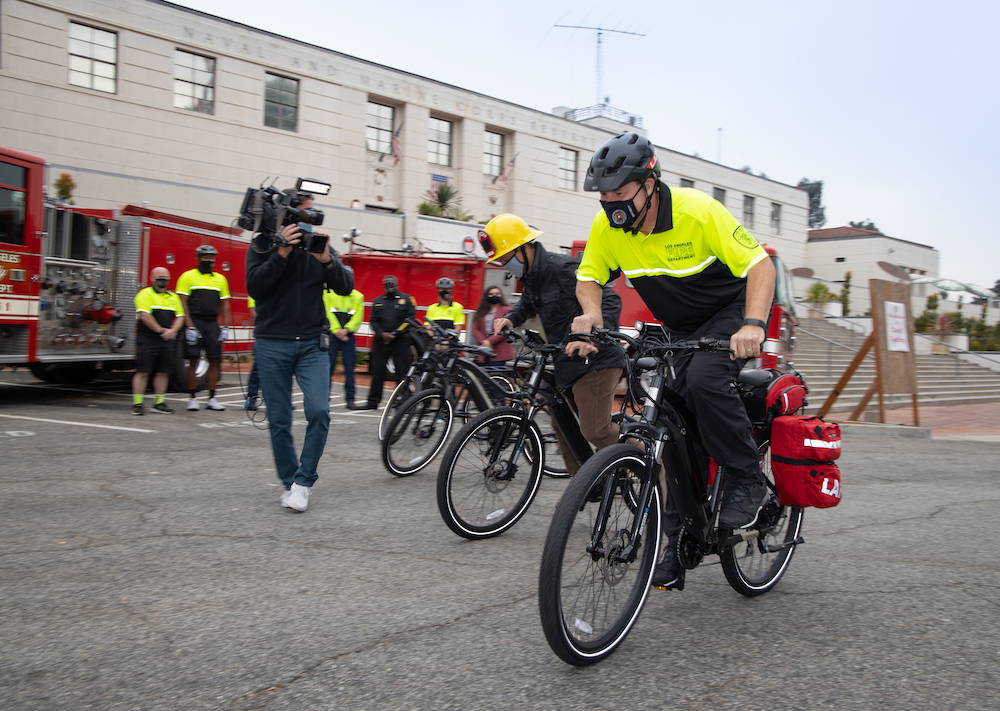 We would also like to take this as an opportunity to promote the LAFD's Spark of Love Holiday Toy Drive. Much like everything 2020 their toy drive is a bit different this year. Not being able to accept in person donations at their stations the LAFD has gone virtual, accepting monetary donations toward their Spark of Love project through their donations page or by people purchasing select items for needy children through a site organized by online retailers. So if you want to thank the LAFD for their services donate to the LAFD or to their Spark of Love Holiday Toy Drive! Look out for them whizzing about on their new Aventon ebikes in the very near future!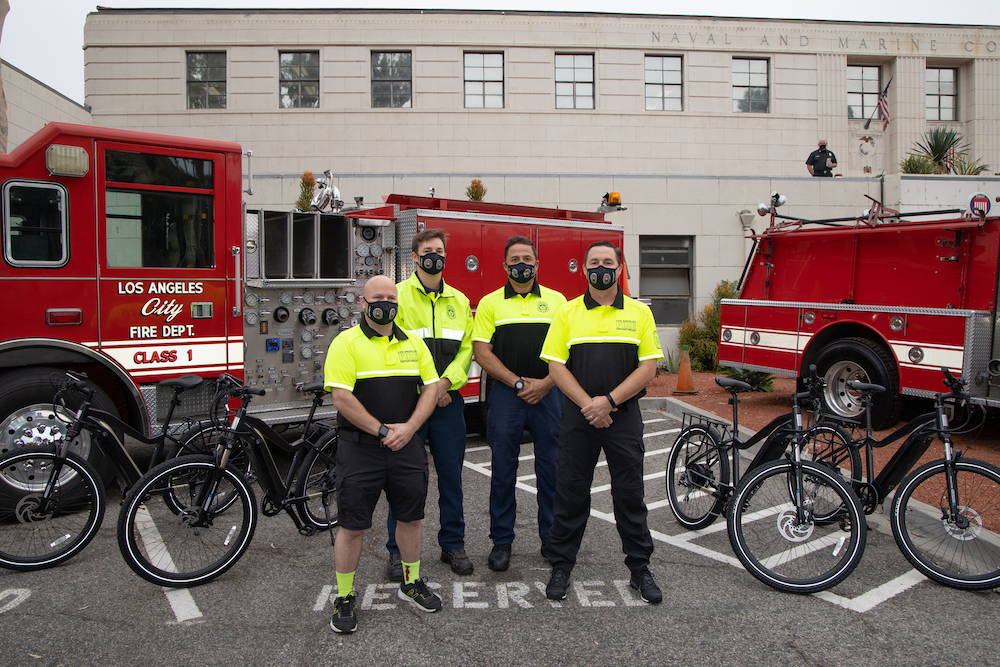 The savviest of readers amongst you may have noticed that we said "5 bikes" at the beginning of this blog piece but have only featured four bikes in each picture. We took four bikes to the press release and photo shoot, delivering the fifth later on during the week. Unfortunately there are no prizes for your keen eyes this time around.
About The Level Commuter Ebike
The Level Commuter ebike was designed with the active lifestyle, busy commuter in mind. This ebike is designed to carry a large amount of cargo in a well balanced array, so that no matter what you're planning or where you're going you'll always feel comfortable with any amount of gear you want to pack onto your ebike. With a top speed of 28mph and a 40 mile average range these bikes are perfect for inner and outer city travel. Not to mention the fast charging capabilities of the batteries, 4-5 hours, meaning that you can commute to work on this bike, charge the battery whilst working, and fill your post-work afternoon with any activities you can carry the equipment for! If you're tired at the end of all of it the Level Commuter ebike's pedal assist feature can help you breeze home at the end of a jam packed day.