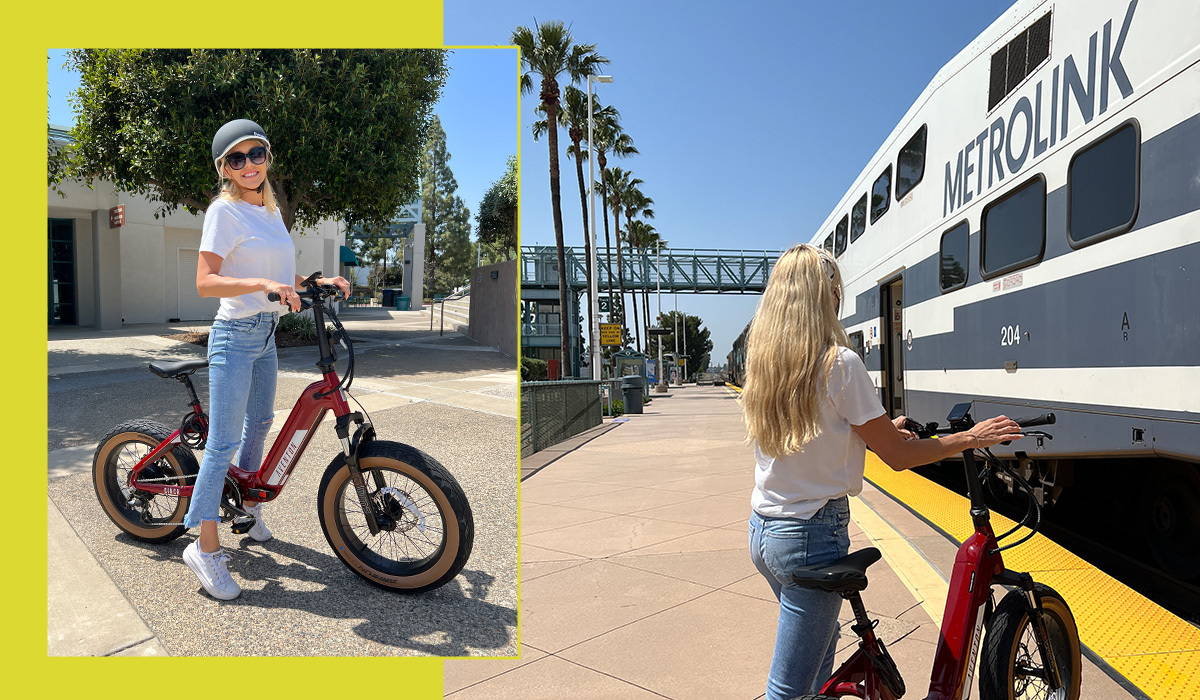 Free Metrolink Rides, an Aventon Ebike Giveaway, and More In Honor of Bike Month!
May 16, 2022
May brings about one of our favorite causes for celebrations: National Bike Month! Recognized widely from coast to coast, National Bike Month is a chance to highlight the many benefits of biking while encouraging more people to hop on a bike. National Bike Month is very near and dear to our hearts and similar to our own mission and driving force here at Aventon: to empower everyone to move more freely!
In addition to the many benefits of bicycling that National Bike Month discusses, there are plenty of added incentives and bonuses too, including Aventon's collaboration with Metrolink to create the ultimate giveaway! With an emphasis on individual and community well-being, we'll review some of the ways you can be proactive this Bike Month as well as some exciting bonuses SoCal cyclists can expect! Whether you're someone who is just starting out, someone who's riding for fun, fitness, or with family and friends, or someone who's a seasoned errand-runner or commuter, we're thankful you're part of the growing momentum that encompasses Bike Month. Together, our efforts will create safer streets, more connected communities, and happier people, all while nourishing the planet!
What is Bike Month?
Sponsored by the League of American Bicyclists, National Bike Month occurs every May in the United States as a way to legitimize, recognize, and celebrate biking as a viable method of transportation, and also as a form of recreation that's essential to emotional, mental, and physical well-being. Dedicated to not only celebrating cycling, it also aims to encourage and empower more people to spend more time on a bike! Recognized from the West Coast to the East Coast, National Bike Month has several exciting events and challenges within the main event itself. Some of which, include:
National Ride A Bike Day on May 1, 2022

Bike to Work Week from May 16, 2022 - May 22, 2022

Bike to Work Day on May 20, 2022
How Do I Celebrate Bike Month?
It really doesn't take much to participate in and celebrate National Bike Month. If anything, at least one bike ride is required to join in on the fun! In fact, Bike League estimates that 40% of all trips taken in the U.S. are within less than two miles of the starting point. This makes getting around on a bike an easy and fun way to get what needs to be done, done! Whether that's grabbing groceries for the week, meeting up with friends after work, or simply needing an escape and some fresh air after a stressful day and exploring your community. Celebrating Bike Month essentially means making a conscious attempt to ride your bike wherever, and whenever possible! Whether you're able to for commuting purposes, short-distance rides, or entirely for recreation.
Bike Month Incentives and Giveaways in SoCal
We're thrilled to share some additional exciting events and incentives riders throughout Southern California can benefit from during Bike Month! After all, it's where we're headquartered and there's nothing we love more than spotting Aventon rider's out and about! For those who spend time on their bikes in SoCal equally between leisure and commuting, this is for you! And, if you're someone who solely uses their bike for fun or fitness, keep reading as well; The incentives, like an Aventon ebike giveaway, still apply to you!
Free Metrolink Rides
Metrolink, Southern California's premier regional passenger rail system and safe alternative to driving, is offering free rides during a portion of Bike to Work Week, from May 16th to May 20th, to anyone who boards a Metrolink train with their bicycle! Ara Najarian, Metrolink Board Chair, said in a statement, "... During Bike to Work Week we invite everyone to bring their bike and take the train to work or anywhere they like, free for the entire week." Linking six Southern California counties, including Los Angeles, Orange, and San Diego, Metrolink riders can enjoy free rides and even create an adventure of their own! Riders can also rest easy knowing that Metrolink trains have a special "Bike Car" that is designed to secure up to nine bikes while the remaining passenger cars have extra space for storing bikes.
Curated List of Bike Trails in SoCal Near Metrolink Stations
Metrolink has joined forces with outdoor adventure company AllTrails to curate an exclusive list of bike trails and bike-friendly excursions for cyclists within a two-mile radius of any Metrolink stop. Their bike trails guide, titled "Two-Wheelers and Train Tracks," can be found directly at AllTrails or at Metrolink's Explore page. These trails and must-sees are the perfect solutions for those who are riding Metrolink for free during Bike to Work Week without a definitive destination or are looking for new places to explore in their neighborhood throughout Bike Month!
Aventon x Metrolink "Cycle SoCal" Giveaway
Partnering with Metrolink and LOCALE Magazine, Aventon is thrilled to share our "Cycle SoCal" giveaway, just in time for a spring getaway! Open to select Southern California residents and valued at $3,000, it is the ultimate transportation package! In an effort to encourage residents of Southern California to 'Go Green,' our exclusive giveaway includes:
The sweepstakes winner will receive not only a Metrolink Month Pass to travel throughout SoCal as they wish, but also an Aventon Sinch electric bike to make traveling a literal breeze. Not to mention, Sinch electric bike's folding capabilities make boarding and stowing on a train a cinch! As added bonuses, they'll also receive a $200 credit to a local SoCal favorite eatery, Trevor's at the Tracks, with a relaxing overnight experience at Inn at the Mission San Juan Capistrano. In other words, the ultimate giveaway package to create some wonderful two-wheeled adventure memories in honor of Bike Month! The Cycle SoCal Sweepstakes is open until June 1, 2022, so be sure to enter for your chance to win. Don't forget to forward it to friends and family too to give them a chance at experiencing the extraordinary and transforming their day-to-day!
Just Go Out and Ride
No matter how you choose to celebrate National Bike Month, we believe it ultimately boils down to simply being a kind and considerate cyclist when sharing public spaces, roads, and paths. At the end of the day, it isn't about what type of bike someone is riding, what cycling clothes they're wearing, or what personal record they're trying to break. Instead, it's about recognizing and celebrating the fact that we're part of a large community making a conscious effort to choose bicycling, no matter what or where they're starting from. That is what will continue to make cycling a more inclusive activity where more people feel encouraged, empowered, and supported to get on a bike!
While we hope some of these incentives, giveaways, and bonuses will encourage more of you to participate in biking more regularly, we'll also smile knowing that some of you felt compelled to ride even just once during National Bike Month. So consider this your reminder to get out there, soak in that spring sun, explore new parts of your community, and enjoy your corner of the world that we all call home!