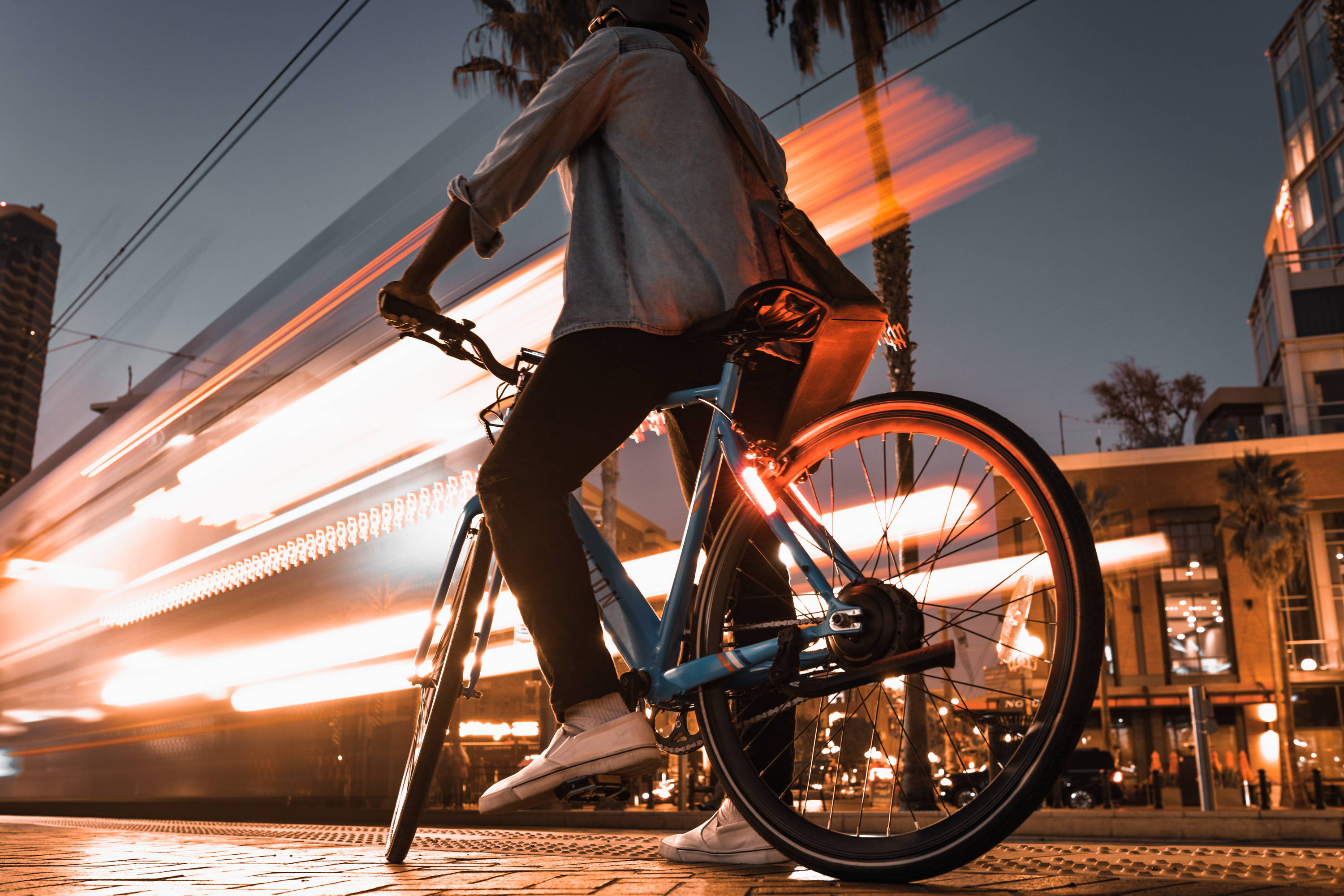 Safety Tips When Riding A Bike At Night
December 9, 2022
There's a few good reasons you may find yourself riding a bike at night: maybe you commute for work, maybe you enjoy the freedom of the road without all that daytime traffic, or maybe it's the only time of day you're able to get in the saddle and take your ebike out for a ride. Whatever the reason may be that you find yourself on the road at night, we've put together a few safety tips for all your night cycling needs.
Wear Proper Gear Properly
Proper gear can keep you safe and protected in dark riding conditions. First and foremost, wear a helmet! Because we care about you and we want you to ride your ebike for a thousand years. For example, that's why we recommend a helmet that lights up! Offering more visibility for motorists to see you. Proper clothing is also important. Retro-reflecting clothing is highly recommended, as well as lighter colors. Avoid wearing black if you can, because it's dark.
Rain, Rain Go Away
Severe weather can make the roads slippery and unpredictable. It can also promote low visible conditions for motorists and cyclists alike, such as heavy rain on windshields or thick fog that can blur perception. Check weather conditions before you plan on riding a bike at night.
Double Check Battery Life
By taking a little time to prepare before each ride, you can save yourself a lot of trouble. Double check to see if your lights work and that your ebike battery is fully charged. An extra Aventon battery is also a great idea. More power means longer lasting headlight life and farther biking range.
Know Your Route
Get to where you're going by knowing where you're going. By knowing your route you can expect traffic, gauge time frames and predict road construction up ahead. Stick to streets with street lights so you're more visible and can see potholes or bumps in the road.
Phone A Friend
Another good practice is letting someone know where you are should you have to ride at night. Check-in with them before you leave and when you've arrived safely at your destination.
Proper Equipment Is Key
The unexpected can and will happen, sooner or later. Maybe you had to stay at work late, or your plans changed. These things happen. But if you're a little prepared you can save yourself a lot of trouble while being safe in the process. Having a headlamp on-hand in case you get a flat in the dark will help illuminate the situation. Also carrying necessary tools is a huge plus, such as a bike pump or spare tube to help get you back on the road quicker and home safely.
Let Your Light Shine
Biking at night without a light is like a pilot flying through a stormcloud without using their instruments. So turn on your lights when you bike ride at night! Stay visible. Stay vigilant. Most Aventon ebikes come with integrated lights, such as both Pace.2 models (350.2 and 500.2) or the Level.2. If your ebike doesn't have integrated lights, check out our selection of lights here. If you already have a pair, make sure they're charged. Bring extra batteries if your lights require them. If you don't already own reflectors, it's a good idea to get some. This will add more visibility to your bike when you're riding in a more congested area during rush hour traffic.
Rules Of The Road Still Apply
Keep in mind that when you're riding at night, the rules of the road still apply! Do your part by making the road at night a safe place to ride! For more information and tips on biking on the street check out our article A 'How to Ride a Bicycle on the Street' Guide where we go into depth about the dos and don'ts that can help ensure best riding practice, day or night.
Stay In Your Lane
The rules of the road are more critical when you bike ride at night because of low lighting or from the fatigue of a long day at work. Stay in the bike lane if you can. It's the safest place to be on the road at night.
Flow of Traffic
It's also important to go with the flow of traffic where you'll be more visible to motorists and other cyclists. Even when well lit you still need to be aware of your surroundings, so stay vigilant and keep your eyes on the road.
Speed Limit
Pay attention to speed limits, as well. Ebike's tend to go faster than standard bicycles on flat surfaces and are not exempt from local regulations.
Cycling Buddies
Two is better than one. Especially when riding a bicycle at night. Two people means twice the lights and double the visibility. Having another person around can make riding more fun, and can be helpful in case of an emergency.
Journey Into The Night
Find peace of mind as you ride out into the night this holiday season by being prepared. Also! Don't forget to lock your bike. It's easy for someone to sneak in the shadows and steal your bike. A bike lock can prevent this, or at least give them a run for their money. Now that you're ready, take your ebike for a ride and breathe in the night air.