Introducing The Aventure.2: New Tech, New Torque Sensor, And A Whole New Adventure
January 16, 2023
Our best selling ebike just got a whole lot better, with new features and newer technology that will have you wanting to hit the off-road in no time! The Aventure.2 will augment your adventure with its torque sensor. Now you can ride farther and feel the difference every time you pedal.
Perfect for rugged routes and tough roads, the Aventure.2 with torque sensor will take you places you'd never thought you could go while matching your riding effort to give you more control over your outdoor experience. And with the all new turn signal functionality you can indicate to motorists and other cyclists behind you when intending to make a turn, providing more protection while you ride.
Read on to learn more about all the new features that make this powerful ebike the on and off-road go-to ebike ready to take you on your next dream adventure.
What Makes The Aventure.2 A True Trailblazer
The Aventure was Aventon's first ever 4" full-sized fat tire bike and immediately turned heads with its versatility and power. This ebike changed the way our rider's experienced the world. Not only could they go off-road and explore trails and beaches, take it to the mountains and explore new terrain, but they could find stability and comfort on the everyday asphalt. The Aventure.2 is more than just an upgraded version, it's the full package with all our latest features, innovative technology, and supportive components. Let's take a look at what makes the Aventure.2 a true trailblazer.
Torque Sensor
It's all about the torque sensor when it comes to the Aventure.2! Here's why. The torque sensor provides a natural riding experience. This ultimately offers riders the feeling of riding a standard bicycle. While a cadence sensor will produce a prescribed amount of power as you move through the PAS levels, with the torque sensor, the bike responds and matches your efforts, conserving battery life and extending riding range. The harder you pedal, the more the torque sensor kicks in by amplifying your efforts, and giving you more control over your experience. Just check out what some are saying about Aventon's ebikes with a torque sensor:
"You can work your leg muscles, build-up strength, and get a great cardiovascular workout, but still have plenty of assistance for those killer hills."
"I have to say that the addition of a torque sensor makes this bike come alive . . .The power delivery is so much smoother. It's an absolute joy to ride. Integrating the torque sensor into the bottom bracket instead of mounted next to the freewheel like most other brands, has given it a very refined approach."
- Judd at Island Bikeworks (Pine Island Center, Florida)
The Aventure.2 is manufactured with a genuine torque sensor, ready to take the world in stride. While other brands tout torque technology on their bikes, in reality they use a combo sensor that doesn't quite work the same. Aventon uses the real deal. The intuitive and dynamic technology of our torque gives riders the real outdoor experience with augmented natural momentum. Get outdoors and experience the world in a whole new way.
TÜV Rheinland Certified
Safety is at the forefront of all that we do, in the manufacturing of our products and the safety of our riders. Aventon holds itself to a higher standard in this regard. To ensure we meet all the requirements necessary to keep our riders riding happy and safe, we put our products through rigorous testing.
Aventon is the first U.S. based electric bike company to receive the TÜV Rheinland North America cTUVus Certificate. The European TÜV certification is awarded to manufacturers whose products undergo rigorous examination. In particular, they examine the safety of electric vehicles, including bicycles. The TÜV determines whether a product is safe for public sale and consumer use while complying with the UL 2849 standard.
All Aventure.2 models have been put through the ringer. They have been tested and examined, including the battery's functionality, making sure they meet safety requirements. Aventure.2 also meets the safety standard requirements for various other components, including its controller, motor, and charger, among others. Aventon has dedicated itself to exceeding TÜV expectations for all its products, but especially the all new Aventure.2, making sure we put the safety of our riders at the forefront of everything we do.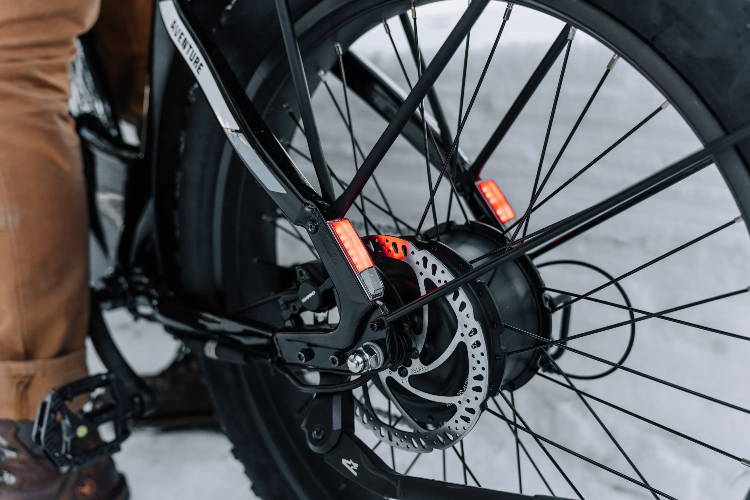 Integrated Components
The Aventure.2's integrated components, such as battery and lights, continue the sleek and clean design of Aventon's ebikes. The removable 720Wh lithium-ion battery fits snug into the frame, ensuring it's secure and protected from the elements. Aventure.2's front and rear integrated lights can be turned on and off from the handlebar control pad, providing optimal visibility for you on the road ahead, as well as letting motorists and other cyclists know where you are in low lighting environments. The integrated front and rear lights can also be activated by using the Aventon mobile app.
Turn Signal Functionality
The all new turn signal functionality is a first for any Aventon ebike! But also a first for the category, proving that Aventon is dedicated to innovation and safer riding conditions for our customers. This safety feature sets a new standard when it comes to protecting riders, allowing them to indicate to motorists and other cyclists where they're going. Now you can direct traffic like a pro! It's easy to use too. With a click of a button on the handlebar controls, the rear lights will flash in the desired direction. There's a new way to get around with the Aventure.2, and now you can let everybody know!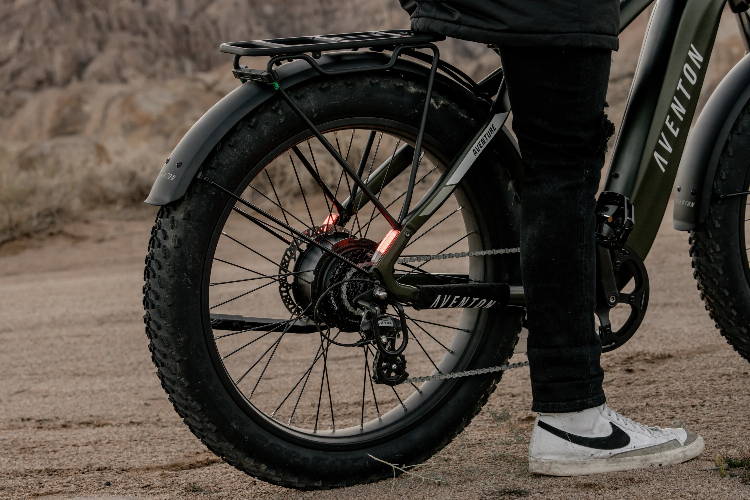 Rear Rack and Fenders
Aventure.2 is the adventurer's dream ebike! With the addition of a rear rack and fenders there's nowhere you can't go without everything you need while being protected from the elements. A first for the 4" fat tire ebike, the rear rack can add more to your next trip. Take to the trails and the mountains with all the necessary equipment strapped to the back of your bike. With a carrying capacity of 400 lbs, for cargo and rider, your imagination is your only limitation. Pre-installed fenders can help make riding more comfortable, protecting you from any water, dirt or mud that gets kicked up from the fat tires. This added protection will allow you to keep your eyes on the road that rolls on ahead of you. So have no fear! Take this smooth ride through rugged landscapes, and get a little dirty doing it. We encourage it!
Full Color Display
Aventon's Full Color Display is an e-cyclists best friend. Its intuitive technology details all your important metrics right there on your handlebars, including speed, battery life, distance traveled, and PAS level. Find out where you stand while you're rolling!
The Aventure.2's Full Color Display can also connect to the Aventon app available on Apple and Android devices. Here, you'll be able to access even more data about your rides and gain a deeper understanding right from the saddle. With the Aventon app you can adjust the Full Color Display's brightness, set a time limit for your ebike to auto power-off, change speed unit from mph to km/h, and also turn your integrated lights on and off. The Aventon mobile app also allows you to adjust the Aventure.2's PAS top speed to 28 mph only, for use in areas where Class III ebikes are allowed. And that's not all! You can find even more data such as your total cycling time, overall mileage, calories burned, max speed, average speed, CO2 emissions reduced and trees saved!

Aventon also recognizes those of you that like to push themselves and reach record breaking milestones. Through the Aventon app you can earn loyalty points through Aventon's reward program for miles accrued with active enrollment and you can also connect with a larger Aventon community for some fun, healthy competition.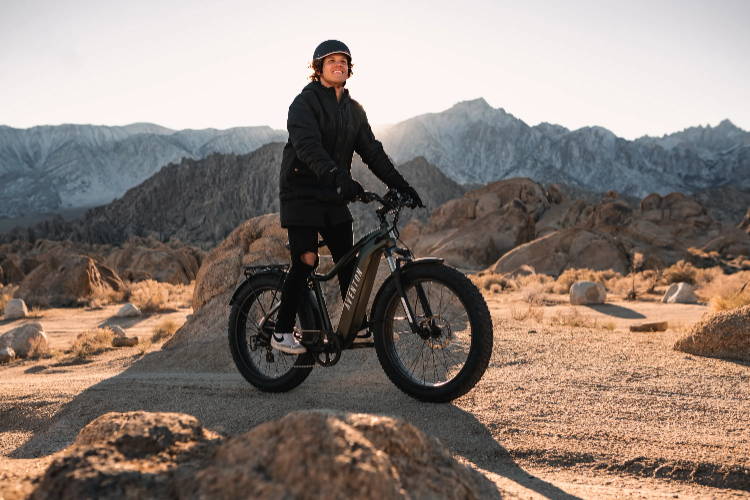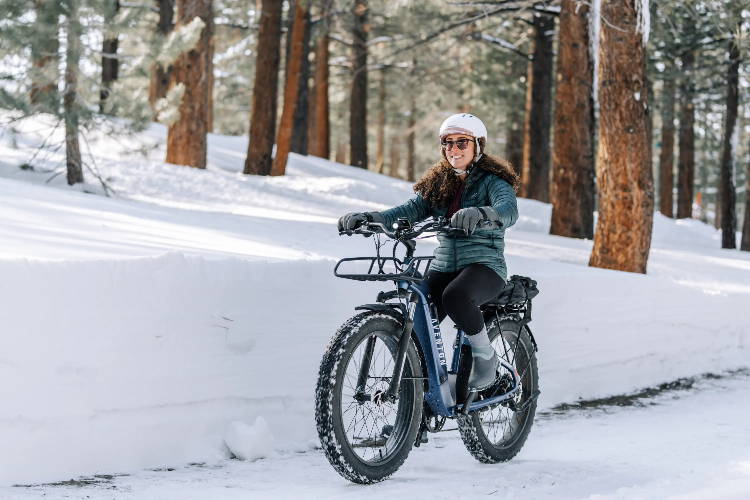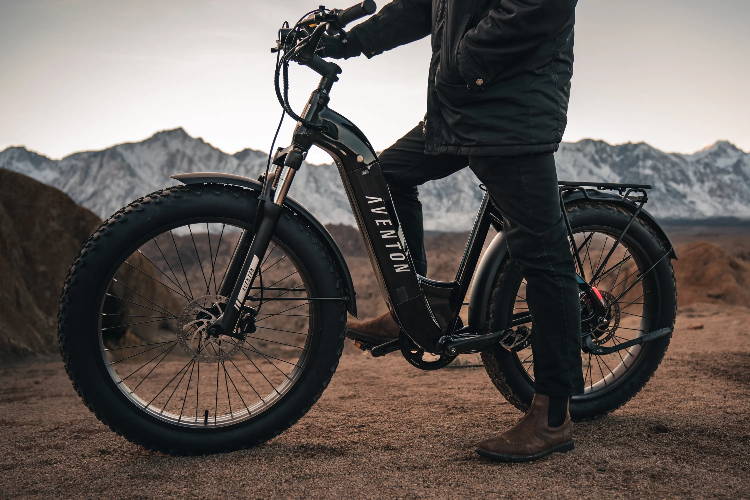 More Options For Different Riders
Our newest fat tire ebike, the Aventure.2, is available in traditional step-over and step-through frames. These options open up a whole new mobile world for different types of riders, and the versatility gives them the keys (or pedals) to the outside world. The Aventure.2 is available in two sizes for each frame model: regular and large. Let's not forget about the colors! We've given the Aventure.2 new shades for any kind of day, like camouflage, slate, cobalt and midnight. Change your hues with the Aventure.2!
Tech Features
The Aventure.2 ships as a Class II electric bike, meaning it features both a throttle and pedal assist that reach a maximum speed of 20 MPH. By using the Aventon app, Aventure.2 can also be modified into a Class III electric bike, allowing it to reach a top speed of 28 MPH on pedal assist. Also, now equipped with a torque sensor, this bold bodied ebike can go the distance up to 60 miles in range! That means more opportunity to ride farther and let your inner adventurer explore the farthest reaches of its wanderlust.  
The Aventure.2's thumb throttle, like the rest of Avenont's ebikes, is located near the rider's left thumb on the handlebars, making it conveniently accessible to thumb-down and get going. The 4 levels of PAS now have new names according to how they feel. That's right. We're upping our game and making sure you come along for the ride. These modes are eco, tour, sport, and turbo.
Eco - Get the most out of your battery life with a casual ride. This mode is more you than the motor.
Tour - Perfect for a little pick-me-up for longer rides with less physical effort.
Sport - Make moves by letting the motor do more of the work. Go up low grades without working so hard.
Turbo - Get more power out of the motor and let the torque sensor amplify your momentum for quicker accelerations on flat surfaces and up steep hills.
New Packaging
We've cut down on packaging materials! We're transporting the same ebikes with less waste. The Aventure.2 will be our first roll-out of this endeavor to help save our planet. Instead of using plastics or styrofoam, the packaging material is 99.9% recyclable. Our efforts to be a more sustainable brand has our planet and future generations in mind. When you're all done unboxing your brand new Aventure.2, take a seat, we've done most of the work for you.
Meet The Aventure.2
The first ever full-sized fat tire ebike in the Aventon line, the Aventure quickly became the number one seller in no time. For obvious reasons too. Its 4" fat tires and powerful motor let you find stability in uneven landscapes. Now with the Aventure.2 you can find everything from its predecessor and much much more. Equipped with new technology, features, and components makes the Avenuture.2 an exciting bike to thrill and dazzle and make all your wildest outdoor dreams come true. Check out the Aventure.2 and the Aventure.2 Step-Through today! There's no looking back.