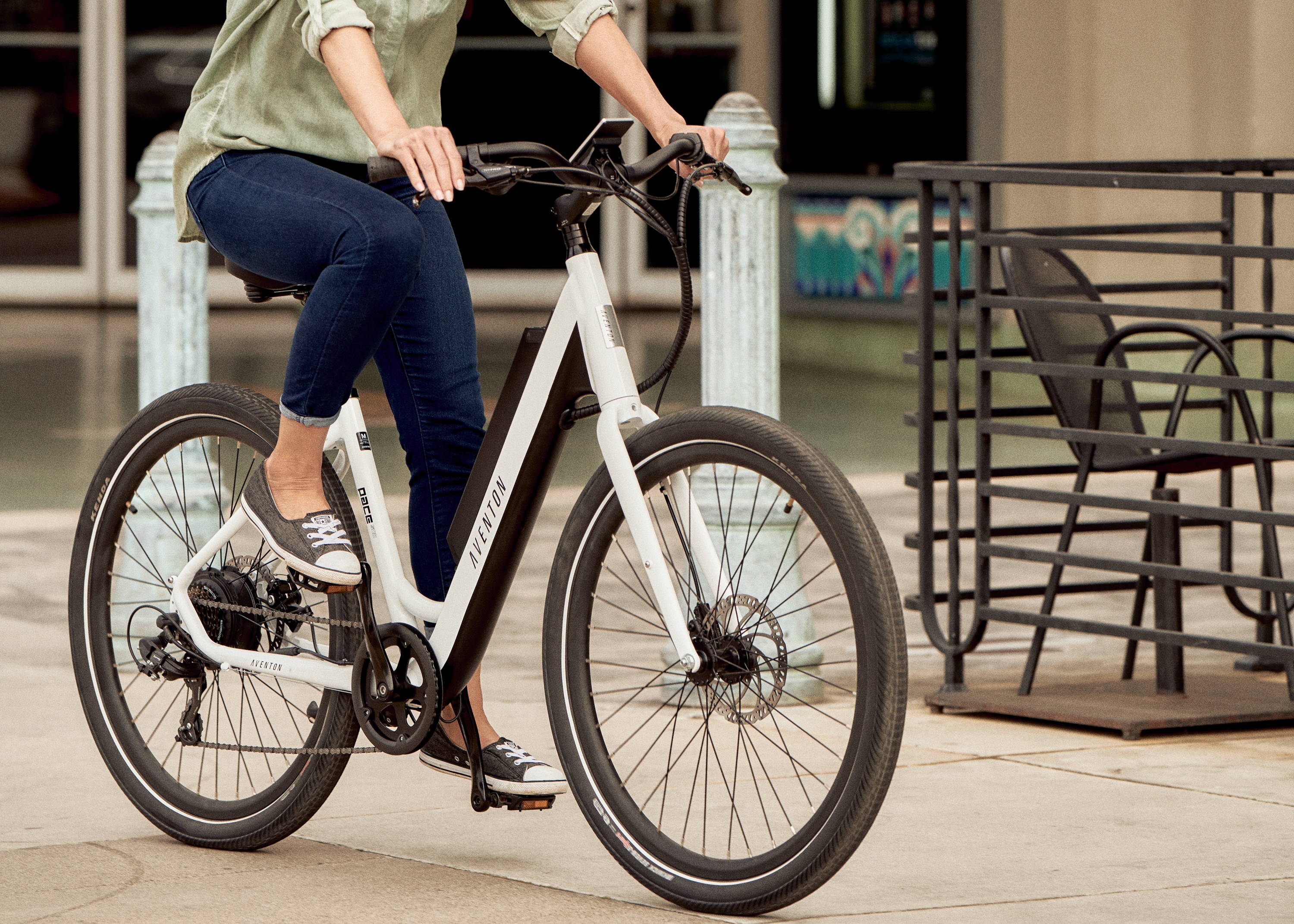 Introducing Pace 350 Ebike
June 11, 2019
INTRODUCING AVENTON'S NEW EBIKE!
---
It's finally here! Introducing the all new Aventon Pace 350 the e-bike for everyone! Rediscover fun with the powerful 350 Brushless Motor. No need to break the bank to own a good quality comfortable e-bike. You will never want to get of this 20mph Class II e-bike. The Pace 350 comes in a step-through model. Now lets learn more about it and what makes it one of the best ebike on the market at just $1,299.00.
---
---
WIDE TIRES: Our Pace 350 has 27.5 diameter wheels with fat 2.2 wide tires. We wanted to make sure that while riding this bike you felt comfortable and could take it anywhere. Our tires are wider than those other competing electric bikes in the market. Like mentioned in our benefits of fat road bike tires this means more air volume (air volume = suspension = comfort and control).
---
---
EASY TO READ DISPLAY: With the help of the control and display you'll be able to keep track of everything! Our large display is easy to read, backlit, and water resistant. With a thin, stylish bezel, this LCD screen looks good and is functional too. You can easily track your battery level, speed, pedal assist level, trip distance, and more. The display will help make your riding easier and more fun by being able to track these key elements. To learn more about the features on our display make sure to check out our "How to Use Pace 350 controls"
---
---
THROTTLE & PEDAL ASSIST: What makes a class 2 e-bike a class 2 e-bike? A class 2 e-bike features a THROTTLE and PEDAL ASSIST that maxes out at 20mph. What is a throttle/how does it work? A throttle is a feature ebikes have that can come in a grip-twist or button where you hold it down and the bikes takes off without you having to be pedaling. Our Aventon Pace 350 has a safety feature that requires you to start pedaling in order for the throttle to engage. The throttle is limited to a certain speed for safety and regulation reasons. Aventon Pace 350 maxes out at 20mph on throttle on pedal assist. In most places you will be able to ride a class 2 ebike anywhere you would ride a non ebike.
---
---
TWO COLORS: Our Pace 350 comes in 2 colors. The step through bike frame is available in chalk white and Amethyst. This is our first bike where we have where you can get a his and her if you like.
---
---
EASY TO ASSEMBLE: No need to worry about assembling! We've included all the tools you will need to assemble your brand new ebike. The Pace 350 is designed to have minimal assembly and we will be here to guide you through every step. To assemble your bike make sure to watch our video "How to Build Pace 350 ebike" and if you still have questions or concerns you can always reach out to us!
---
---
---