How To Use Aventon's Mobile App & Full Color Display
January 28, 2022
Get real, measurable, and actionable data right at your fingertips with Aventon's Full Color Display, while connecting with other riders, too, using the Aventon mobile app!
This comprehensive guide will detail everything you need to know about the Aventon Full Color Display. Whether you've been a long-time rider with Aventon's newest ebike display or are just getting started with it, we're going to explain what some of the key features are as well as how to dive in and begin using them. Let's get started!
Here's an overview of what we'll be getting into in this blog:
How Do I Know Which Display I Have?
Ebike Compatibility With The Full Color Display
Downloading The Aventon App
Customizing Your Riding Experience
(Click and roll to your desired topic!)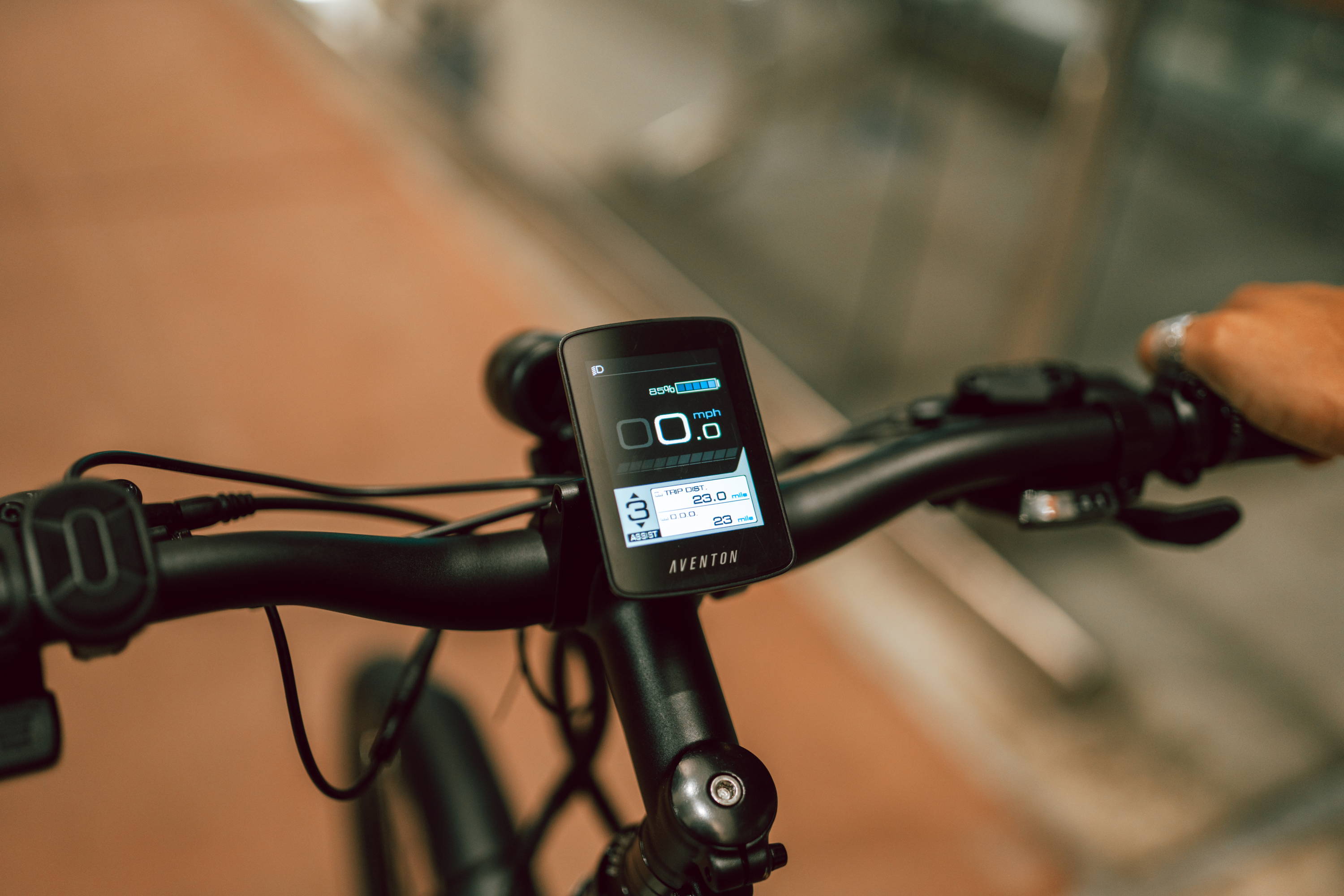 HOW DO I KNOW WHICH DISPLAY I HAVE?
If you haven't purchased Aventon's newest line of electric bikes (those released in 2021 and onwards), an LCD display e bike, or the full color display screen on its own, this section is for you! If you have, feel free to skip ahead to the third section. Before the introduction of the full color display (in technical terms, also referred to as BC 280), is Aventon's original M5 display, which looks something like this: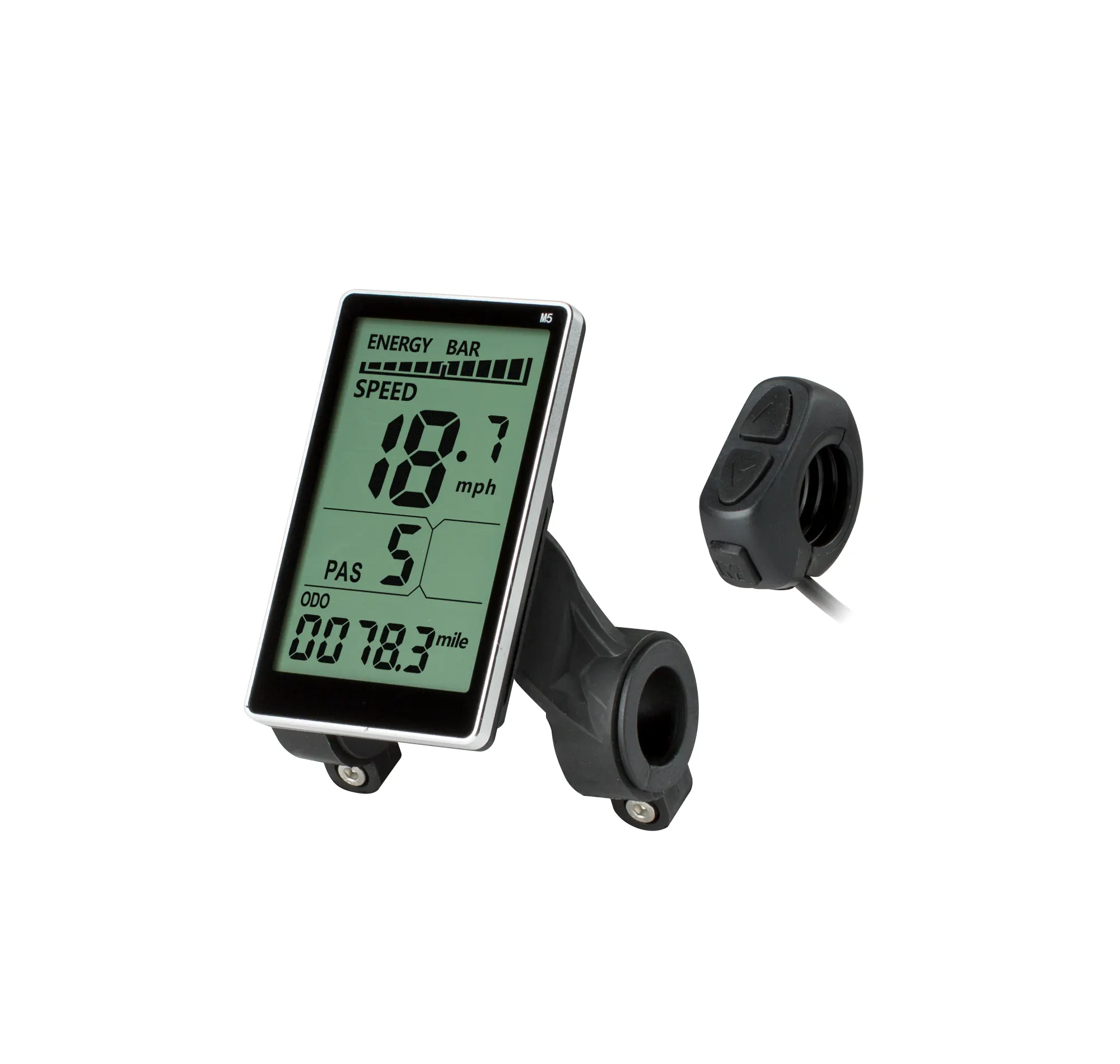 Both TOD (throttle on demand) and TaP (throttle after pedal) Sinch, Level, and Pace models arrive with a version of the above M5 display. One of the main differences between our original TaP ebike displays and the newer TOD Aventon electric bike displays is that the M5 screen and its respective controller are pre-programmed to accommodate either throttle type. The M5 display, however, is not universal.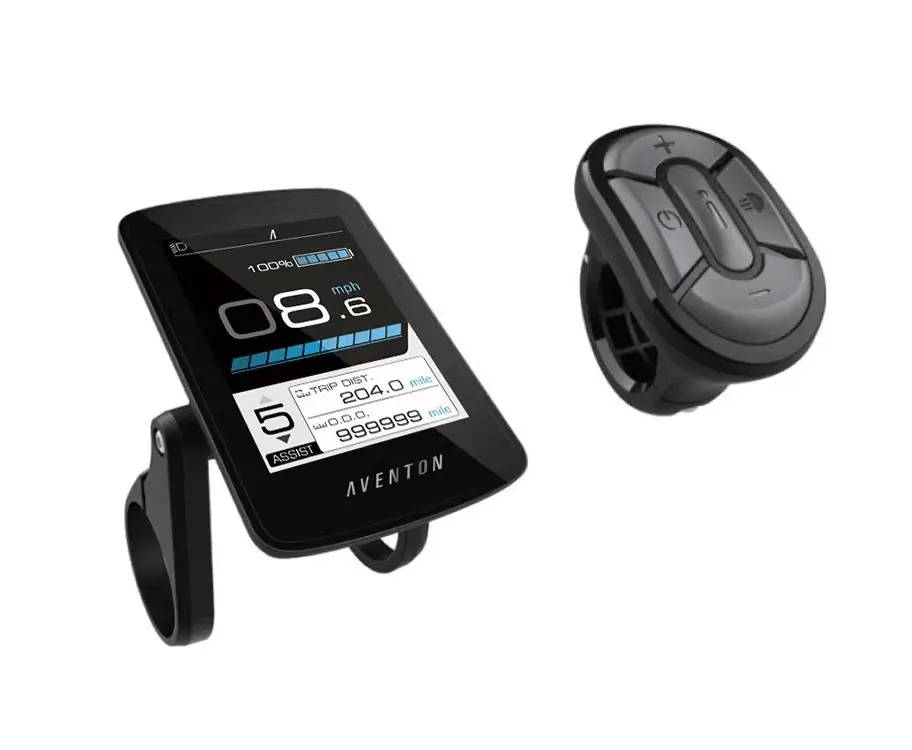 While our traditional M5 display still gives riders important insights such as distance traveled, battery life, and current speed, there were emerging technologies we knew we wanted to incorporate. For example, smartphone compatibility. In an effort to provide riders with valuable information as needed and to make it effortless to access, we designed the Full Color Display as an integral component of new Aventon releases. Unfortunately, all earlier models using the M5 screen do not have app capabilities.
HOW DO I KNOW IF MY EBIKE IS COMPATIBLE WITH THE FULL COLOR DISPLAY?
You may be wondering "Are ebike displays interchangeable?" To answer your question: yes, as far as Aventon's ebike displays are concerned. All Aventon electric bikes are compatible with the Full Color Display! The Full Color Display is programmed to accommodate both TaP and TOD controllers. You'll simply need to purchase the correct full color display for the Aventon ebike you're wanting to change. For example, if you previously purchased an older model Aventon ebike, you'll need to purchase a Full Color Display for that exact model.
It's important to note that purchasing Aventon's LCD screen alone for your TaP electric bike will not modify it into throttle on demand. Throttle after pedal electric bikes arrive with a controller that is programmed to throttle after pedal. In order to convert a TaP ebike, a TOD controller is necessary. To convert your Aventon TaP electric bike into TOD, you will need to purchase the Color Display and throttle on demand controller bundle. If you need assistance modifying your Aventon TaP ebike into TOD, please contact our support team.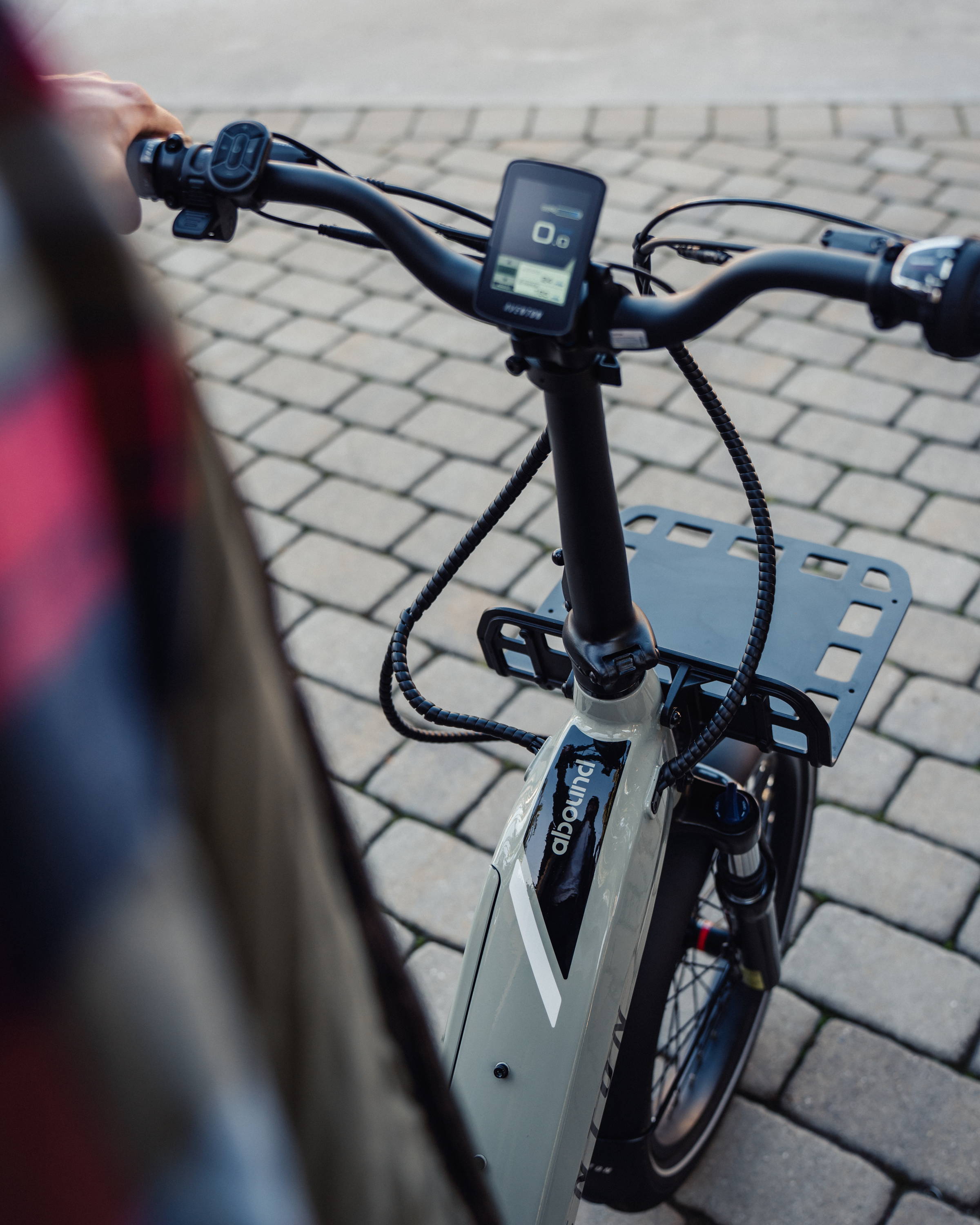 WHAT ARE THE BENEFITS OF THE FULL COLOR DISPLAY?
Now that we've covered both an overview of Aventon's e bike LCD displays and their compatibility, let's review some of the key features of the Full Color Display.
Colored Display
Just as the name suggests, this is Aventon's first intuitive and fully colored electric bike display. Gone are the days of gazing at a generic screen. Instead, view ride metrics as they come to life at any time of the day due to its vibrantly colored and backlit features.
Smartphone Compatibility
Download the Aventon app, compatible with both iOS and Android devices, and sync your smartphone or device to your Aventon ebike with the Full Color Display! Our app integrated technology allows riders to have access to their current ride metrics, overall ride history, connect with the larger Aventon community, and more!
Mobile Device Charging
While we're on the topic of smartphone compatibility, the Full Color Display also has an integrated standard USB charging port, located at the bottom of the display, for those times where you may need a quick phone charge on the go.
Additional Riding Data
In addition to providing important insights such as battery life left, distance rode, current speed, and pedal-assist level, the Full Color Display ebike screen also gives riders supplemental data, like average speed, calories burnt, CO2 saved, and more! Riders can access this information in the Aventon app, as well as their overall ride history to see how and where they may be improving, and see firsthand the effects their e-bike rides are having on the environment.
Downloading The AVENTON APP
Tap 'Sign Up' to create an account. Doing so will redirect you to our Sign Up page, and once signup is complete, an activation confirmation email will be sent to finalize setting up your account. Be sure to check your spam folder as sometimes this email can slip through the cracks!
Downloading the Aventon App and Creating An Account
Before we can pair your ebike LCD with your smartphone, you'll need to download the Aventon app and create an account. You can download the Aventon app either through the Apple App Store or the Google Play Store. Once successfully downloaded and the app opened, you'll see a screen similar to this:
Please note that the email address and password used to make a purchase on Aventon's website do not automatically carry over to the Aventon app, nor does your Aventon Loyalty account information. A new account must be created to pair. In addition, the same email address and password combination used on Aventon.com cannot be used to sign up on Aventon's app; one of the two must be different.
If you've recently purchased one of Aventon's newest line of electric bikes, a Full Color Display to upgrade your existing Aventon ebike, or are simply looking for information about our displays, you've arrived at the right place to where we'll discussed downloading the app, e bike display programming and syncing your display to the app.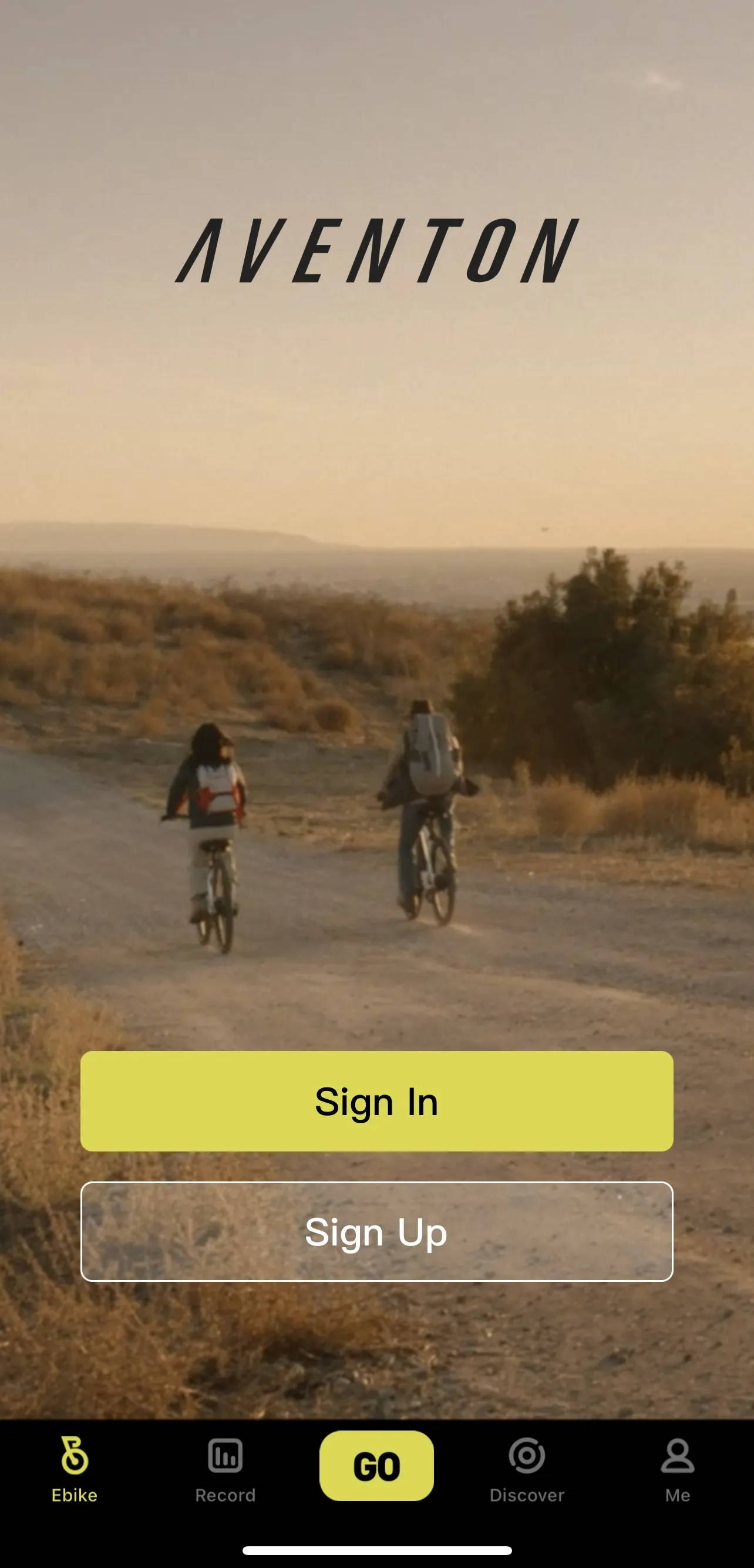 Pairing Your Display to the Aventon App
Now that you've successfully created an account on the Aventon app, let's get ready to pair! The device you're pairing, whether it be an Apple or Android product, needs to be up to date with the latest operating system for pairing to work correctly. If your device currently is not up to date, we strongly recommend a quick update.
Once your device is fully up-to-date, follow these steps to sync your Apple or Android device to the Full Color Display. You can also watch our How-To video that demonstrates how to sync your phone to the e bike digital display.
Turn your ebike on. Then hold down the center button on the handlebar controls ("i") to enter the menu.
Use the '+' / '-' buttons to scroll through the different selections. Scroll to where it says "Connect to App." You'll see a QR code pop up on your ebikes display.
Open the Aventon app on your device and sign in to your account. While still in the app, select "Scan Pair."
Then, scan the QR code shown on the ebikes display.
Give your electric bike a nickname and click confirm to finalize.
You've paired your ebike! Now you can customize your riding experience via the app.
Customizing Your Riding Experience
You'll see a selection bar towards the bottom of your device screen in the Aventon app. There are 5 categories labeled Ebike, Record, Go, Discover, and Me. The remainder of this guide will discuss each of the five categories and their importance.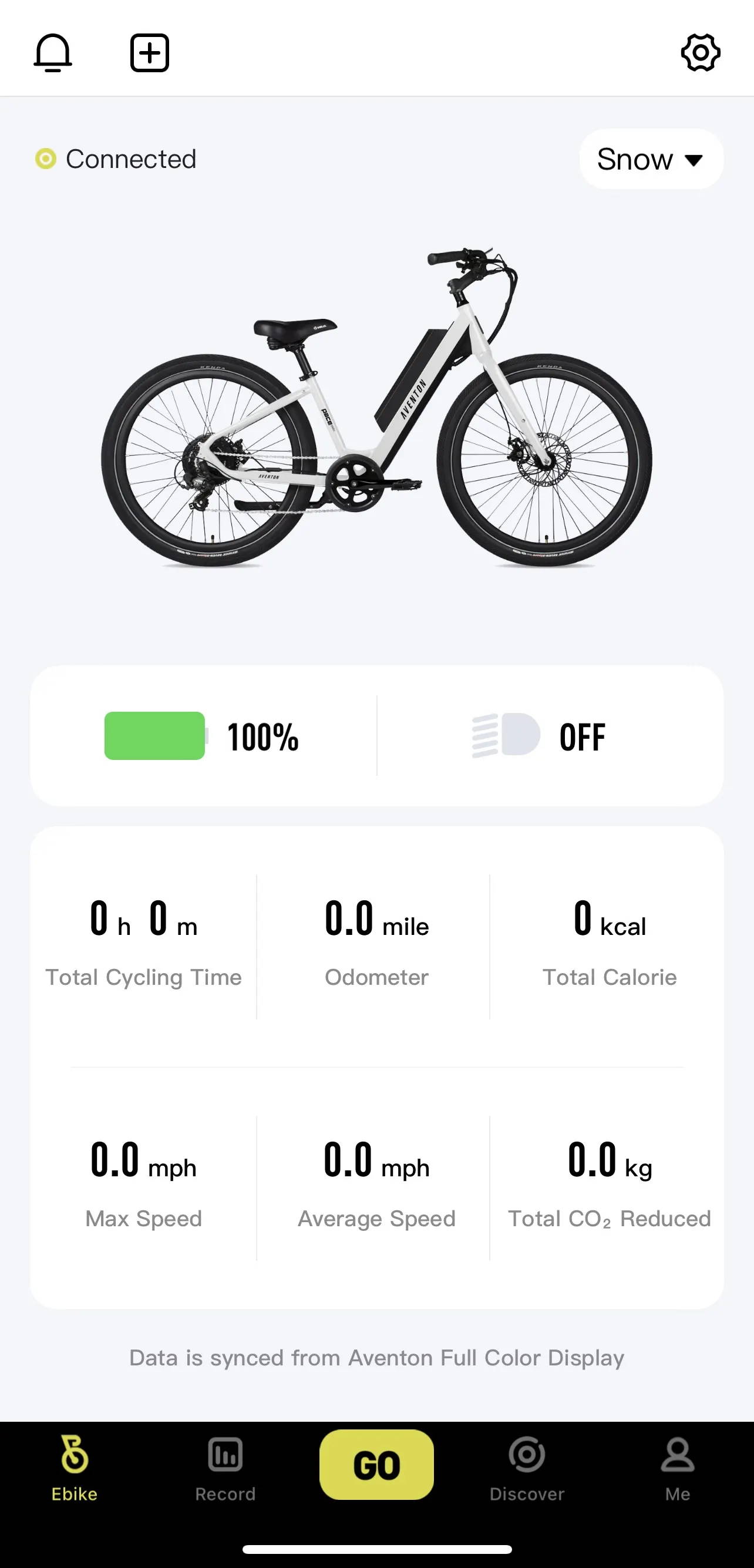 In this category, you can do everything from customizing your ebike in the app to changing your top speed settings! Once you've created your account and successfully paired your device to the display, your Ebike menu will look similar to this:
To customize the color of the electric bike shown on the Ebike menu, you'll simply need to swipe left over the ebike icon, allowing you to modify the icon to match the Aventon ebike you own. If you accidentally swiped past your correct color, simply swipe right to go back to a previous one. While on the Ebike menu, you can activate your ebikes lights if you own an Aventon ebike model with integrated lights. Should the display detect an error on your Aventon ebike, you'll receive an automatic alert in the top left corner of this page, where the bell icon is located.
Settings
In the top right-hand corner of the above image, you will see a Settings icon. Tapping the settings icon will take you to the settings page, as shown below.
On the settings page, you can:
View your ebike's nickname and edit it as you'd like.
Adjust screen brightness on your display, with '1' being the least bright and '5' being the brightest.
Input an auto power-off time, which essentially lets you adjust how long you'd like your color display backlight to remain on, measured in minutes. Once it reaches the time you've set, your backlight will dim.
Change top speed. Simply increase or decrease speed as you'd like, but please note this feature does not apply to all Aventon ebikes.
Switch between KM/H and MPH. This will then also be reflected onto your ebike display.
Unpair your device from the display. At the very bottom of the settings page, you will also see a selection to unpair your Apple or Android device from the color display. Note that the original device that was paired must first be unpaired from the display before attempting to pair a new device.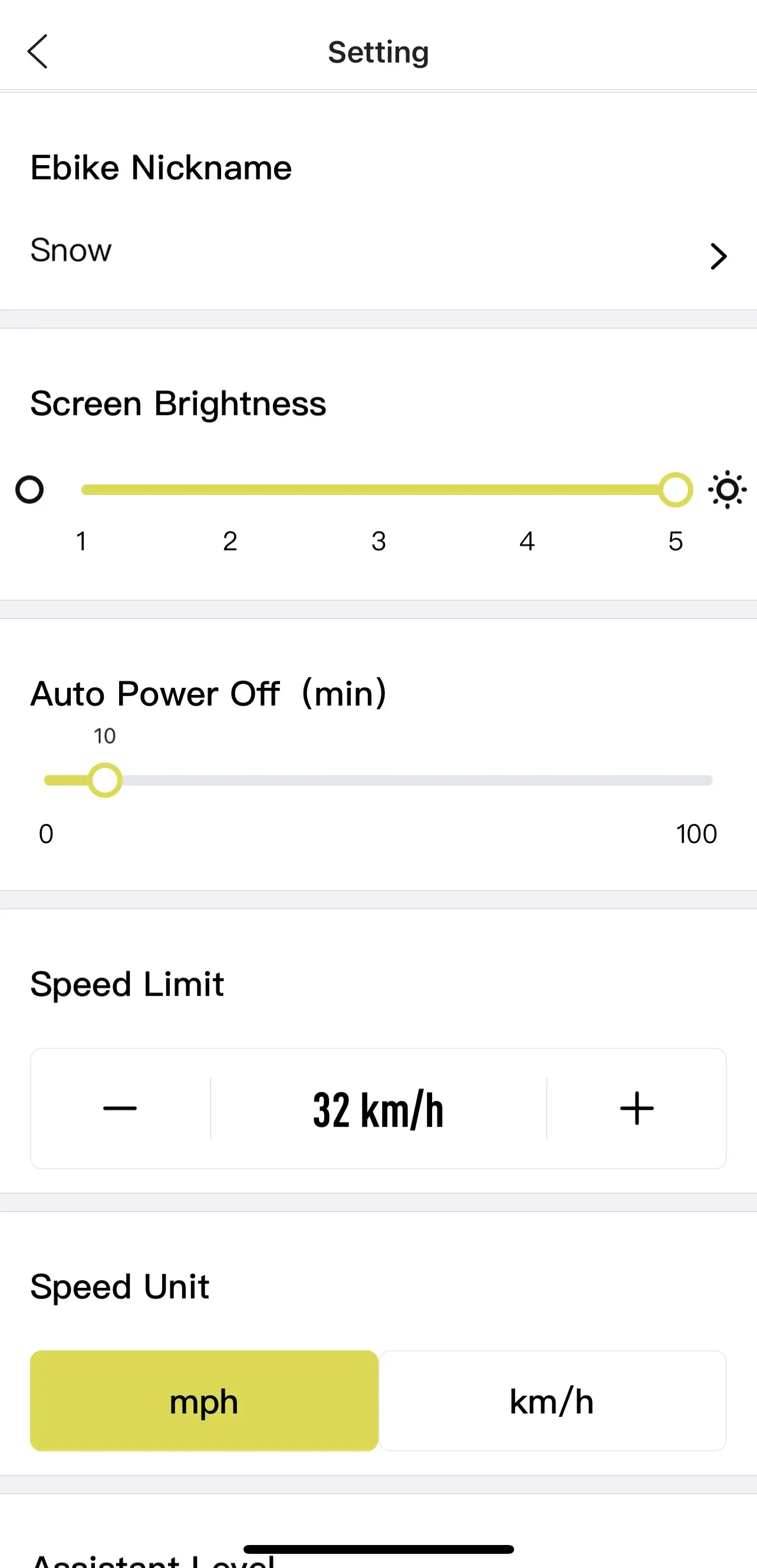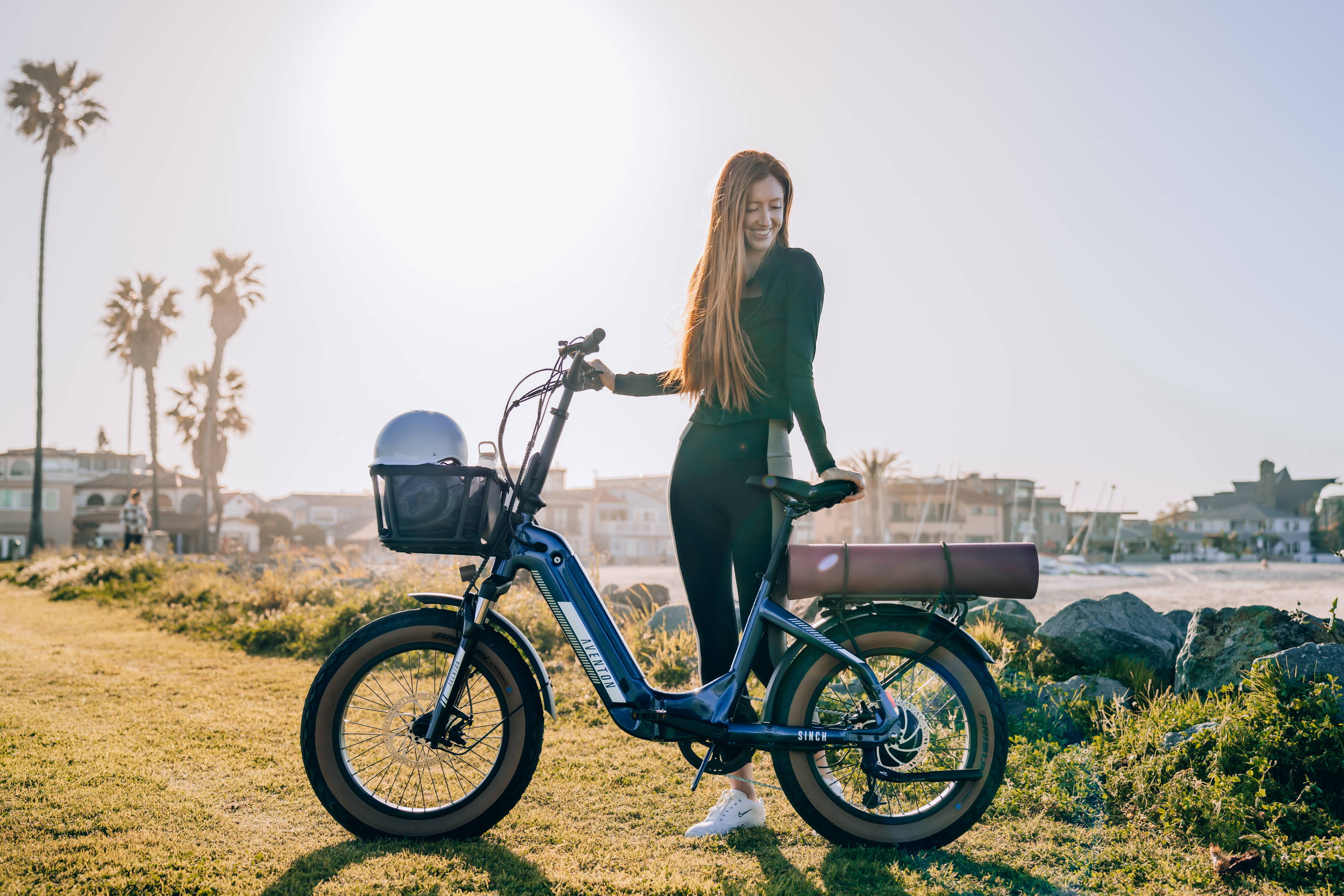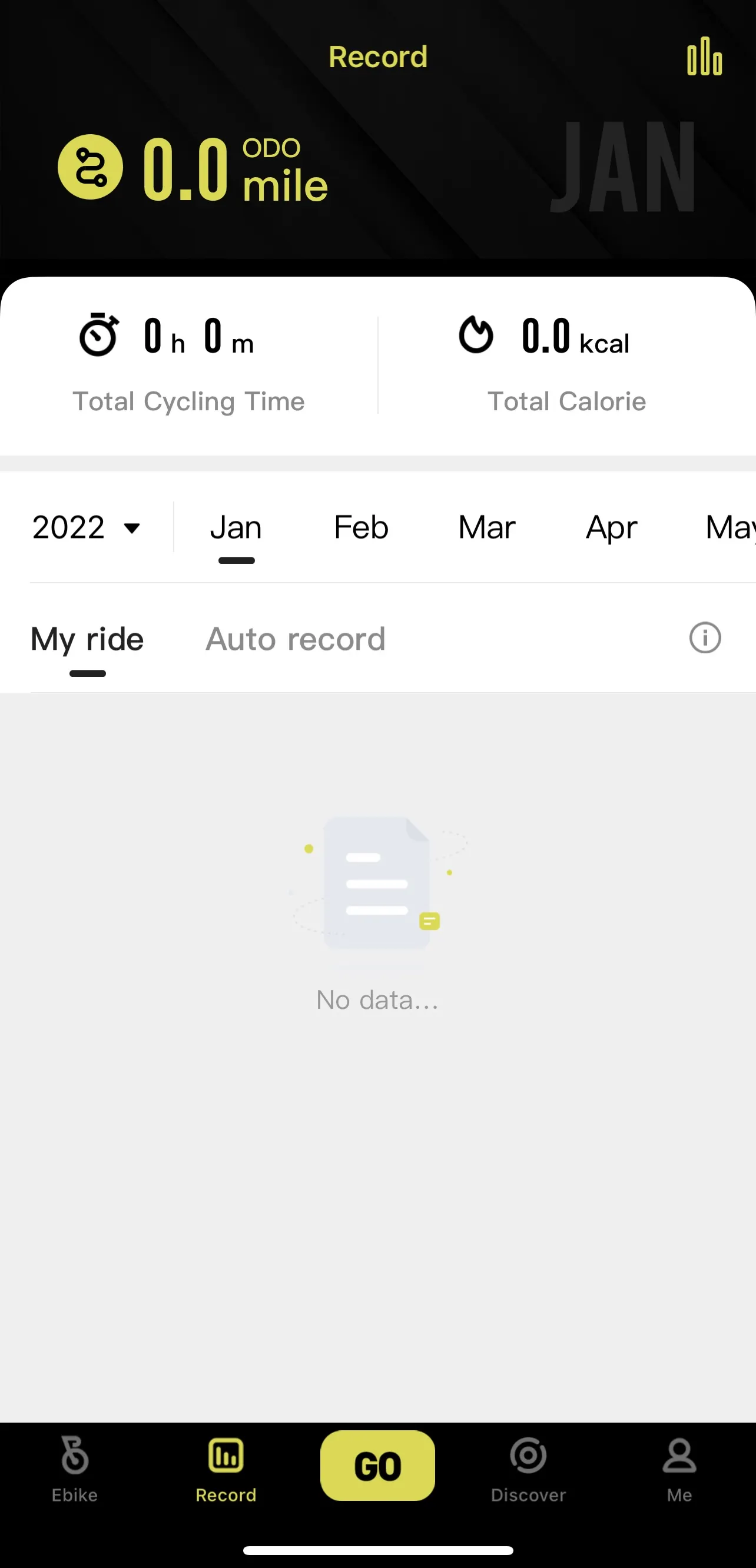 Record
Up next on the selection bar, and to the right of 'Ebike,' is 'Record.' Here, you can see how you've progressed over time from your tracked rides. Now, this section will not physically record your rides but instead keeps a record of your overall ride history. In Record, you'll see your total insights: total miles tracked, calories burned, CO2 emissions reduced, trees saved and cycling time. Your monthly odometer range is displayed at the top, automatically updating with each new month. You can also view your total ride history filtered by month and year to track your progress over time.
Before we discuss how to view and track your rides, it is important to activate your smartphone's location settings for the most accurate tracking. For iOS users, after you've initially downloaded the Aventon app, locate the app in your Settings and turn 'Location' access to 'always':
Settings > Aventon > Location - set to "Always"
For Android users, select 'always' as well in order for Aventon to access your location to more accurately track your rides:
Settings > Applications (or Apps) > Aventon > Permissions > enable Location
Next, there are two important tabs in this section: "My ride" and "Auto record."
My Ride
My ride will always be the default tab shown. In order for recorded rides to populate in 'My ride,' you will need to manually track your ride via the Go selection (we will cover this in the next section!).
Auto Record
If you forget to manually start and stop your ride via Go in the selection bar, do not worry! The Aventon app may still automatically record your ride, populating your ride's history in the 'Auto record' tab, if the following steps are followed:
Make sure the Aventon app's access to your Location is set to 'always' in your smartphone's settings as mentioned above.
If relying on Auto record, first open the Aventon app and tap on Ebike in the selection bar.
You should see the word 'Connected' in the top left of your screen. This signals that your electric bike is paired and able to automatically record.
After your ride is complete, immediately open the Aventon app to confirm if 'Connected' is still in the top left of your screen. If so, your ride history will populate under 'Auto record.' If you do not open the Aventon app after you've completed your ride, it is possible the App will be unable to automatically capture data from your ride.
Tapping on the chart icon in the right-hand corner will also populate your overall insights and ride ranking. It is important to note that the data in this section will only populate from the information stored in your 'Auto record' tab.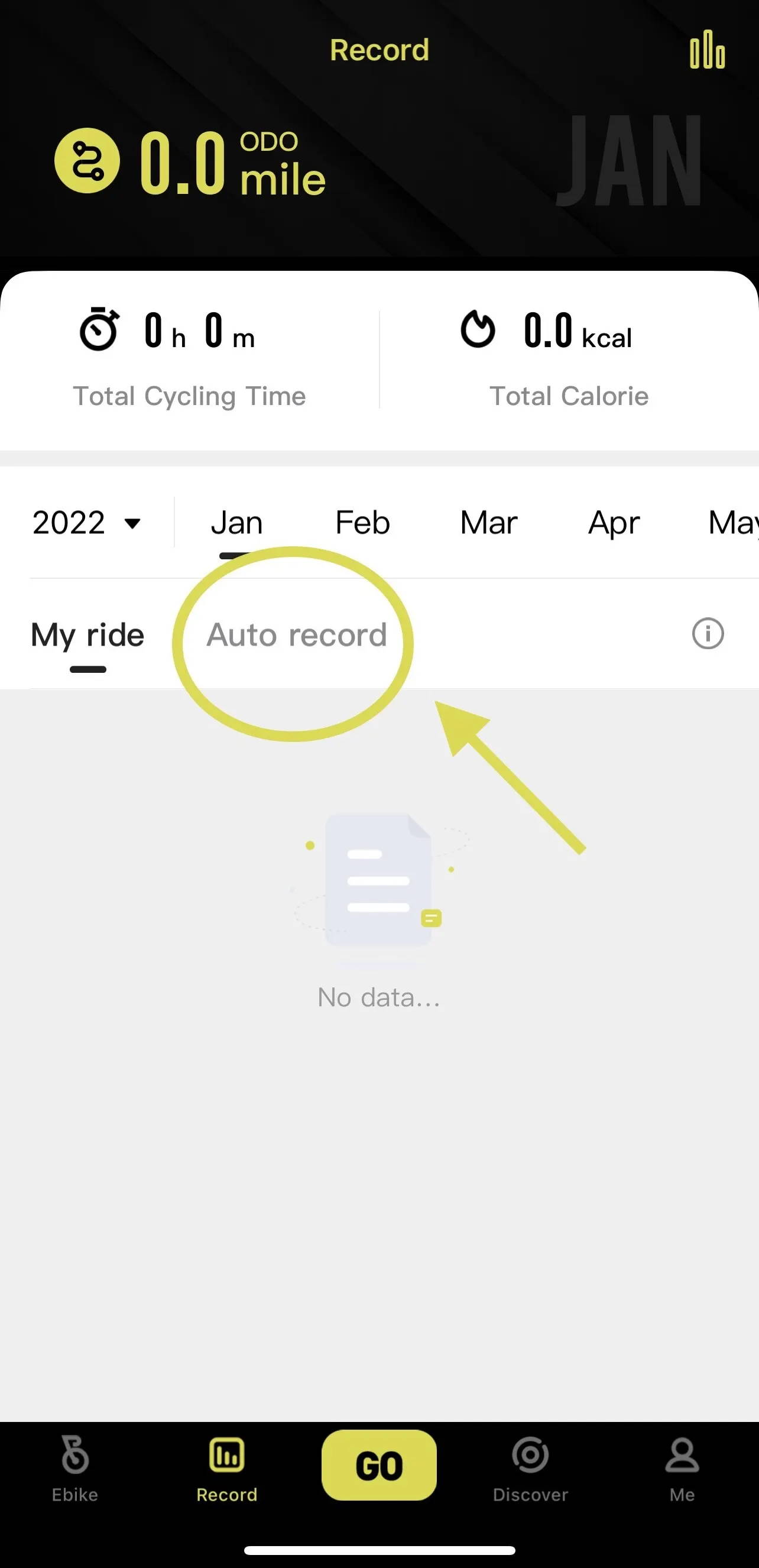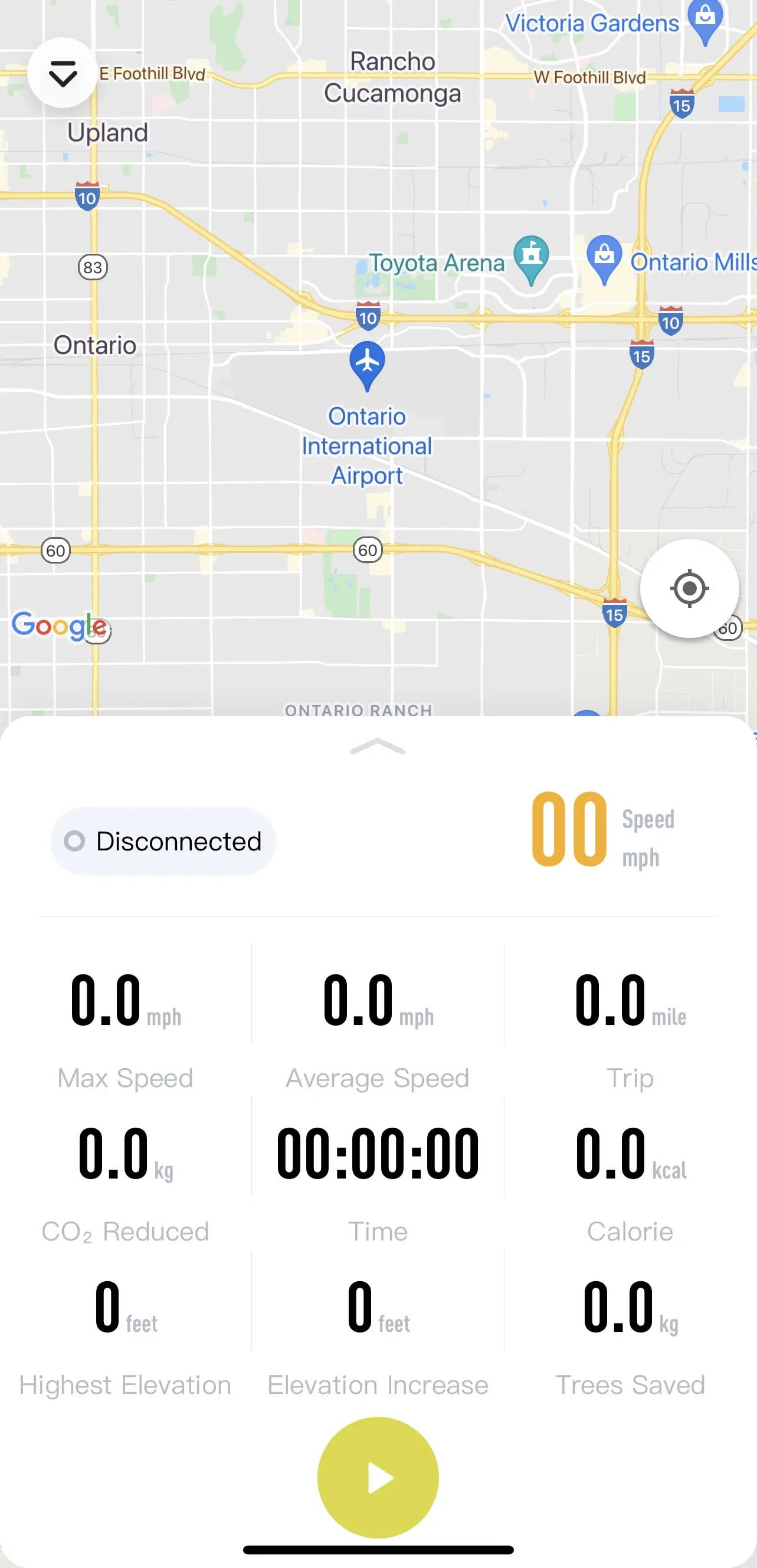 GO
At the center of your selection bar is 'Go.' Here, you can track your rides! A map will detect your general location, and if you'd like to pinpoint your exact location, tap on the target icon towards the bottom right-hand corner of the map, as shown below. To begin tracking your ride, tap the Play button at the bottom of your screen, also indicated in the image below. Once pressed, the Play button will turn into a Stop button.
The Aventon app will not automatically track your rides unless done so in the 'Go' section of the app or if the steps listed in the 'Record' section were followed to Auto record. Nonetheless, this is a crucial step for tracking!
While recording your ride, the app will track all of the data listed above, which includes max speed, CO2 reduction, and calories recorded to name a few. Riders can also see themselves biking in real-time on their maps, viewing their routes on their smartphones as they ride. To stop tracking your ride, press the stop button in green, and your insights will be saved to your account.
Discover
Next up is the 'Discover' selection, which allows you to connect with other Aventon riders, swap stories, and share insights about your rides. Here, you can share pictures you've taken with your Aventon ebike throughout your explorations, ask for advice, or post helpful tips for others to see. You can interact with one another by liking other riders' posts, commenting on them, and even sharing your posts!
Me
The very last option in the selection bar, towards the far right, is 'Me.' Here, you can see an overview of your profile, which includes password changes and account information. You can also view your achievements history and medals earned for your major mileage rides that get tracked while in Auto record. Lastly, this section of the Aventon app is designed to allow riders to get support by locating authorized Aventon dealers nearby. As the title suggests, this section is all about you, and how Aventon can help you!
Profile
Selecting 'Profile' will show you your account overview, including your profile picture, nickname, and any posts you've added to Discover. You can also access Guide information from here, and if you tap on the envelope in the top right-hand corner of your screen, you'll be taken to our secure messaging center where you can receive messages directly from Aventon!
Guide
Located underneath 'Others,' in Guide, you'll find articles, advice, and additional info as it relates to ebikes. Topics may range from technical support to how-to guides to best prepare you for new adventures. New information will continuously be applied and updated, so be sure to check this page regularly!
Final Words
We hope this comprehensive guide explains the in's and out's of Aventon Color Display, including compatibility with your ebike, how to successfully sync your ebike display to your smartphone via the Aventon mobile app, and how to actually use the Aventon e bike monitor!

Be sure to save this post so you can easily reference this information whenever needed, and if there are any lingering questions, please reach out to Aventon support. We'd love to hear from you, and we wish you continued safe riding!