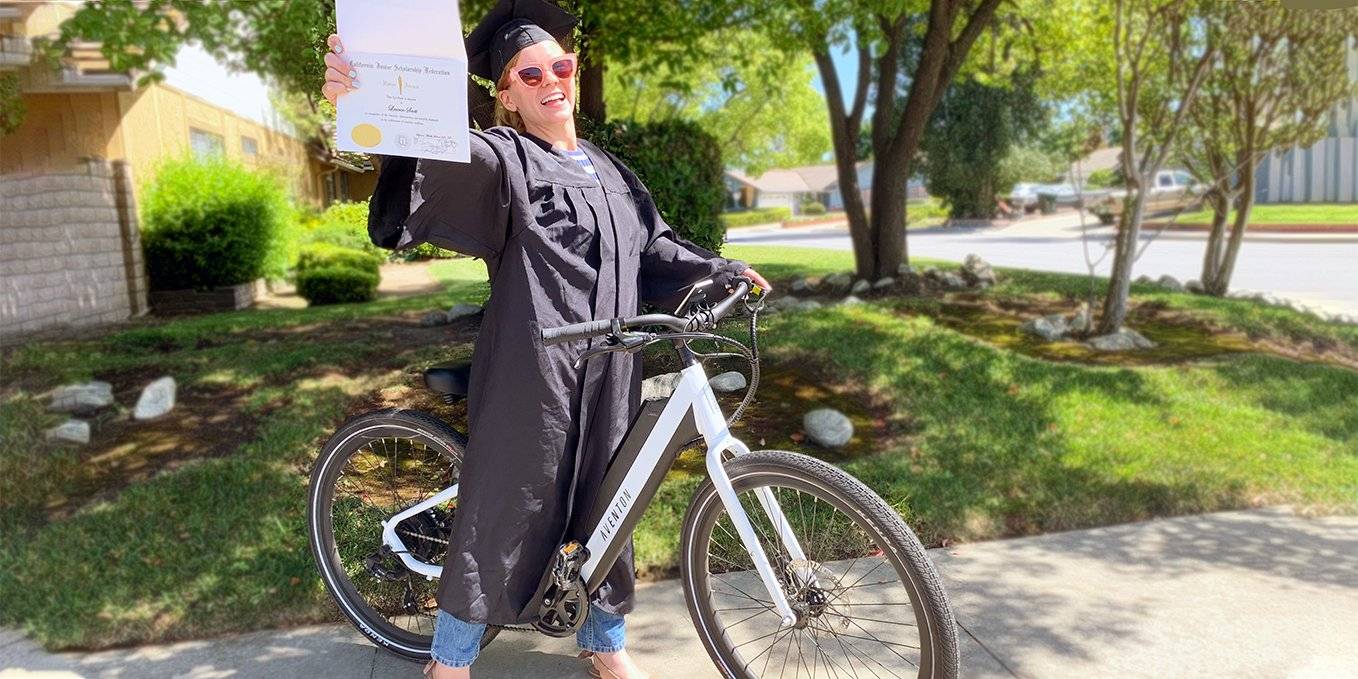 Deserving Graduates | Grad Contest Winners
July 2, 2020
We know this year has been a tough one for the class of 2020, whether they are graduating from high school or college, it was just not the same. They deserved more! As a way to show our solidarity for their missed opportunity to walk in their graduations, we launched a giveaway! We offered family, parents and grandparents the chance to nominate their favorite graduate for this opportunity, and the stories we received were heartwarming! They also made us SO proud to see the accomplishments of these amazing and deserving students! While we wish we could have given each of them an ebike, we narrowed it down to two winners: Sophie Fudim & Jason Steiner.
Sophie's nomination was submitted by her mom, Roberta, in which her mom shared the dedication and care that Sophie gives to her education and community. It warms our hearts to see young people modeling great community involvement and advocacy of deserving causes. We need more people like Sophie in the world! It will surely make for a better place.
My daughter, Sophie, is graduating from High School in 2 weeks. She will be going to college at Whittier College in Southern California. She has spent the last 4 years as a dedicated student, and a dedicated volunteer in her community. She has volunteered at Muttville Senior Dog Rescue for 5 years, Jewish Family and Children's Service as a youth leader, among others. We live in San Francisco, so driving has not been a big part of her life and transportation will be needed in So. Cal. Riding will not be necessary for transportation, but a great help for her mental health. Sophie, like so many teens, has had a hard time with depression and anxiety. it has been especially difficult while we Shelter in place. Please consider this gift for her.
Chris's nomination was submitted by his Dad, David, in which he shares his son's love of classical music and sharing this gift with others. Dad was so proud to share the many accolades that Jason received for his talent in classical violin, and the missed opportunity to share those talents with others when events were cancelled due to the pandemic. We are excited to help send Jason off to college with his Aventon Level and Violin in hand, as dad wished!
My son, Jason, is an exceptional young man - graduating this June from Pennsbury High School in Fairless Hills, PA. He performs at the highest levels in school and gives back to the community with his music. Jason is a high-level classical violinist and all of his senior year performances were cancelled. Firstly, he was concertmaster at his school and the yearly spring music festival was cancelled. He had a special duet with a cello-playing friend and they will both be attending the same university in the Fall. The second domino to fall was that Jason made it to the competitive Regional and State level orchestras in Pennsylvania. Both of those festival concerts were cancelled as well. Lastly, Jason's 3 Philadelphia Youth Orchestra performances at the Kimmel Center in Philadelphia were cancelled. This hit Jason especially hard - as this is one of the finest youth orchestras in the world and the Kimmel Center is a very special venue to Philadelphians. It would be an epic sendoff if we could have Jason go off to Temple University with a beautiful new Aventon electric bike - violin in-hand!
And while we couldn't give every deserving graduate an ebike, we wanted to share some honorable mention nominations that we received
---
Shelly Glass nominated her deserving husband, and what an inspiration to us all! This tells you that you can accomplish anything at any age!
My hubby went back to get his degree at age 63! Straight A's 4.0!
Anna Kobara nominated her brother for his great work in the field of Botany/Biology and his love of plants, and ensuring their survival amidst global climate change. Thank you to people like him for ensuring the health of mother earth with his work.
My brother just graduated from undergrad at SFSU. He is an amazing student who has excelled in his field of Botany/Biology and supported several professors in their research to learn more about plant species and their future in the wake of climate change and natural disasters. My brother also spent his free time running the University's green house and tending to all of the plants. My sister and I both own Aventons and we want him to join the Aventon family. During quarantine, my sister and I have been riding our Aventons all around Los Angeles to get out and it has been the best and cleanest way to get around and get some fresh air. We want him to have the opportunity to do this too! Aventons for life!!
Shawn Glen nominated his son for his well rounded capabilities in sports and music. We wish him the best of luck pursuing his passion in Veterinary Sciences!
My son is a very smart and intelligent young man. As a former soccer, basketball and football player he seems to enjoy riding and takes his current bike everywhere. This COVID pandemic was very stressful for him as I'm sure it was for everyone else but he missed going outside and being able to hang with his friends. He is an aspiring pianist and guitar player that also loves to sing. He will be pursuing a career in veterinary sciences three University of Maryland college park campus. Having a new bike will give him more freedom and allow him to be more mobile in our city and /or campus when he's allowed to get back there. He's a very lovable and well respected young man that's striving for greatness. Thank you for considering him.
Tamera Kendrick nominated her son, Henry, for his love of cycling and his dedication to service of those with intellectual and developmental disabilities. We need more people like Henry in this world, that selflessly give to others. We believe that he will make a positive impact in the world, as mom noted.
Henry is an amazing young man who is a graduate very worthy of recognition! He chose to spend his last summer before his senior year combining his love for cycling with service for those with intellectual and developmental disabilities. Henry took part in a cross-country cycling trip, starting in San Francisco and ending in Washington DC, all to raise funds, awareness, and to spread a message of acceptance for those of all ability levels. Every day he would cycle an average of 75 miles to different cities to spend a few hours at friendship visits, interacting with those with disabilities. Henry has an amazing heart for others, and we are so excited to see the continued positive change he chooses to make in the world!
William Berg nominated his son, Ben, for his love of bikes, Ben even started his own bike repair service out of his garage to help teach kids in the neighborhood how to repair their bikes. He also fixes up old bikes and gives them to deserving kids. What a future that Ben has ahead of him, counseling kids and young adults.
Our son, Ben, is graduating from grad school with a psychology degree and plans to go into adolescent counseling. For the last several years he has also operated a bike repair service out of his garage. He calls it the Alley Bike Shop. He teaches kids from the neighborhood bike repair. He has received used bikes that have been donated and the kids fix them up and then they are able to keep the bike.Many of the kids have a difficult home life. This gives the kids something they can be excited about and teaches them a skill. Thank you for considering this deserving graduate.
Ron Reed nominated his daughter for her advocacy and support of Black History! She worked hard to institute Black History month in her school, and won awards for her contribution to her school and community!
She killed it! Instituted Black History month in a 30 year old private school that up till then had only given it lip service. Won award after award each year for her contribution to her school and in the community.
For these great nominations, we are hopeful and proud of the graduates of 2020! We wish them all the best of luck in their future endeavors and we know they will continue to do great things! Thank you for sharing their stories with us, and being Aventon fans!
Go forth and conquer graduates of 2020!
Your Aventon Team and Fans!