FREE SHIPPING ON ALL ELECTRIC BIKES
FREE SHIPPING ON ALL ELECTRIC BIKES
HOW EBIKES ARE MAKING
IT EASIER FOR SENIORS
TO STAY HEALTHY
HOW EBIKES ARE MAKING IT EASIER
FOR SENIORS
TO STAY HEALTHY
HOW EBIKES ARE MAKING
IT EASIER FOR SENIORS
TO STAY HEALTHY
You've heard it more times than you'd probably like to admit but it's true: Physical exercise is important and should be a part of everyones routine no matter what age. Any health professional can site countless studies that prove the benefits of staying active on a regular basis, and becomes increasingly important as people age. Important for both physical and mental health.
However, this is certainly much easier said than done for seniors. Making physical exercise a regular part of your day is perhaps not as easy as it once was. Some of the challenges that can make it difficult for aging adults to stay active are the very things that come with age:
Not as capable as once was
Fear of injury
Some lack of confidence
Exercising can be boring or uninteresting
Joint pain and illness
Mobility and flexibility issues
While these are all valid concerns, they should not stop you or anyone from being able to improve their quality of life by reaping the benefits of regular exercise.
growing trend amongst seniors
Riding a bike has always been one of the simplest pleasures in life. There is a certain level of thrill and excitement that comes with riding but sadly, many have forgotten that feeling. Whether it be from the lack of time or simply not purchasing another bike after outgrowing their old bike, people tend to just stop riding. However, aging adults are now getting back on the saddle of bikes as a way to stay active, only now their bikes are equipped with a battery.
Electric bikes, or ebikes as they are commonly known as, has been a growing trend across all age groups but particularly for older adults. It has given them the chance to not only exercise safely through a low-impact activity but actually enjoy doing it! Some even say that is sends them back to "the good ol' days" when they were young and times were exciting and fun.
Ebikes have made it possible for seniors to enjoy exercising
Remember all those reason why it was difficult for seniors to exercise at the beginning of this article? Well that is the beauty of ebikes! It addresses many of the challenges that older folks have about exercising. Here some of the key reasons why so many have made the life-changing decision of ebike ownership:
You have help & support:
Probably the most important and obvious reason why seniors, or anyone for that matter, would be interested in an ebike is its electric motor. Ebikes have come a long way and many who aren't as familiar don't know that you have full control of the speed and assistance you get from the bike. Riding an ebike is much like riding a conventional bike - the harder you pedal the faster you'll go. Except with ebikes, the 'pedal assist' feature provides the rider help as they pedal. This means that riders wouldn't need to exert a lot of force in order to propel forward. Making it perfect for seniors with joint pain or those who struggle with lower body strength.
Even better is the fact that the pedal assist feature has different levels of assistance. So you can start off with a high assistance level where the force exerted to pedal is minimal and work your way down as you gain strength and/or confidence in your riding.
Don't want to pedal anymore? That's ok!
Some ebike models even come with a throttle which means that you can skip the pedaling all together if you choose to. This gives seniors the confidence to go further and on longer bike rides than they ever could on a traditional bike. It gives you peace of mind that if you get tired in the middle of your bike ride, you have the throttle at your disposal to fall back on and make the trip back home without needing to pedal.
Accessibility:
Many ebike frames are now designed with those with limited flexibility or motion in mind. Ebike manufactures provide step-through frames where the rider doesn't need to lift their leg over the horizontal top tube in order to use the ebike. With this frame design, riders can easily mount the ebike with one small step allowing people with certain disabilities, hip or knee issues to finally be able to get on a bike without any discomfort.
It makes exercising fun!
This is ultimately why so many older adults have decided to purchase an ebike. Exercising can sometimes be so dull or boring and riding an ebike will hardly feel like you are exercising. It gives seniors an opportunity to do something that is exciting, outdoors and explore different areas where they normally wouldn't venture to without an ebike. All while safely staying active and having a great time doing it. And because it is a fun recreational activity, you are more likely to cycle on a regular basis which means you are exercising more often now that you are using an ebike than if you didn't. Science says so.
GET MOVING TODAY!
Now that you understand how ebikes can be a game changer for your overall health, Aventon is here to help! We carry some of the most popular ebikes amongst seniors that include all the important features you need in an ebike. Things like:
Step-through ebike frames for easy mounting and dismounting
Pedal assist with 5 different levels to choose from
Throttle switch to skip the pedaling all together
Powerful Hydraulic disk brakes with safety cut-off sensor
Backlit display that shows speed, battery levels and more!
When you are ready to start getting some exercise and having fun doing it, we are here to help!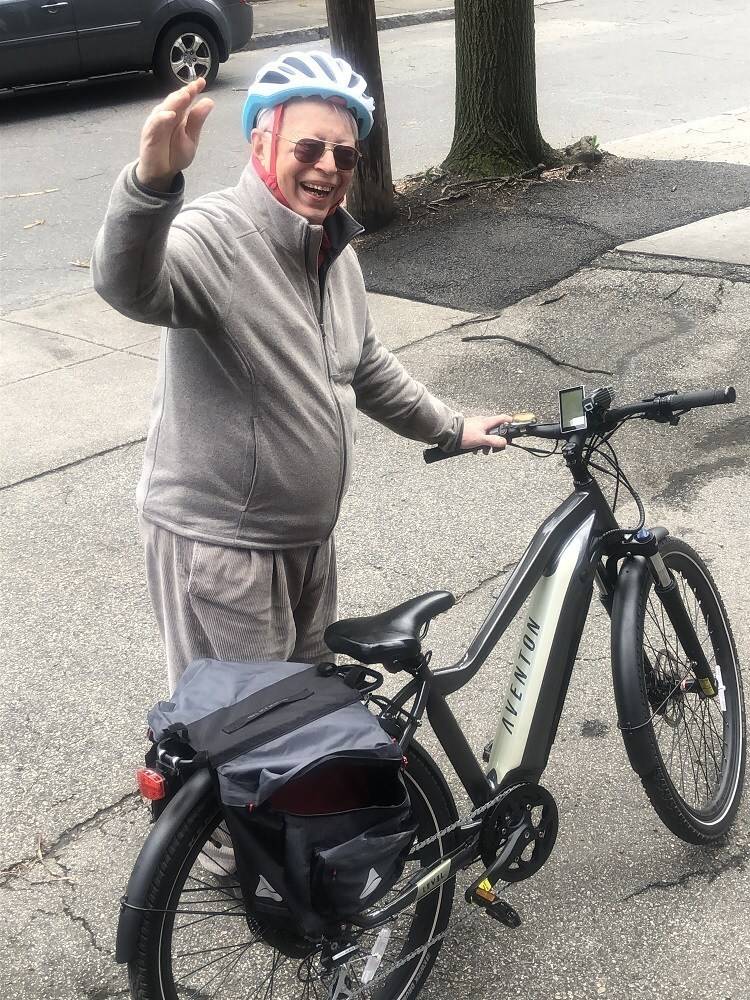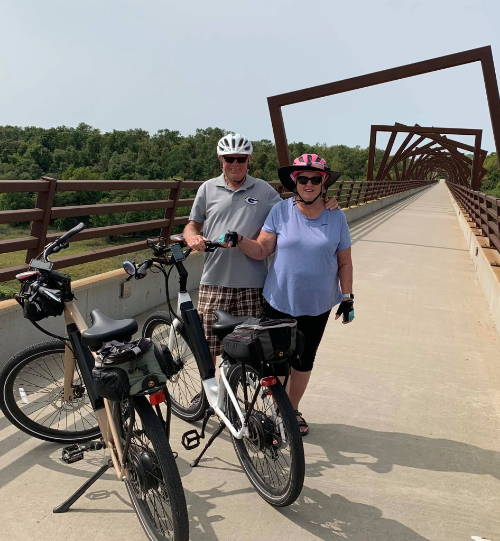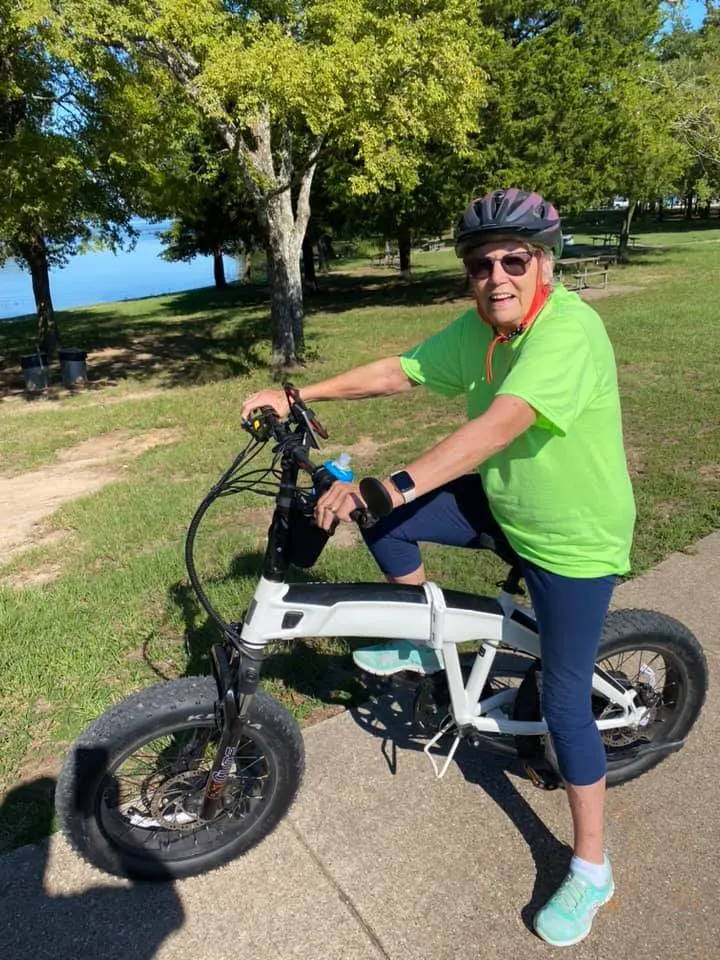 "I am so am so happy with my purchase of an Aventon Level. I will be 60 my next birthday and yes this bike makes me feel like a kid again. Best feeling in the world."