Dealer Spotlight: Eagle Bike Shop
July 28, 2023
Eagle Bike Shop in Eagle, Idaho is as core as they come. Pure bred in the mountain bike world, these guys know what riding bikes is all about. And while they're cut from a different type of tread, their wheels roll wherever the road takes them. They support all forms of two-wheeling. For them it's about getting as many people on them as possible, to promote the culture, and share in the joys of riding.
To be welcomed into the fold by these bike loving enthusiasts means the world to us at Aventon, and we're happy to share their story with you today.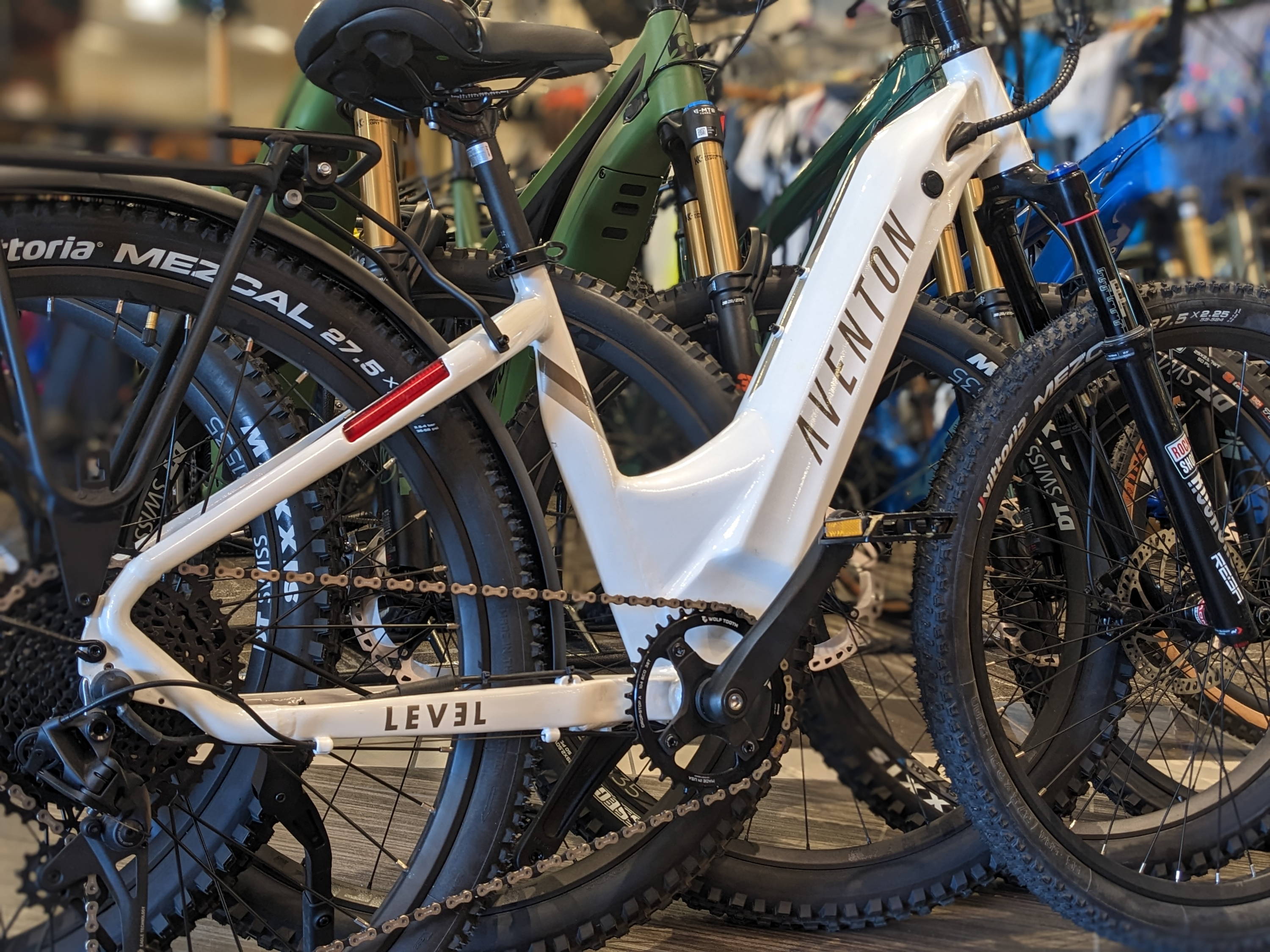 From Mountain Bikes To Emobility
Eddie, at Eagle Bike Shop has spent his fair share of time on bikes with a history in mountain bike racing.
Working in bikes since the early 2000's, this athlete has taken a gamble on a dream only to succeed in becoming a premiere bike shop in the Boise area.
"Opening a bike shop was a passion project for me. To have my own thing. It wasn't that long before the pandemic hit. And that threw a wrench in it. Twenty years of experience turned into about 60 in a few months."
But he endured the pandemic with optimism and support from a community hungry for the outdoors. He's also a huge reason for a lot of electric bikes in the Boise area.
"The Eagle Bike Park is what the shop was modeled around. Both in name and location. The goal was always to end up in Eagle close to the Bike Park. It's the center of mountain biking here in Boise. Everyone goes there to practice and do laps. It's the perfect place to do everything."
Only One Ebike Brand For Eagle Bike Shop
Eagle Bike Shop is an Aventon exclusive electric bike shop, meaning they only sell one brand of bike: Aventon. When we asked why stick with Aventon, here's what he had to say:
"Everything. Price point. Parts. It checks every box. No one can compete. There's no point in carrying anything else because nothing else can compete. Aventon will always win."
It was music to our ears. And hopefully yours too. Backed by mountain bike athletes who know the industry inside and out gives credence to the kind of products we produce. The value of our components coupled with integrated technologies that change the way people experience the world on the two wheels.
The Pace 500.3 And Its Torque
It was surprise to us when we found out which ebike from our line had the mountain bikers at Eagle Bike Shop going electric.
"The Pace 50.3 for sure. Since it came out there's nothing else."
"Torque for life."
The Pace 500.3 with its swept-back handlebars and cruiser frame provides the ultimate leisure while rolling around town. Get a lift on daily rides, casual cruises, and rolling around the block. And what's so great about torque sensors? There's the natural feeling of a traditional bike and possibilities of conserving battery and extending riding range, for starters. Plus, there's many more features that make the Pace 500.3 the go-to for easy riding.
Check out our blog 'Introducing The Pace 500.3' here. And while you're at it, learn more about the difference between cadence and torque check out on our blog 'Torque Sensor vs. Cadence Sensor on Electric Bikes'.
What To Expect From Eagle Bike Shop
It can be intimidating sometimes to walk into a premier bike shop. Especially if you're a novice. But Eagle Bike Shop doesn't discriminate when it comes to the level of riding. What they care about is getting people on bikes, taking care of all your maintenance needs, and ensuring you have a blast on two wheels.
"You guys hit our mantra on the head with "Ride more. Be happy." We just want people to ride because that will make you happy. Get out even if its just by yourself. We see that everyone comes in proud with online purchases and online brands its another reason we want to get rid of our brand. There's a stigma that people don't want to come into a bike shop after they bought something online. And we don't want that anymore. We want to help everyone."
Bikes bring people together. And we love that. Here's what else these guys are doing:
Test Rides
Eagle Bike Shop has a fleet of Aventon ebikes ready to change the way you experience the world on two wheels.
"We have a fleet of every bike in every size that we carry ready to go for test rides."
"That first test ride where it throws a giant grin on their faces. That's probably my favorite. It never gets old."
We love it too.
Bike Maintenance
Eagle Bike Shop works on bikes right at the front of the shop. It's like the kitchen of their shop, where all bikers come to congregate and watch and learn. It's important to them to have that as the centerpiece to the experience.
There's three rules on their service page:
DON'T PAY FOR TUNE-UPS WITH SERVICES YOU DON'T NEED. BRING YOUR BIKE IN AND ONLY PAY FOR WHAT IT REALLY NEEDS.
ALL BIKE SERVICES ARE CASE BY CASE. PLEASE BRING YOUR BIKE IN SO IT CAN BE INSPECTED.
IF THE SUN IS OUT THE SHOP IS BUSY. SORRY IN ADVANCE IF I CAN'T ANSWER THE PHONE.
"Whatever they need. Tube changes. Full overhaul. Everything."
What's unique about Eagle Bike Shop is there willingness to explore the possibilities of a bike. They don't shy away from making something that's never been done before.
"We had built a Level with upgraded forks. We've also added a twelve speed drivetrain on Aventon ebies. Custom cockpits. There are so many Aventons around town you can park it and forget which one is yours."
Including Eddie's current ride, the Pace 500.3 with mtb tires, a mtb bar, suspension seatpost and a 12 speed eagle drivetrain (pictured below).
Eagle Bike Park
When Eddie opened Eagle Bike Shop it was important to be close to the Eagle Bike Park, where all the local rippers are riding.
"I donated a 20k air bag to the bike park last year. Every Wednesday they bring it out and all the kids get to practice everything they want. 360s. And they're all getting them. We have the best little shreds than anywhere."
"We've got local race teams we support. Local charities that we donate Aventons to. We've got the airbag we donated. This year we should be starting a rental fleet for the greenbelt. We're a welcoming shop at the end of the day."
Group Rides
While the guys at the shop don't necessarily do group rides, they have friends and locals that do it for them.
"We have people that do group rides for us. Us, we're stuck here physically."
Plus, there's plenty of Facebook groups around town that get together, depending on the Aventon ebike they ride.
"There's gangs of Aventon riders here. Sinch riders. Pace riders. Basically every kind of ebike you make."
Join The Ride With Eagle Bike Shop
The Eagle Bike Shop wants to break the stigma of bike shop hierarchy. It's a place to feel at home, to know that anyone can walk through their doors and find family, people who understand the needs of fellow riders and everything else that comes with it.
Contact Eagle Bike Shop today and enjoy all the opportunities riding an ebike can offer. Welcome home.