Dealer Spotlight: Covered Bridge Bike Rental
December 16, 2022
Covered Bridge Bike Rental in Glen Carbon, Illinois opened its doors at a time when businesses were closing theirs or making the necessary adjustments just to stay afloat. Chris Moore, owner and operator of Covered Bridge, saw an opportunity to serve his community and took a chance to fill a gap in the biking industry. He started his bike shop in the most unlikely of times for a business to thrive, and yet exceeded all expectations and succeeded in making a landmark bike shop during a global pandemic. We are grateful for the opportunity to have spoken with him about how it all came together, and now get to share it with you!
How Covered Bridge Came To Be
Chris got his start in the two-wheeled pedaling world through his many years in motocross. He would use cycling as a form of endurance training to prepare himself for those long days on the track. And throughout his life, his friends owned various bike shops where he worked occasionally and assisted where he could. "Everyone would help each other out," he told us. Chris and his wife Teri owned a rental house right on the corner of Main Street in Glen Carbon, which is located near many of the bike trails in the area. "You can throw a rock from our shop to the bike trails," Chris told us. "And we're right next to a covered bridge." So when Covid made landfall in the US, Chris reached out to other bike rental shops in the St. Louis area to get all the information he needed to start his own. "I always wanted to open a bicycle rental in this area. It just happened to be over COVID. I opened the bike shop and people started coming."

That's not all! When word got out that Chris' bike business was thriving, The Telegraph and Fox 2 News in St. Louis found out about his success and interviewed Chris and his wife about Covered Bridge Bike Rental. Then just when they thought it couldn't get any better, they were featured on the news that very same night!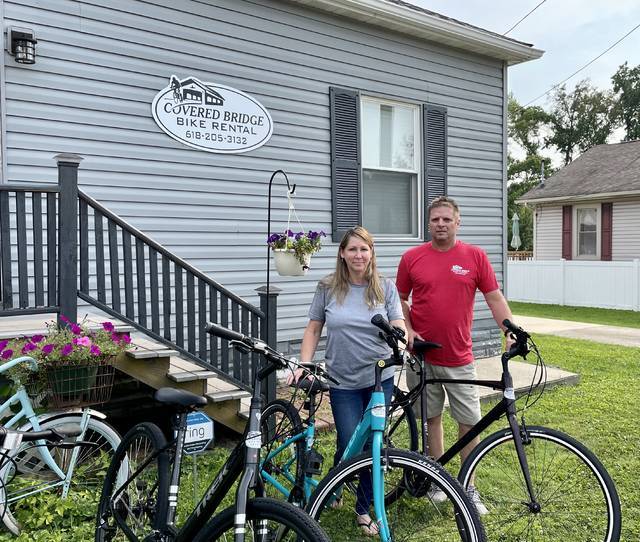 Bridging The Gap To Aventon
Chris discovered Aventon only after other electric bike brands didn't quite fit. With the initial success of opening Covered Bridge Bike Rental, Chris wasn't sure if he wanted to carry electric bikes at all. He was already doing so well with regular pedal bikes that he questioned whether he should bring them into the shop or not. But as more and more people asked for them he figured it was time to give them a shot. "I bought a few from a local bike shop here and started renting those," Chris told us. The Charged ebikes that Chris bought had some success, however they were only one-size-fits-all. "People just don't fit on those bikes." That's when he found Aventon. Chris was searching on Google and read reviews about electric bike companies and saw the versatility and range of Aventon's bikes. "I came across Aventon and inquired about getting a fleet. You guys got right back to me. In fact, it was pretty surprising how quick you guys got back to me." Soon enough Chris had a fleet of his own and then instead of renting them, he started selling them! "It just blew up after that."
Why Covered Bridge Sticks With Aventon
When it comes to Covered Bridge Bike Rental, it's all about getting as many people on bikes as possible. "I can find a bike for anybody that comes in my door. So that's the main thing I love about Aventon. You guys have great sizes and nice colors." Chris' customers agree. Chris told us that the first thing customers do when they walk through the door is ask about Aventon. "I guess they've read the reviews too," Chris laughed. Sometimes his customers will wait for previously rented Aventon e-bikes to be returned in order to take them out. "I might as well throw those other bikes away," Chris joked. Along with the sizes and color options, it's the quality that keeps them coming back for more. "I'd say that 95% of the people that just come in to rent end up buying an Aventon after they're done riding the bike."
It's All About The Level.2
Chris' favorite Aventon ebike is the Level.2. "I like the torque sensor quite a bit." And so do his customers. Like most things that are new, they were apprehensive about it at first. They weren't too sure if they'd like it. But because the Level.2's torque sensor works with the natural riding cadence of the rider it allows the rider to choose how much output they want while still getting a little bit of resistance and not as much free play in the pedals. "But I do have people that love the cadence sensor also. A majority of people are going towards the torque sensor because it gives you just a little bit more work, and if they get tired they can always use the throttle."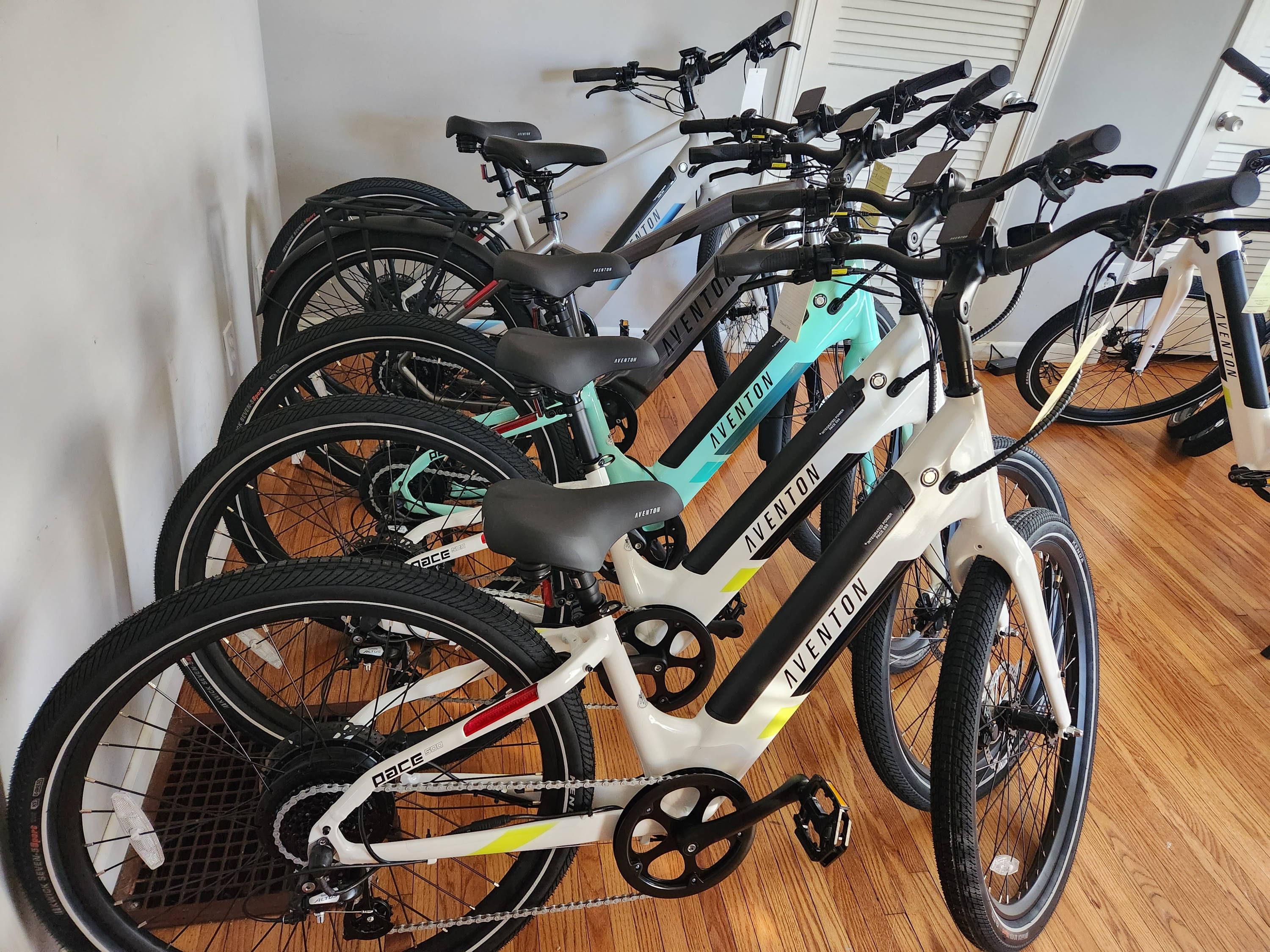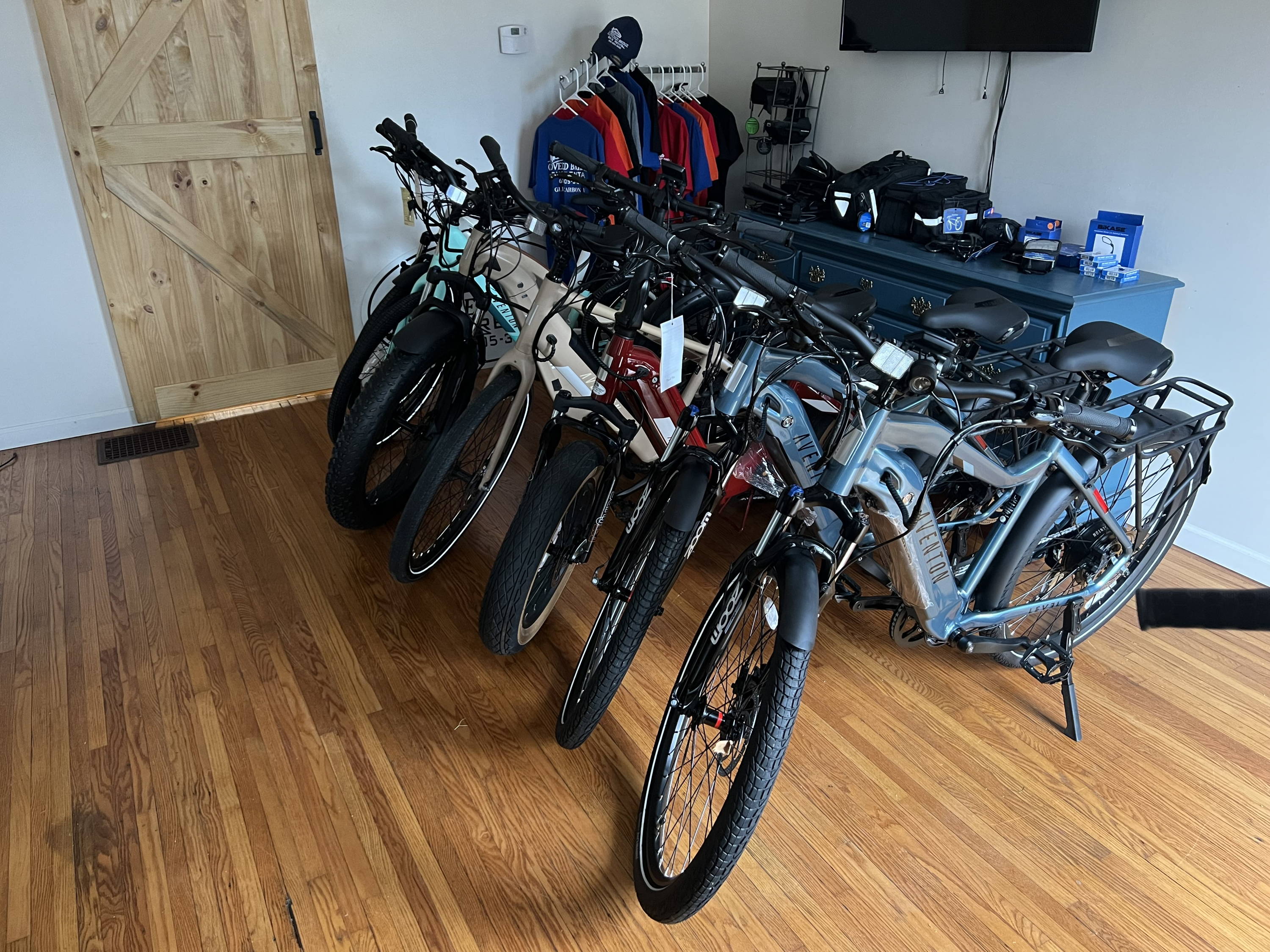 What Sets Covered Bridge Apart From The Competition
It's a simple equation for Chris. He carries all of Aventon's e-bikes. "I want someone to try each model." There are about five dealers across the river in St. Louis, all of which carry Aventon, but not all of them keep the bikes in stock. "Customers want to see the bikes. They want to touch them and ride them." And since Chris always has them stocked the people know where to find them.
Rent To Buy Every Time
Unlike most bike shops that offer test rides, Covered Bridge Bike Rental has the unique opportunity to give their customers all the riding experience they need in order to know an electric bike is necessary in their life. If customers are serious about purchasing one of Chris' bikes he won't charge them for the day's rental.
No Deposits Necessary
Chris also provides helmets and doesn't charge deposits. He only asks that he get a picture of their driver's license before they rent a bike and are sent out on the trails, and there's plenty of them. This also adds to the allure of Covered Bridge Bike Rental.
Trails Galore
Glen Carbon has just about a hundred miles worth of trails, or loops, as Chris calls them, and they're only just a few feet away from the shop. The MCT trails offer 10 miles, 25 miles or 60 mile loops. "They're such beautiful trails."
Bike Maintenance and Accessories
Covered Bridge is also in close proximity to Southern Illinois University, where all the college students come to Chris for rentals. "The university offers bikes, too, but they're all pedal bikes and there's no one to maintain them." So where do they go? To see Chris. That's right. Chris offers bike repairs and has all the bike accessories you need. "I'll do adjustments on the bike for as long as they have it."
Trail Safety Courses
Because of Covered Bridge Bike Rental's unique location near a myriad of trails and loops, they team up with the Glen Carbon Fire Department to host a bike trail safety course. Here, they cover all topics associated with trail etiquette. "It's really important because of the ebikes now," Chris says. This year they celebrated their second year hosting this course and will continue to host it in the future.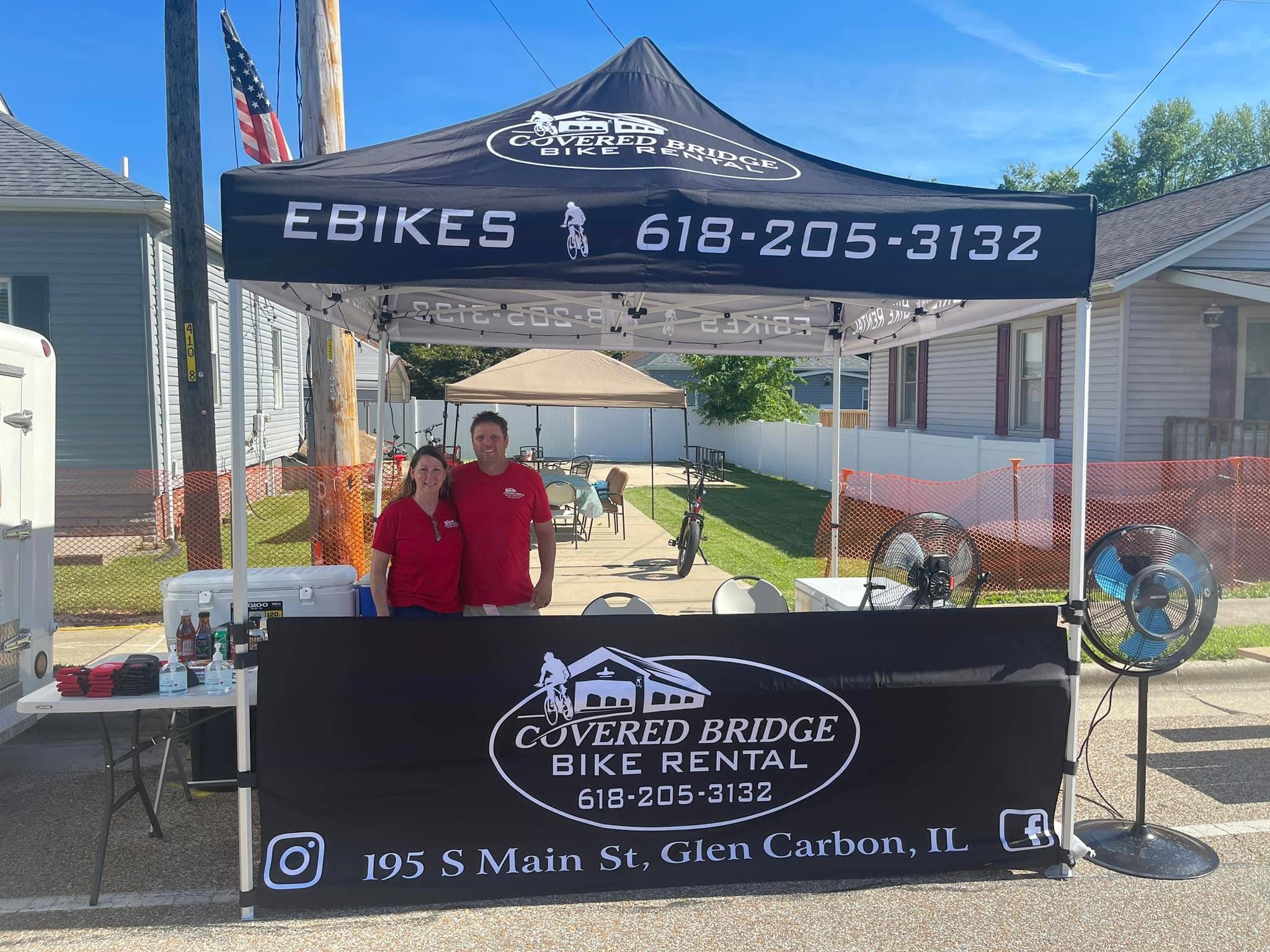 Destination Covered Bridge Bike Rental
Take to the trails in Glen Carbon, Illinois this holiday season and stop off to see Chris and the family at Covered Bridge Bike Rental. If you think it'll be too cold to take a bike out, you better think again, because Chris says otherwise. His winter philosophy: Stay open and keep riding.
Go visit this wonderful bike shop just outside St. Louis proper to get a taste of the freedom two-wheelers can provide, and where a test ride becomes your favorite ride for life.
To find out more about the services Chris and the family provide at Covered Bridge Bike Rental visit their website or contact them directly.