Competitor Comparison: Aventon's Soltera.2 Vs. Velotric T1
August 11, 2023
We've had tough competitors in the past. Our goal is to make sure you have all the information you need to make the best choice for you. When we made the Soltera.2, we focused on what you're going to need while commuting, shifting gears, changing lanes and making your way to your destination on time, and safely.
The Soltera.2 is our favorite lightweight, urban commuter with an upgrade. Equipped with a torque sensor and new tech, we're doing our best to keep you safe and continuously thrilled every time you hit the streets.
So what separates our swift, urban commuter, the Soltera.2 from the competition? In this blog we'll be going over why Aventon's Soltera.2 has the quality materials, feature-rich components and technology, and pocket friendly budget to outshine Velotic's T1 electric bike.
Overview
Ready to change the way you get around on two wheels with Soltera.2? When going spoke-to-spoke against our competitors such as Velotric, it's best to take in all factors, including use case, budget, components and all the tech that create a safer more inclusive riding experience as you zip through the city.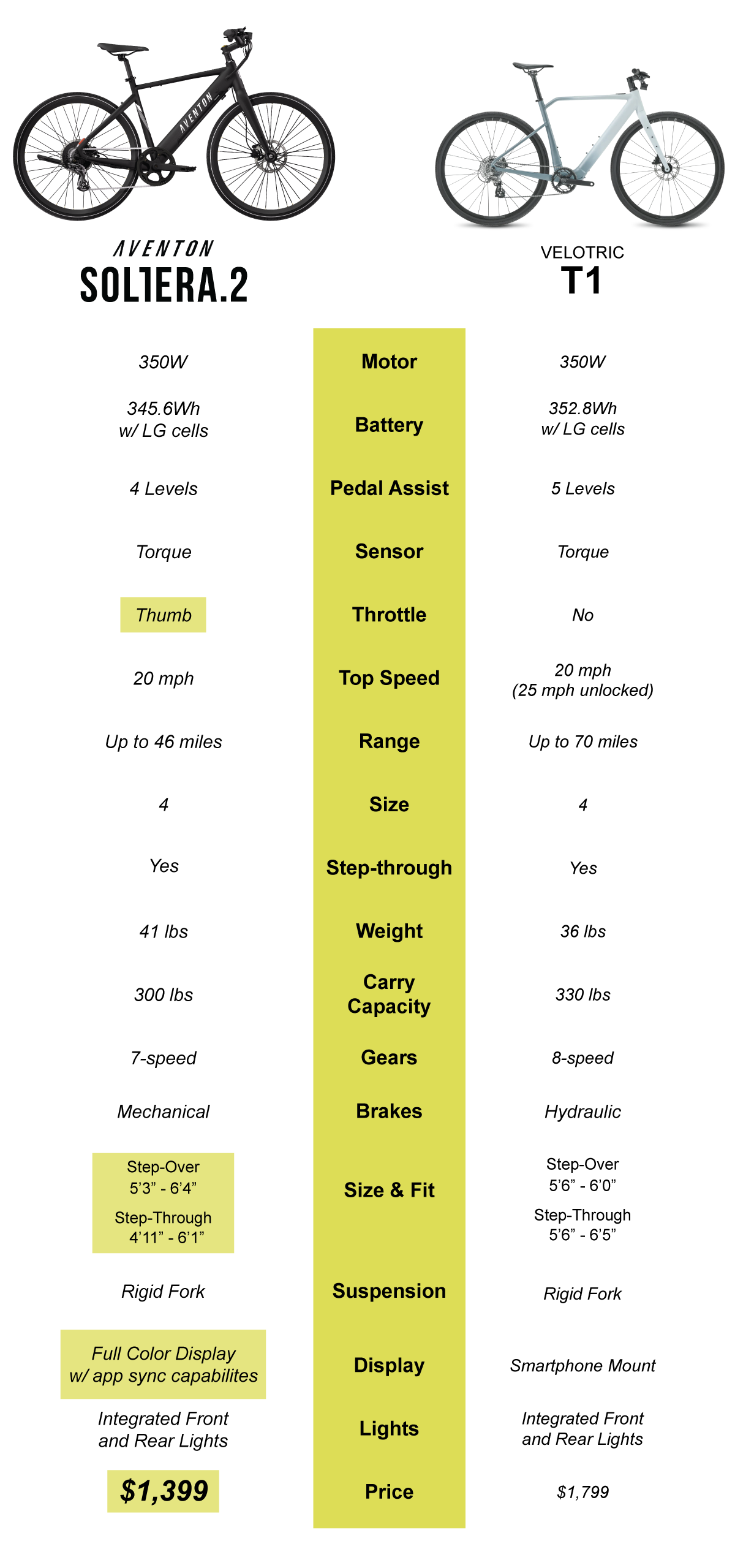 Where Aventon Stands Out
Before we boast about the quality of the Soltera.2 and how it stands out against the competition, let's take a moment to factor in the shared benefits of both bikes. For example, Velotric's T1 and Aventon's Soltera.2 electric bikes are made with Aluminum-alloy for a stronger, more durable frame. Also, both are coated with IPX water-resistant coating to keep your frames protected from light splashes of water, and both come with a 2-year warranty to ensure long lasting fun.
Stay Protected And Get Tech Savvy For Less
The Soltera.2 comes equipped with newer technology to keep you protected and stay connected for less. Plus, it offers you the opportunity to take a break from pedaling with thumb throttle and 4 levels of pedal assist that get to higher speeds faster, so you can get to where you're going in less time:
- Extra safety with the Turn Signal Functionality.
- Full Color Display with app sync capabilities and USB charger.
- Thumb-down throttle option to let the bike do work while you take a break.
- Charger with 4 -5 hours/ 6 hours
- 4 streamlined pedal assist levels to get more assistance faster.
- Colorful frames, including: Citrine, Storm Blue, Midnight Black, Ghost White
- Price: $1,399
Reasons To Love Aventon
In an ever-growing market, it's difficult to find a brand that will continue to roll with quality and rider assistance, one that values longevity and persists in its efforts to make the riding experience last longer than the ride. Here's how Aventon promises to change the way you experience the world on two wheels:
1,000+ authorized dealers that offer quality service & test rides
2-year warranty that protects you and your ebike for the long road ahead
TUV Certified Safety Standards to ensure your ebike and its components are efficient and safe
Innovative Aventon App that features in-depth riding metrics, plus interaction with fellow Aventon riders to share rides, photos and much more!
Group Rides around the country that promotes connectivity and a good time
Eco-Friendly Sustainable Packaging on all-new Aventon ebike models
FREE fast shipping on all ebike orders
Shop Soltera.2
When you look at the specs, there's quite a few differences between these two electric bikes that could have you choosing one over the other. Budget can play a large part in the decision. So when it comes to getting an electric bike that offers fast top speeds, long riding range, a torque sensor, thumb throttle, more protection with better technology, and an efficient way of getting around for $400 less, the Soltera.2 is the perfect city commuter made just for you.
Whatever gets you riding, having fun, and making your life more enjoyable by getting around on two wheels, we're here for it. Our biggest hope is that you find a bike that best suits your needs, and makes life a breeze.
Ride more. Be happy.