Competitor Comparison: Aventon's Pace 500.2 Vs. Velotric's Discover 1
July 7, 2023
Looking for the ultimate cruise-ability when you get on an ebike? Look no further. Our Pace 500.2 is sleek, comfortable and ready to roll you into the sunset, or just around the block if that's what you're into. Tech savvy and made to keep your posture perfect, Pace 500.2 is what riding dreams are made of. Whether you want to go fast or take it slow. You set the pace.
It's our belief that our ebikes are made with our riders in mind, from start to finish until you start pedaling. That's why we're going cruiser to cruiser with Velotric's Discover 1 to see which ebike provides you with the kind of ride you've been looking for in emobility.
Let's talk about cruiser ebikes, and see which one was made for you.
Overview
When it comes to choosing the perfect electric bike for cruising through the city streets or exploring scenic routes, cruiser ebikes are a fantastic option. With their comfortable design and powerful motor, they offer a seamless blend of style and functionality. Whether you're looking for a leisurely ride or an eco-friendly mode of transportation, cruiser ebikes provide a smooth and enjoyable experience for riders of all skill levels. Let's take a look at overall specs to see how these two cruisers size up.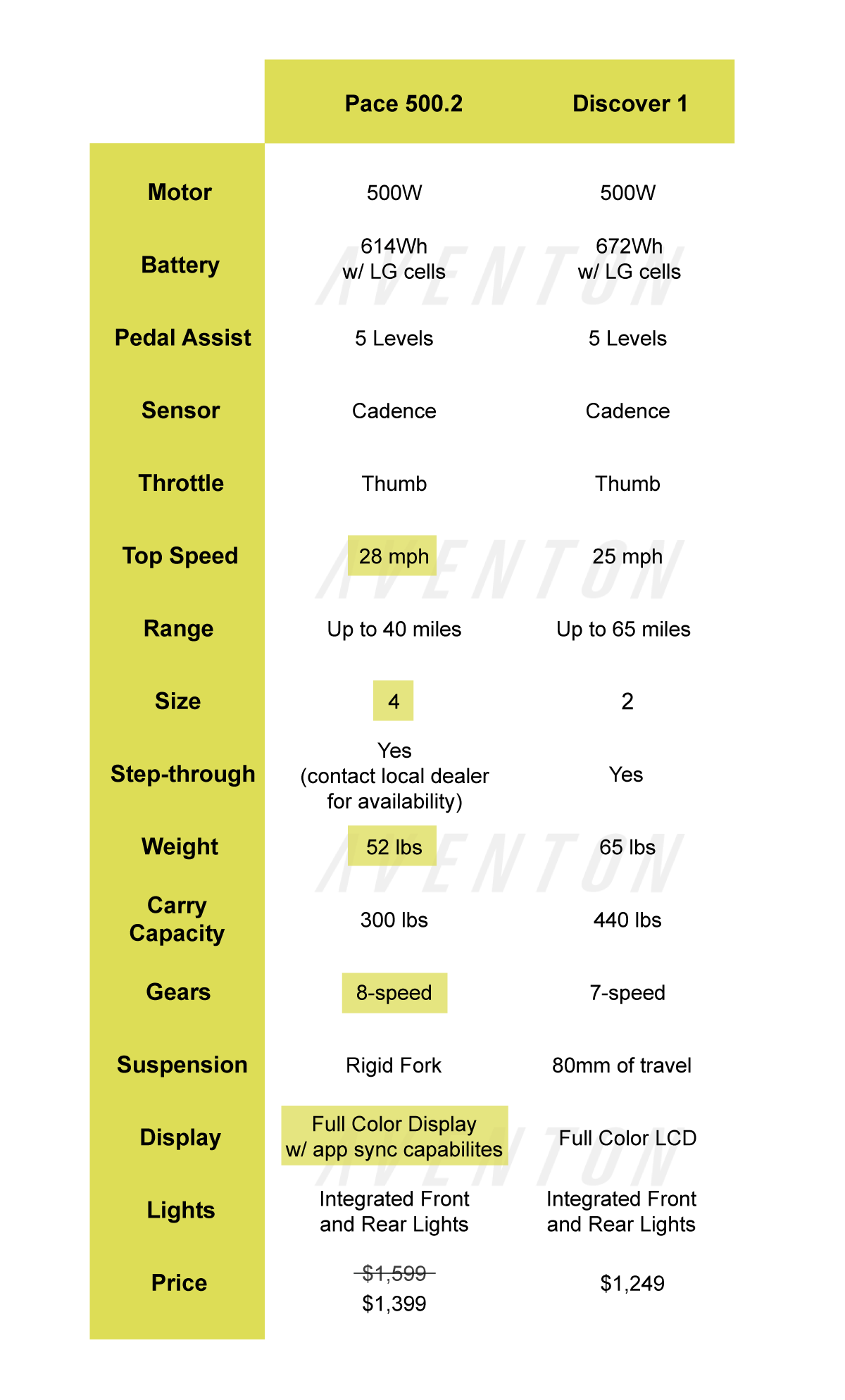 Comparing Cruise-ability & Comfort
When it comes to cruising, these two bikes are quite the competitors. On the same pedaling plane in some respects and then different in others. For example, both come with powerful 500W motors, integrated batteries with LG cells, cadence sensors, 5 levels of pedal assist, throttle, two different sizes, and fully integrated front and rear lights. So how do you choose?
Let's look at the differences. The Pace 500.2 has a top speed of 28 mph while Discover 1 only has a top speed of 25 mph, plus the Pace 500.2 comes with an extra gear to help with distributing the chain tension on low grades and steep hills. There's also the difference in weight, with Pace 500.2 being over 10lbs lighter. And let's not forget about the Full Color Display that offers riders real-time data, like current speed, battery life, pedal assist lever & so much more, including Aventon app syncing capabilities that allow you to map routes, hit milestones and connect with more Aventon riders.
Electrical
Chat GPT says "the electrical components of an electric bike include a rechargeable battery, an electric motor, and a controller. The battery powers the motor, which provides assistance to the rider by propelling the bike forward, while the controller regulates the flow of electricity and allows the rider to adjust the level of assistance." We couldn't agree more. So let's see how the electrical components of these two bikes compare in power output to keep you moving forward every time you ride.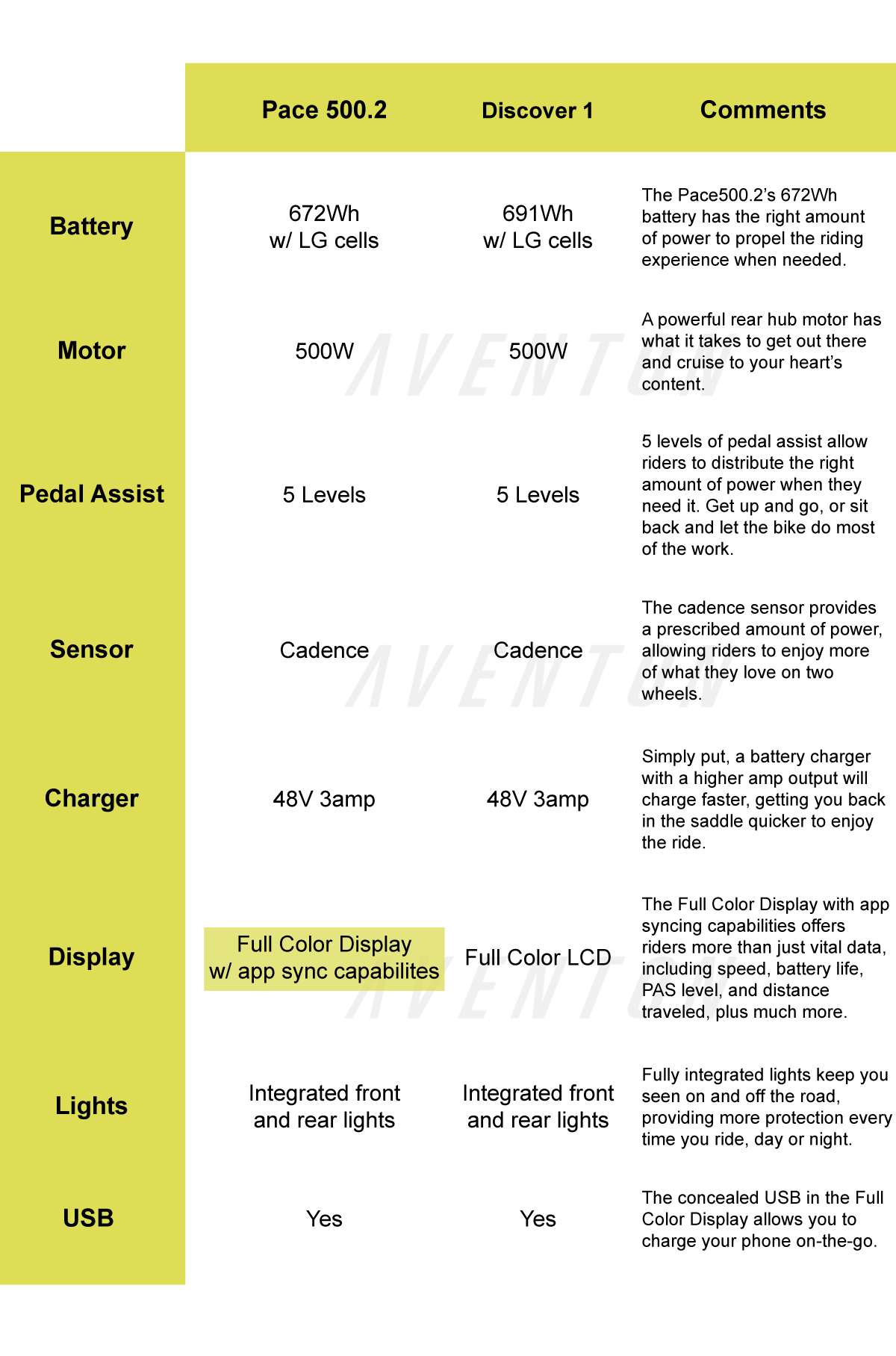 Choose How You Cruise W/ The Best Electric Assist Bike
There's one major difference when it comes to the electrical components of these two ebikes: Aventon's Full Color Display. Learn more about what makes this ebike display screen one of the best features to find on an electric cruiser bicycle. It gives you full autonomy over your riding experience with vivid colors and at-your-fingertip data.
The Pace 500.2's Full Color Display will give you ease of mind while you ride. That's what cruising is all about. At Aventon, our rider's are what's important to us. That's why we've gone to great lengths to make sure they have technology and features that meet their needs while bringing a smile to their face every time they ride.
Mechanical
The mechanical aspects of an electric bike refer to the components and systems that ensure its smooth operation. These include brakes, gears and suspension, all working together to enable a rider to effortlessly navigate various terrains while reducing their carbon footprint.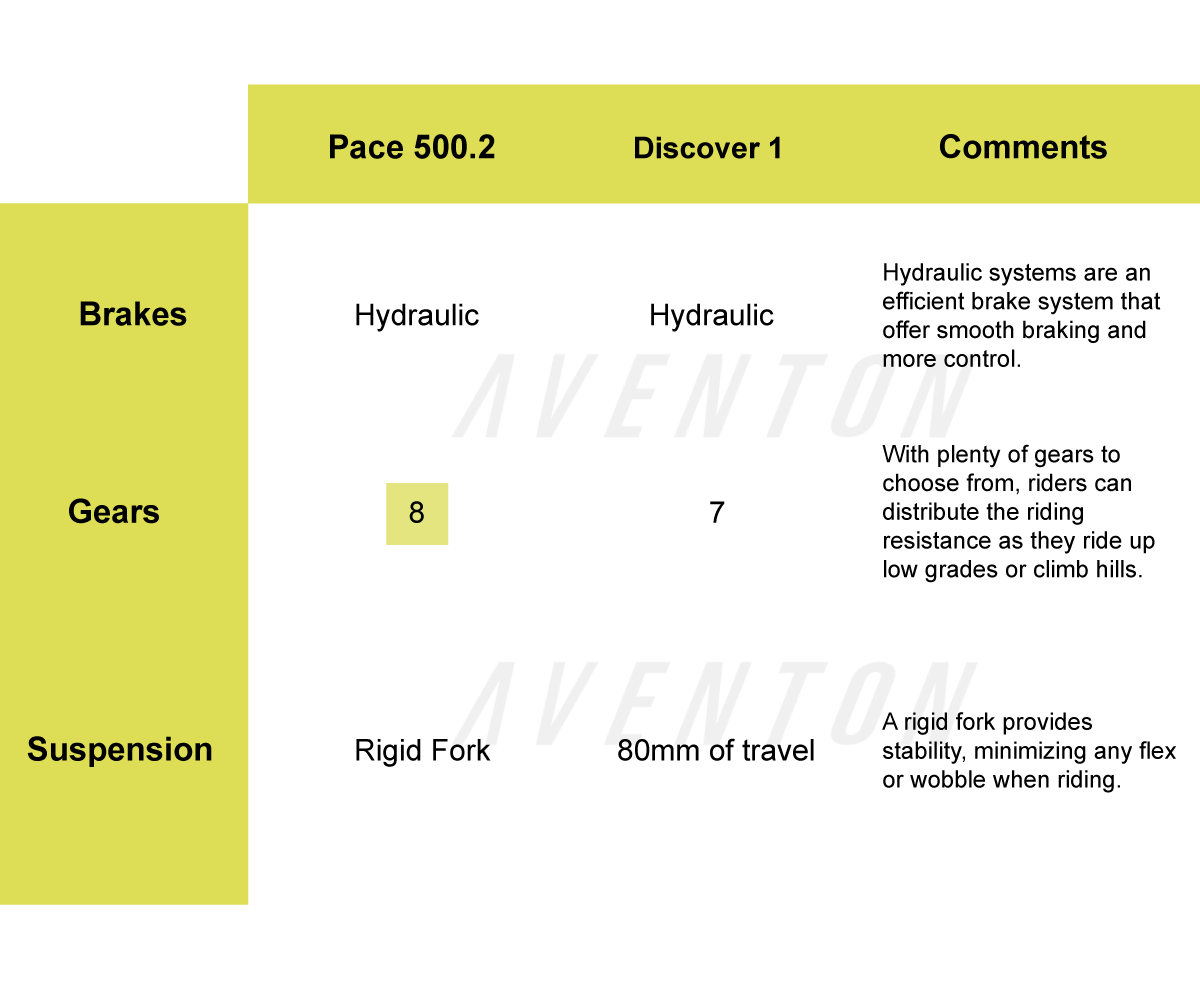 Gear Up For An Effortless Ride
If you're looking for an ebike that can handle hills and flat surfaces while providing an efficient form of stopping on your casual bike ride, then look no further. The Pace 500.2 makes pacing yourself on the road as effortless as possible. Hydraulic brakes, 8 gears to shift through while riding, and a rigid fork that provides a sturdy and stable handling on the road allowing you to focus on what really matters when you're on your bike: enjoying the ride.
Physical
The physical aspects of an ebike typically include a sturdy frame, size, color, weight, battery and any other accessories that offer riders the convenience of assisted pedaling and a comfortable and eco-friendly mode of transportation.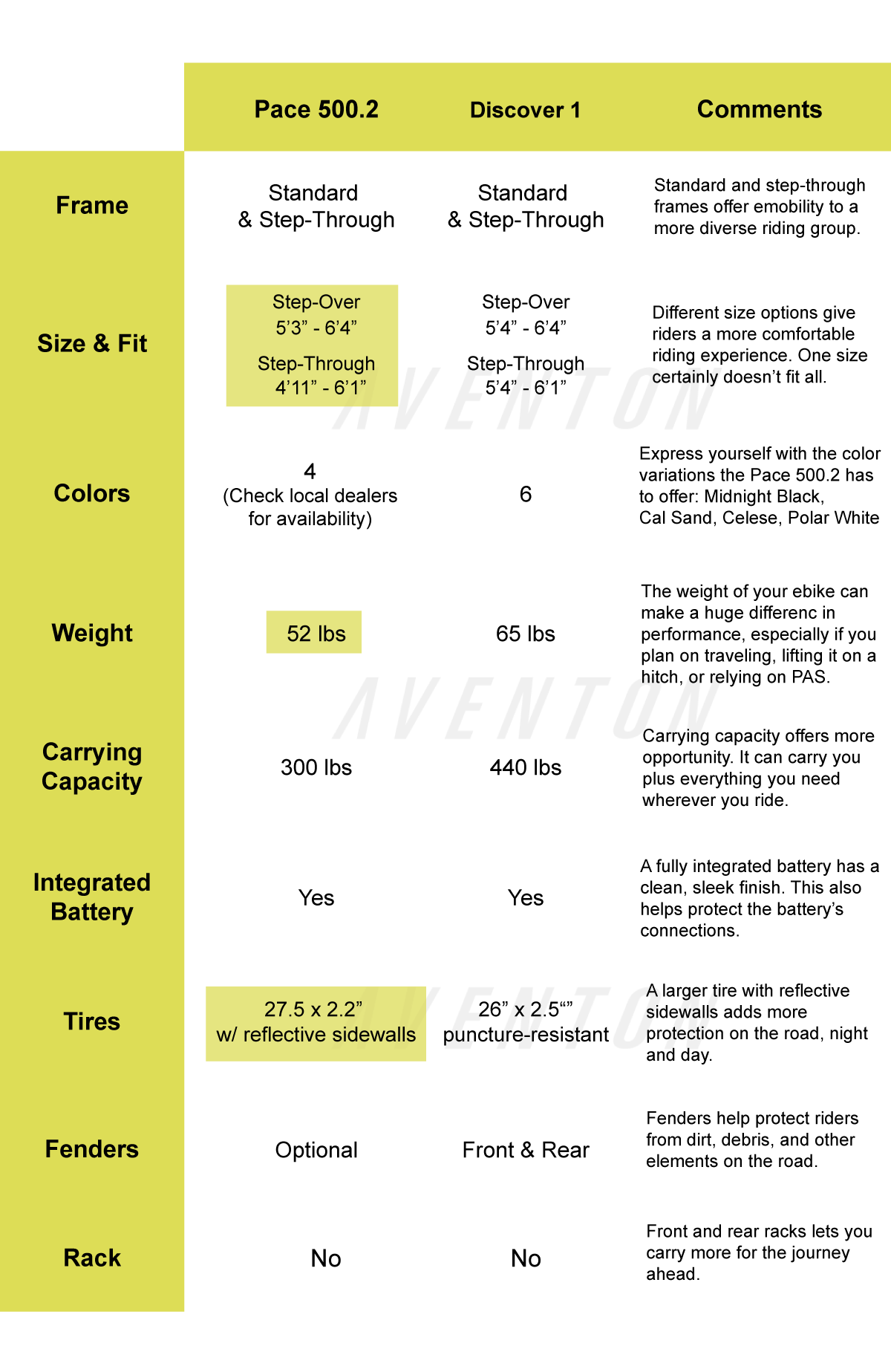 Cruiser Frames Made For Comfort
The Pace 500.2's swept-back handlebars, cushioned saddle and upright riding position aren't the only things that make the ride more comfortable. It offers a lighter frame, a front rack to bring your favorite goods along for the ride, reflective sidewall tires that add more protection, and an integrated battery for a sleeker, cleaner look to turn heads as you roll through the streets
The Pace 500.2 also offers more size options with its Standard and Step-through frames giving more riders the opportunity to find the right fit for them. Please contact your local dealer for availability!
Reasons To Love Aventon
In an ever-growing market, it's difficult to find a brand that will continue to roll with quality and rider assistance, one that values longevity and persists in its efforts to make the riding experience last longer than the ride. Here's how Aventon promises to change the way you experience the world on two wheels:
1,000+ authorized dealers that offer quality service & test rides
2-year warranty that protects you and your ebike for the long road ahead
TUV Certified Safety Standards to ensure your ebike and its components are efficient and safe
Innovative Aventon App that features in-depth riding metrics, plus interaction with fellow Aventon riders to share rides, photos and much more!
Group Rides around the country that promotes connectivity and a good time
Eco-Friendly Sustainable Packaging on all-new Aventon ebike models
FREE fast shipping on all ebike orders
Cruise At Your Own Pace
If you're looking for an electric bike that offers the right amount of power, comfort and technology to change the way you experience the world on two wheels, then the Pace 500.2 is the perfect ebike for you. While Velotric does offer a great alternative, there's no real reason to settle when you can get a 28 mph top speed, Full Color Display, a lightweight frame and overall comfort for just about any type of rider with the Pace 500.2.