Comparing Fat Tire Ebikes: Aventon's Aventure Vs. Bakcou's Flatlander
June 2, 2023
Looking to add e-power to your next off-road adventure? Aventon's Aventure is a robust and powerful electric bike that offers quality components and integrated technologies to change the way you ride on rugged terrain. With fat tires, suspension, rear rack and fenders, and a 2-year warranty, there's no telling what you'll get into.
We're always up for a challenge, that's why we're comparing our best selling ebike with Bakcou's Flatlander. We want to give you better insight into which one can take going off the grid, or for some good old fashion off-road fun! Hold on to your happiness, this ride is going to be a good one.
Here's what we're going to look at:
1. Overview
2. Electrical
3. Mechanical
4. Physical
Overview
A fat tire ebike should provide you with the right amount of power and features to handle the rough stuff, on or off the road. In this e bike comparison chart we'll get a broad view of what these bikes can do for you on your next adventure and at what cost.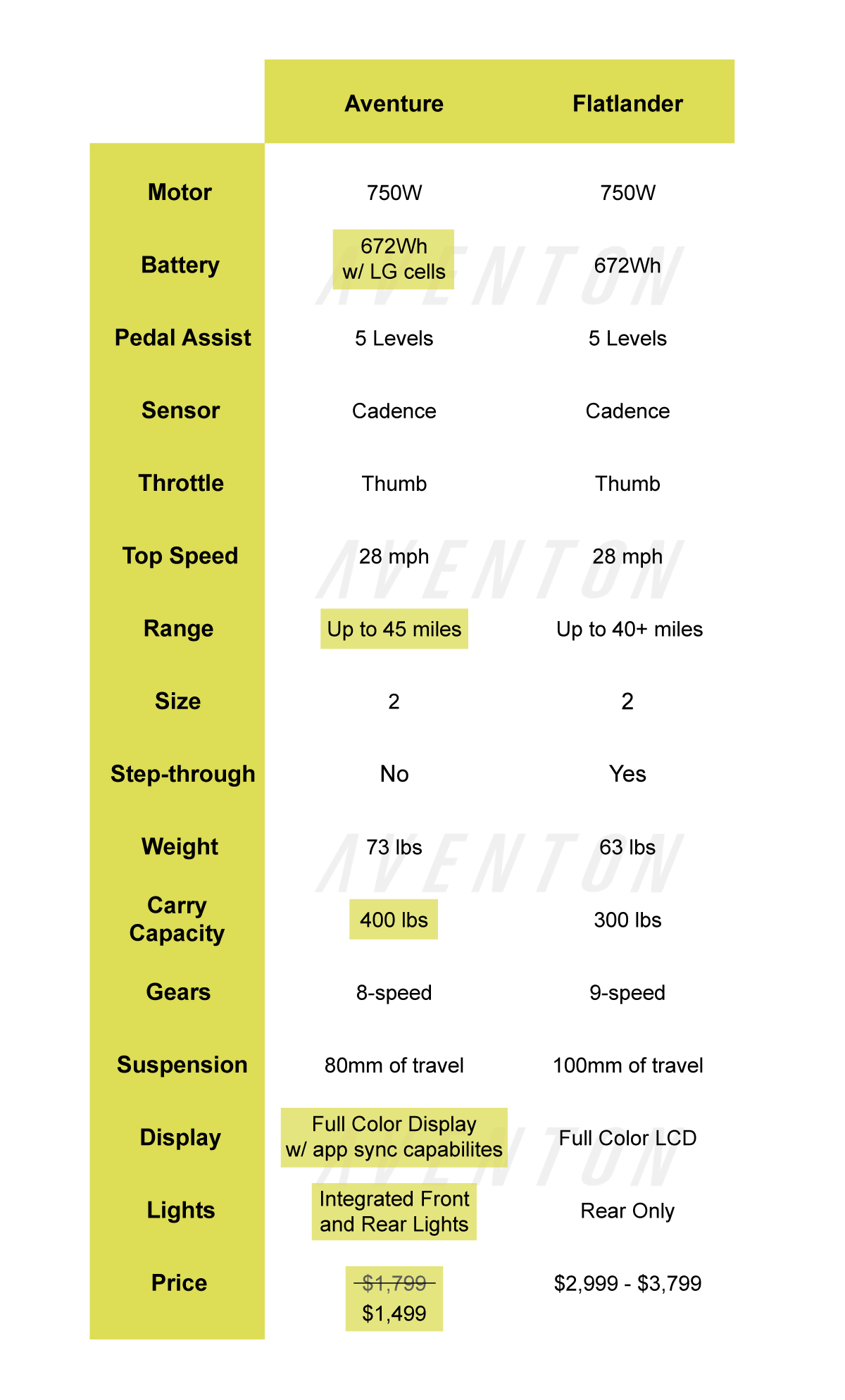 The Total Off-Road Package
When we look at this fat tire ebike comparison spec by spec we see quite a few similarities and differences that have an overall effect on which one is the right choice for you. For starters, both come equipped with 750W rear hub motors, cadence sensors with 5 levels of pedal assist, and throttle. The differences, however, start to add up quickly.
For starters, Aventon ebike batteries, including the Aventure, are made with LG cells. Meaning they've been stamped with a brand that knows quality. And while the Aventure has a top speed of 28 mph, it meets US federal regulations, and won't drain as much battery as Bakcou's Flatlander would. Plus, there's also the safety aspects to think about while hitting top speeds. While 35 mph is fast, the Aventure's 28 mph top speed isn't sluggish by any means. It's pretty fast compared to a regular bicycle and a safer speed to control.
The Aventure has quite a few wins over the Flatlander, including size options, integrated front and rear lights, 400 lb carrying capacity, and a Full Color Display that offers more than current speed, battery life, and distance traveled. It gives riders metrics like, CO2 emissions reduced, trees saved and has app syncing capabilities which lets riders communicate to a larger Aventon community.
While the Flatlander has 20mm more of suspension travel, 9 gears instead of 8, and weighs 10 pounds less, Aventon's Aventure is more than half the price! No kidding. Coming in at $1,799 PLUS $300 off means the Aventure offers more for less and meets all the necessary requirements for pure fun and plenty of power and features to make your off-road adventures more memorable.
Electrical
What gives ebikes that extra jolt to make bike riding more fun? It's the electrical components that add more power to your pedaling, or not pedaling. With a bold frame and 4" fat tires, you're going to need all the power you can get for all your outdoor adventure needs. Here's a better look at the performance of these bikes.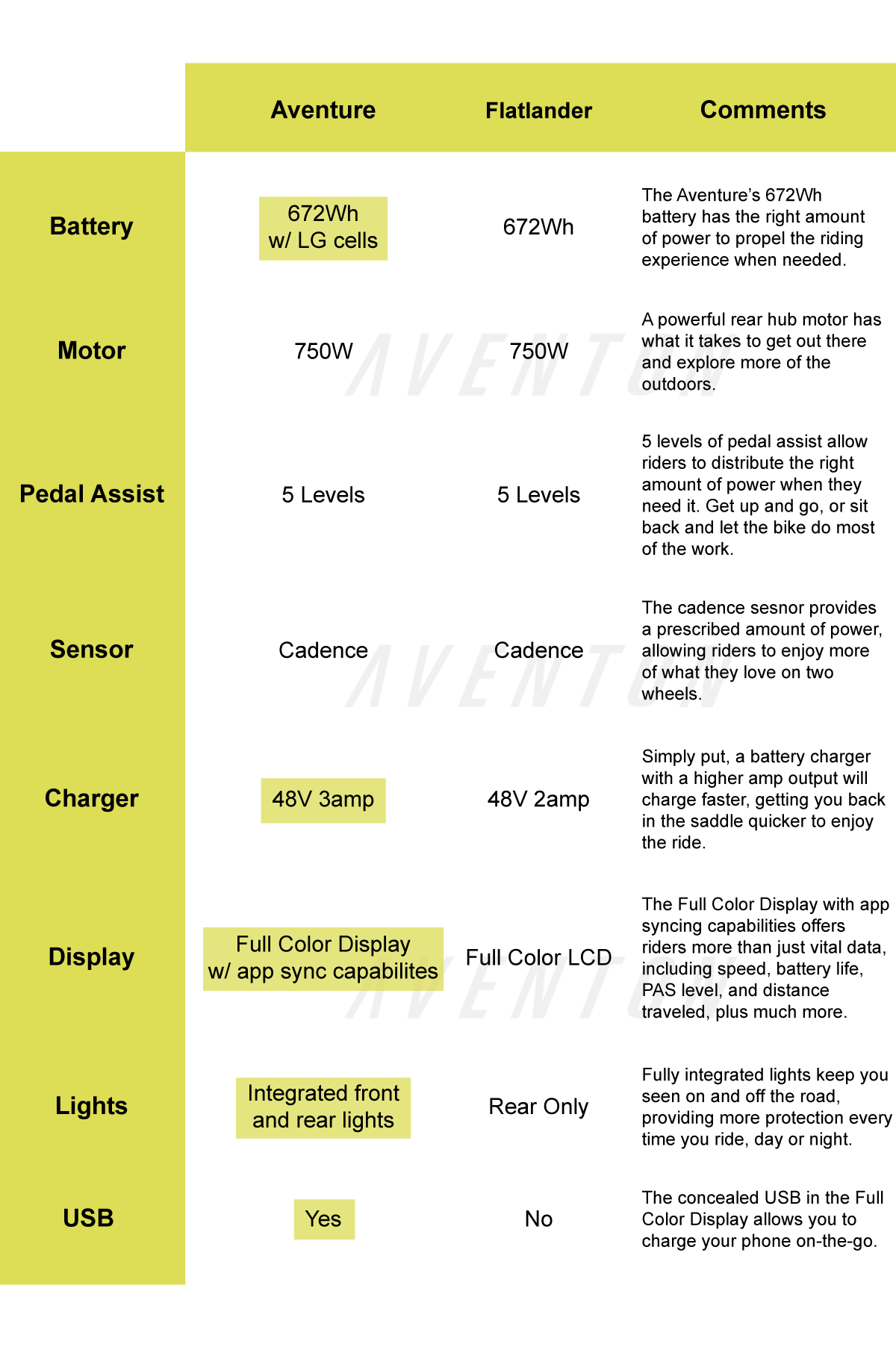 Adventure Electrified
When it comes to the electrical aspects of these two bikes, it's clear that the Aventure leaves the competition in the dust. Here's why. In this ebike battery comparison, we find that while the Flatlander's battery is slightly more powerful, it needs that extra energy to support the higher top speed. The Aventure matches it with motor power and pedal assist levels, then breaks away.
The Aventure's charger has more amps which means it charges faster, comes with integrated front and rear lights to illuminate trails for safe riding after dark, and its Full Color Display is extremely user friendly and technologically more advanced with Aventon app syncing capabilities that give riders more control over their riding experience. There's also the hidden USB port that allows for smartphone charging on-the-go. No more dead phones in times of an emergency out there on the road or in the wilderness.
Mechanics
Finding comfort in the unknown is easier when you know what you're riding with. The mechanical components of a fat tire ebike gives better insight to how smooth it can roll in rough terrain, on the streets or off-road.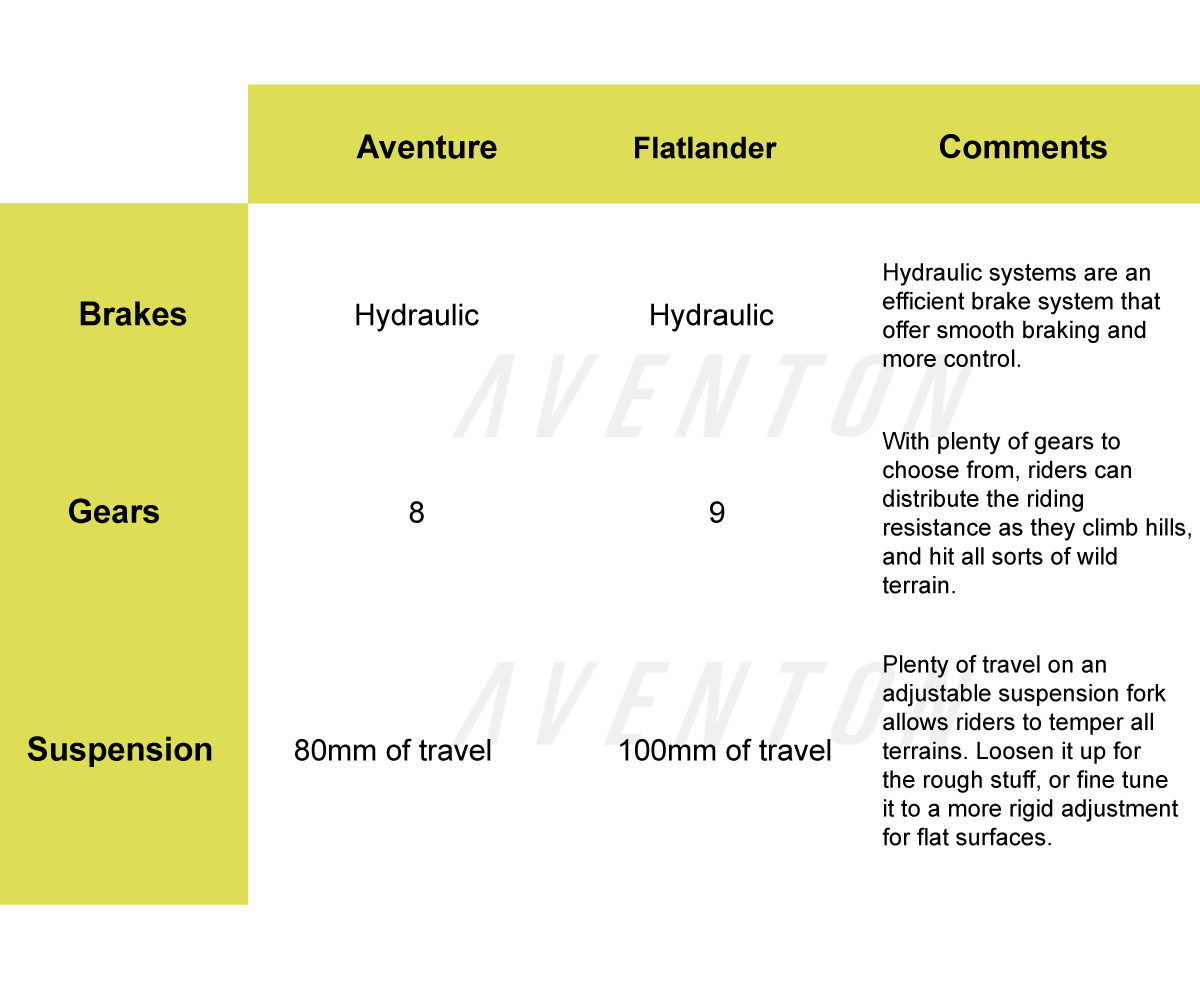 Finding Comfort On Rough Terrain
There's plenty of comfort to be found while riding in rugged landscapes from both of these fat tire ebikes. The Aventure and the Flatlander both come equipped with hydraulic brakes that offer smoother stopping and more controllability while riding.
And while the Flatlander has the Aventure beat on gears and suspension, it doesn't take away from the fact that the Aventure comes with 8 gears that help balance out the tension of terrain, whether climbing steep hills or rolling over rocks on flat ground. This goes for the suspension fork as well. With 80mm of travel the Aventure can temper the rough roads ahead while providing the ultimate comfort.
Physical
The physical aspects can make all the difference as you veer off road. When going out into the wilder parts of the world, it's important to know what your ebike can handle, that includes the rider just as much as the terrain. Frame options and frame capabilities can better help you understand what you're getting into before you get on. Let's take a look at what sets these two fat tire ebikes apart in this regard.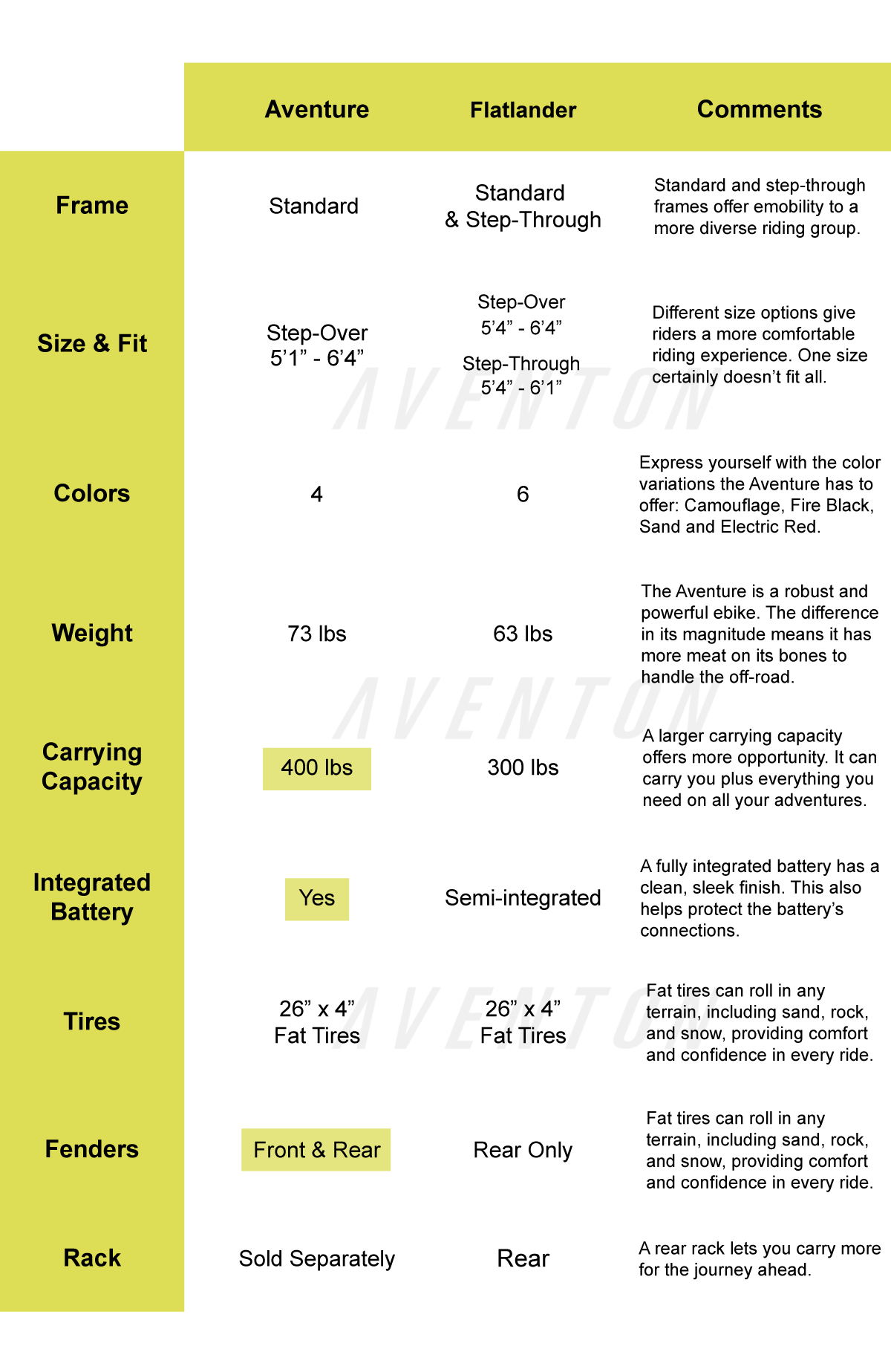 Endless Adventures In A Frame
While both fat tire bikes come with step-through frames, rear racks and a 300 lb max carrying capacity there are a few things that set them apart. The Aventure comes with 2 size variations, from small, medium and large in the step-over model ranging from 4'11" to 6'4" in height. This allows more riders the opportunity to find a better fit for them to have a more comfortable ride.
In an ebike weight comparison the Flatlander is lighter, however the Aventure comes with an integrated battery that has a cleaner, more sleek curb appeal while riding. It also comes with front and rear fenders that protects riders from water, mud or any other road debris that might get kicked up, while allowing them to stay focused on what's ahead of them.
Reasons To Love Aventon
In an ever-growing market, it's difficult to find a brand that will continue to roll with quality and rider assistance, one that values longevity and persists in its efforts to make the riding experience last longer than the ride. Here's how Aventon promises to change the way you experience the world on two wheels:
1,000+ authorized dealers that offer quality service & test rides
2-year warranty that protects you and your ebike for the long road ahead
TUV Certified Safety Standards to ensure your ebike and its components are efficient and safe
Innovative Aventon App that features in-depth riding metrics, plus interaction with fellow Aventon riders to share rides, photos and much more!
Group Rides around the country that promotes connectivity and a good time
Eco-Friendly Sustainable Packaging on all-new Aventon ebike models
FREE fast shipping on all ebike orders
The Fat Tire Facts
There's no denying that Aventon's Aventure has found a strong competitor in Bakcou's Flatlander. However, the fact of the matter is, with the Aventure you get more for less. Both have the same amount of power, 4" fat tires, sensor, pedal assist levels, throttle, brakes and a fast top speed.
But consider what the Aventure has that the Flatlander doesn't when you're looking for the right fat tire ebike for you: an integrated battery with a clean look, integrated front and rear lights for visibility and protection on the road, day or night, front and rear fenders to keep the dirt out of your eyes, more weight capacity, a fully interactive Full Color Display with Aventon app syncing capabilities, and a 2-year warranty! There's plenty of adventure to be found out there, but there's only one Aventure.