Aventon x Fanttik: Get to Know the Multi-Purpose Airpump
June 6, 2022
Tires are the literal foundations of bike riding; They are the only bike component that makes contact with the surface you're riding on, gliding you along your journey. Knowing just how important tires are to electric bike riding, safety, and longevity, we're thrilled to have partnered with Fanttik to produce the X8 Apex Air multi-purpose inflator. Not just any old bike tire inflator, the X8 Apex is built for any and all inflation needs. Compact, portable, and a cinch to use, it's a guaranteed addition not only to your ebike tools on the road but to your general at-home or on-the-go tool kit. Check out more about the X8 Apex's features and benefits, and learn why it's one of the most valuable, multi-purpose tools out there!
X8 Apex Air Features
Before diving into the real-world use cases for the X8 Apex, we want to share some of its features and benefits that make it stand out from the crowd. To us, it's one of the most valuable multi-purpose tools one can invest in, and we want to make sure you also know why!

Compact and Portable
Taking a minimalistic approach in the design process, the X8 Apex is lightweight, cordless, and measures just under 8 inches tall. So whether you opt to leave yours in your car or carry it on you during a bike ride, having a compact inflator on hand has never been easier and more reliable.
Interchangeable Adapters
When we say there's nothing X8 Apex can't inflate, we mean it. With Schrader, Presta, and Needle valve interchangeable adapters, the difference between inflating your sports equipment first and your bike second is just a nozzle swap away. Versatility is everything to us, and X8 Apex is a testament to our adamant stance against the 'one-size-fits-all' philosophy.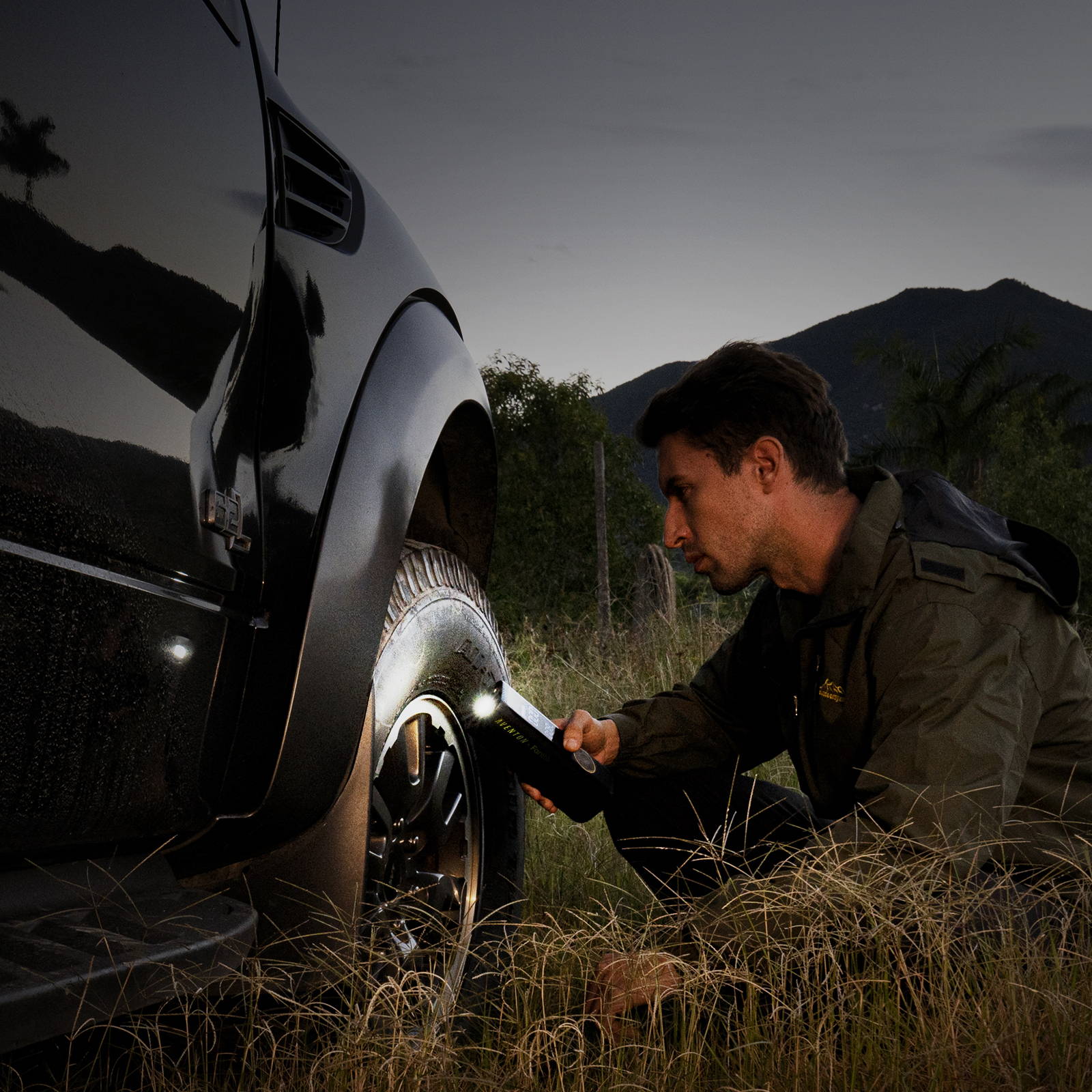 Multi-Purpose Inflating
Five inflation modes and up to 150 PSI (10-bar) mean that there's nothing the X8 Apex can't inflate - from sports balls to car tires - let alone so quickly! Its state-of-the-art technology can, on average, pump up one road bike tire in about 14 seconds and a generic car tire in less than 6 minutes*. When you're done, the preset auto-stop feature will shut off the air compressor, ensuring that you never worry about over-inflating. With X8 Apex, we're taking the guesswork and manual pumping out of the equation!
Rechargeable Battery
A rechargeable battery and cordless inflation mean that you'll never have to be stationary when pumping or hooked to a power supply. With a continuous, cordless runtime of up to 40 minutes, get your inflating needs done in a breeze, with even some operating power leftover for more of X8 Apex's features!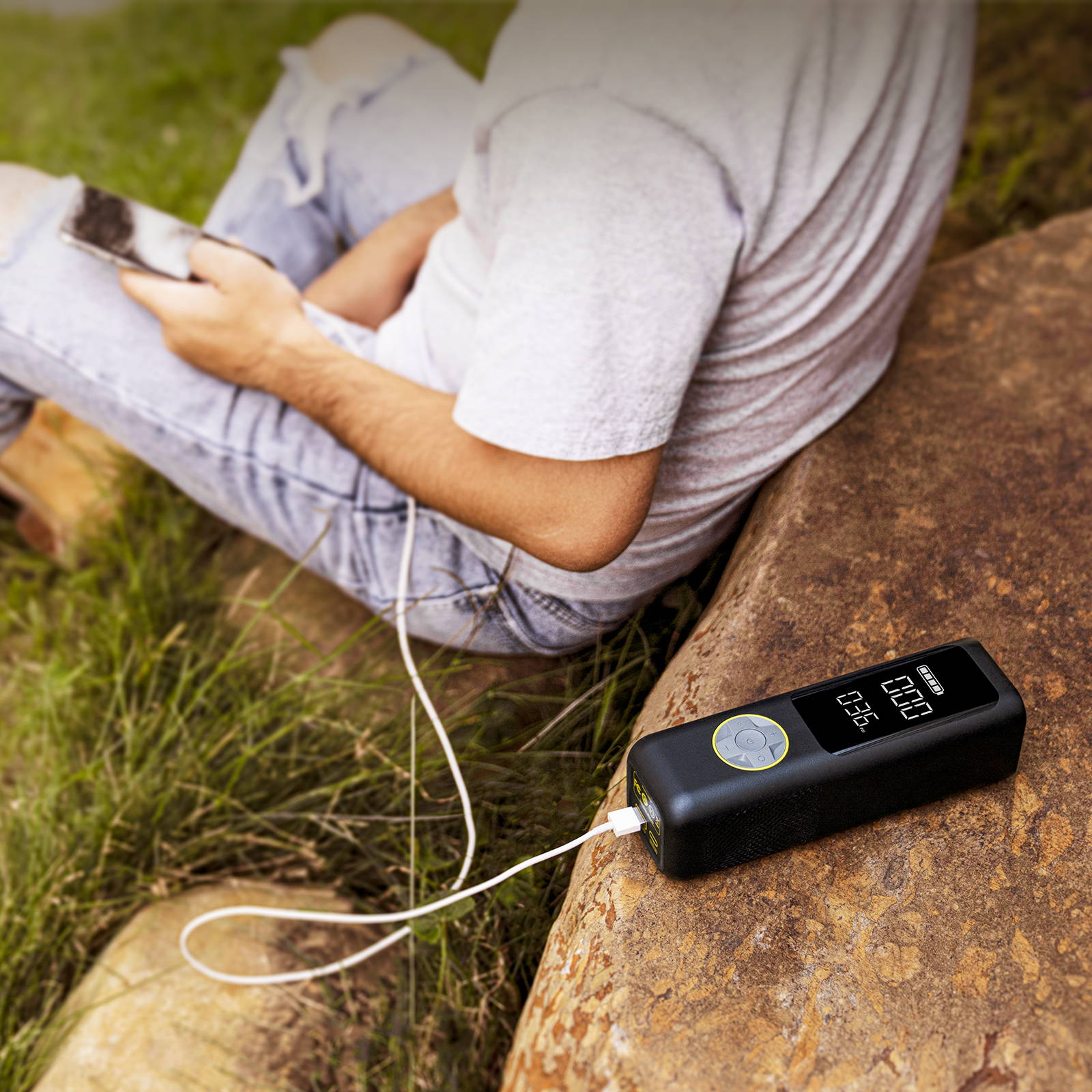 So Much More Than Just A Tire Inflator
A multi-purpose, multi-use air pump, LED light, and mobile phone charger all in one. We weren't exaggerating; It's a valuable tool and so much more than just a tire inflator! A 2-mode LED light situated atop the air pump acts like an illuminating flashlight for in-the-dark tire changes or hard-to-see pumps. Meanwhile, a USB port located on the bottom of the air pump also makes the X8 Apex an emergency power supply; Charge your phone anytime you're running low, whether you're out on the trails or at home in the garage.
Using X8 Apex For All Your Inflating Needs
Wanting to give you the best experience possible both on the saddle and off, we teamed up with Fanttik to create one of the most versatile tools out there. Again, for both on the saddle and off. Learn more about its 5 inflation modes and get an idea of just how versatile the X8 Apex Air multi-purpose inflator is!
Manual
Are you someone that likes to ride their fat tire ebike with exactly 25 PSI? Then manual mode is likely for you. Or, you're someone who knows exactly how much pressure to add into their car tires for the smoothest ride possible? Manual mode has got you covered. But the inflation possibilities don't stop there; Inflate anything from pool toys to air mattresses. Take ownership of your comfort and gauge your level with X8 Apex's adjustable preset pressure value!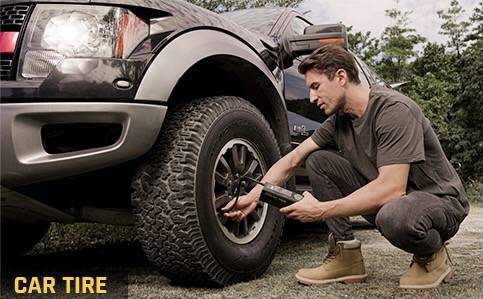 Car
From Toyota to Tesla, X8 Apex's car mode can detect exactly how much air your car tire needs, without over-inflating. So if you're someone who simply wants to always keep their tires inflated to the recommended limits or to pump quickly on an as-needed basis, getting you back on the road has never been a faster process. Plus, its compact size and portability virtually take up no space if stored in the car!
Motorcycle
An essential for cars and motorcycles alike, the X8 Apex will get the most important element of your transportation - i.e. your tires! - rolling safely in no time. If we were motorists, our motorcycling dreams would likely follow in suit with our electric biking passions: going where the wind blows and having non-stop fun along the way! With that philosophy in mind, some unexpected hiccups are bound to happen. Just as they would to a motorcycle. So whether you're a free-spirited, motorcycling adventurer with no destination in mind, a planner with a precise motorcycle route, or just an avid motorcyclist, keep yourself ahead of the game for any emergency. Better to be safe and prepared than sorry!

Bicycle
From fat-tire bikes, mountain bikes, road bikes, to electric bikes, the X8 Apex can inflate bicycles of all types! Bicycle mode has a wide range of pounds per square inch, or PSI, to accommodate all types of bike tires and all types of riding preferences. After all, a rider's expertise, terrain preference, weight, and comfort level will all determine what their comfortable PSI level will be. So why not personalize your ride with X8 Apex?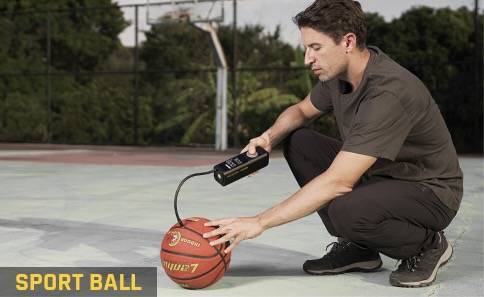 Ball
Perfect for soccer balls, volleyballs, footballs, and even basketballs. Taking up virtually zero space, keep the X8 Apex in your gym bag, the trunk of your car, or in the garage. Always keep the team's momentum going or the smile on your children's faces and never worry about a flat sports ball interrupting the fun again!
Ready to Check the X8 Apex Out?
If you've made it to this point in our blog, it's likely that you're either eager to continue learning about the versatile X8 Apex Air multi-purpose inflator or are looking to seal the deal and add this multi-purpose tool to your toolkit. However this post finds you, we're confident the X8 Apex is perfect for all of your inflation needs, with its bonus LED flashlight and mobile charging features for any emergencies!

*Vehicle tire inflation is based on a generic 205/55 R16 car tire.