Aventon Dealer Spotlight: Bike And Soul
May 5, 2023
Bike and Soul is the heart and soul of the two-wheeled world for a small midwest town. Located in Angola, Indiana, there isn't another bike shop like it in a 45 minute radius. When a long standing bike shop of 26 years was closing its doors, Libby and Joe Hysong recognized its importance for the community and knew they had what it took to keep it alive. Eight years later, it's still rolling right along.
The Hysong's are adventurous and passionate, and have continued a legacy that has supplied many of Angola's locals and the other surrounding communities with a way to feel that sense of freedom only found on a bicycle.
Aventon is excited to share Bike and Soul's story with you and how it has grown beyond their previous expectations.
Heritage and Health in Angola
After the Hysong's purchased the bike store from a friend of theirs they moved it to downtown Angola near Libby's other business, a women's clothing boutique, called Libby's.
"The owner was a good friend of ours and he was ready to retire, so my husband and I bought the bike store because we didn't want to lose it in our community," Libby told us. "We moved it next to our other store and we renamed it Bike and Soul because originally we taught yoga in the bike shop as well. That's where the Soul part comes from."
Libby Hysong grew up in a rural midwest town where her mom owned a boutique. "I was always around retail," Libby told us.
Both businesses were doing well for the couple. So much so that they had to move the yoga to another building around the corner from the bike shop. Then COVID happened and changed everything.
What started out as a combination of yoga and cycling, grew beyond its humble beginnings to the point where the Hysongs had to make a decision. Keep the yoga studio or the bike shop.
"We were so busy with the bike shop that we had to sell the yoga studio."
They've since sold off the yoga studio, but have kept the soul alive.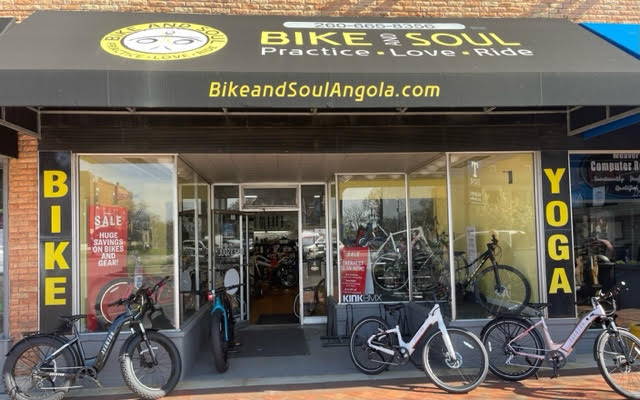 Bike and Soul and Aventon
As in all new endeavors there is the need for research before making the big leap. This is no different for Bike and Soul getting into emobility. Before they could decide on bringing ebikes into the shop they had to do the research to find which brand would be the best fit, for them and the community. Since they were unable to get ebikes from big brands like Trek, they had to see what else was out there in the market.
"At that time I had only been here for a month or two and really we needed to fill a demand," said Pete, friend and employee at Bike and Soul. "We really were looking for bikes under 2k but weren't going to be a quality issue because we didn't want to sacrifice our reputation on bikes that wouldn't perform well. That's what led us to be happy with Aventon."
"We hardly can stock them," says Libby. "We were getting shipments of ten and the guys were building them as fast as they could before we sold them. We take phone calls all day long about them. You guys do a great job of marketing. That definitely helps to sell them."
"I read a lot of articles on every ebike that would do dealer direct and what their reviews were and I looked at professional reviews and some consumer reviews and you guys really seemed like the best option for the price point our community could handle."
The landscape of biking has changed since COVID. More people are finding reasons to get outside and roll around. The same goes for the locals of Angola who were looking to join the ebike movement. It was out of necessity that Bike and Soul brought in eibkes and they haven't looked back since.
Aventon In Angola
For the people of Angola it's all about the comfort and design of the bikes that keeps Bike and Soul selling Aventon.
"The vast majority of people in our community buying them are in their 50s and 60s," Pete told us. "Aventon bikes are sturdy, and we don't run into problems like we kind of did in the beginning with other step-through frames."
Aventon's step-through frame has made it easier for those with physical limitations and less mobility to get on the bike and find happiness through the power of motion.
"We really try to sell a low step to everyone and I think that low step looks strong enough that most of the guys don't mind riding it. And once we explain to them the reasons they're more receptive to it. There are some that will refuse to ride the low step. But we really find the low step is best," says Libby.
Besides the comfort and design, it's also about the options Aventon ebikes have to offer.
"We're extremely happy with how it worked out. People really enjoy Aventon bikes. Trek doesn't make throttle ebikes. So it fills that whole other category for people. People really want the throttle."
The Aventure's Power Provides
Bike and Soul has found their clientele is gravitating towards the Aventure, and for reasons most people wouldn't expect.
"A lot of guys that hunt have bought the Aventure, and really love it," says Pete. "They buy the Surly utility trailer and attach it to the back and use it for hunting. Instead of using an ATV."
Hunters in Angola have found that the Aventure is a great alternative to using an ATV or truck when going hunting. The powerful 750W rear hub motor can handle pulling a trailer with the catch of the day. But that's not all.
"It costs less than 2k and the surly trailer is 700. It doesn't take up as much space as a side by side. It doesn't take up as much room as a truck. There's no gas. You don't have to register it if you want to take it on the road. It's a great option for people who really want to get off road and have some power. It's definitely strong enough to pull a couple hundred pounds behind it with a trailer."
Pete told us that some of these hunters have even sold their trucks altogether and have switched to emobility as their main form of transportation in the fields and on the road. If hunters have found utility in ebikes, think of all the other possibilities that they can be used for.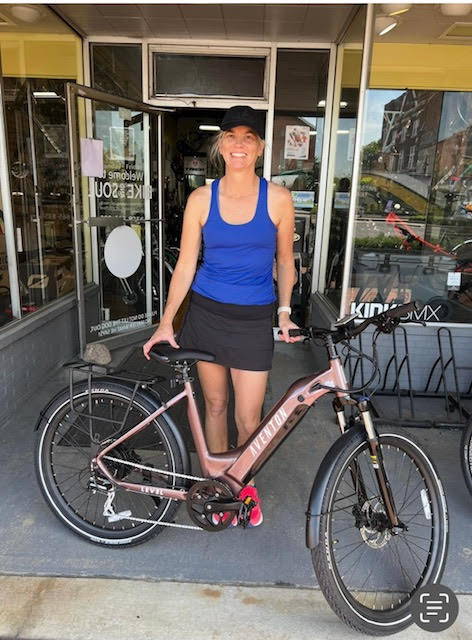 What To Expect From Bike and Soul
In their own words, Bike and Soul "strives to create a healthy environment where everyone feels welcome and loved. It's a place of community, peace, and practice for your mind, body, and spirit." Libby, Pete and a third team member, Patrick, strive to make sure that everyone who comes into Bike and Soul is treated with respect and compassion and finds happiness on a bike.
"We just want to make people happy so they ride their bike whether they bought it from us or it's one we've fixed," says Patrick.
"People know they're going to get an honest answer from us," says Libby.
Test Rides
Bike and Soul offers test rides for those who have not felt the thrill and joy ebikes provide. They offer instruction and will help guide those who are not familiar with how they function. And for those who are already familiar with the way pedal assist and throttle can propel their natural motion, they offer test rides on all the new models that come through the shop as well.
Bike Maintenance
At Bike and Soul they won't turn you away when it comes to working new or old bikes.
"We're just really honest and frank," Pete tells us. "We're honest about fixing bikes that might not be worth it, but we'll still do it if they really want us to. A lot of bike shops won't even touch a department store bike any more. And some of the bike shops in the closest city are like that. They don't want to work on Huffy's. We also try to sell people used bikes in that case and old Trek from the 90's."
Bike and Soul also provides full support on all their products, this means if there's a component that doesn't function properly or a customer needs help with their warranty.
Weekly Bike Rides
In Angola and in the surrounding areas there's plenty of trails and gravel roads that get occupied by cyclists. So if you're looking to meet up and get some riding in with fellow cyclists, then Bike and Soul is the place for you:
Tuesday gravel rides that start at 5:30
Wednesday group rides at 5:30
Both rides begin at the bike shop. Don't be late on the fun!
Rejuvenate Your Soul With Bike and Soul
Good people are out there, and at Bike and Soul in Angola, Indiana, you can be sure to find a few of them there. Libby and Joe Hysong have cultivated a space where anyone can come and find a sense of community. They have established their business in the heart of that midwest city, and it is there where you can find love and passion for cycling, the outdoors, and your fellow humans.
Contact Bike and Soul today, and start your emobility journey from good people who will treat you right.