Aventon Dealer Spotlight: ATV Wholesale Outlet
October 14, 2022
Turning the spotlight onto one of our not-so-typical local bike shops, we're ecstatic to share the story behind ATV Wholesale Outlet and how it's expanded into a one-stop shop for all things outdoors, adventures, and electric bikes! In addition to being a family-owned business and one of our own recognizable authorized dealers in California, ATV Wholesale Outlet is a staple in the community, not only for its robust collection of four-wheel and two-wheel products, but mission to continuously cultivate a superior customer experience. Located in Sacramento, CA, we were thrilled to speak with one of ATV Wholesale Outlet's owners, Jacob!
ATV Wholesale Outlet's Founding Story
Starting as a family business right before the 2007 recession, Jacob's father's real estate endeavors took him into new territory, where he decided to purchase a few power sports vehicles in an attempt to resell out of their home garage. Once he saw the demand for this niche market, and 17 years later, ATV Wholesale Outlet more than doubled in size and grew into Northern California's largest seller of affordable ATVs, dirtbikes, 4-wheels, side-by-side's, and off-road units. Fast forward to his father's recent retirement, Jacob and his brother, Isaac, stepped in to take the business to the next level.
With a background in sales and marketing, Jacob's vision matched his ambitions, always thinking ahead to 'what's next?' Ebikes were new to the market and unconventional to their then inventory, but stepping out of the box in an attempt to project the business even further, ebikes were a bet he was willing to try. Jacob initially picked up half a dozen electric bicycles and sold them within a week online. Then, six ebikes turned into 10, and 20, and next thing they knew, ATV Wholesale Outlet was selling thousands of Aventon electric bikes!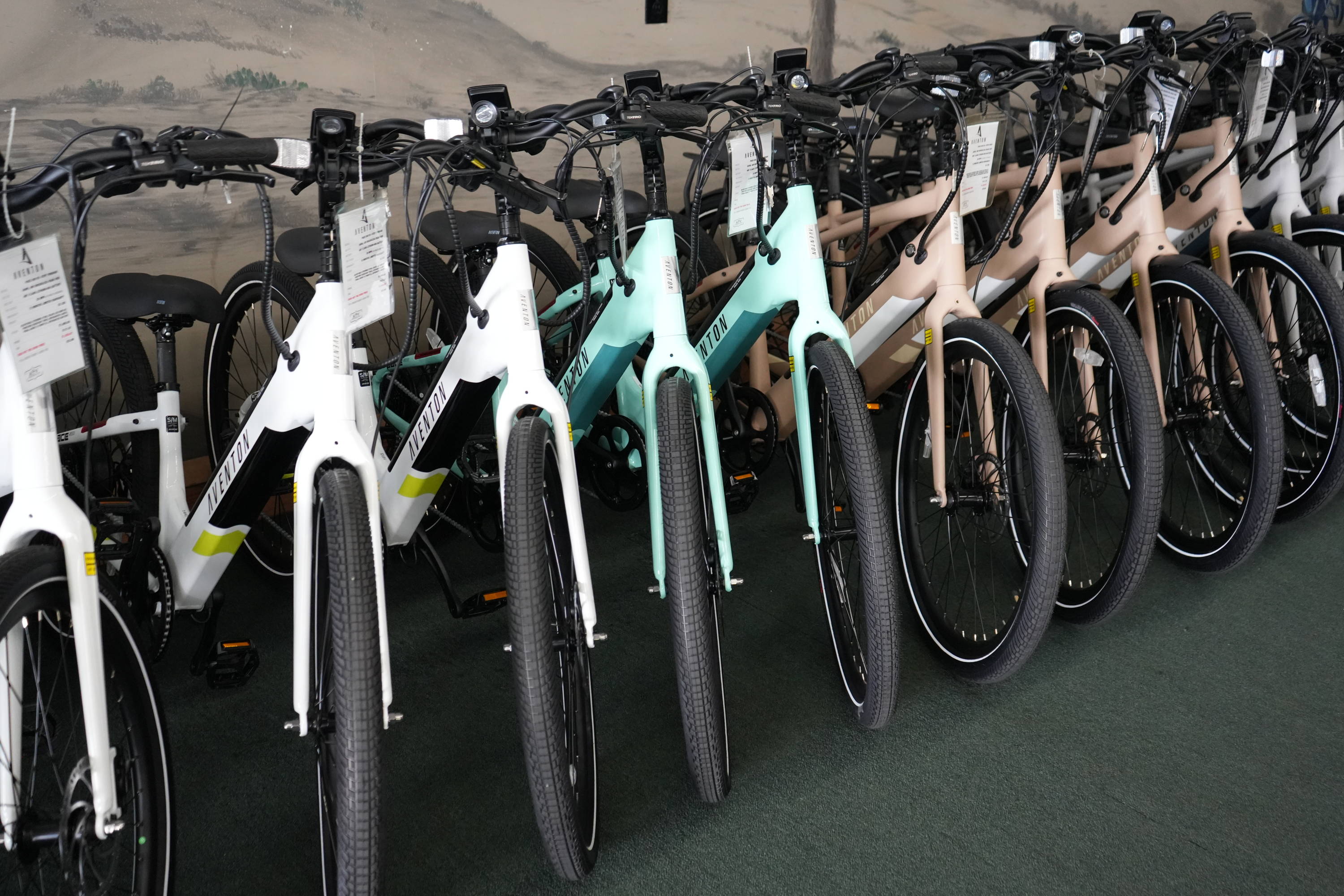 How ATV Wholesale Outlet Met Aventon
Following the initial success of Jacob's electric bike test, he began looking for a brand that not only had a strong support network for dealers but had the potential to bring great success to both their own shop as well as fill a need for their community. Coming across Aventon, and looking for a product of superior quality, Jacob ordered two red Aventure Step-through models to test out. Not long after, both ebikes were sold to their very first Aventon customer. After starting with the sample, and learning how immediate their velocity to move was, ATV Wholesale Outlet's top-selling ebikes (which are also Jacob's favorites!) are now the Aventure and Next-Gen Pace 500.
Jacob tells us that for the price points, he's yet to find another ebike brand that offers as strong of a value to his shoppers as Aventon does, from the componentry, color section, fit and feel, to the overall quality. Not only are he and his wife faithful riders of their Next-Gen Pae 500s, but Jacob's father is also an Aventon owner, and one of ATV Wholesale Outlet's employees even commutes to and from work every day on their Aventon ebike! What drew Jacob and his employees to Aventon ebikes is also what draws ATV Wholesale Outlet's customers to them: high-quality products at affordable prices.
An Emphasis on the Customer Experience at ATV Wholesale Outlet
What truly sets ATV Wholesale Outlet apart from others is the ethic they run their business by. Jacob tells us that they treat their customers the way they wish to be treated, and because of this foundation built, his team ensures that everyone that walks through their doors gets personal, individualized attention. From the very start of ATV Wholesale Outlet, the goal was to cultivate a warm, family-oriented, welcoming, one-on-one environment where everyone could feel comfortable and find exactly what they were looking for. Jacob says it starts with having a knowledgeable staff that not only understands the componentry of bikes but aims to genuinely connect with their customers, ensuring that they find the right product that fits their needs. This philosophy is not just limited to people who walk through the doors at ATV Wholesale Outlet, it also applies to customers who call in with questions or contact them via their online channels. What's important is asking the right questions, giving people the time, space, and freedom to look around in the store, and encouraging them to try, try, try before they buy. At the end of the day, it isn't about pushing anyone into a decision that they didn't choose. Instead, the goal is to have customers leave happy with a bike that they wanted.
Special Services Offered at ATV Wholesale Outlet
In addition to their people-first philosophy and dedication to ensuring their customers find what they want, ATV Wholesale Outlet offers a plethora of additional special services. Check out just a few below!
Test Rides
The best way to determine if an ebike is right for you, your needs, and your abilities, is to try one out! At ATV Wholesale Outlet, you can test ride every single Aventon ebike. You read that right. Every model is always available for a test ride so that you can confirm the ebike you're interested in can withstand your wildest adventures or quickly get you to work on time! What's more, is that ATV Wholesale Outlet aims to have every Aventon electric bike in stock, so you're guaranteed to find the right model, size, and color to get you riding!
Assembly
Once you've test rode an Aventon and thought 'Yep! This is the one for me.', a special service ATV Wholesale Outlet offers to its customers is free ebike prep and assembly! Any Aventon ebike purchased from them means you not only have plenty of time to test ride, but you get a fully built bike (with no assembly upcharge!) that you can walk away with on the same day.
Bike Services
Post-sale care is a huge emphasis at ATV Wholesale Outlet, and arguably equally as important to them as offering pre-sale support. Jacob says, "If you buy from us, you're buying into a support system too." Meaning if you ever need anything, no matter how small or complicated the service inquiry, the team will welcome you with assurances to bring your Aventon ebike in. Not only do they believe it's their responsibility to their customers to take ownership of being the point of contact with Aventon for any warranty issues, but it is something that they want to be for their customers.
Jacob's Favorite Part of the Job
Most businesses, whether family-owned or sole entrepreneurial, have a clear 'why' they do what they do. For Jacob, it's seeing the success of his and his team's labors. How do they measure success? Seeing people leave ATV Wholesale Outlet happy. Whether that's a first-time customer raving about their experience on a review, others sending emails sharing photos of them on their bike rides, or the rest coming back into the shop with friends and family. Ultimately, it's seeing how the products they intentionally carry and the service they provide make their customers happy and brighten up their days.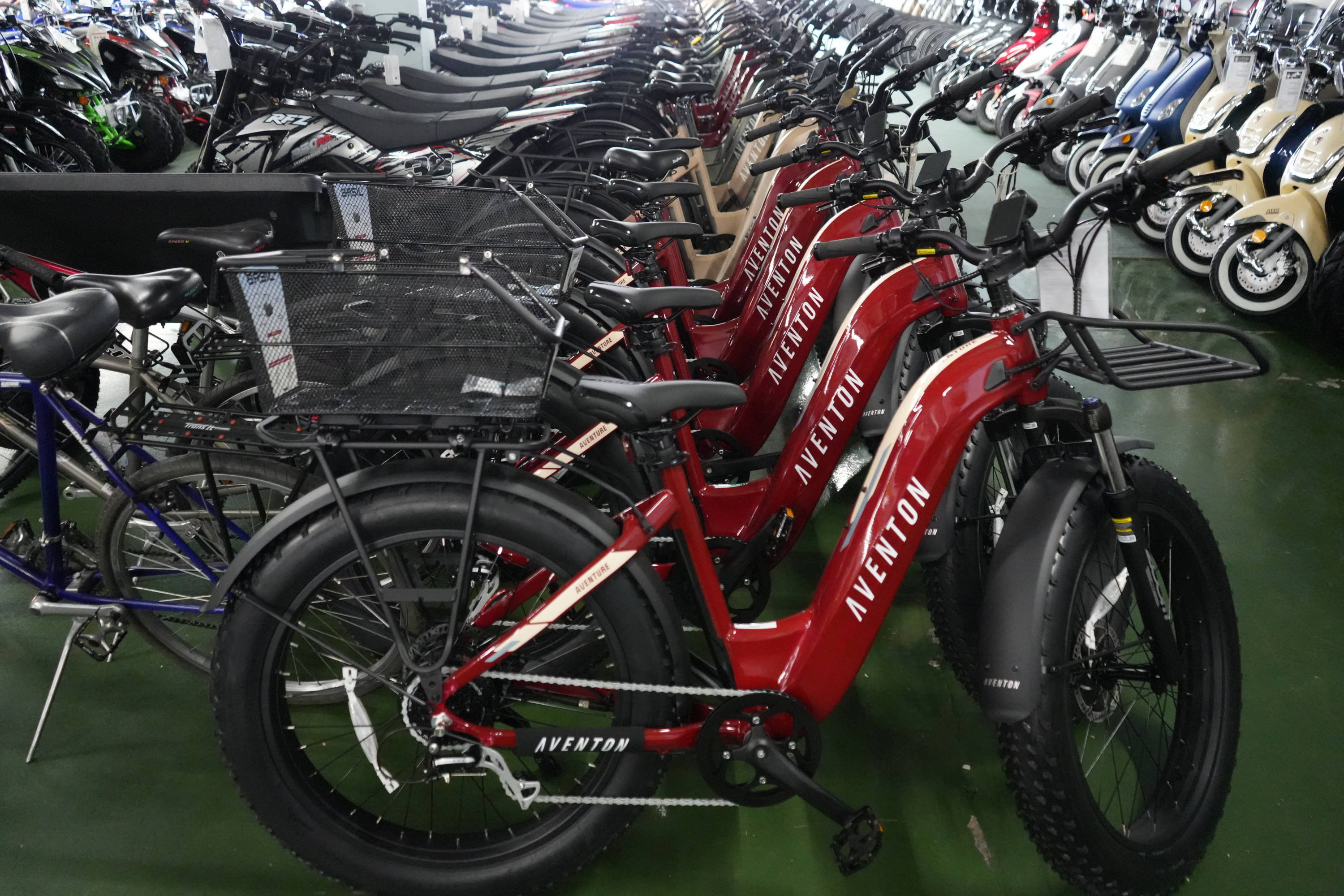 Ready to Check Out ATV Wholesale Outlet?
ATV Wholesale Outlet is a trusted source in the community and a go-to for many, both in the Sacramento area and beyond! Known for its superb service, robust collection of products, and commitment to its customers, ATV Wholesale Outlet is trusted by many and traveled to by even more. Learn more about their selection of Aventon electric bikes and how to contact them with any pre-sale questions, post-sale clarifications, or service requests. And if you're ready to test ride an Aventon ebike or roll home with one, check out ATV Wholesale Outlet in Sacramento, CA!