Aventon Dealer Spotlight: Amped Adventure
July 8, 2022
This week, we're taking you on a journey to the Pacific Northwest to turn the spotlight onto and share the story of one of our Aventon-only bike shops: Amped Adventure! Being a newer establishment, Gordon, from Amped Adventure, shared with us how a community's need for a bike shop in the greater Seattle area amped his inspiration to start this new business venture. Partnering up with two of his closest friends, Amped Adventure was soon born near one of Seattle's most iconic trails. Their mission? Not only alleviating the frustration and disappointment people felt when their online searches for 'e bikes Seattle' or 'electric bikes Seattle WA' would turn up empty, but to create a bike shop that's a safe and welcoming space for everyone!
Amped Adventure's Founding Story
Gordon grew up around bikes. His first exposure was through Boy Scouts where they'd plan and execute long-distance bike rides every summer, from taking Highway 101 from Portland, Oregon, to Crescent City, CA, or to the San Juan Islands just north of Seattle, and even riding all over the Hawaiian islands. Scouts were in complete charge of their bikes, everything from stripping them before a ride to gear them up from the inside out to knowing how to keep them going while en route. Through these early experiences, Gordon became an expert on all things bike repair. Fast-forwarding into his adult life, he found himself taking on the role of de facto bike mechanic for his wife, who is an active Ironman triathlete, as well as converting his old mountain bike into a fully functional electric bike! His exposure to different types of bikes throughout different phases of his life not only made him an expert but influenced his ability to quickly adapt his knowledge and learn how to maintain and run new types of bike equipment.

Living on the north border of Seattle and working with bikes on a regular basis, not having access to a local bike shop nearby quickly became an issue. That is until the perfect retail location sprung up with a 'for lease' sign out of the blue: a corner shop nestled across the street from the Bert Gilman Trail running along Lake Washington! Being a former firearm engraving store in business for over a decade, Gordon always knew a bike store would be better suited for the location. After seeing its vacancy, securing the store, and reaching out to friends he'd see himself running a business with, Amped Adventure opened in August 2021, co-owned by the friendly and knowledgeable Gordon Smith, Chris Engler, and Troy Johnson!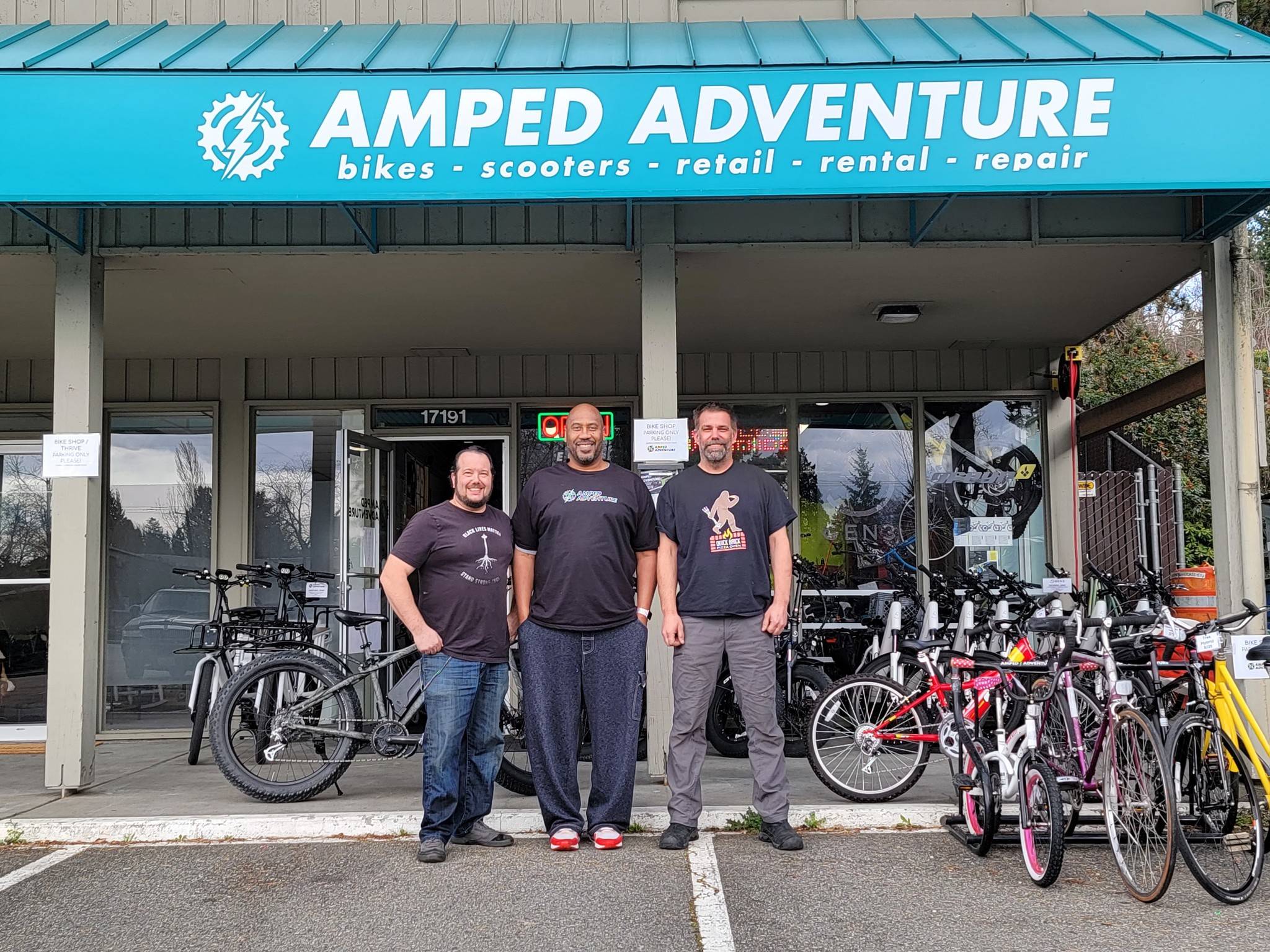 How Amped Adventure Met Aventon
Upon its grand opening, Amped Adventure started out offering rental bikes and selling only Gen 3 electric bikes, an electric product start-up local to the Seattle area. With Gen 3 quickly going out of business, the trio decided to do a total 180, looking for a brand that has an established network of dealers and is in reputable standing in the bike industry. Recommended by Gen 3 and after conducting their own thorough research, Amped Adventure found Aventon!
What initially attracted Gordon, Chris, and Troy to Aventon, aside from the styling of the ebikes, was its vast network of dealers and warranty support. Gordon said, "living in Seattle, everything is Rad this, Rad that, but they don't include any dealers" Missing the dealer component not only causes frustration on the customer's end when they need service and repairs but can't find the components or anyone to work on their bike, but on the local bike shop's end as well; Without an established connection to a brand, it's often more difficult to receive warranty support in order to provide customers with on-the-spot, over-the-top support. But that doesn't stop Amped Adventure from helping its customers out! Especially when an ebike is built methodically and with quality components, trips to the bike shop for repairs should be far and few. Gordon says, in comparison to Rad, it's the details that set Aventon high for his customers; "Aventon can come in, at the same price point, with cleaner looking welds, cooler colors, and produce an ebike that looks, feels, and ride like a bike but with real components." When asked how Aventon compares to Rad, Amped Adventure's response is always the same: Ride these [Aventon], Ride those [Radpower], and we'll see you when you come back!
Gordon's favorite Aventon ebikes mirror those of his customers: Next-Gen Pace and Level! Not only are they both a comfortable ride, but the geometry of the bike never fails to excite him. While Amped Adventure mainly sees customers coming in because of reviews they read online about Aventon, ultimately, it's their welcoming environment, knowledgeable and helping nature, and exciting test rides that get their customers rolling out the door!
What Sets Amped Adventure Apart
Living and working in the same town where Amped Adventure is located, the trio know the area and what the community needs better than anyone! Taking up a prime location across one of the best 25-mile trails in Seattle, Amped Adventure sells Aventon-only electric bikes, services ebikes, and rents ebikes! Owner-operated, anytime a customer pops in they'll not only get to chat with Gordon, Chris, or Troy but can experience some of the below as well from shopping small and supporting Seattle!
New Aventon Electric Bikes and Used Pedal Bikes
If you're in the market, searching for 'electric bikes for sale Seattle,' look no further! Amped Adventure doesn't only just carry the full line of Aventon electric bikes. They also retail a small selection of used pedal bikes! So while urbanites of Seattle can certainly invest in an Aventon ebike to help them overpower their hilly commutes, there are also traditional bicycles for those who prefer to rely solely on their pedal power. Rest assured, through Amped Adventure, there's a bicycle for everyone!
Excellent Location for Test Rides
Amped Adventure is not only situated near one of Seattle's most popular bike trails, but it's in a very hilly area. Thus, making it a perfect test ride environment for Aventon's pedal assist and throttle electric bikes! Gordon highly suggests his customers take any and all test rides to get accustomed to the feel of the Aventon ebike they're interested in, to then discover if it's the right fit for them. Not only that but to also test the bike among the varying terrains right at their doorstep: compact trails, flat streets, and hilly climbs!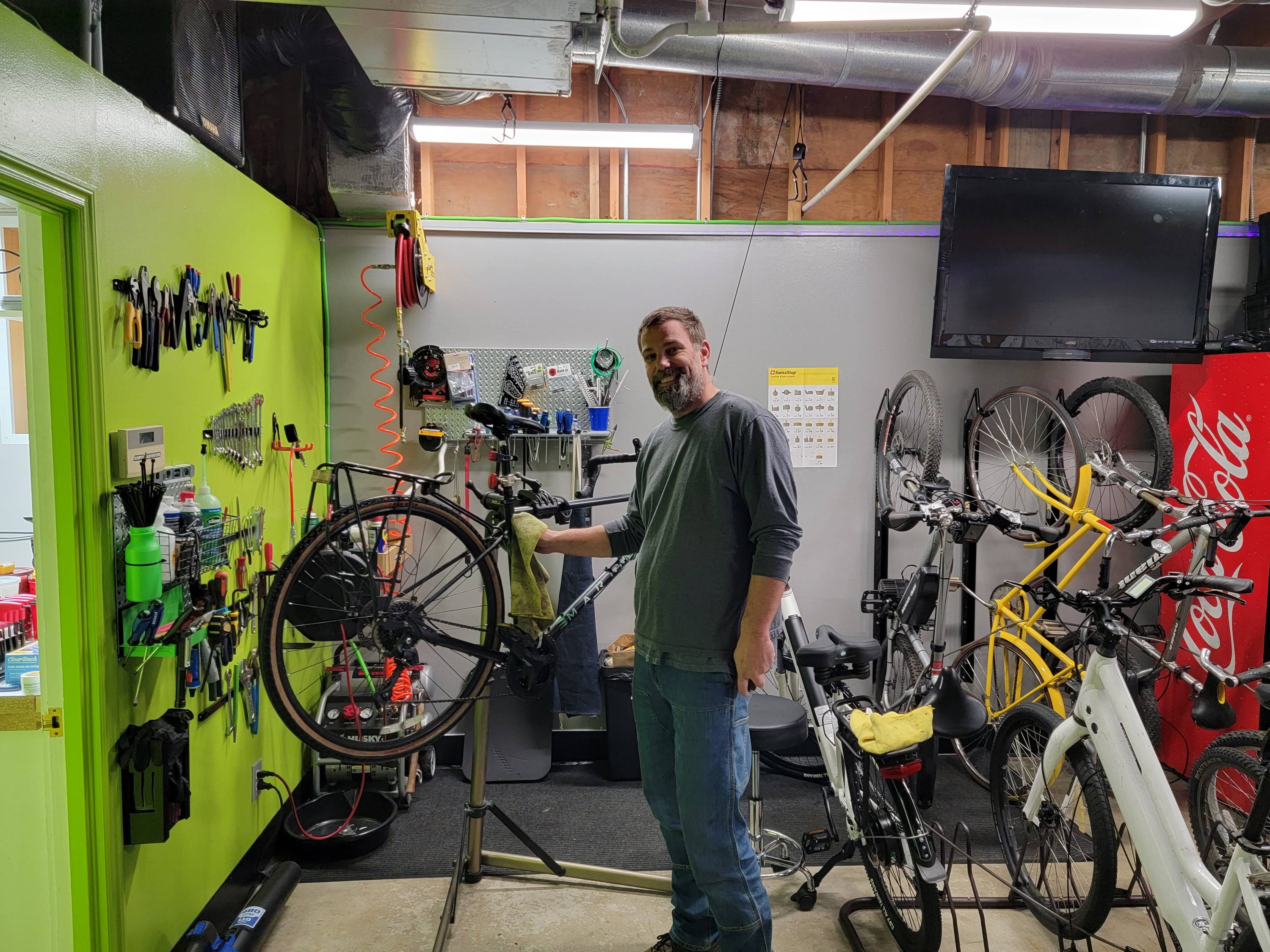 Service and Repairs
Amped Adventure offers service and repairs for all bikes, electric or not, from e-scooters to jogging strollers and trikes! If it has a wheel, they'll do their best to get you back to rolling! Offering free diagnostic services, it's as simple as scheduling a drop-off appointment and receiving a call with what's going on with your bike and how best to move forward. The team at Amped Adventure won't give up until they've exhausted all options to get you back to doing what you love to do! Gordon shared a story of a woman who was unable to use her trike for three months! In desperate need of a wheel replacement and being rejected by every bike shop she contacted for the repair, the team at Amped Adventure stepped in and got her back in the saddle in no time. The team at Amped Adventure will go the extra mile for its customers, and as a bonus to customers who purchase an ebike from them, they'll offer free labor and tune-ups for as long as you own your ebike!
Rentals
Whether you're just visiting Seattle and want to see some sights or are a resident looking for a unique weekend experience, Amped Adventure also offers electric rentals! Renters can choose from a Step-through electric bike, cargo e-bike, or an electric scooter, and have the flexibility to rent per hour or daily. Simply check their availability, reserve your electric choices, and have fun!
Community Involvement
Born out of a community need for a local bike shop, Amped Adventure participates in any of the community partnerships that come its way. Whether it's participating nationally in Bike Everywhere Day, demoing Aventon ebikes for free at a local bike parade and outdoor documentary screening, or donating gift cards to local school auctions for their end-of-the-year festivities. With the Sunday weekly farmers market setting up right in front of their retail location, Amped Adventure has quickly grown into a well-known local establishment and go-to for many in the Seattle community!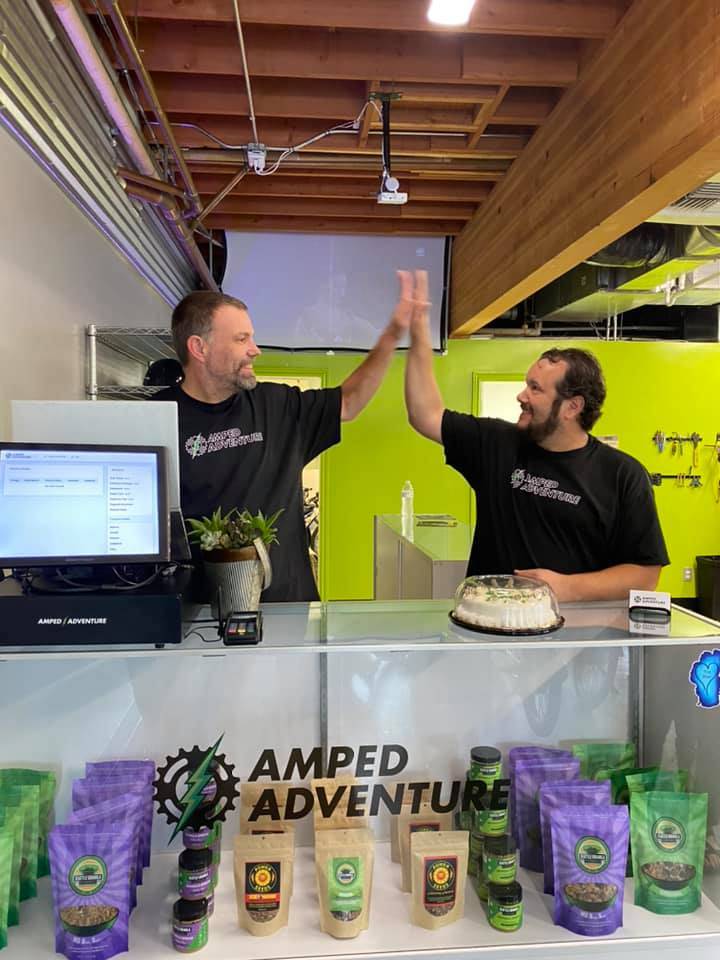 Amped Adventure's Best Part of the Job
Continuing on the topic of community, Gordon says the community engagement they've received thus far, being the only bike shop in the community, has been the most rewarding part of his experience. Everything from 'We're so glad you're here!' to 'We needed a bike shop for so long!' While bikes and being part of a greener solution for transportation are some of Gordon's passions, ultimately, his favorite part of operating Amped Adventure is to be able to help people. Whether it's helping them commute more efficiently to work without the hills beating them up or they're across the street on the trail with a flat tire. After all, a bike shop is an integral part of any local community!
Ready to Check Out Amped Adventure?
Whether people are searching for electric bikes in Seattle or a Seattle-based electric bike company, Amped Adventure has quickly grown into a staple in the community and a go-to for many, both in Lake Forest Park, Washington, and the greater Seattle region. One of the few Seattle ebikes experts and known for its dedication to its customers and the community, Amped Adventure is trusted by many to either begin or get back to their explorations!
Learn more about the products carried, services offered, and how to contact their team! If you're interested in test riding or purchasing an Aventon ebike, stop by Amped Adventure in Lake Forest Park, Washington! Finally, if you're still finding yourself scouring the internet, searching everything from 'ebike Seattle' to 'electric bikes Seattle,' Amped Adventure will also be participating in Electrify Expo alongside Aventon. So if you'll be in the Seattle area from July 23-34, 2022, check out both Amped Adventure and Aventon at Electrify Expo Seattle!