Aventon Delivers Christmas Cheer
December 23, 2020
With all that's happened this year carriers and shipping companies are busier than they have ever been. This has potentially caused an upset for a few people's Christmases' because there is the potential that there'll be a few presents missing from under the tree. Let's face it, if you've ordered anything online in the past week it probably came with a warning that it may not arrive before Christmas.
With all this in mind a couple of the Aventon staff took it upon themselves to ensure that orders in our local area did not end up as a photo and a note saying "Coming Soon!". In the spirit of the season, these folks donned the red suit with white trim, wore the customary black boots, procured the company sleigh -a.k.a sprinter van- filled it with orders for customers in our local area and then, in the spirit of the season, they hand delivered these orders to our surprised and elated customers.
Here we have Mike T. from the mighty Anaheim, CA! He ordered one Level commuter ebike and one Level Step Through commuter ebike. Our guys made sure that his order made it under his Christmas tree in time for Christmas, and also shared a photo opportunity with his impressive life size Santa statue!
Next we have the WIlliams family in La Verna, CA! They ordered a bunch of accessories for their ebikes. They were home when the Aventon Santa Clause turned up on their doorstep to surprise them with their hand delivered order.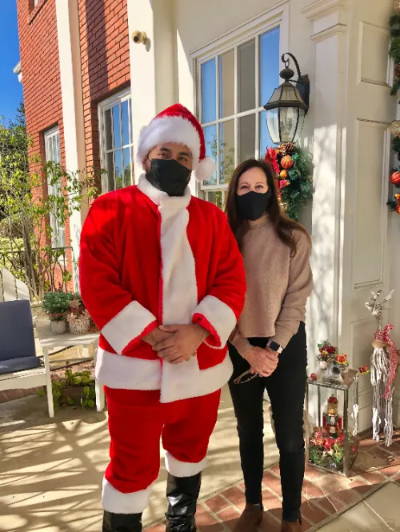 There were a few of our beloved customers who weren't home when the Aventon sleigh pulled up outside their houses. These were Beth F. in La Canada, CA, the Herbis family in Tustin, CA, and Eric V. in Rancho Cucamonga, CA. Not being home didn't stop the Aventon elves from leaving their orders, and they placed them discreetly and safely in locations where they would be found when the purchaser arrived home!
Everyone the Aventon elves met was thrilled to have their products personally delivered to their doorstep by the company that made them, and our team had a great time meeting our valuable customers and being out there on the road, dropping Christmas off on doorsteps, on another sunny day in Southern California. Here at Aventon we love going above and beyond for our customers and this is just one way we can do this!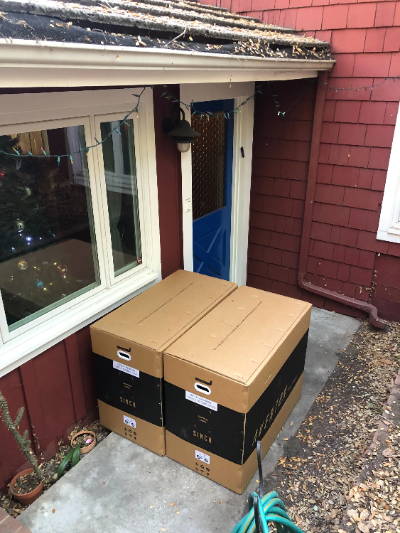 So… for those who weren't there we're sorry we missed you and hope you enjoy your timely delivered gifts! To everyone else out there the Aventon team wishes you a very Merry Christmas and a Happy Holiday!