Aventon Dealer Spotlight: Whitman's Bike Way Bike Shop
September 2, 2022
While for many, life can feel like a series of cycles, for the Whitman family, it was a series of bicycles. Today we're turning the spotlight on Whitman's Bike Way Bike Shop and sharing its remarkable story, with some of it even rooting back to the '70s. We had the absolute pleasure of speaking with Sandy Talley, one of the owners of Whitman's Bike Way Bike Shop, who not only shared her philosophy on the importance of operating a people-first business but the insights she discovered while operating her shop by the golden rule instilled in her by her father: treating others right! 
How Whitman's Bike Way Bike Shop Came To Be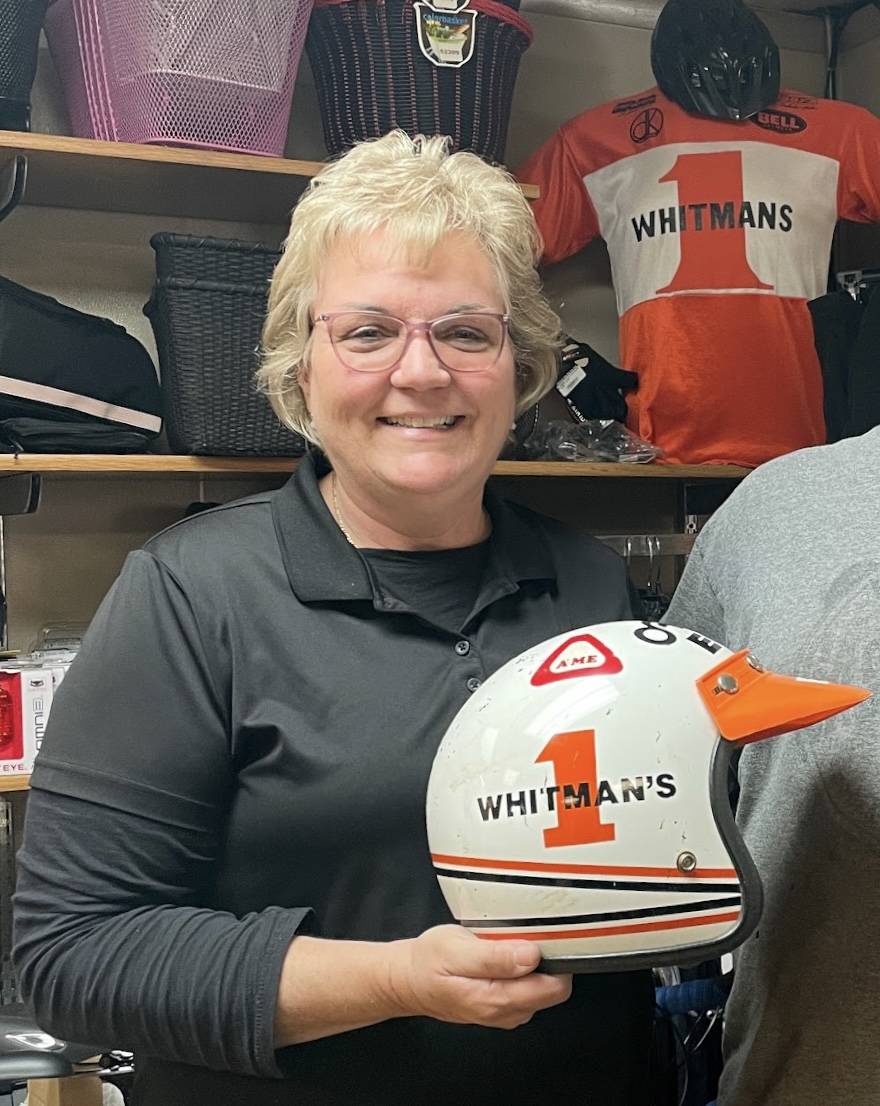 Sandy grew up in a large family, all of whom, were bike enthusiasts. Opening their first bike shop in 1971 in the basement of their home, the family business grew into a five-store chain that saw massive growth and success. Whitman's Bike Shop was front and center through all of the trends over the years, from traditional bikes to mountain (ATV) bikes, mopeds, skateboards, rollerblades, and even supporting a BMX team in the early '80s. From an early age, their father's incredible work ethic was instilled into Sandy and her siblings; The golden rule of treating others how you would want to be treated. While the family business closed in 2000, Sandy's passion for bikes remained.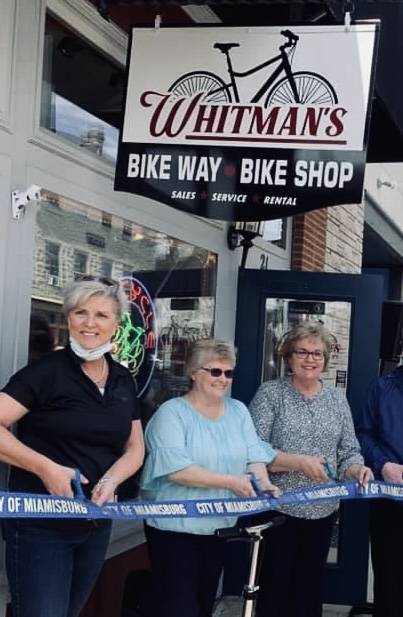 As time passed, Sandy began working part-time for her son, who oversaw another local bike shop in historic Downtown Miamisburg, The Bike Way Bike Shop, just minutes from one of their family's old bike shops. Coincidentally, the owner of The Bike Way Bike Shop, Rick, was a previous employee of Whitman's Bike Shop! Having worked at The Bike Way Bike Shop for about a year and a half and knowing Rick was looking to retire, Sandy soon found herself taking over ownership of the store, combining her past with her present, rebranding as Whitman's Bike Way Bike Shop! Located in the beautiful downtown, historic area of Miamisburg, Whitman's Bike Way Bike Shop has become a rendition of a community's iconic local bike shop. Not only is it centrally located, next to restaurants and coffee shops, where cyclists can hang out while their bikes are being serviced or assembled, but the Whitman's name continues to bring in newer generations of its past customers as well as people from all over Ohio, Indiana, Kentucky and beyond! As people from all walks of life find out, it's not just the bikes that bring them through the doors; It's the service, support, and staff that have left such a lasting legacy.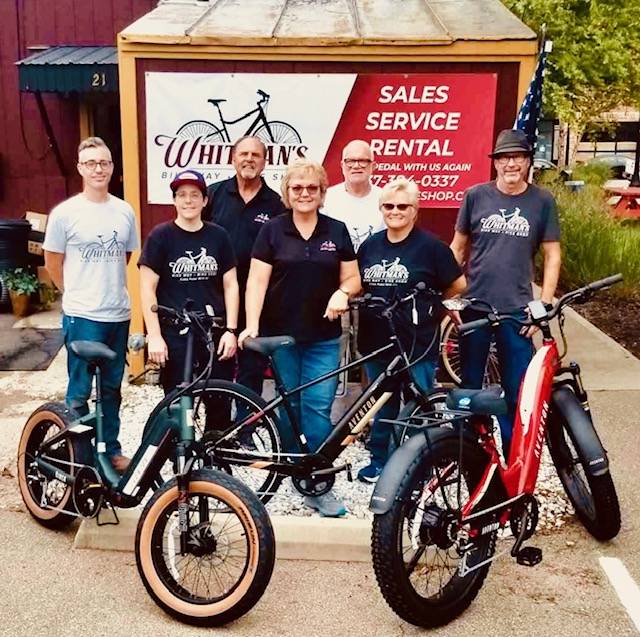 Whitman's Bike Way Bike Shop Meets Aventon
Looking for ways to expand the business, Sandy began researching different brands and products within the bicycle industry. Coming across electric bikes, she knew these would be the future of the industry. While most ebike manufacturers she contacted were reluctant to work with independent bike shops or had far too many restrictions for these types of partnerships, an opportunity would soon come rolling through her door when she found Aventon. After reading hundreds of reviews on Aventon products, Sandy contacted our team with her questions and concerns. Hoping for reassurance that Aventon was willing to work with independently owned local bike shops and offer them warranty support to keep their customers satisfied, one conversation was all it took! While back in the day she would've been reluctant to onboard a product that's solely sold online, Aventon's products, marketing, and service solidified her decision. Now, Sandy has shoppers coming in around the clock having done their own research on Aventon, and for those who haven't (with absolutely no harm in that!), she has her own booklet of specifications unique to Aventon ebikes! While the Level and Pace models have been their best selling, customers from near and far can expect at least one of every Aventon model on their floor to touch and test!
What Sets Whitman's Bike Way Bike Shop Apart
Sandy believes that ebikes are a channel that allows people of all abilities to get on bikes; To restore the joy of riding. This is why at Whitman's Bike Way Bike Shop, they do everything in their power to ensure that whoever walks through their door feels excited, supported, and heard.
Test Rides
One of their most common questions, and a service that is not only offered but encouraged, is 'Can I test ride the Aventon?' Sandy and her team believe that Aventon bikes simply sell themselves for how great they feel, how powerful they ride, and how versatile they are to the rider. She hasn't had one person get on an Aventon ebike and say 'this isn't for me.' With their bike shop located just 100 yards from a beautiful bike path, test riders can get a genuine sense of how Aventon will feel when they're out on their own adventures!
Service and Repairs
Whitman's Bike Way Bike Shop can repair and service virtually any bicycle, regardless of brand! Whether it's electric, tandem, or off-road bicycles. If you're in need of your routine tune-up, minor adjustments like a flat tire, or some major repairs, Whitman's Bike Way Bike Shop can handle it all! It's as easy as giving them a call, explaining your needs, and dropping your bike off!
Bicycle Rentals
Not only is Whitman's Bike Way Bike Shop a one-stop shop for all things purchasing and servicing bicycles, but they also offer rental options! Whether you're wanting to see if an ebike is for you, spice up your date nights, or are simply looking for a new way to experience your town, different styles of bikes are available for rent for different types of adventures and riders! Including road, cruiser, tandem, and recumbent bicycles. Located just 300 feet away from a gorgeous bike trail with picturesque views, renting a bike from Whitman's Bike Way Bike Shop is a perfect way to escape right away into nature or to explore Downtown Miamisburg. But bicycles aren't the only thing for rent. Helmets, baby carriers, trailers, and locks are also available to rent for those who might've forgotten their gear or want to involve their kiddos!
Excellent Customer Service
Upholding her father's golden rule and instilling it into everything done at Whitman's Bike Way Bike Shop, Sandy says they always take care of their customers. Between her, her partner, best friend, and co-owner Wendy, and the entire team, putting the customers first is at the heart of all that they do. Sandy says her team loves to have fun and laugh with the people that visit them. When you're passionate about what you do, work doesn't necessarily feel like work, so why not have fun? The technique of how customer inquiries and interactions are handled and service requests haven't changed at all from the days of the Whitman's Bike Shop!
Best Part of the Job
Sandy told us about an epiphany she recently had, where she realized that although she's been around bikes her entire life and enjoys riding them, what she loves more is the customer service part of her job; "It's just about being nice to people. Treating them right, and giving people the info that they need." Her team takes the service part of their work most seriously, whether they're just helping inform customers about ebikes, hitting the trail to test ride with them, or guiding them through using ebikes to make them feel more comfortable and confident. Their goal is to personalize the experience, accommodating each and every individual that walks in through the door with what they need!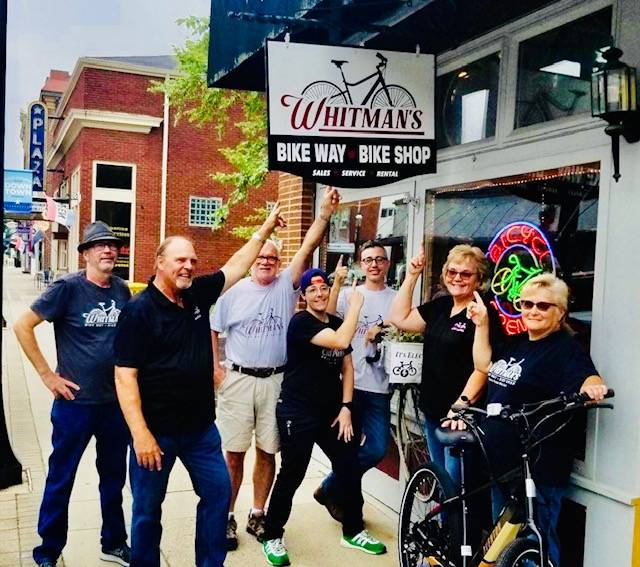 Ready to Check Out Whitman's Bike Way Bike Shop?
Whitman's Bike Way Bike Shop is a community legacy and go-to for many in Miamisburg, as well as surrounding cities and states! Although it's their repair services, knowledgeable staff, and passion for what they do that draw people in, ultimately it's the personalized experiences and high levels of care that solidify customers' connections to Whitman's Bike Way Bike Shop and keeps them coming back. Learn more about their Aventon products carried, services offered, rental opportunities, and how to contact their team! And if you're interested in test riding or purchasing an Aventon ebike, stop by Whitman's Bike Way Bike Shop in Miamisburg, Ohio today!