Aventon Dealer Spotlight: eBoom Electric Bikes
December 17, 2021
This month, we'd like to highlight one of our Aventon elite dealers and your local bike shops, sharing what inspired them to open their ebike shop and how their customer-centric attitudes are spreading ebike cheer this year! We're delighted to have connected with Lee Ann from eBoom Electric Bikes, who shared with us the mission behind her business as well as the environment she and her team have cultivated: a space where customers are heard, supported, and can unwind thanks to the fun of an ebike! Located on the popular Big 4 Trail in Whitestown, Indiana, eBoom Electric Bikes is owned and managed by the friendly, knowledgeable, and funny Lee Ann! We promise, even just a short conversation with Lee Ann will leave you laughing and smiling!
The Start of eBoom Electric Bikes
While Lee Ann spent decades working in the corporate world, growing from the marketing industry to launching her own business in the internet realm, she felt she needed something else; something new that was internet or technology-based. She had always loved the outdoors and riding bikes, considering herself a cross-country type of explorer, but didn't think twice about it as a business opportunity. At least, not until 2015 when her [now] business partner, Robin, brought up the idea of selling ebikes.
Pictured (from left): Lee Ann and Robin at Interbike in 2016.
Around 1999, Robin had purchased a Lee Iacocca EV Global electric bike; Lee Ann told us that Robin would share her stories of riding that bike everywhere back in the day! The idea of a 'technology-based' business had also stayed in Robin's mind since that purchase. So when the idea was presented to Lee Ann, she couldn't help but feel curious after the initial laugh wore off. Plus, Robin was among some of the few at the time to have first-hand experience with tech-powered bikes. The two decided to drive to St. Louis to track an ebike down, and the rest was history. Lee Ann says that her first ebike ride was hysterically fun and that it changed her world!
Electric bikes allowed her aspirations to come to life: combining her love for the great outdoors with high tech! Lee Ann opened her first ebike shop at a strip mall in 2017. Although there was a general resistance to ebikes at the time (think: "it's cheating!" mentalities), she knew the momentum and demand would increase over time.
Lee Ann's First Sale
Her first sale in 2017, since opening eBoom Electric Bikes, was actually to a couple who had driven over an hour and a half to Indianapolis, to visit her bike shop in search of an ebike. Lee Ann is an avid listener, valuing the stories and interactions her customers share with her. That day, she was especially attentive to the couple's story. The couple expressed that they enjoyed cycling with their larger group of bike enthusiasts, but one partner, unfortunately, wasn't able to keep up with the group anymore. They were interested in an electric bike, given its ability to give that extra boost when a rider needs it, so they don't fall behind or feel left behind. Ebikes aren't about 'cheating,' but about including! After this encounter and first sale, she knew ebikes would completely change the industry.
When Lee Ann Met Aventon
Lee Ann initially became aware of the Aventon brand years ago, through our sister company's electric products. Her path with Aventon wouldn't cross again until a customer, by chance, walked in with an Aventon Pace 500 ebike asking if her team was equipped to do a tune-up. Her technician, Ray, mentioned to Lee Ann that, mechanically, it was a great bike and worth checking out. After test riding the Pace 500 with the owner's approval, Lee Ann connected with Aventon's team, and the consensus was: "Let's do this!"
Lee Ann started to carry Aventon products in 2019. She says that eBoom Electric Bikes' most popular Aventon by far is the white Step-through Pace 500. It's also her personal favorite! She loves the Pace for its thoughtful design and high-quality components, saying that investing in other electric bikes within a similar price point can be a gamble depending on the components used and their projected lifespan. Not to mention, Pace 500's adjustable stem allows her to be in an upright sitting position, setting the scene for a more relaxed and fun ride. Her next best sellers are the Level, for those looking to do a bit more than casually cruising on their ebike, and the Aventure for those fun-seekers that want to explore the Midwest during any season!
Exceptional Customer Service at eBoom Electric Bikes
People are at the forefront of her business, and Lee Ann's favorite part of the job is talking to her customers! From problem-solving what customers' needs and interests are to fixing an array of ebikes that roll in through her doors, she says every day is something new: a fun learning process! While typically, customers that come in her shop have already done their research and, to an extent, know what they're looking for, Lee Ann believes that being attuned to customers' wants and needs is what sets her team apart. She says, "Being a good listener is how you'll discover what someone is looking for, and our job is to guide them." Whether they have general questions about the performance of a bike, warranty concerns, or modification inquiries, the team at eBoom Electric Bikes welcomes any and all questions and encourages test rides as a way for customers to solidify their choice and get on riding!
eBoom Electric Bikes Special Services
If Lee Ann's people-first philosophy hasn't inspired you to make her bike shop your go-to, or her electric bike expertise given her roots in the industry, maybe the following services offered will! eBoom Electric Bikes offers the following to its customers, which truly sets them apart from others, centering their focus on people like you. Not to mention, they also have cultivated a community of riders by hosting group rides, right in the heart of Boone County. Join them for weekly and monthly rides, to get active, socialize, and have fun! And yes, they have events that are ebike friendly!
Individual Test Rides
Arguably what sets eBoom Electric Bikes apart is that they offer individualized test rides! Remember when we mentioned that they're located on the popular Big 4 Trail route? You guessed it! That means customers can get a real feel for how the bike rides on different terrains, along with an expert riding right next to them!
Lee Ann says that between the four of her team members, this service is truly what helps them tune into the customer and provide that one-on-one care. Additionally, taking a customer to test ride a product in real-time and in real terrain, not just around the block, lets them answer any questions that may have otherwise been objections. For example, if a rider says the gear isn't shifting correctly while out on a test ride, then the technician can safely pull them over and show them again how to shift gears. This is what she means by listening and truly guiding them through the riding process, so customers feel empowered about their decisions and can take charge of their rides. Not to mention, this is another one of her favorite parts of the job: forming relationships!
Lee Ann believes test rides are an opportunity to establish a connection with a customer; When you're able to connect and take on the role of intuitive listening, they'll feel more relaxed in your presence and better enjoy the bike. Lee Ann is grateful to have a wonderful team that loves what they do: being passionate and excited about the ebikes they carry and sharing that experience with their customers! When customers return or reach back out to the team sharing insights about their rides or bragging about the goals they've achieved, or other days when eBoom Electric Bikes is full of excited customers striking conversations with one another and inadvertently selling to themselves, that's what's most rewarding. Fostering these types of relationships!
Servicing and Repairs
eBoom Electric Bikes specializes in servicing, diagnosing, and repairing all types of bicycles, including electric! Haven't used your bike in a decade? They've got you covered. Can't figure out why your tire keeps going flat or what's causing it? Not a problem. Their team of experts love to problem solve to get you back on the road, or trail! You can check out their list of services here. Not to mention, eBoom Electric Bikes offers a free first year tune-up with any electric bike purchased directly from them! They'll even inspect and diagnose the 'electric' parts of your bike, like the battery, cables, and sensors, which can feel like an overwhelming task for some. How awesome is that? Just check out their service center below!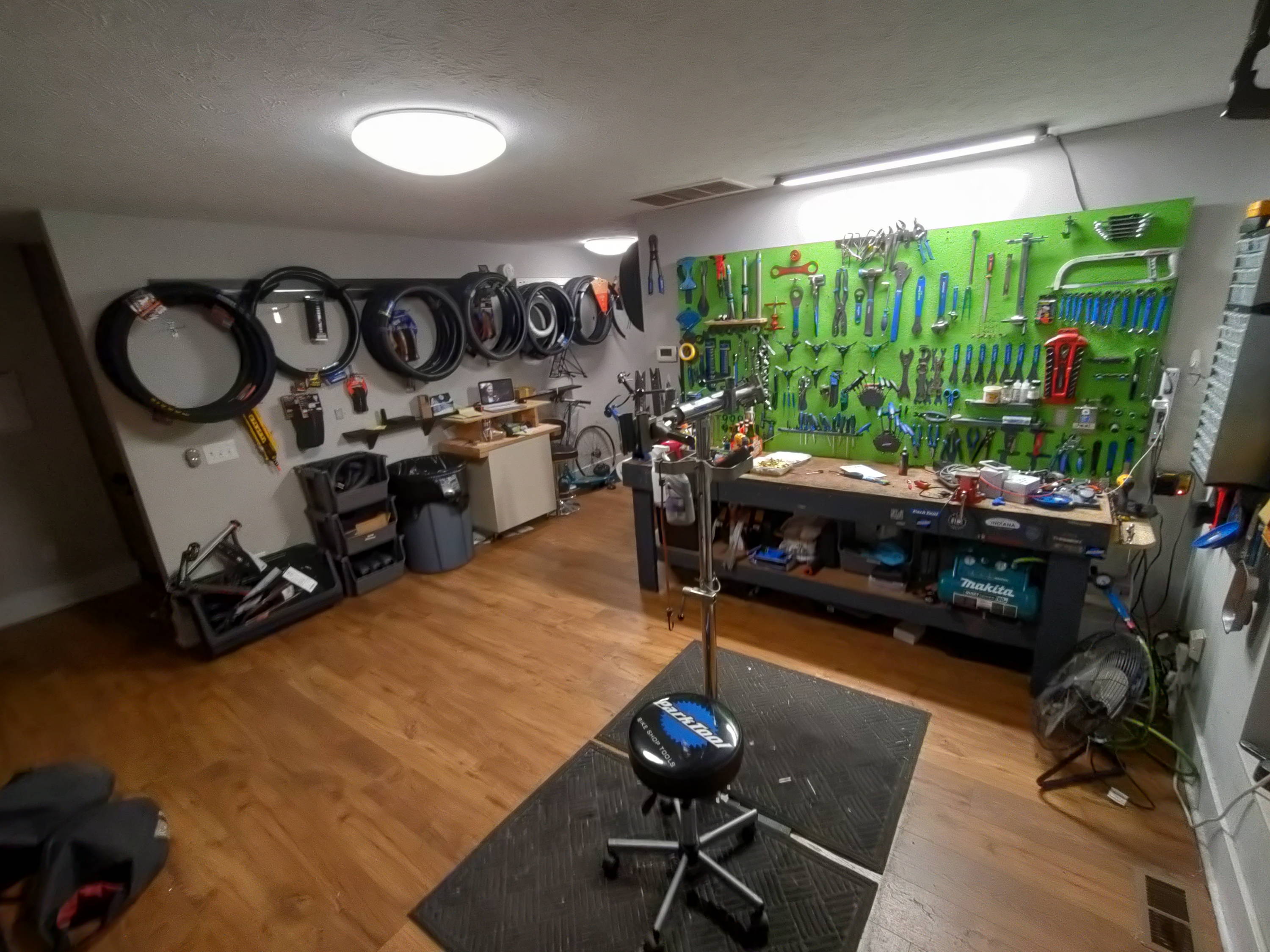 Informational Introductory Classes
As a way to offer continuous support to customers and help them get familiar with their ebikes, eBoom Electric Bikes offers community classes! The topics they cover are generally fundamental and instructional, like safe riding practices on a trail versus on streets shared with vehicles. Ebikes are no longer just for adult recreation and transportation. Ebikes are also growing in popularity among adolescents! For this reason, Lee Ann offers safety riding lessons for parents and their teenage children under supervision, so they'll not only learn the tools to ride a bike but also how to safely share the road with vehicles and pedestrians. They also cover other topics, such as how to change a rear flat tire, while actually walking you through the process of this repair. Best of all, Lee Ann conducts some of these classes right on the Big 4 Trail route, because, what better place to teach and guide someone to do a repair than in the environment that it's most likely going to happen in? We think education and empowerment are some of the keys to safe riding and the overall maintenance of ebikes. Kudos to you and your team, eBoom Electric Bikes!
Planning A Visit to eBoom Electric Bikes?
eBoom Electric Bikes is a pillar of the community and a go-to for many, both locally to Whitestown, Indiana, as well as surrounding cities and even states! While typically people come in with an idea of what they're looking for based on their own research, ultimately, it's the commitment to their customers and community that cultivates these continued connections to eBoom Electric Bikes. You can check out their store information here, schedule a service appointment here, or contact Lee Ann and her team at anytime here! And if you're interested in purchasing an Aventon or experiencing some of Lee Ann's exceptional customer service for yourself, stop by eBoom Electric Bikes in Whitestown, Indiana! Besides, with the holidays right around the corner and shipping deadlines quickly approaching, what better way to ensure you're able to give the gift of an ebike than by visiting one of your very own local bike shops that has inventory? (Hint: Just see for yourselves in the images above!).