Aventon 2020 Wrap Up
December 30, 2020
2020 has been a difficult year for everyone. However, Aventon, as a result of the dedication, perseverance, upbeat attitude, and hard work of all the members of our team, is very proud to say that we've managed to come out on top in what may be one of the most difficult and unpredictable years for almost every business around the world.
The success of this year has partially been fueled by people's desire to get outside, the continuing rise of demand for ebikes, and the donations and toy drives we've been involved with which helped raise hope throughout our local community and the wider Southern California area.
That being said, here's a look back at just some of the highlights of 2020 for Aventon!
Top Selling Bike of the year: PACE 500
Our top seller was the ebike which won the Bicycling Magazine 2020 Bike Award for being the best City/Urban Bike! That award winning ebike is the Pace 500.
At the affordable, best in class price of $1,399, a top speed of 28mph, an average of 40 miles per charge, and weighing in at just 49lbs it is significantly cheaper, lighter and better performing than the competition! It also has a large, easily readable LCD display, a cushy saddle, along with throttle and pedal assist to give you that boost when you most need it.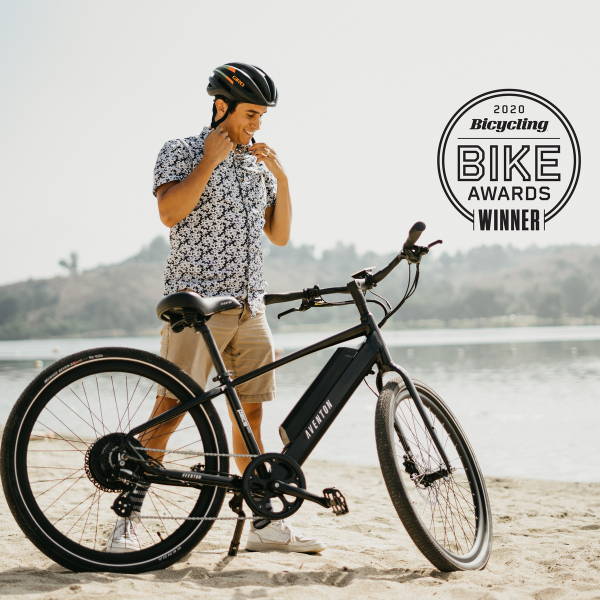 NEW EBIKE LAUNCH: Level Step-Through
In August we released an ebike which we knew was going to become a customer favorite, the Level Step-through Ebike. This model is an extension to our Level Commuter Ebike series and it has a step through frame designed for easy mounting and dismounting, making it especially suitable for shorter riders and those with limited flexibility.
This ebike is a Class 3, capable of speeds up to 28mph which is joined by five different levels of pedals assist. It also comes with a rack to help you take everything you need with you. Take into account the fenders and the suspension fork with 75mm of travel and you've got a smooth ride that'll go wherever you want and take everything you need along with you too!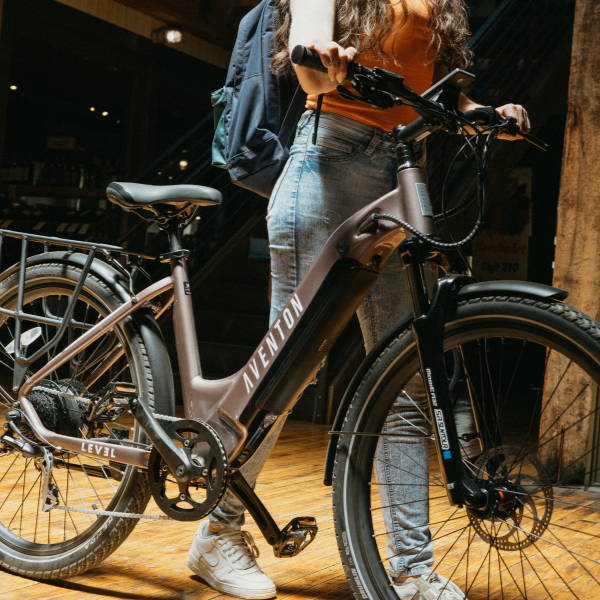 NEW EBIKE LAUNCH: The SINCH
The Sinch Foldable Ebike was the first ebike we released this year back in March and it filled a niche in the market that Aventon wasn't serving before.
This bike packs a lot into a small package and is perfect for those with limited space; it can be stored in a closet, under a desk, in a trunk or in an RV. Its size and portability are just the beginning of the features of this bike. It has a large, backlit, LCD display, and 4" fat tires coupled with a suspension fork for a smooth and comfortable ride across a variety of terrains. The Sinch can also reach speeds of 20mph and travels an average of 40 miles per charge!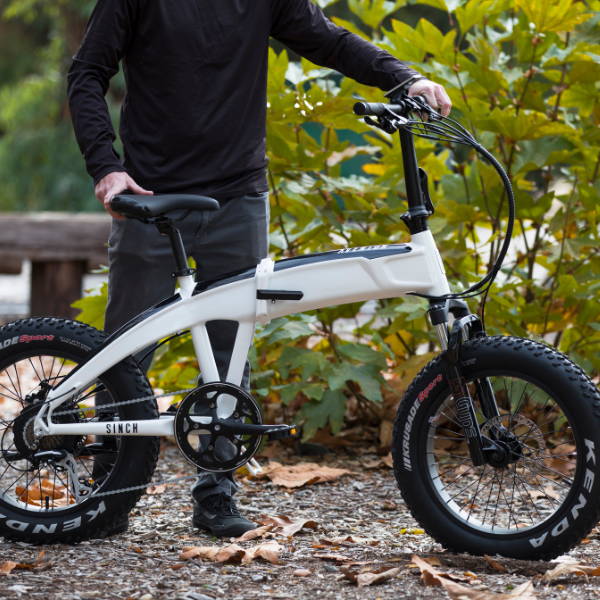 GIVING BACK TO WORKERS ON THE FRONT LINE
LOS ANGELES FIRE DEPARTMENT
In November of 2020 Aventon donated 5 Level Commuter Ebike to the Los Angeles Fire Department (if you prefer videos, here's one for you). These ebikes are going to be used by their bicycle medics program, A.K.A Mobile Medics, to help extend the speed and availability of the service they provide at large events and gatherings that take place in their district.
These Mobile Medics bridge the gap between foot patrols and rescue ambulances, and their new ebikes give them the ability to cover more ground, arriving at the scene quicker and not huffing and puffing from having pedaled furiously to get there. They can now arrive with a clear head and the energy to perform whatever actions they may have to undertake and we are proud to have made this donation and given them the potential to provide faster, better service to our residence and our visitors.
COVID MEDICAL CENTERS: LOMA LINDA UNIVERSITY & POMONA VALLEY HOSPITAL
This year's pandemic shook the world and our local area was no different. Here at Aventon we couldn't just sit back and watch without trying to do something to help. Our Operations Manager, Luis Razo, spearheaded our donation effort and we managed to provide 4,000 surgical masks and 1000 N95 masks to both Loma Linda University Medical Center and Pomona Valley Hospital Medical Center.
After the hospital told us that they needed help transporting these and other essential pieces of PPE between their buildings we quickly arranged a donation of two ebikes in addition to the medical supplies. The staff at the hospital were delighted with these! Using them to transport PPE but also using them to get themselves out to clear their head when they're working long stressful hours. We thank all of our frontline workers during this still difficult time and continue to support them when and however we can.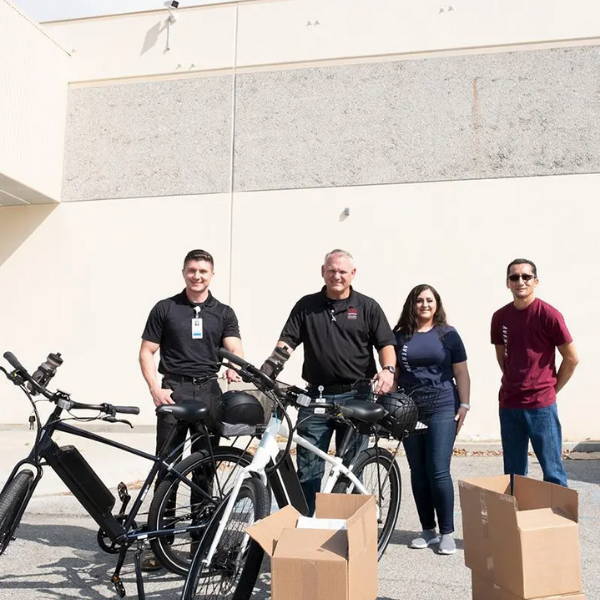 NFL PRO, ADRIAN PETERSON GIFTS AVENTON EBIKES
On September 27th of this year Adrian Peterson, Detroit Lions' running back, rose to 7th on the list of all-time NFL Rushing Attempts. To say thank you to the teammates who helped him to attain this exceptional milestone Adrian got in touch with Aventon to help make a great thank you happen. We partnered with one of our sales and service centers in Detroit, KLM Bikes and Fitness, to get this all worked out.
On that day there were 25 ebikes awaiting Adrian and his teammates, bows and gift bags attached, along with all the members of the KLM team to help each player to set up their individual ebikes and to also be on hand to explain everything else about Aventon ebikes to them. These guys had a blast, as you can see in the article linked above! And they also proved that Aventon ebikes have the power to push around a full size NFL linebacker!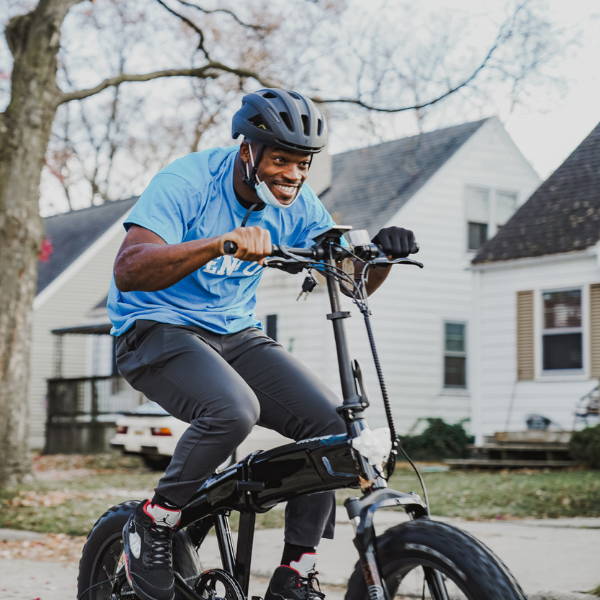 AVENTON MAKES THE NEWS...again
We hit the news a few times this year, some for our donations, and some for our business growth through this difficult year. As 2020 created many problems for businesses Aventon and other ebike and pedal bike companies, have experienced some great growth as people rediscover their youth, get back on bikes and ebikes and travel and explore their local area!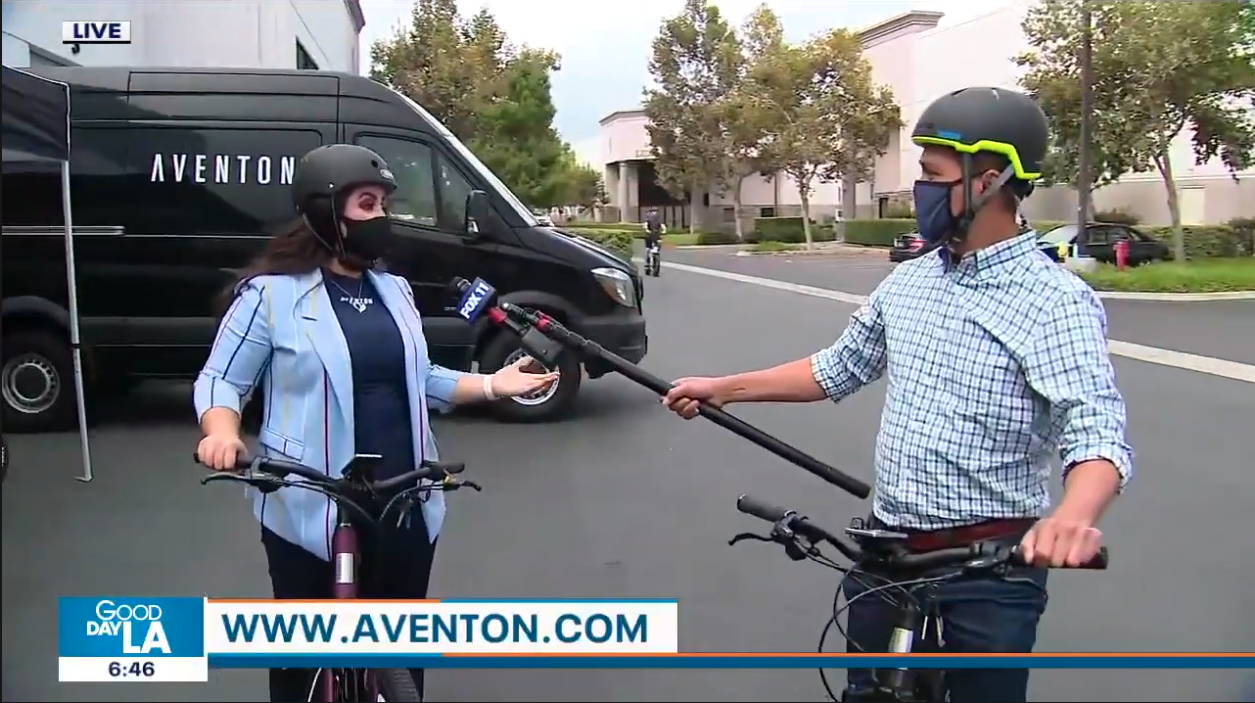 OUR BUSINESS HAS GROWN, IMPRESSIVELY THANKS TO OUR CUSTOMERS!
Our business has grown over the course of 2020 and ,along with that, we've tripled our overall company size, in terms of number of employees and a big part of that was tripling the number of employees in out customer services department to help us better serve our customer's needs and promptly answer their questions and queries. This employee numbers growth comes off the back of an impressive increase in sales of around 500% YOY.
We have also achieved a NPS, Net Promoter Score, of 77. NPS is a highly regarded loyalty metric from which you can determine how likely it is that your customers are going to remain loyal to your business and your products and, importantly, how likely they are to recommend you to their friends and family.
77 is -despite the sound of it- an impressively high score for our industry, and tells us that we're serving our customer very well. It also lets us know which areas we can improve on so that we can keep moving in the right direction and build a stronger business which more and more people will want to advocate for!
That's it for our 2020 wrap up. We want to thank each and everyone of you for being on this incredible journey with us, whether you just joined us this Christmas or have been an Aventon Customer since the beginning! Here's looking forward to 2021 and the joys it can bring all of us! Cheers!